Want to learn about Boost Mobile phone insurance? If yes, you have stumbled upon the right webpage.
Even the most diligent among us are vulnerable to mishaps, as we all realize. And a single accident or drop can harm our phones significantly, resulting in expensive repair or replacement costs. That's where phone insurance comes in, assuring and safeguarding us from unforeseen costs. If you use Boost Mobile and have their insurance plan, you can avoid paying for pricy repairs.
What is Boost Mobile?
A reputable MVNO that uses Sprint's network, Boost Mobile has been around for a while. Boost Mobile is an excellent provider for anyone searching for extra perks from their cell phone provider without the costly charges because it offers massive bonus plans at competitive prices. The cell phone insurance package, Boost Shield, is one add-on you should consider.
This article covers detailed information about Boost Mobile Phone Insurance, including what this program is, how to claim it, what is covered, and more.
What is Boost Mobile Phone Insurance?


Boost Mobile takes the initiative to guard against loss, theft, unintentional damage, and mechanical or electrical breakdowns that occur after the manufacturer's warranty has expired.
Boost Mobile offers this insurance plan with the help of Brightstar Device Protection. All listed disasters, loss, theft, damage, etc., will be insured for just $7 monthly.
Why get Boost Mobile Phone Insurance?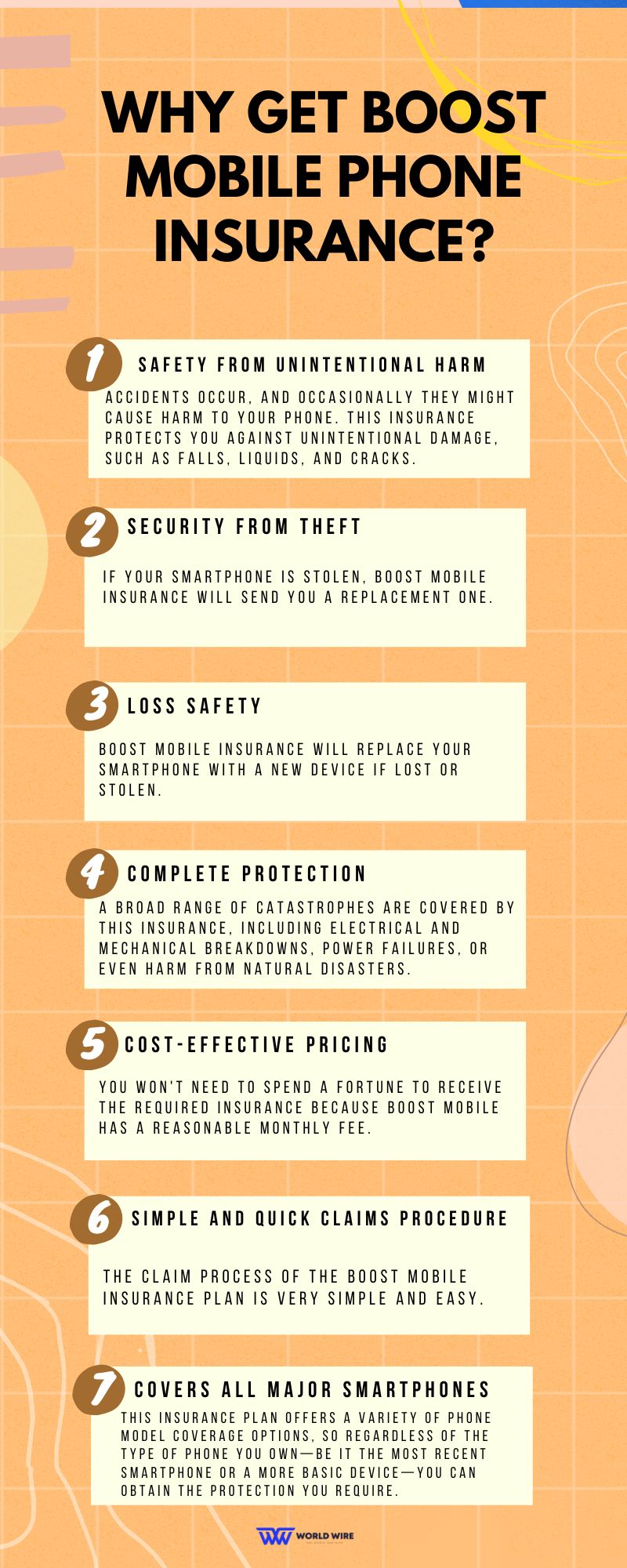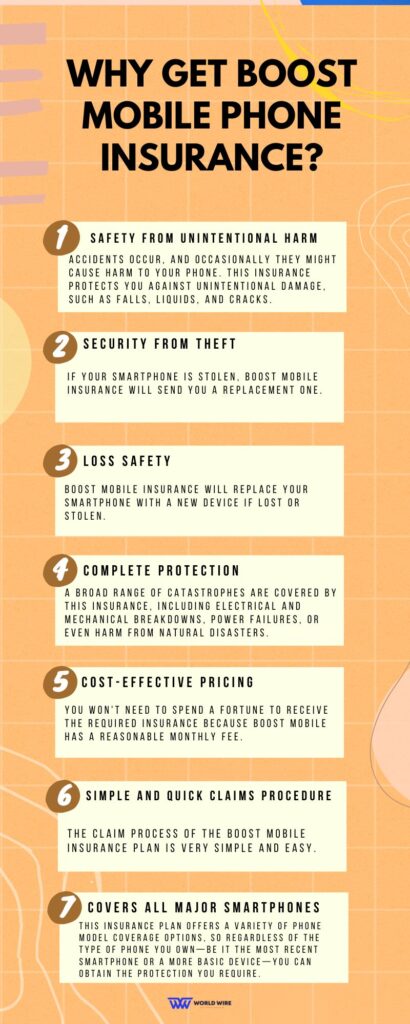 The following are some advantages of purchasing Boost Mobile Phone Insurance –
Safety from unintentional harm – Accidents occur, and occasionally they might cause harm to your phone. This insurance protects you against unintentional damage, such as falls, liquids, and cracks.
Security from theft – If your smartphone is stolen, Boost Mobile Insurance will send you a replacement one.
Loss safety – Boost Mobile insurance will replace your smartphone with a new device if lost or stolen.
Complete protection – A broad range of catastrophes are covered by this insurance, including electrical and mechanical breakdowns, power failures, or even harm from natural disasters.
Cost-effective pricing – You won't need to spend a fortune to receive the required insurance because Boost Mobile has a reasonable monthly fee.
Simple and quick claims procedure – The claim process of the Boost Mobile insurance plan is very simple and easy.
Covers all major smartphones – This insurance plan offers a variety of phone model coverage options, so regardless of the type of phone you own—be it the most recent smartphone or a more basic device—you can obtain the protection you require.
If you have just purchased a phone and SIM card, you may read our guide on "How to activate Boost Mobile SIM card" and "How to activate Boost Mobile phone," as these are the first steps you must take before using Boost services.
What Does Boost Mobile Phone Insurance Cover?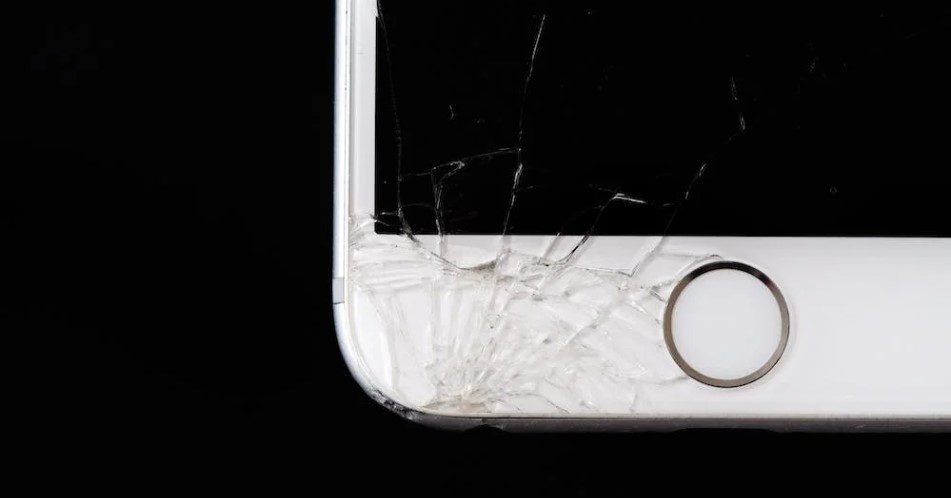 Boost Mobile Phone Insurance covers many events that could harm or render your phone useless.
Below, we have covered information on what this insurance program covers –
Accidental harm – This encompasses spills, cracks, and drops that can occur during normal use.
Mechanical and electrical malfunctions – It covers internal issues that can develop due to regular wear and tear, including a broken loudspeaker or input jack.
Voltage spikes – It will pay for repairing or a new phone if a power surge damages your phone.
Loss and theft – It will pay for a replacement phone if your smartphone is lost or stolen.
Natural catastrophes – It provides coverage for harm to your phone resulting from calamities like earthquakes, cyclones, and floods.
Be aware that Boost Mobile Phone Insurance does not cover some situations, such as intentional harm or careless phone loss. Furthermore, Boost Mobile Phone Insurance restricts coverage for add-ons like cases and screen protectors.
How Can I Get Insurance Off Of My Boost Mobile Phone?
If you want to terminate your insurance, these are the three different ways you can do that –
Online
Follow these steps to terminate your Boost Mobile Phone Insurance online –
Use your phone number and four-digit PIN to log into your account.
Go down to Current Services in your account section.
You should immediately notice the Switch to New Plan and Manage Add-Ons choices above this.
Next, select Manage Add-Ons.
You can cancel your phone insurance and modify your service plan on this page.
Offline
You can get assistance from a customer support agent at any Boost Mobile location.
Bring your phone in and confirm that you are familiar with your PIN and phone number.
After that, a Boost Mobile representative can cancel your phone insurance.
Customer Support
Calling Boost Mobile customer support will put you in touch with a professional who will gladly assist you if you want to speak with them on the phone.
This method also requires you to remember your phone number and PIN. However, if you can provide your account details, a representative can give you your PIN if you lose it. After that, they can cancel your phone insurance on your behalf.
What Should I Do If My Boost Mobile Phone Is Damaged Or Cracked?
You can submit a Boost Mobile insurance claim whenever you need to if your phone is covered. You can make a maximum of two claims per calendar year.
Boost Mobile insurance protects Your mobile device from many risks, including cracking and breaking. The phone insurance from Boost Mobile covers all the accessories that came with your phone when you bought it.
FAQs
What should I do if I misplace my Boost Mobile phone?
As immediately as you become aware that your phone has been lost or stolen, call customer care at 833-502-6678. When you call, they can take action to block your service and preserve the balance of your active account.
How can I stop using Boost Shield?
You can stop using Boost Shield – online, offline, or by calling their customer support.

Subscribe to Email Updates :