Candace Owens (full name Candace Amber Owens Farmer), is an American conservative politician, author, political commentator, talk-show host, and political activist. The 32-year-old author was born on April 29, 1989, in Stamford, Connecticut.
Unlike some politicians that like to stay away from too much controversy, Owens doesn't shy away from speaking her mind. In a 2021 interview, anti-vaccine Owens said that "Trump only touted vaccines because he's too old to know how to find alternative sources online".
She has supported many other conspiracies like former president Donald Trump's election fraud conspiracy among others. Owens is being counted among one of the potential Republican candidates for the upcoming Vice President elections, should Trump win the seat in 2024.
Candace Owens' Husband
Right-wing activist Candace Owens is married to George Farmer, an Englishman. The couple tied the knot at the Trump Winery in Charlottesville, Virginia in 2019, after a few months of dating. According to the Blackout author, their relationship seems " made up" seeing how quickly it has moved. The couple welcomed their first child, a boy on 13 January this year, and his name has not yet been revealed. Candace calls her husband "the greatest gift of this year".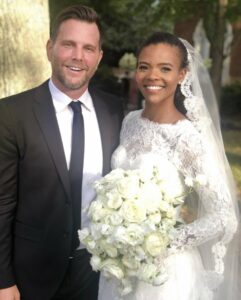 "Your love has humbled me in ways I never knew was possible. I could never give enough thanks to the miracle of you." -she added.
George Farmer: early life and education
George was raised in Britain, and his father, Lord Michael Farmer, is a member of the House of Lord's -a governmental body ruled by British elites with the power to dictate laws in the country.
However, the family reached their 'elite' status after suffering years of hardship. According to George, his father had an extremely tough childhood, growing up in the "slums". Despite this, his father managed to overcome the adversaries and established a highly successful career in the metal markets, earning the title of "Mister Copper".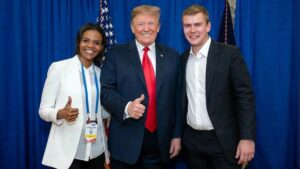 "It was the Thatcherite reforms of the Eighties that allowed my father to turn his talent into success, which is what I want for everyone else, regardless of color or creed." -said George.
Farmer attended the St. Paul's School in London, founded in 1503, and graduated from Oxford University with a First Class degree in Theology. He was also a member of the Bullingdon Club in London.
Farmer has strong political views and is strongly anti-EU, describing it as "a toxic, socialist, genocidal superstate".
Also read:
Signup For Our Newsletter