Overview: White House staff found toilets frequently clogged with printed papers, according to a new book named "The Confidence Man" written by Maggie Haberman.
Trump's indiscretions with White House materials have taken on a new dimension. According to a CNN source, "The National Archives has requested the Justice Department look into Trump's handling of White House documents." It also wants to know if the former president broke the presidential records act, particularly how he handled classified information. Haberman writes in her upcoming book, 'Confidence Man,' that personnel at the White House's private residence found wads of wasted printed paper blocking a toilet regularly. The White House staff suspected that the President was seeking to destroy the papers.
"I learned that staff in the White House residence periodically discovered a clogged toilet," Haberman said in an interview with CNN's New Day on Thursday.
According to her "The engineer would have to come and fix it and what the engineer would find would be … wads of clumped-up printed wet paper."
The paper allegedly found in the toilet has not been confirmed by Haberman who says they could have been anything from "Post-its" to "notes to himself."
Haberman's claim is not the first time Trump has been accused of mishandling classified information while in office, and Haberman's allegations led to a similar investigation.
Trump's take on allegations by Haberman in her book
Trump called Maggie Haberman's (of The New York Times) upcoming book "fake."
Donald Trump has rejected charges that he flushed wads of printed papers down a White House toilet,  according to Maggie Haberman's forthcoming book.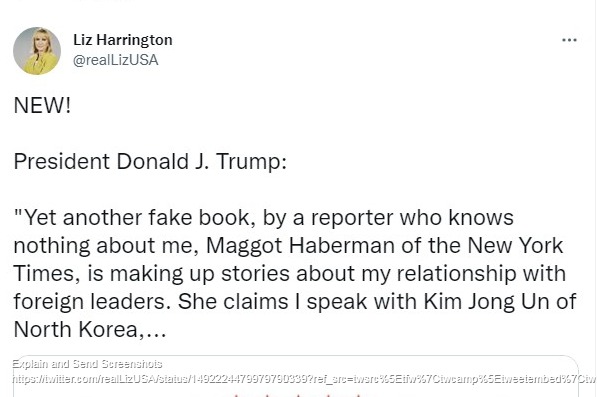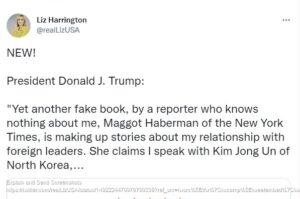 "Another bogus tale,  that I flushed files and Printed papers down a White House toilet,  is false and was just a fake story by a reporter to garner publicity for a mostly imaginary book," Trump said in a statement. 
He refers to it as a part of a Democratic ruse to divert attention away from "how terribly our country is faring under the Biden Administration"
Bloomberg's Jennifer Jacobs said that she had also been told that Trump's toilet had been blocked with paper and that It was widely assumed that Trump was the one who clogged the toilet.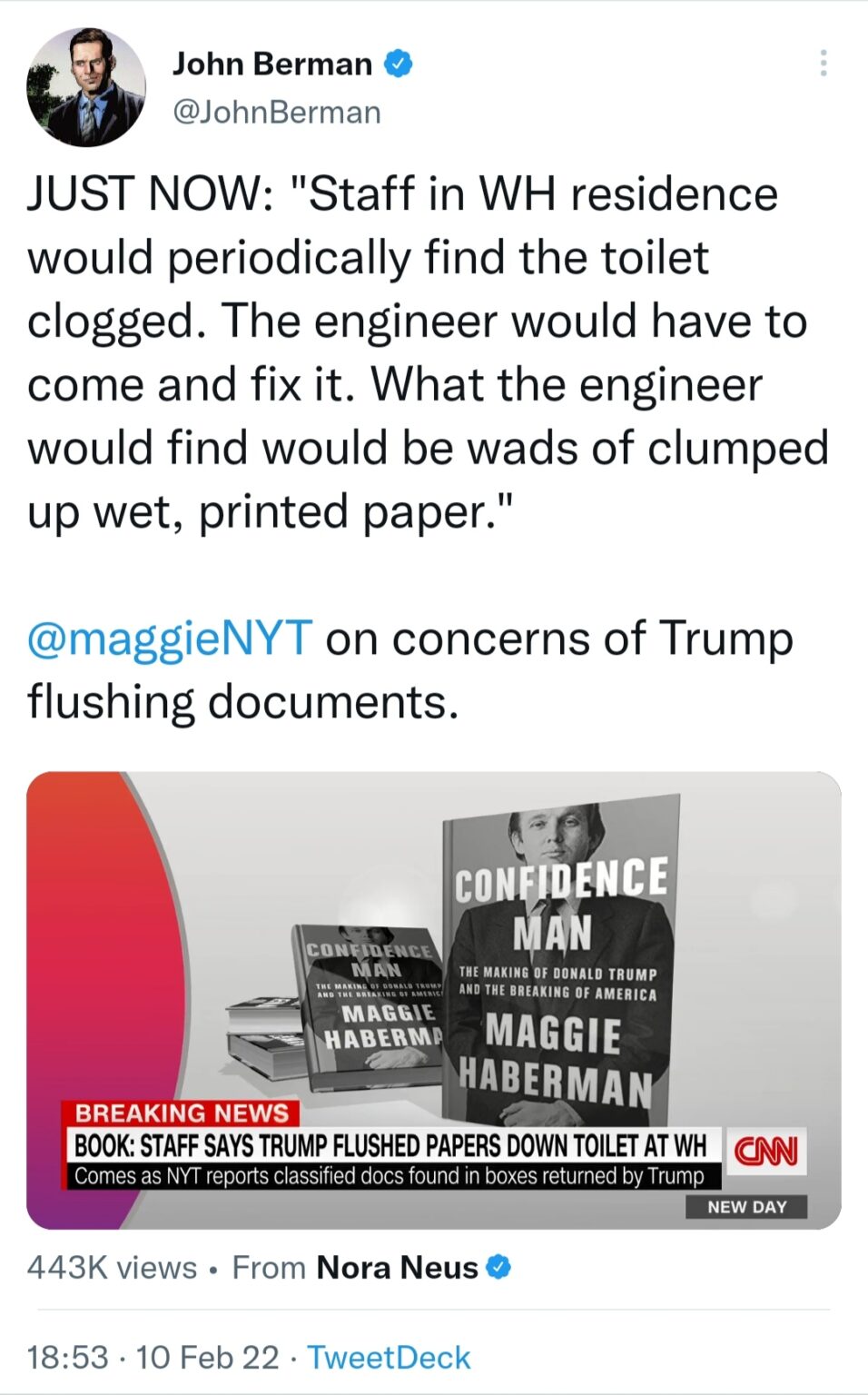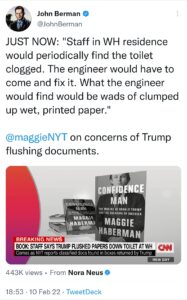 The House Committee on Oversight and Reform stated on Thursday that it was looking into why 15 boxes of presidential papers were recently recovered at the former President's present estate, Mar-a-Lago. Trump is suspected of violating the Presidential Records Act, which was put in place to preserve information, by shredding up several documents.
What is PRA and how does it relate to book by Haberman
According to the Presidential Records Act, a president, and his staff must have their records preserved in the archives. Also, It is the responsibility of an outgoing leader to turn over documents to the National Archives after their term ends.
The President's Records Act of 1978 transferred the ownership of presidential records from private to public hands and required Presidents to manage their records according to statutory guidelines. As it was amended in 2014, the PRA prohibits the President from sending electronic records to other governments, agencies, or private parties. 
Act was allegedly violated during the Donald Trump's Presidency:
According to Politico, President Donald Trump ripped up papers he received regularly, prompting government workers to tape them together for preservation to guarantee Trump did not break the Presidential Records Act.
Known for tearing up papers frequently and routinely, Politico reported in June 2018 that President Donald Trump taped up his documents to ensure that he was not violating the Presidential Records Act.
President Trump handed his cellphone number to numerous international leaders in July 2018, according to Business Insider, and had unrecorded discussions with them without the knowledge of US officials.
According to CNN, the White House stopped making public summaries of President Donald Trump's phone discussions with international leaders in July 2018. Hence, putting an end to a practice that had been practiced by past administrations
Citing unlawful conduct by the Trump administration, Citizens for Responsibility and Ethics in Washington, the National Security Archive, and the Society for Historians of American Foreign Relations filed a lawsuit against the administration in May. They alleged that President and his senior advisors failed to create and maintain records of top-level meetings with foreign heads of state as required by the Presidential Records Act.
A group of historians sued the Trump administration in December 2020 (National Security Archive v. Trump, 20-cv-03500, United States District Court, District of Columbia) for failing to preserve historical records in violation of the Presidential Records Act. They argued that Jared Kushner broke the law by taking screen photos of his WhatsApp messages that omitted metadata, attachments, and other digital artefacts required to authenticate the material. 
Appointees to the executive branch have been found in contempt of Congress for failing to turn over papers when asked.
In February 2022, it was announced that the National Archives had retrieved 15 boxes of documents containing crucial records from Trump's presidency, including communications, presents, and letters from global leaders, from his Mar-a-Lago mansion the previous month. This shows that Trump kept presidential documents in his Florida home, possibly in violation of the Presidential Records Act. Some of the materials retrieved were classified, including some designated as "top secret." 
Haberman reveals Trump has been 'in contact' with North Korea's leader Kim Jong-un in her new book:
 Maggie Haberman's book on former US President Donald Trump, 'The Confidence Man,' reveals that after leaving the White House, he has been in contact with North Korea's leader Kim Jong Un. Trump infamously proclaimed in 2018 that Kim and he had "fallen in love" after they exchanged letters, but he failed to convince Kim to surrender his nuclear weapons.
Trump's assertions could not be verified and could be false, according to Haberman.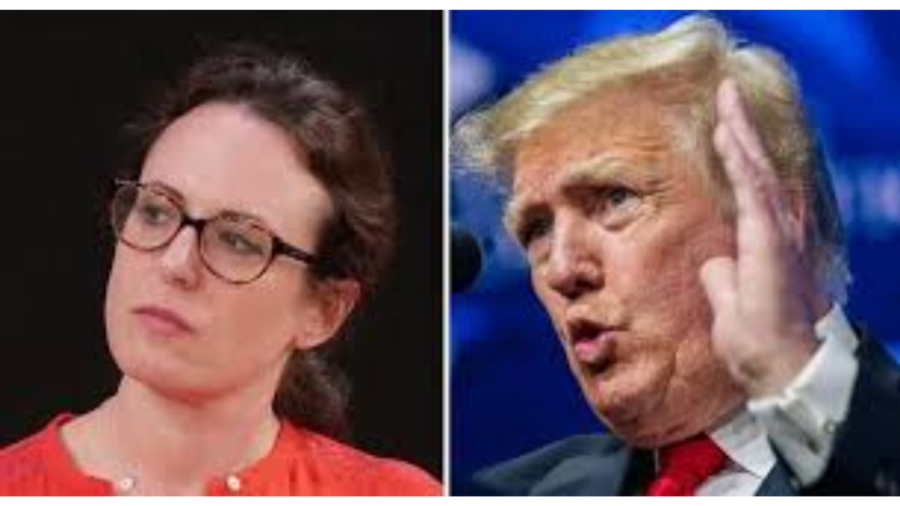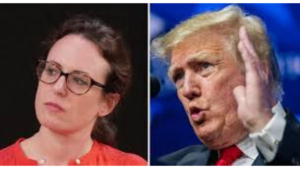 "What he says and what happens aren't always in sync," she stated, "but he's been telling people that he's had some sort of correspondence or discussion with Kim Jong Un."
Trump became the first world leader to enter DPRK (Democratic People's Republic of Korea) (North Korea) ahead of the demarcation line.
In a striking irony, Kim is the 'only foreign leader' Donald Trump has had contact with since he stepped down as president.
Kim had described Trump's intention to meet with him as a "courageous and determined move" at the time, and the two were photographed sharing cordial greetings during Trump's visit.
Photo showing Trump and Kim Jong were spotted strolling side by side back to the demarcation line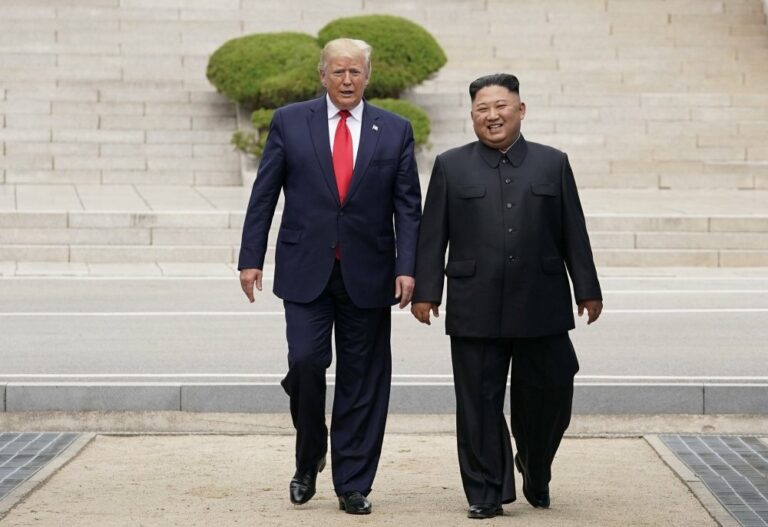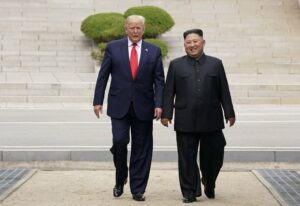 North Korea has turned down the Biden administration's overtures to talk about its nuclear program with the present President.
Logan Act of 1799 Explained in relation to Haberman's book
The Logan Act of 1799 prohibits civilians in America from dealing with foreign administrations without prior permission.
Because Trump is no longer President of the US, the Act prohibits him from negotiating or maintaining communication with foreign administrations as a civilian. Private persons are prohibited from participating in any form of 'unauthorized correspondence' with foreign governments or leaders under this act. And breach of this title can result in prison for three years or a fine or a combination of the two.
Also read:

Subscribe to Email Updates :