An American businessman and politician, Brian Kemp, has been serving as the 83rd governor of Georgia since January 2019. He belongs to the Republican party.
Brian Kemp Early life and education
Kemp was born in Athens, Georgia, into a prominent family with a history of political power.
Kemp went to the private Athens Academy until the ninth grade, when he transferred to Clarke Central High School. He later graduated from the University of Georgia, majoring in agriculture.
Brian Kemp Personal life 
On January 8, 1994, Kemp tied the knot with Marty Argo, daughter of longtime Georgia House of Representatives member Bob Argo. They have three daughters.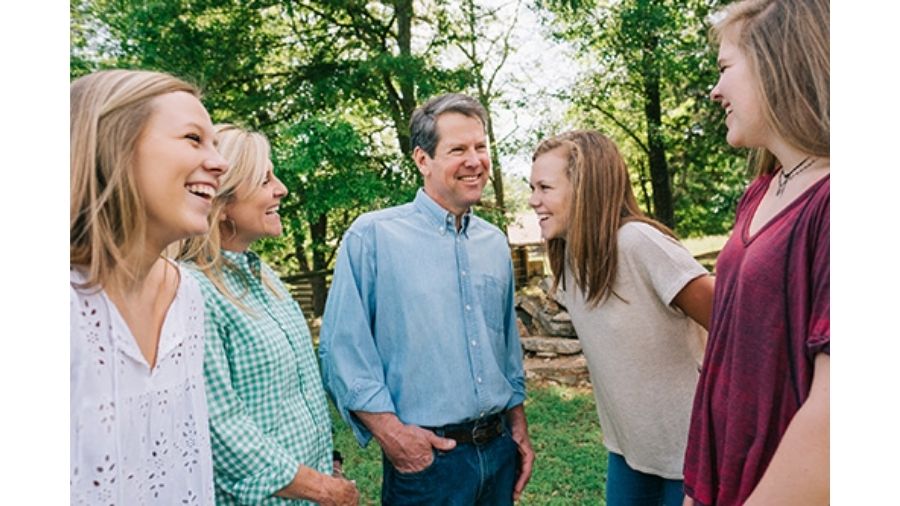 2018 gubernatorial campaign
Kemp announced his candidature for the 2018 Georgia gubernatorial election in March 2017. In a field of six candidates, Kemp and Lieutenant Governor Casey Cagle came in the two top places in a six-way Republican primary in May 2018, advancing to a runoff election. 
In the runoff election, Kemp defeated Cagle by a broad margin, receiving 408,595 votes (69.5%) to Cagle's 179,712 (30.6%). 
2022 Georgia gubernatorial election
Incumbent Republican governor Brian Kemp has announced that he will run for re-election.  Kemp's primary challenger is former senator David Perdue, who Trump has personally endorsed.  On April 16, 2021, former Democratic turned-Republican state representative Vernon Jones declared his challenge to Kemp in the primary.
Kemp's challenger from the Democratic party is Stacey Abrams, former Minority Leader of the Georgia House of Representatives and founder of Fair Fight Action, who Kemp defeated in the general election in 2018.
Libertarian Shane T Hazel, the most recent nominee for US Senate in 2020, has also declared that he will run. Independent Al Bartell has filed paperwork.
Contact details of Gov. Brian Kemp
Phone:
404/656-1776
Fax:
404/657-7332
Visit:
206 Washington Street
111 State Capitol
Atlanta, GA 30334
Mail to:
206 Washington Street
Suite 203, State Capitol
Atlanta, GA 30334
Social media
Kemp is active on Twitter, and his handle is @GovKemp. He has 102K followers on Twitter. Even though he is running for reelection in the 2022 Georgia gubernatorial elections, Kemp's Twitter account is devoid of any election propaganda. This stands in stark contrast to the Twitter activity of his competitors such as Vernon Jones, whose entire Twitter existence comes across as centered around the upcoming elections. 
Kemp is also active on Instagram and goes by the username govkemp. Kemp has 40.1K followers on Instagram, and most of his posts are similar to the ones he tweets. Kemp's bio reads:
"83rd governor of Georgia  206 Washington St SW, Atlanta, Georgia 30334″
Kemp's Facebook page, however, does feature specific posts that seem to be aimed at deriding his political competitors in the 2022 gubernatorial elections in Georgia. 
One of the said posts dated December 9 states:
"Stacey Abrams and her woke allies have set their sights on Georgia and are determined to bring their radical agenda to our state. Stand with Team Kemp, and together we will defeat Stacey Abrams – again!"
Another post dated 11 December states: 
"Joe Biden's failed economic agenda is hitting hardworking Georgians and Americans where it hurts. It's time for this administration to abandon their reckless, radical, tax and spend agenda and focus on lowering costs for American families."
Almost all of Kemp's recent posts on Facebook seem to be centered around, for want of a better phrase, tooting his own horn as governor. This, of course, is a way for Kemp to reiterate his competency as governor and establish his supremacy over other gubernatorial candidates in the 2022 elections.
Also read:

Subscribe to Email Updates :