Want to Delete Threads App Account? But don't know How to Delete Threads an Instagram App Account? Threads is Twitter's latest competitor from Meta, aiming to become the new social media king.
The backlash is because users have been unable to manage their accounts in the app due to the deletion of accounts. This has led many to consider deleting their accounts and uninstalling the Threads App.
What do Threads offer?
Meta, the company behind Facebook, Instagram, and WhatsApp, has launched a new app called Threads. Using Threads App, You can post messages of up to 500 characters, significantly more than the 280 characters currently offered by Twitter until you're signed up to Twitter Blue and the standard 500 characters offered by Mastodon. You can post photos, videos up to five minutes long, and web links in your posts.
How to Delete Threads App Account?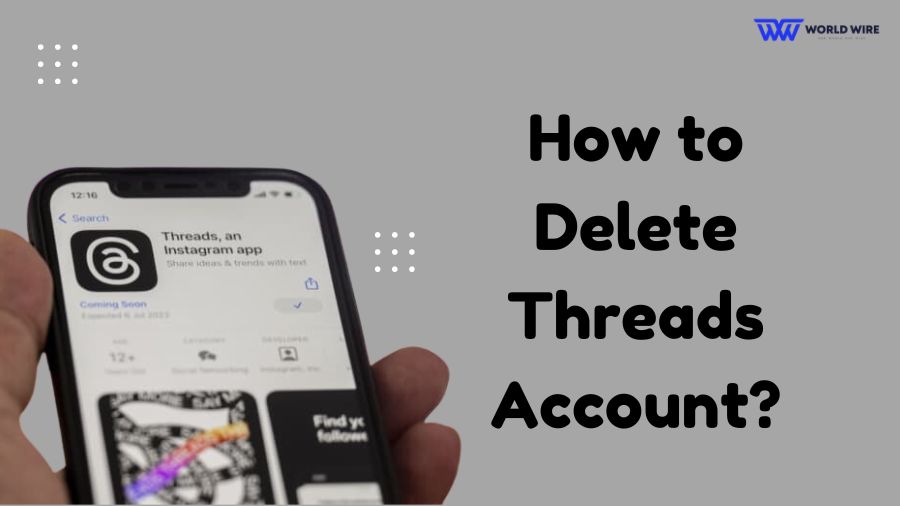 The Supplemental Privacy Policy of Meta states, "The Threads profile can be deactivated at any time, but your Instagram account must be deleted for it to be deleted." Meta continues to explain that Threads is a complement to an Instagram account, so the policy is in place to ensure that they are connected. The rule surprised many users, as the app exists independently of Instagram.
You Can't Do the Threads App login or Threads Signup without an Instagram Account. You have to Delete your  Instagram account to delete your Threads account. If you have decided to delete your Threads account, follow these steps once you have decided.
Go to the Threads App.
Tap the profile icon in the bottom navigation bar of the Threads app.
Tap the menu icon in the top right of your profile.
Tap on 'Account' and then on 'Other account settings.'
Tap on 'See more in the Accounts Centre. ' In the screen that shows up, tap on 'Personal Details. '
Next, tap 'Account ownership and control 'and then 'Deactivation or deletion. '
Select the Instagram account associated with your Threads account. Choose 'Delete account 'and tap on 'Continue. '
Finally, confirm your account deletion request by tapping on 'Delete account. '
Your account will now be deleted in 30 days. Once the process is completed, Meta will also permanently delete your Threads account.
How to Deactivate Your Threads Account?
You can also deactivate your Threads account and uninstall the app from Your iPhone or Android Device. Moreover, deactivating it does not remove your Instagram access. Hence, it is perfectly safe and easy to do.
Follow the steps below to deactivate your account:
Go to your Threads App
In the Threads app, tap the profile icon in the bottom right corner of the screen.
Tap the two-line menu icon in the top right of your profile.
Tap the Account icon.
Tap Deactivate profile.
Tap Deactivate Threads profile.
Confirm your choice to Deactivate at the prompt.
Your account will be deactivated and inactive until you log back on again in Twitter's alternative. Moreover, it does not sacrifice your Instagram account or data. If you don't want to take the extreme measure of deleting your account, deactivating it is the best solution.
FAQs
Can I delete my Threads account without deleting Instagram?
Unfortunately, you can not delete your Threads account without deleting the Instagram account with which you signed up. However, you can deactivate your Threads account independently if you no longer want to use the platform.
Can we delete the threads account?
"At this time, you can't delete your Threads profile without deleting your Instagram account. This is something we're working on. You can deactivate your Threads profile anytime," Meta told BBC and Newsweek.
Do you need Instagram for Threads?
It is necessary to log into your Instagram account in order to sign up (or sign in) on Threads. It will be necessary for you to create a new Instagram account if you still need to create one to access Threads.
What to do When the Threads From Instagram App is Down or Not Working? We have already provided the Information about what to do when your Threads Down or Threads Not Working.

Subscribe to Email Updates :