Dr. Stone Chapter 158 Release Date, Spoilers & Recap Read Online Updates: Dr.Stone has become one of the most famous Japanese manga in the world and with the release of anime last year the popularity of the show has reached new heights that is new of manga of Sci-Fi genre.
Previously pure Science Fiction mangas like Steins Gate, Aria, Yokohama Kaidashi Kikou, Pluto, and many more mangas weren't used to this popularity this soon. Usually, Sci-Fi manga doesn't get much appreciation before at least two seasons of anime, but in the case of Dr.Stone the case is different, the manga was already famous before the anime adaptations, but after the anime, the manga's popularity has increased threshold.
Dr.Stone is written by  Riichiro Inagaki and illustration is handled by  Boichi. It was launched on March 6, 2017.
Also read Great Pretender Release Date, Plot and Spoilers
Dr.Stone Chapter 158 Release Date
Dr.Stone Chapter 158 is going to release on July 12, 2020. Usually, a new chapter is released every Sunday if there is no delay due to some circumstances.
Dr.Stone Chapter 157 Recap
Chapter 157  shows us the story of the night before the day when Humanity was petrified. Dr.Xeno says that a high schooler has uploaded a theory of swallows being turned to stone(It's Senku obviously), The theory was read by many scientists across the world from various prestigious organizations like NASA and CDC. The scientists conduct a test on one petrified swallow and are stunned to see the results.
A Tech Expo is conducted in National Park by DARPA where Dr.Xeno tells everyone that the petrified swallows are still showing brain activity. All of them think that it might be a terrorism weapon and the formula of cracking it might be simple but it is yet to be cracked.
Ms.Luna is also in the National Park as she wants to meet the man who will marry her with Max giving a platinum ring to Luna as a gift. Suddenly the light which petrified everyone is seen in the background.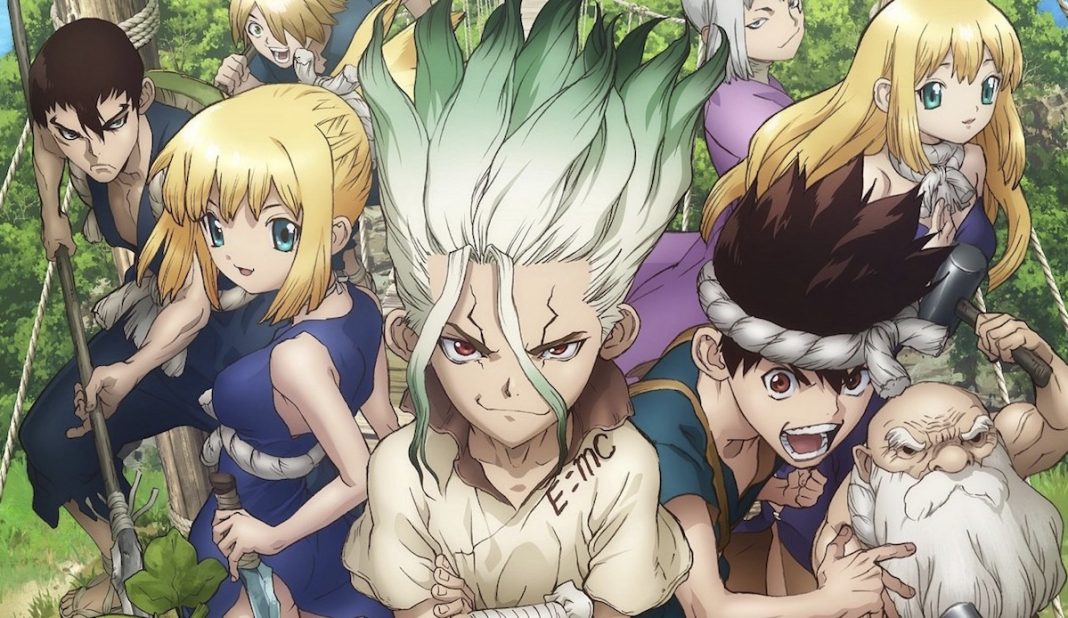 Dr.Xeno shouts and tells everyone to take cover and he told them to don't let their minds fade as the real battle will start after certification. Luna hearing this decided to not let her mind fade and is determined to get free from certification. Max swallows the ring to return it to Luna after he is freed from the specification. Stanley on the other hand thinks that not letting his mind fade will be not big of a deal due to his sniper training. Whereas Dr.Xeno is planning everything in the state of petrification and after millennia two scientists will meet again at the same time at the same place.
Dr.Stone Chapter 158 Predictions and Spoilers
No Raw cut or spoilers have been released yet so there is not much to spoil anyway. The Raw cuts will be released 2-3 days before the official release. We can only predict what is gonna happen in the future chapters and it really looks exciting for sure.
But one thing for sure that Dr.Xeno and Senku will meet very soon in the stone age and it will be too epic to see. Something interesting is about to go down in the manga and we are really hyped up to see it in action.
Dr.Stone Chapter 158: Where To Read
Dr.Stone manga is available to read on  VIZ Media and Shueisha's Manga plus official platforms.

Subscribe to Email Updates :