In this FedExForum parking guide, we have covered all available parking lot information, parking cost, distance from the venue, and more.
So, without any further ado, let's get started –
FedExForum Parking Guide – Tips, Maps, Deals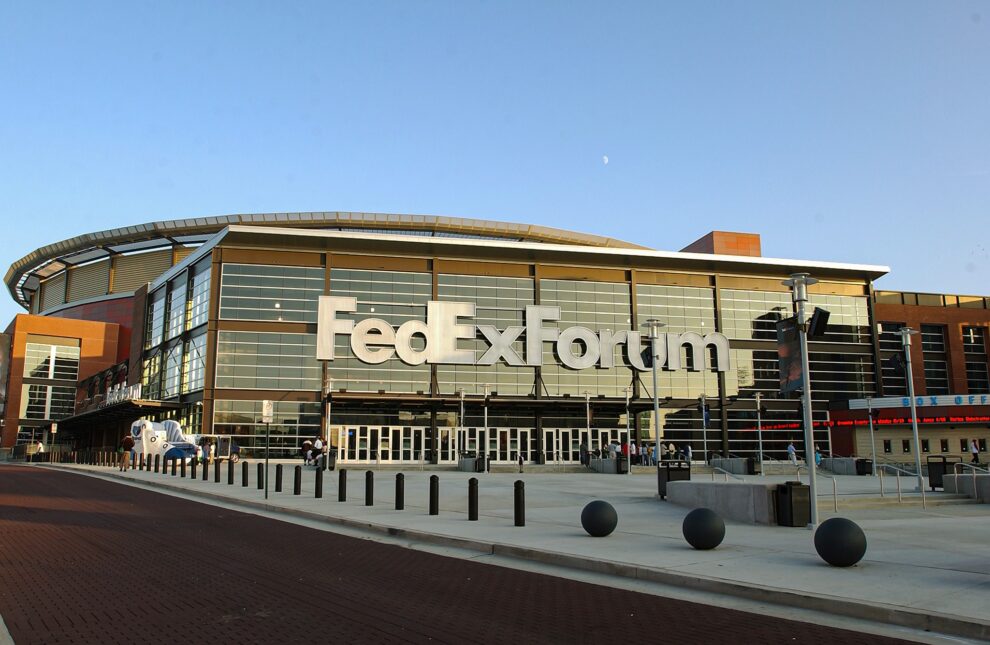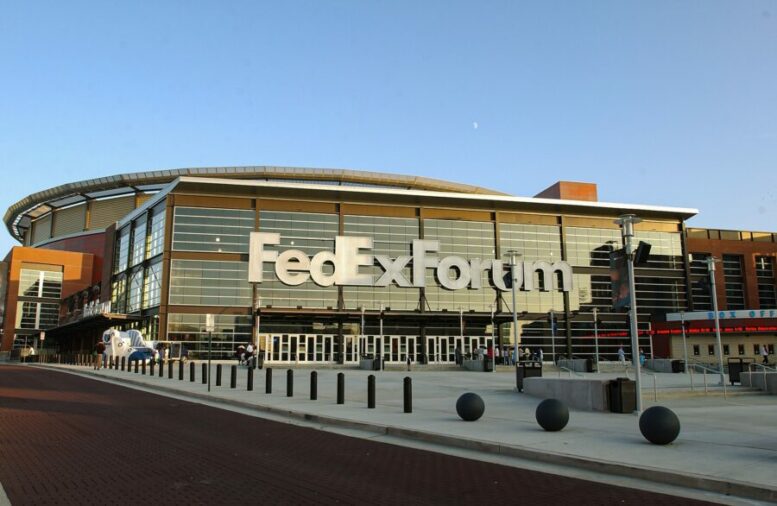 FedExForum is a very popular arena located in Downtown Memphis, Tennessee. This arena is the home of the Memphis Grizzlies of the NBA and the NCAA Division l Men's Basketball Program of the University Of Memphis.
It is owned by the City Of Memphis and was inaugurated in September 2004. In this arena, you can enjoy College Basketball, Hockey, Boxing, WWE, and MMA matches. The arena is built as a dome, and its interiors are designed to tribute to Memphis' rich musical heritage.
FedExForum Official Parking Lots and Parking Cost
FedExForum has a five-level adjacent parking garage with around 1,500 parking spaces available. There are two entrances to the garage located at Linden Avenue between Third and Fourth Streets.
The parking is available on a first-come, first-served basis for non-basketball events. The cost of parking depends on the kind of event taking place at FedExForum. You must be prepared to pay the most minor $15.
Other Parking Options near FedExForum and Parking Cost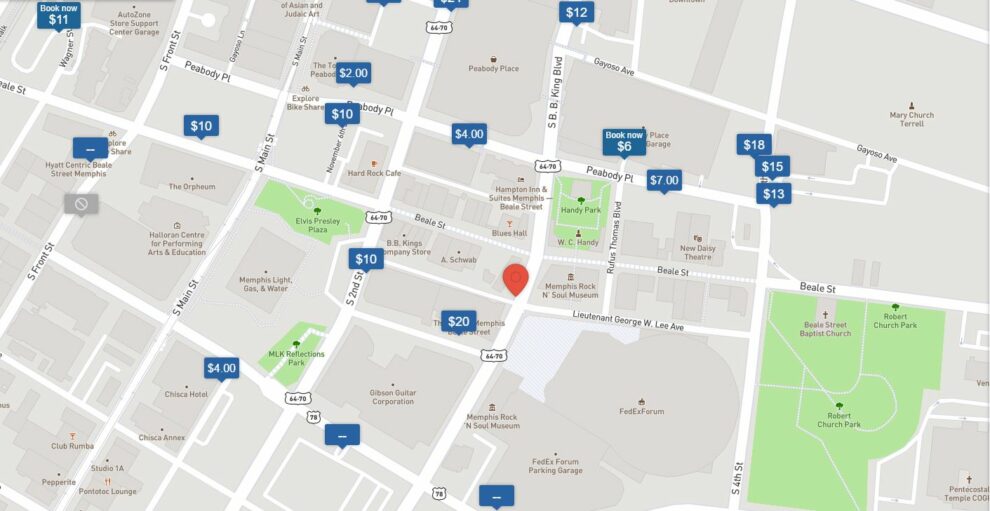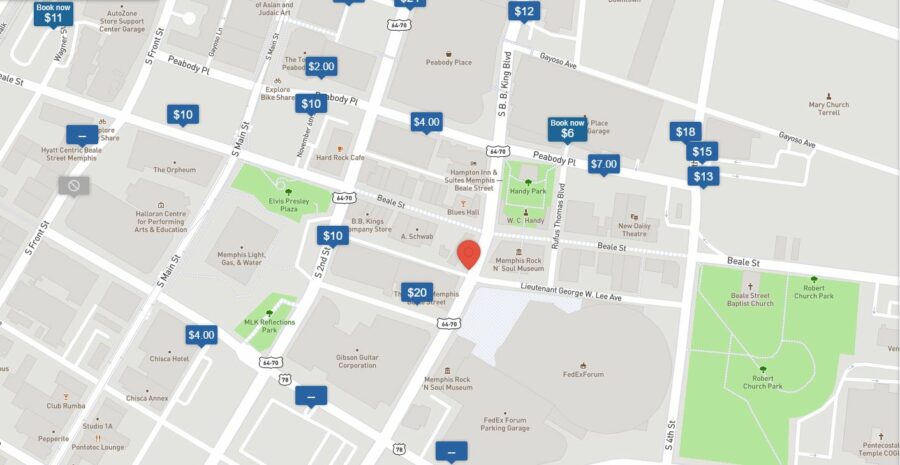 There are many options for parking around the FedExForum other than the official parking. These lots charge based on the number of hours, usually starting with $20 for 2 hours.
All these Lots are within walking distance from the venue.
Lot Name – The Westin Memphis Beale Street
Charges – $20 for 2 hours
Walking Distance – 2 minutes
Lot Name – 200 S 2nd Street
Charges – $10 for 2 hours
Walking Distance – 4 minutes
Lot Name – 250 Peabody Place Garage
Charges – $6.50 for 2 hours
Walking Distance – 5 minutes
Lot Name – 110 Peabody Place
Charges – $2 for 2 hours
Walking Distance – 7 minutes
Lot Name – Orpheum Lot
Charges – $10 for 2 hours
Walking Distance – 9 minutes
Lot Name – One Commerce Square Parking
Charges – $4 for 2 hours
Walking Distance – 12 minutes
FedExForum Handicap Parking
A drop-off location for disabled visitors is on the North side of FedExForum on the Beale Street Alley. You can get there by turning east on 3rd Street, a one-way to the north.
Accessible parking spaces are available for disabled visitors in the FedExForum Parking Garage and the Linden Avenue Marshalling Area. These parking spaces are hospitable only to those with a valid state-issued Hang Tag or License Plate.
All the ADA parking spaces are also available for prior reservation and online booking.
Also Read – T-Mobile Park Parking Guide
Public Transit to FedExForum
FedExForum is located in downtown Memphis. It is in the center of the Beale Street Entertainment District and is therefore well connected by all the public transport options running through the city.
So if you don't want to waste much of your time looking for a parking spot, you can opt for public transit mode.
The Express Shuttle Services start before the beginning of the match and ensure that the visitors don't miss even an inch of the game. They begin their return trips immediately after the game ends. Visitors from outlying and suburban areas can easily travel by Express Shuttle buses to the venue.
Alternatively, trolleys from the Main Street Line, the Riverside Line, and the Madison Avenue Line can also be used. The nearest stops for Main Street trolleys, which travel both north and south, are Beale Street and Linden Avenue.
When they get downtown, intrepid Madison Avenue Line passengers need to walk the few final blocks to FedExForum, while others may want to transfer to a southbound trolley on the Main Street Line.
Carpooling is another helpful way to get to FedExForum. You can get Uber and Lyft rides to and from the arena.
Also Read – Ball Arena Parking Guide
Tailgating at FedEx Forum Parking
While tailgating in the parking area is allowed, it is not encouraged by FedExForum officials. There are many high-end bars and restaurants around the stadium.
The FedExForum provides a safe, comfy, and enjoyable experience. The visitors, however, are expected to follow some rules regarding appropriate language, respect towards each other, and control over foul or obscene language and signs.
Consumption of alcohol should be done in a very responsible way. Smoking should be done only in the designated areas. These rules ensure the safety and enjoyment of all visitors.
Signup For Our Newsletter