Quick Grillbot Review – Grillbot is an amazing grill cleaner that is easy to use, offer three different cleaning mode, and does a fantastic job of cleaning the debris, grease, and other stuff from the grilling surface. However, it does have some problems that include its costly price, ineffective performance in cracks, and the noise it produces.
Grillbot Review – Best Automatic Grill Cleaner?
We all enjoy having barbecue nights in the backyard or terrace but cleaning barbecue grills after having such an amazing experience doesn't sound that pleasant, right?
Well, you are not alone. We all have been in that situation, and this is the reason why you need a Grillbot.
It does not matter if you are a carnivore or a vegan; scrapping and scrubbing away the greasy remains from the grill is the worst nightmare people get. You actually can end up avoiding the barbecue night just by thinking of cleaning the grill later. 
The Grillbot, in such cases, can prove to be your best friend – a friend who takes the responsibility of cleaning all the grease away from the grill so that you can get the grill looking new and just like before. 
Grillbot is the world's first robot BBQ brush that can clean the grill automatically. You will not have to worry about the grill getting dirty.
You can cook whatever you want, and Grillbot will do all the after-work for you. It is a hands-free grill scrubbing and grill cleaning tool that is easy and fuss-free and cleans the dirty, oily grills just perfectly.
You can spend those happy hours with your friends gorging on your favorite grilled slice of meat without worrying about anything else.
Grillbot is the best grill rescuer that you will find. It is that one simple kitchen tool that brings along with it a lot of happy memories. The installed barbecue charcoal scrubber helps remove all the grease and debris that are hard or nearly impossible to reach if you use your hand or even a brush to clean it.
Hence, the next time you grill your meat on the griller, you can rest assured that your food will be healthy.
Grillbot is the most amazing and innovative charcoal grill cleaner you can gift yourself or your friend if they are master grillers. It is the best in what it does, that is, cleaning the grills after the barbecue session.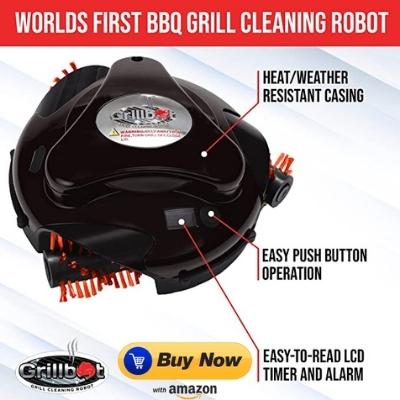 Key Specifications
Rechargeable 

Safe till 120°C 

10, 20, and 30-minute cleaning programs
Grillbot Review – Features of this automatic grill cleaner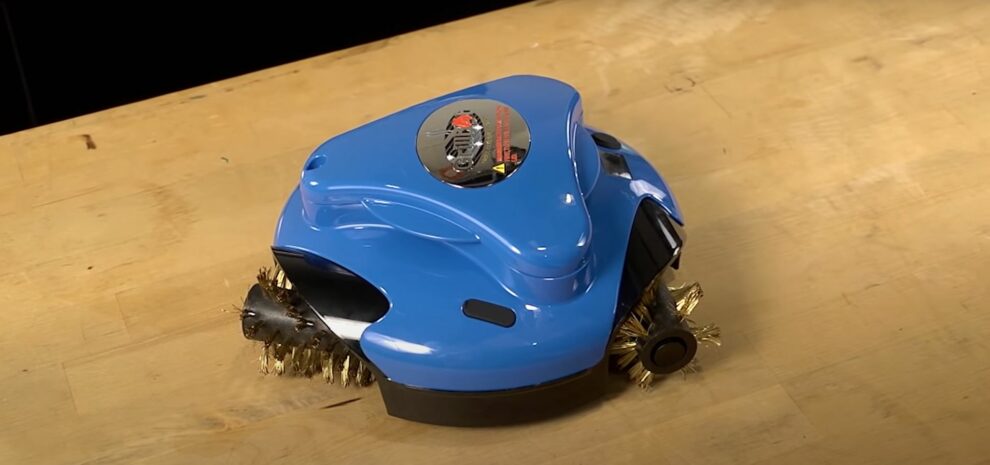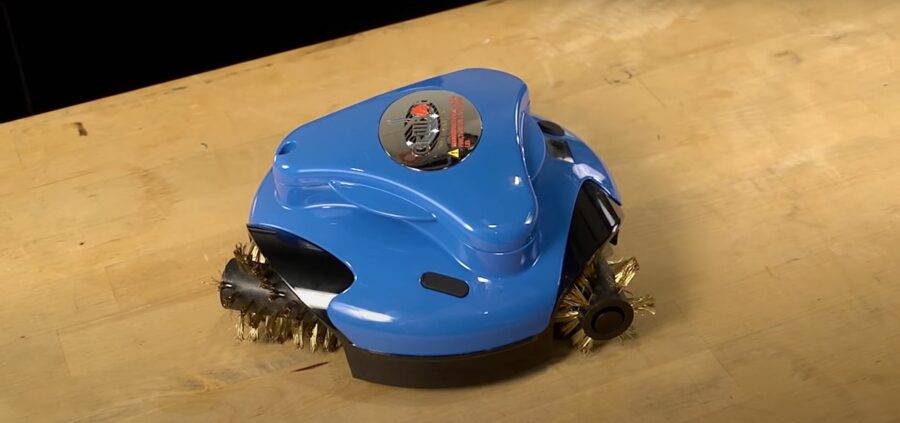 It is an autonomous mini robot (looks somewhat like a mini vacuum cleaning machine).

Available in three different colors – red, orange, and black. 

It has a pre-plotted cleaning system where three rollers with stiff brushes are used for cleaning all the grease in the grill. 

It boasts an automatic alarm system (this is an alert that makes you understand that the grill is too hot and not yet ready to be cleaned) that rings only if the temperature of the grill is more than 120 degrees. 

Display to keep a check on the battery charge so that you can immediately charge if it runs low. 

Takes 8 hours to charge the battery fully.
How to Use Grillbot Automatic Cleaner – Grillbot Review
Using the Grillbot is super simple and easy. There are three cleaning options of 10, 20, and 30 minutes respectively.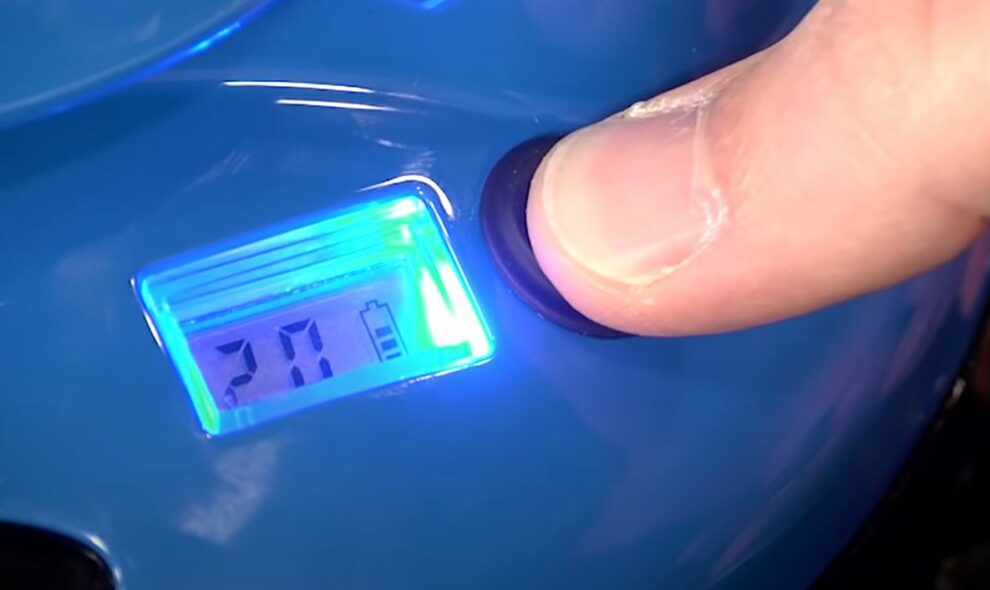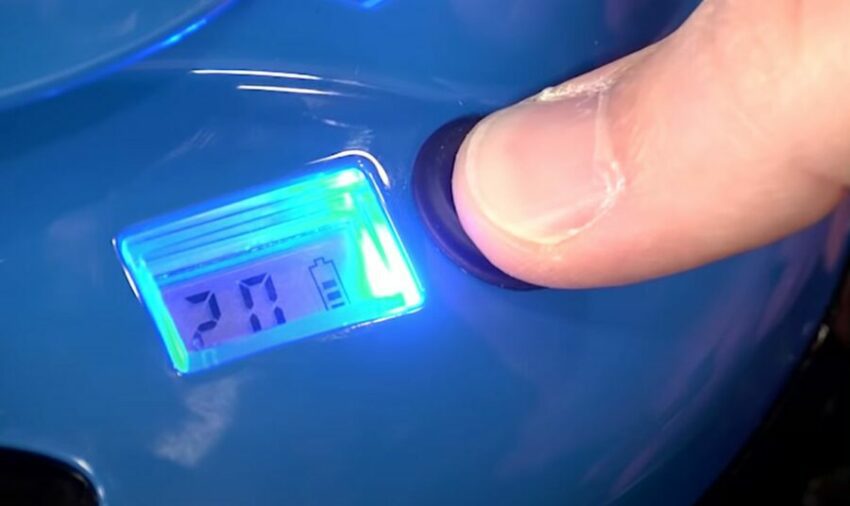 If you want 10 minutes clean, you will have to press the button once. If you want 20 minutes clean, you will have to press the button twice, and for 30-minutes, you will have to press the button thrice.
Choose the cleaning time according to the intensity of the dirt that your grill has. To turn the tool off in case of an emergency, you will have to press the button down for exactly 10 seconds.
Pro Tip – The barbecue for which you are using the Grillbot must have a lid. The Grillbot will make a horrible mess if there is no lid on your barbecue grill.
Pros of Grillbot
It is a super-simple kitchen tool that is easy to use. 

It can easily clean the grilling surface and all the greasy dirt because of the rollers and the stiff brush 

Rechargeable battery (However, a single recharge allows dozens of cleaning sessions) 

Dishwasher and brushes safe
Cons of Grillbot
Extremely pricey 

Bitterly noisy 

Cannot clean the debris present in the cracks 

Difficulty in removing the brushes
Also Read – Gregory Zulu 40 Backpack Review
Closing Comments – Is Grillbot the best automatic grill cleaner out there?
There you have it – a detailed Grillbot review covering everything that you need to know about this automatic grill cleaner.
Grillbot is an amazing tool that reduces the effort of cleaning barbecue grills, but it isn't 100% effective. After using it, you have to follow up with a hand brush to ensure that everything is cleaned, especially in the corners where this cleaning robot is ineffective.
Besides that, you do have to understand that this grill cleaning robot uses a motor and hits against the side of the grill's hood while cleaning, which often creates a bitter noise.
With that said, here I am wrapping up this article. I hope this Grillbot review has helped you decide whether you should buy it or not. If you still have any questions, feel free to shoot them in the comment section below. Our team will try to respond ASAP.

Subscribe to Email Updates :