Gab is an American-based alt-tech social networking service widely known for its far-right community/user base. Launched in 2017 publicly, it is considered somewhat similar to Twitter as it is also a microblogging platform but with a twist.
Parler app which is a widely popular app for the same user base is currently experiencing a lot of trouble, in that case, you might wonder how to create an account on GAB?
It is currently sitting above 4 million users and is viewed as a paradise for neo-Nazis, white supremacists, white nationalists, the alt-right, the QAnon conspiracy theorists, and other extremists.
This platform has always been in controversy because of the constant extreme, antisemitic posting of blogs online. The founders of Gab say that it is a platform for free flow of information, free speech, and individual liberty, and we welcome everybody. Gab has a text message service, email service, a browser, and browser extensions to allow their users to share their opinion on other 3rd party websites or platforms.
Also read: Gab Stock- How to buy Gab.com Stock
These days social media has become a significant part of our lives. It is a prominent thing in our lives and we spend most of our time sharing or looking at blogs, pictures, videos, etc.
It is also a medium by which we stay connected to our favorite people, whether they're our friends or a celeb that we admire. It allows us to have an insider look at their personal lives and opinions.
In the current times, it has created an ample opportunity for everyone to share their ideas and opinions with other people, and it works as a great influencer. Here we are going to discuss a similar social networking service that has significantly impacted the process of exchanging ideas and opinions, Gab, and how to create an account on Gab.
Let us now know ho create an account on GAB with our easy step-by-step guide.
How to create an account on Gab on Android?
Step 1: Gab is banned from Google play store and Apple store, but you can still download the app from the Chrome browser. Open www.gab.com, tap the three-dot menu icon and then click on 'Install app'. Chrome will add that to your home screen and now you can access the app from your home screen .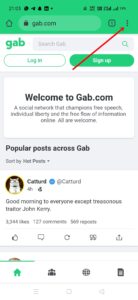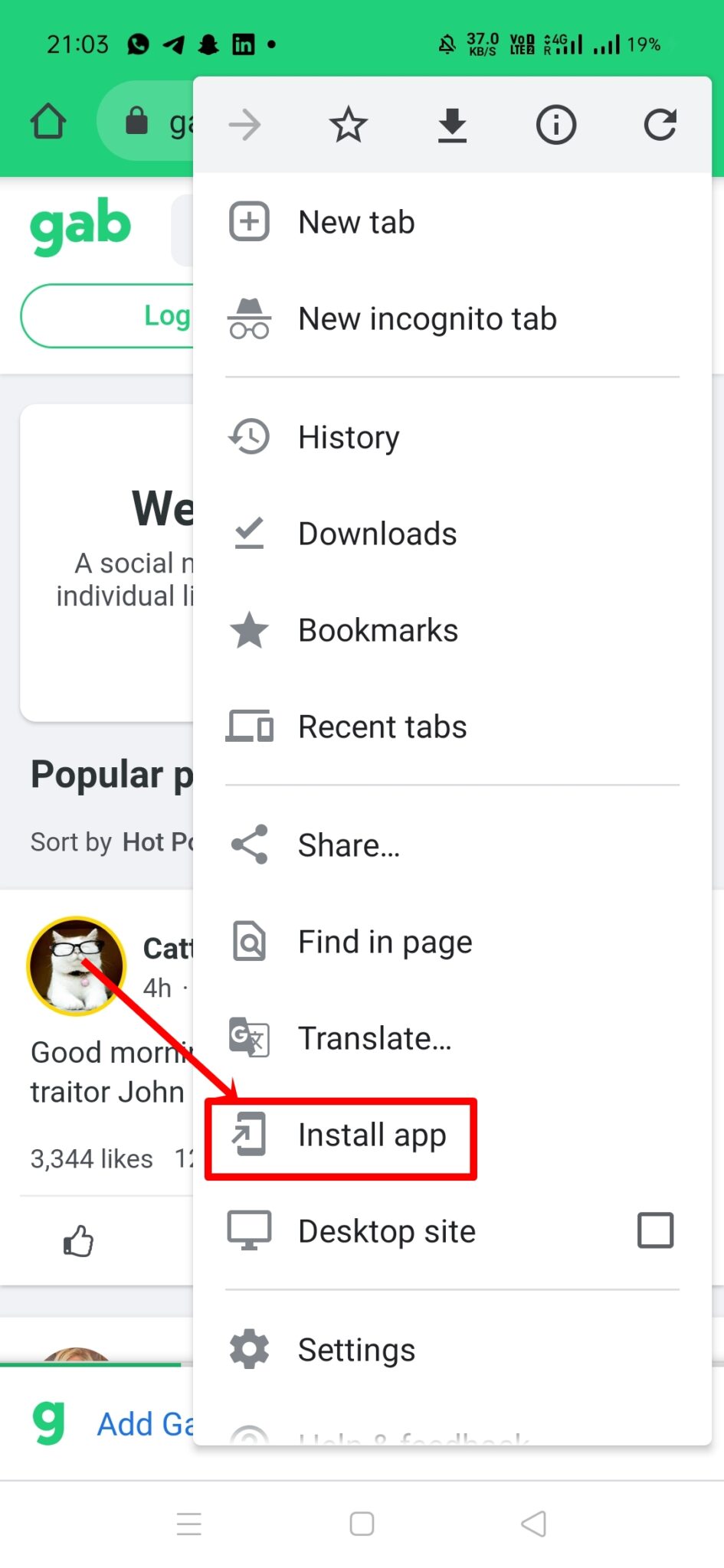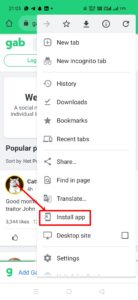 Step 2: After completing the installation, launch the app and make sure your device is connected to the internet.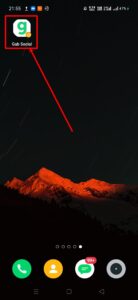 Step 3: Since we're creating a new account, we will be asked for our credentials on the account creation page. There on the account creation page, enter your unique username and then enter your email ID. Keep in mind that the user @ name is fixed and cannot be changed. Now, enter the desired password that must be at least 8 characters long and make sure you choose a strong one.
Also read: How to create an account on Parler for Android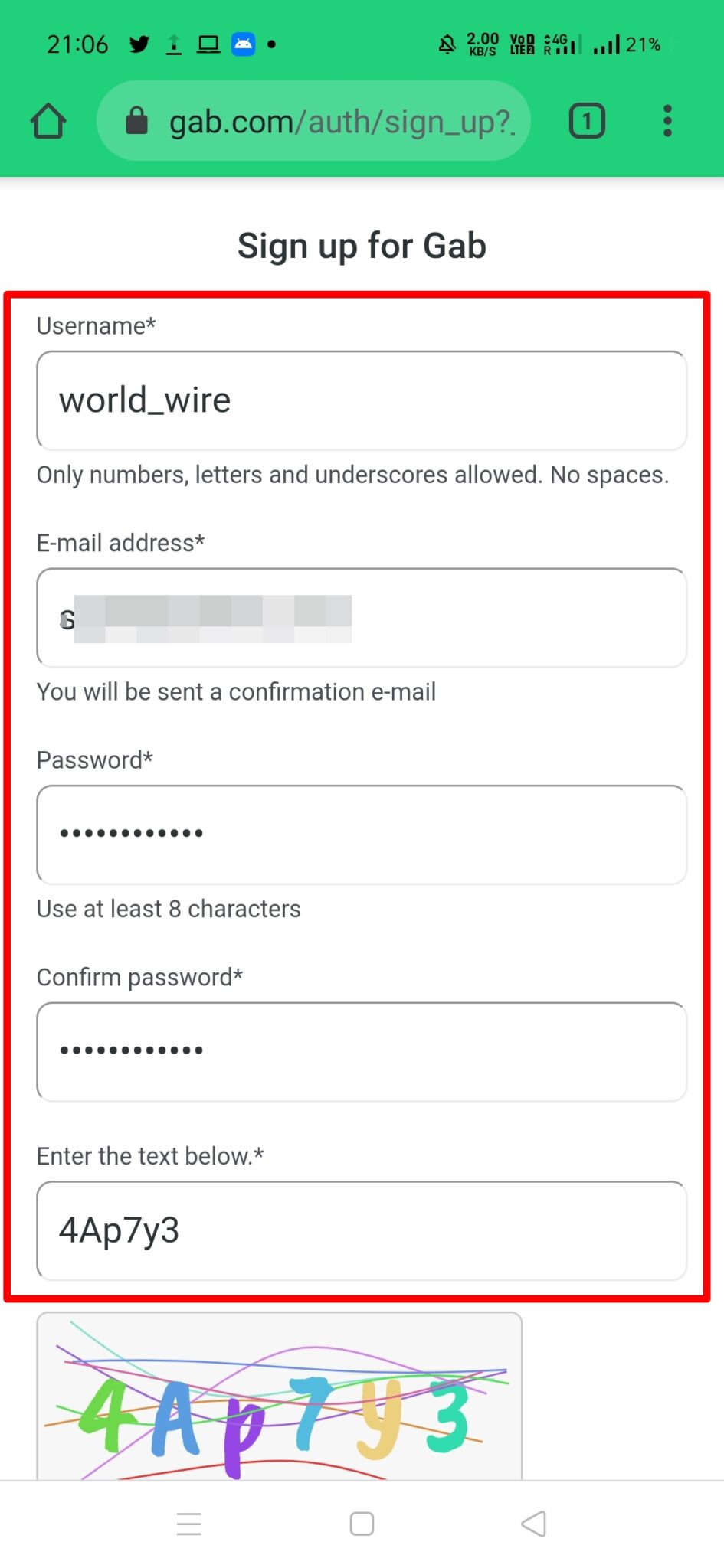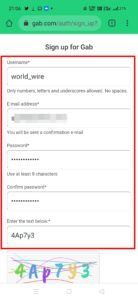 Step 4: In this step, you are required to verify the captcha. It will ask for some simple tests to make sure you're human and not a bot.
Step 5: Now, you will receive an E-mail from GAB regarding email verification. You must know that AOL, Yahoo, and Gmail may often block your verification mail or put them in spam/trash files. To avoid this, make sure you use a different email provider that supports Gab policies.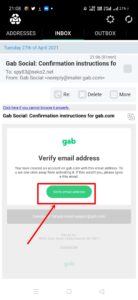 Step 6: After verifying, every social networking service has some Terms of Service and Community Guidelines. GAB terms of services and community guidelines are privacy respecting. Make sure to read all the guidelines entirely, as it is essential to be aware of them. Then click on the Checkbox to agree to those guidelines.
Step 7: Click on Sign Up to complete GAB app signup process.
GAB signup process is easy, and you should not face any difficulty in completing the process.
Conclusion
Gab is a social networking service that is said to promote free speech and individual liberty according to Wikipedia. However, there is no denying that its user base mostly comprises of individuals that share their political standings and opinions. We presented an easy step-by-step guide to creating an account on Gab. We hope you liked the article and happy surfing! 

Subscribe to Email Updates :