The most prominent social media sites of the world do not seem to quite like Trump supporters. People worldwide have alleged popular social media sites like Twitter, Facebook, and Instagram of suppressing free speech. People believe that these sites have a very selective policy where they conveniently remove the content according to the government and its orders; while believing in this theory is all to oneself, no one can deny that popular social media sites do not allow free speech. There are just too many community guidelines, and you can truly be yourself while using these sites. You need to lower your tone, suppress your thoughts while using such sites, and there is probably not a lot of fun in this.
To support free speech and battle the big social media houses, Jason Miller has launched Gettr. Getter is supposed to be a free speech social media platform; this platform is 'cancel free,' as miller states. With Gettr, people will be allowed to express their thoughts and ideas more freely. There will still be community guidelines and control, but that will be very limited. Gettr's Social Media platform was initially launched for beta testing, and the public version was launched on July 4, 2021.
Video on How to use Gettr on Mobile
Well, the thought of having a free speech-centric social media platform is in itself fascinating. We are here to help you understand the ways of the new social media platform. The platform is quite user-friendly and has a beautifully designed and familiar interface. In this video, we will explain to you how to use Gettr on mobile.
How to use Gettr?
Using Gettr is extremely easy. The platform's interface is designed right around the interface of Twitter to make it easier for upcoming users to adapt to the platform and start sharing their thoughts. The platform offers a lot of functionality. Here is how to use Gettr:
Go to Gettr.com and reach the Create an account option. Make sure you are connected to the internet; the platform also has android and ios applications, and they all work pretty much the same way; you can use this guide to understand how they work. Also, read Gettr Explained. A new Twitter for Conservatives?

Fill in the necessary details in the signup form. These details include a Username, Email, and password. You also need to accept the terms and conditions before signing up; make sure that you read all of them. The terms and conditions are general.

Click on the Next button.

On the next page, you will be asked for the code sent to your email. Check your email for a mail from Gettr.
Once you enter the code, your account is ready for use, and you will be asked to follow some people to start with the platform. (Following these profiles is not at all mandatory)
Now that you know how to sign up for the platform let us further understand the platform's features.
Gettr features explained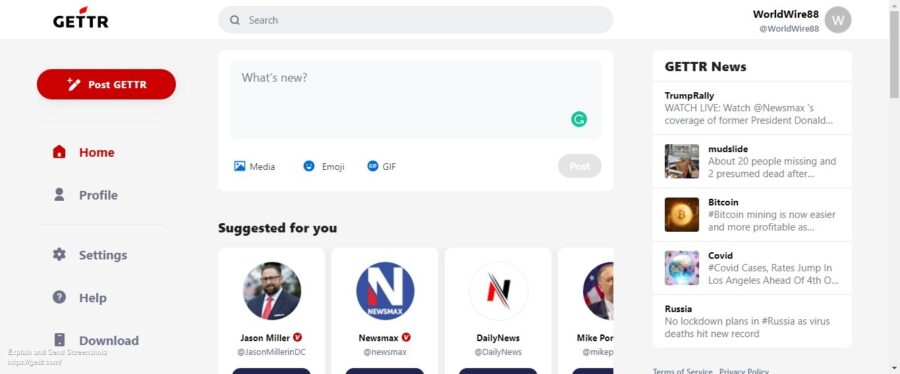 Gettr has a smooth user interface and offers a lot of features, these include:
Post

: This is the feature you can use to express your thoughts. With a post, you can add Text, Images, GIFs, and Links to your post and make it more reachable. 

Likes, Comments, Upvotes, and Reshares

: On a post, you can give out alike, make a comment, upvote it, and if you really like it that much, then share it. As stated earlier, the platform works pretty much like Twitter.

News

: Getter has a news and trending section that displays news related to your interests; the platform is just set up, so the news is not much targeted, but it keeps you informed.

Profile Section

: The website has a profile section where you can upload a profile picture, add a bio, update your website, add a cover photo, and so a lot more. In this section, all your posts are displayed.
Conclusion
The platform works nicely, considering that it has just started setting up. We also tested the Android and Ios apps for functionality, and they work just fine. Getter does not have messaging functionality, but as per our words with the creators, it is up for release in some time.

Subscribe to Email Updates :