Iowa Governor Kim Reynolds has planned to endorse Ron DeSantis in the 2024 Presidential race.
Here are the details of the news.
Iowa Gov. Kim Reynolds will endorse Ron DeSantis
Iowa Governor Kim Reynolds will reportedly endorse Florida Governor and 2024 Presidential candidate Ron DeSantis in the upcoming 2024 Republican primary.
According to the information provided by the DeSantis campaign's website, Reynolds will appear at a DeSantis rally in Des Moines, Iowa, on Monday at 6 pm Eastern Time.
Reynolds previously said she would remain neutral in the GOP primary race. However, her endorsement for Florida governor had long been anticipated due to her presence in some of DeSantis's rallies in her State.
Several conservative Iowans have responded to the news of Reynolds's endorsement of DeSantis. Bob Vander Plaats, a political activist, said of Reynolds, "She is exceptionally popular and a great competitor. She wouldn't endorse unless she saw a path to victory."
Another conservative Iowa radio host, Jeff Angelo, who often interviews Republican presidential candidates, has said that Reynolds' support will help DeSantis.
In contrast, former President Donald Trump and a GOP front-runner for the Presidential nomination have repeatedly criticized Reynolds for endorsing his biggest rival.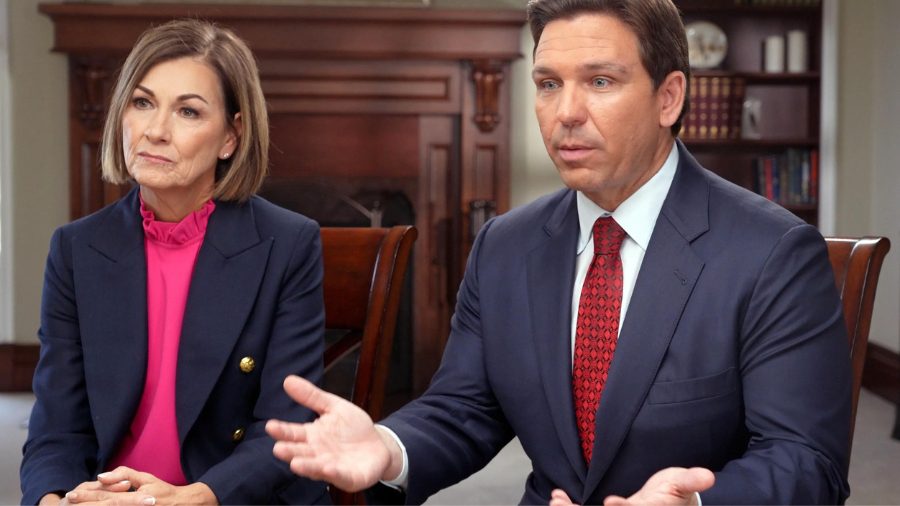 In July, the Iowa governor was seen with DeSantis at his campaign rally after asserting neutrality. The former president Trump attacked Reynolds for supporting DeSantis in his Truth Social platform.
Trump posted, "I opened up the Governor position for Kim Reynolds, & when she fell behind, I ENDORSED her, did big Rallies, & she won. Now, she wants to remain NEUTRAL. I don't invite her to events."
Trump's campaign has again slammed Iowa Governor at the recent news of her endorsement to DeSantis, claiming "Reynolds had promised her constituents that she would remain neutral in the race, yet she has completely gone back on that promise. Regardless, her endorsement will not make any difference in this race."
Since his Presidential bid, DeSantis has given special emphasis on Iowa, which will host the first nominating contest for selecting the Republican nominee.
His campaign recently deployed one-third of its Tallahassee campaign staff to Des Moines. As per sources, out of a total 99 counties in Iowa that the Florida governor has planned to visit, he had visited 83 as of October, becoming a Republican Presidential hopeful to visit the State for the maximum time.
DeSantis declared on 'The Source,' "You shake hands, you ask the questions, that is not something you will necessarily see in polling. It is something that comes out when people make their decisions to caucus, so we're doing it the right way. I'm going to be the only candidate that does all 99 counties."
Also, DeSantis has considered Reynolds' support as a key to gaining significant approval in Iowa. In late October, the media outlets reported that DeSantis said, "A Reynolds endorsement would be a huge get. Obviously, I would love to have her support, formal support. I think that it would be very, very meaningful."
In July, the Florida Governor labelled Reynolds "one of the top public servants in America." He said he would consider the Iowa Governor a potential running mate if he wins the GOP nomination.
Recent Iowa polls in October showed Trump leading DeSantis by 30 points. As such, being famous among Republican voters, Reynolds's endorsement would help DeSantis gain a necessary boost to compete against Trump in the Iowa caucuses and then the State primaries.
Signup For Our Newsletter