Donald Trump denounced Iowa Governor Kim Reynolds, anticipating her support for his top 2024 Republican Presidential rival.
Let's read the news and find out what Trump posted about Iowa Governor on his social media.
Donald Trump Feuds With Iowa Gov. Kim Reynolds
Former United States President Donald Trump publicly criticized Iowa Governor Kim Reynolds in a social media post on Monday over his perception that the governor endorses Florida Governor Ron DeSantis in the 2024 Presidential race.
Trump's statement came after a news report that detailed Reynolds' close relationship with Ron DeSantis, Trump's major competitor in the upcoming GOP presidential primary.
In the Truth Social post on Monday, Trump wrote, " I opened up the Governor position for Kim Reynolds, and when she fell behind, I endorsed her, did big rallies, and she won."
Referring to DeSantis, the former President noted, "Now, she wants to remain 'neutral.' I don't invite her to events. DeSanctus down 45 points."
Through his post, Trump indicated that the Republican Iowa Governor owes him more loyalty as the former President supported Reynolds in 2018 and 2022.
Also, See: Donald Trump Hangs Out With Guy Fieri and Mel Gibson at UFC in Las Vegas
Reynolds clarified that she would not endorse any Republican presidential candidates in the 2024 election. However, Trump and other Republicans have noted that the Iowa Governor has secretly endorsed DeSantis because she appeared with the Florida Governor at all three campaigning events in the state, where she praised DeSantis, saying, "A candidate who has shown the state that he can, and all you have to do is look at his record."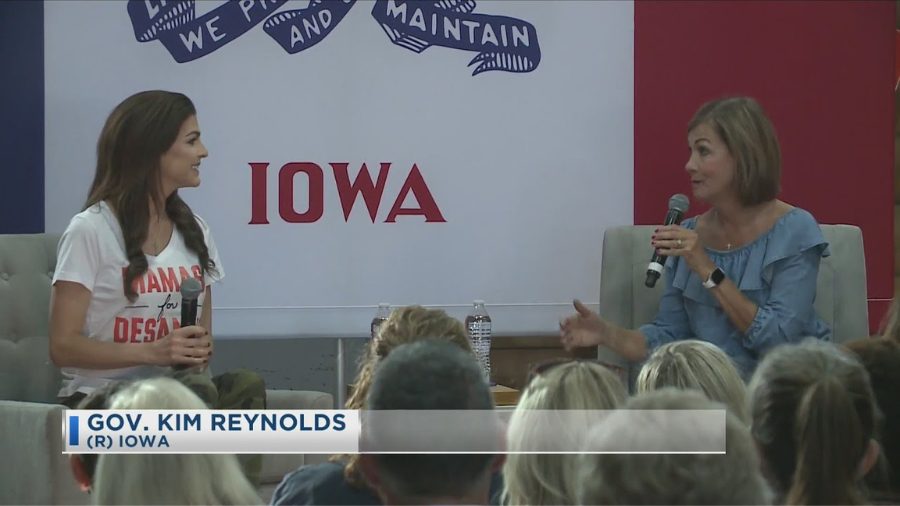 Last week, Reynolds also appeared with DeSantis's wife, Casey DeSantis, for a new campaign, 'Mamas for DeSantis,' to attract more women and parents to the DeSantis campaign.
Also, See: Ron DeSantis campaign raises $20 million in first six weeks
According to the news, the closeness of both governors has been a matter of internal Trump campaign discussions. Trump is frustrated over his perception of Reynolds's support to his rivals even after admitting not to support any hopefuls, particularly his 2018 support to the Iowa leader.
In his campaign event last month in Iowa, Trump claimed that the Iowa governor could not have won her races without his support. He said," I hate to say this, but without me, you know, she was not going to win, you know that, right?"
Also, See: Donald Trump's South Carolina Rally Draws 50,000 Supporters
While the Republican Front-runner is disheartened at the Iowa Governor, the first runner-up, DeSantis applauded Reynolds on Twitter, calling her a "strong leader who knows how to ignore the chirping and get it done."
He added," She earned a landslide re-election because she delivered big results, and she is poised to deliver even more for Iowans in the special session."
Another GOP Presidential candidate Nikki Haley also Tweeted in support of Reynolds, "Governor Reynolds is a conservative rockstar who has delivered for the people of her state. Like I always say, Iowa grows strong women."
The Republicans announced the Iowa caucus to be held on January 15, 2024. Being the first-in-the-nation state to vote for the 2024 race, Iowa has been the strong battlefield for Republican candidates. As Trump lost the state in 2016, he looks forward to gaining momentum in the state's upcoming caucuses.

Subscribe to Email Updates :