The current and former presidents of the United States applauded former First Lady Rosalynn Carter in a tribute after her death.
Here are the details of the news.
Joe Bidens, Trumps Eulogize Former First Lady Rosalynn Carter
As the nation mourns the death of former First Lady Rosalynn Carter, several famous personalities have offered words of appraisal while offering their consolations.
Born on August 18, 1927, in Plains, Georgia, Rosalynn Carter was a mental health advocate and the wife of Jimmy Carter, the 39th President of the United States.
She was one of the most politically active First Lady in the United States. She died at age 96 while being in hospice care at her home on Sunday, November 19, 2023.
Her husband has been in hospice care for months and said in a statement after her death, "Rosalynn was my equal partner in everything I ever accomplished."
"She gave me wise guidance and encouragement when I needed it. As long as Rosalynn was in the world, I always knew somebody loved and supported me."
Amongst many, U.S. President Joe Biden, former President Donald Trump, and George W. Bush are some prominent figures who paid their tribute to the First Lady on Sunday.
In a joint statement, Biden and First Lady Jill Biden said, "First Lady Rosalynn Carter walked her path, inspiring a nation and the world along the way."
The statement continues, "Throughout her incredible life as First Lady of Georgia and the First Lady of the United States, Rosalynn did so much to address many of society's greatest needs."
"She was a champion for equal rights and opportunities for women and girls; an advocate for mental health and wellness for every person; and a supporter of the often unseen and uncompensated caregivers of our children, ageing loved ones, and people with disabilities."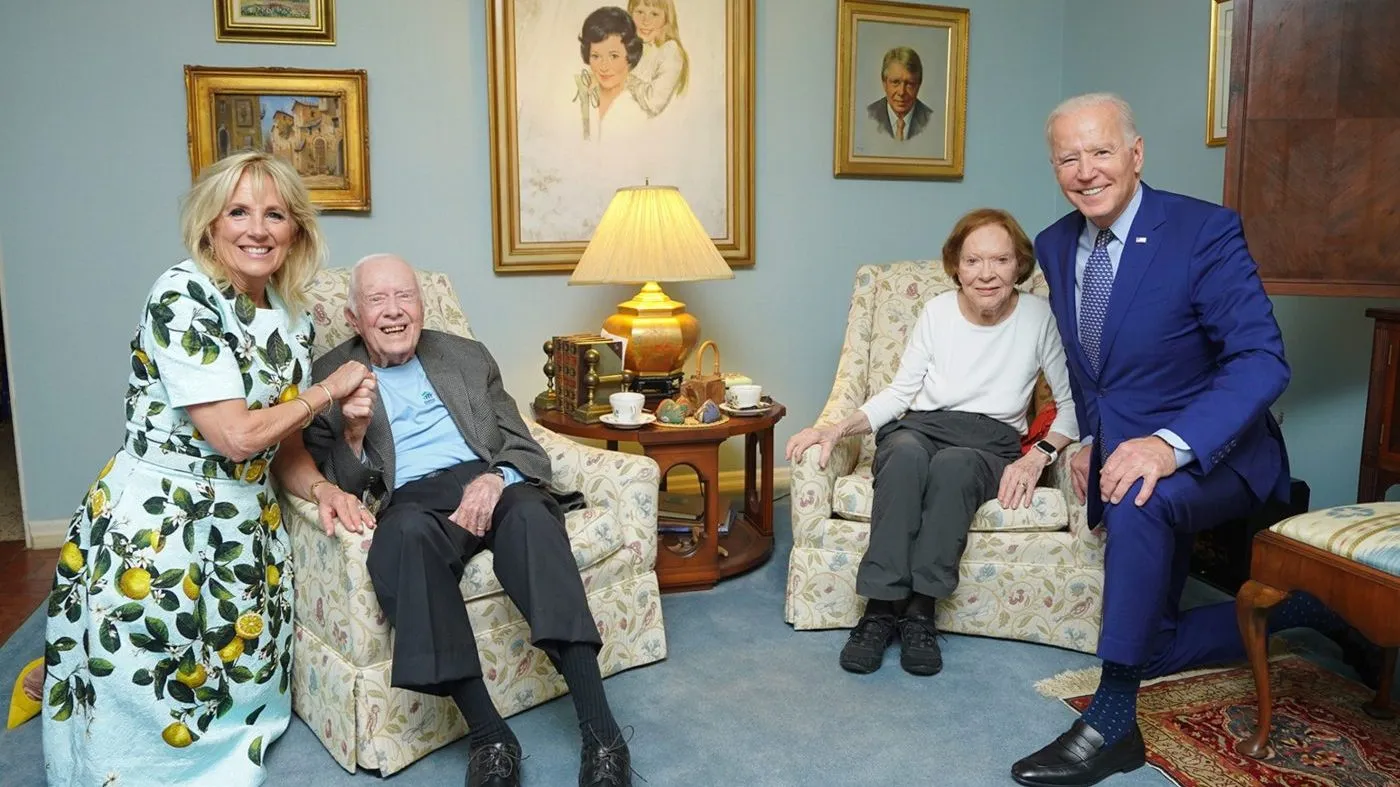 Biden added, "On behalf of a grateful nation, we send our love to President Carter, the entire Carter family, and the countless people across our nation and the world whose lives are better, fuller, and brighter because of Rosalynn Carter's life and legacy."
Trump has also eulogized the former First Lady on his Truth Social platform, posting, "Over a life spanning nearly a century, Rosalynn Carter earned the admiration and gratitude of our entire nation."
"From her days as a U.S. Navy spouse to the Georgia Governor's Mansion to her tenure as First Lady of the United States, and her later work at the Carter Center and volunteering with Habitat for Humanity, she leaves behind a legacy of extraordinary accomplishment and national service," added Trump's post.
Besides Biden and Trump, former President George Bush and former First Lady Laura Bush have offered their deep condolences to Rosalynn in a statement,
"There was no greater advocate of President Carter, and their partnership set a wonderful example of loyalty and fidelity. She leaves behind an important legacy in her work to destigmatize mental health. We join our fellow citizens in sending our condolences to President Carter and their family."
Rosalynn Carter served as the United States' first lady from 1977 to 1981. After leaving the White House, she and her husband played a key role in developing the nonprofit housing organization Habitat for Humanity, which advocates for mental health and many other social causes.
Carter is the author of many books and is the second-longest-lived first lady after Bess Truman.
Signup For Our Newsletter