Overview: This article explores Joe Rogan's various charismatic personality traits and mainly centers on the controversy surrounding his height.
Joseph James Rogan is the American host of the biggest podcast show in the world, called The Joe Rogan Experience. It was launched in 2009 and currently has more than 1500 episodes. Rogan holds regular discussions on his show with a variety of guests on topics including current events, politics, science, hobbies, philosophy and comedy. He is a Ultimate Fighting Championship (UFC) colour commentator, actor, comedian and former television presenter. 
How tall is Joe Rogan- Joe Rogan height
For 53 year old Joe Rogan, whose personality and headline – making statements have made a large impact, the internet seems to put him on the shorter side. 
L.A. residents reported spotting a skywriting back in June 2021 as part of a marriage proposal that stated Rogan's height as "literally 5 foot 3".
As strange as it is, pictures of the skywriting soon started circulating on Reddit that sparked a number of rumours which is why many people think that Joe Rogan is short in height. However, Joe Rogan's height is perfectly average at 5 foot 8. The national average height for US men is 5 foot 9 making Rogan stand right among the majority of men.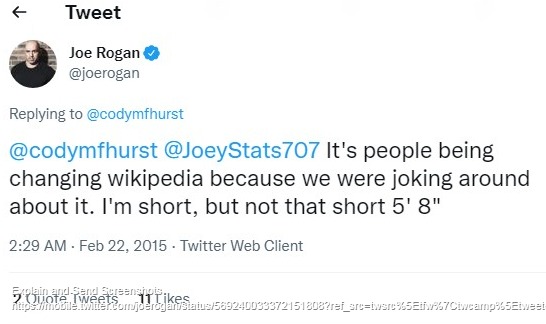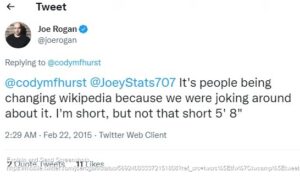 In fact, Rogan actually tweeted his real height way back in 2015. The tweet resurfaced during the ongoing argument on Rogan being only 5 foot 3. 
Joe Rogan personal info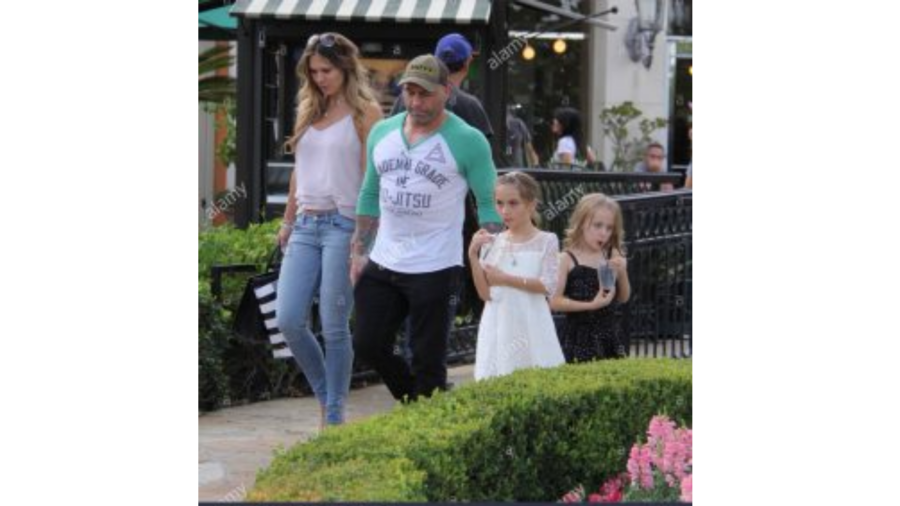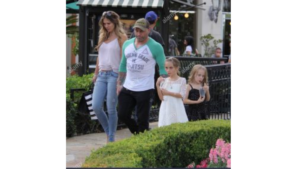 Joe was born on 11th August, 1967, in Newark, New Jersey. He is married to former model, Jessica Ditzel, and has two biological daughters, Rosy and Lola along with a step daughter, Kayja Rose from Jessica's previous relationship. Rogan's net worth is estimated to surpass 100 million dollars. He lives in Austin, Texas with his family in a lavish, 10,000 square foot mansion worth 14.4 million dollars. 
"It's a political hit job" … says Joe Rogan over Spotify controversy
Joe Rogan is no stranger to controversies as he recently made headlines with his statements on The Joe Rogan Experience. According to reports, Rogan used a racist slur and made insensitive comments regarding the Covid – 19 vaccinations during his previous episodes. As a result, Spotify removed 113 episodes of his podcast from the platform, though the $100 million, multi – year deal is still intact. 
Joe Rogan addresses controversy 
In response to the controversy, during a recent conversation with his guest, Aakash Singh, Rogan states,"In a lot of ways, this is a relief. That video (of Rogan saying the n-word in his podcast) had always been out there. This is a political hit job. They're taking all this stuff I've ever said that's wrong and smushing it all together. It's good because it makes me address some stuff that I really wish wasn't out there."
"Over time, people will understand you. They know you. If you misstep, they know what you're trying to do " you're not a vicious person, you're just trying to be funny."

Subscribe to Email Updates :