The Keep East Texas Red Fundraiser supports the Smith County Republican Party. The guest speaker of the event is Governor Greg Abbott. The event is scheduled for February 15.
Help "Keep East Texas Red" by joining the Smith County Republican Party. Your support and participation go directly to your local party where we most need it. We need your help to get our message out and elect Conservative Republican candidates to promote our values!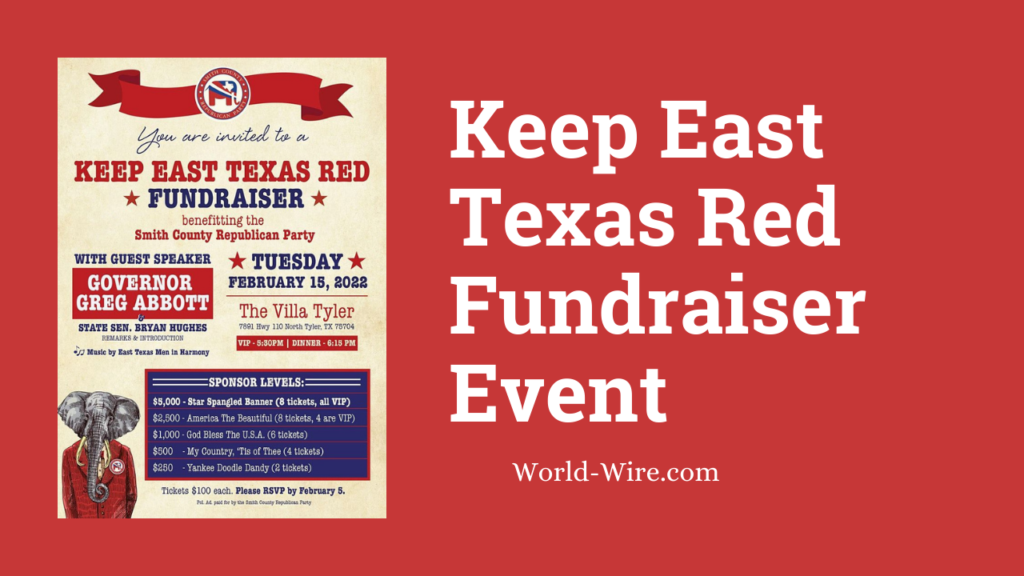 However, Texas Governor Greg Abbott is our guest speaker. State Senator Bryan Hughes will also speak, and music by East Texas Men in Harmony.
Keep East Texas Red Fundraiser Event Details
The event will start on Tuesday, February 15, 2022, 5:30 PM – 8:00 PM CST. You can give your support by visiting The Villa Tyler 7891 Texas 110 N Tyler, TX 75704 United States. Where the Keep East Texas Red Fundraiser event will take place.
Also, Read | Trump's Truth Social set to launch on Presidents' Day
Governor Greg Abbott Bio
Greg Abbott has been Texas' governor since January 20, 2015. He was born on November 13, 1957. From 2002 to 2015, he was Texas Attorney General, and from 1995 to 2001, he was a member of the Texas Supreme Court. He is a member of the Republican Party.
Abbott is a Roman Catholic married to a former school teacher and principal Cecilia Phelan Abbott. He is one of the first Hispanics in that office. Audrey Abbott is the couple's only child, whom they adopted at birth after marring in 1981. They have two dogs, Pancake and Peaches.
Steps to book Tickets for the Event
You can easily register for the event. However, there are a few steps you have to follow. Click Here to Book Tickets and select the preference you want to book. The lowest Price for General Admission is 100$ and highest is 5000$.
Stay Updated for the events and follow World Wire for more such event guide and watch livestream.

Subscribe to Email Updates :