One Piece Chapter 993 Release Date, Spoilers, Preview, Trailer, & Recap: Where To Read?: The intensity of One Piece manga is on a different level right now. With each chapter, the stakes get higher and higher. There are so many things happening in one chapter that it is hard to keep up. There are so many possibilities that can occur, and every single one of them is good. If you miss even one single panel, you will be confused. We got to see Scabbards' real power, and now it is just a matter of time before Luffy takeover and beat Kaido into a pulp. And it will be as satisfying as you think it will be.
One Piece Chapter 992 Recap
The chapter started with Big Mom, Perospero, and Marco standing in a hall in Onaghisma. Big Mom told Perospero that she had allied with Kaido. Perospero said to her that all of her kids want to see her become the Pirate King. Marco, who was listening to the conversation, said to Perospero that he only agreed to help him because they had the same goal of defeating the demons. Big Mom asked why he is helping Straw Hats. Marco told him that Whitebeard's words do not tie the Whitebeard Pirates. They can do whatever they want. Meanwhile, inside the castle, Carrot is finding Big Mom so that she can avenge Pedro.
The Party Has Started
Meanwhile, on the roof, the Scabbards are fighting Kaido, and they are seriously damaging him. Everyone is landing their attacks on Kaido, and that was not expected. Kaido was getting the upper hand when Neko and Kawamatsu strike him down with a combination attack. Everyone attacks Kaido, and he is seriously injured now. He is thinking about how are their attacks hurting him. Kaido used his big attack, but Raizo reversed it using his ninjutsu. After that, Kinemon, Denjiro, Ashura, and Inuarashi use Oden's two-sword style and attacks Kaido with one of Oden's attacks.
Also, Read Black Clover Chapter 269 Release Date, Recap, Read Online Spoilers, & Where to Read Online?
One Piece Chapter 993 Release Date
One Piece is not on a break next week. So the next chapter is scheduled to release on October 25, 2020. One Piece release schedule has been inconsistent for a long time. So, if there is any last-minute change, we will update you.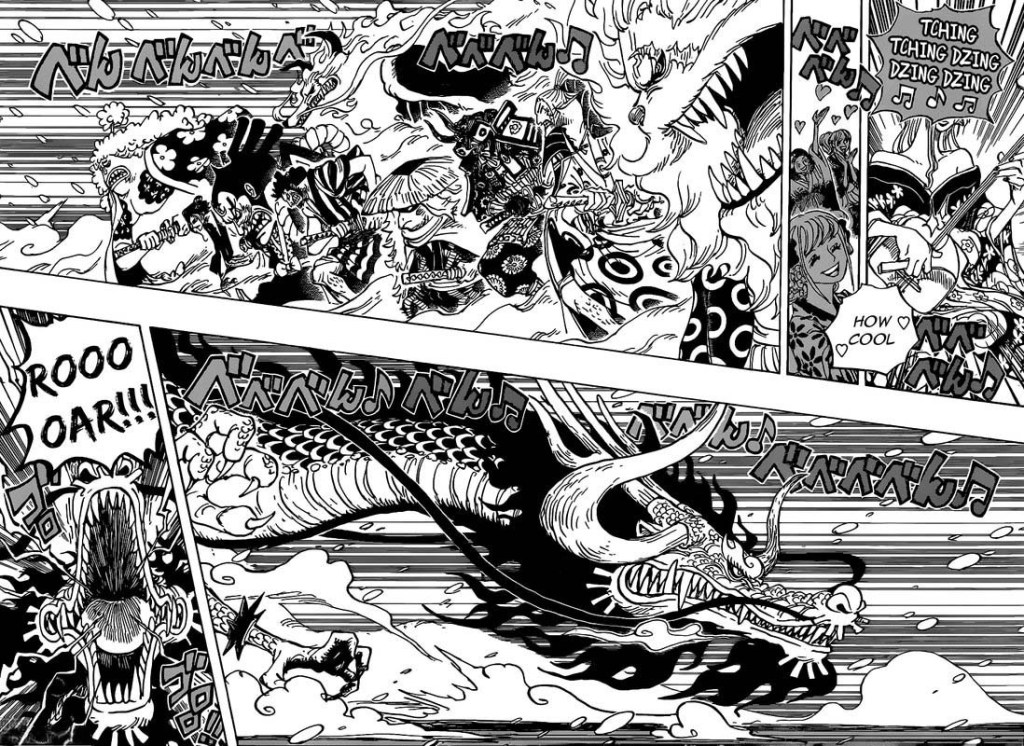 One Piece Chapter 993 Predictions
We might see more of Marco and his deal with Perospero in the next chapter. The fight between the scabbards and Kaido is also getting intense. Even though scabbards have the upper hand, but something seems off here. There might be a piece of sad news waiting for us in the next few chapters. Maybe they got a power boost in exchange for their lives. We have to wait and see what will happen in the future.
One Piece Where To Read
You can read One Piece's latest chapter on Viz's Media Shonen Jump site. One Piece is also collected in manga tankōbon volumes. We request you to use only the legal and legit sources as it will promote the work of creators.
Signup For Our Newsletter