One Piece Episode 954 Release Date, Recap, Review, Spoilers, Trailer, & Where to Watch?: Finally, all the One Piece fans got the explanation as to why Ryuma's corpse was still intact after 100 years. At this point, Oda would have said anything and everyone would have accepted it. Finally, we got Hiyori and Kawamatsu reunion, for some reason it was not as impactful as I thought it would be. And wasn't Gyukimaru's story just unexpected and really feel good one? To be honest, One Piece at this point might be one of the best things ever. There are very few things better than a One Piece's arc done right. Don't believe me? Take Skyepia for example. And if Toei Animation can sort out their constant issue of lengthening an episode and their severe lack of empathetic and emotional moments Wano might be one of the better things about One Piece if not the best.
One Piece Episode 953 Recap
The show started with Gyukimaru telling how important Shusui is for Wano country. Just when the fight was picking up Kawamatsu entered and stopped it. Meanwhile, Kaido and Big Mom were fighting at Onagishima and the whole island was feeling the trembles. Queen called the jailer and asked him if everything was okay and he replied that it is. It was revealed that Otama had controlled her with her dumpling. Chopper has saved all the prisoners and healed them. Boss Hyogoro met his older subordinates. Hyogoro gave them the task to scrape all the rebels that were hiding in the country.
The Reunion At Bandit's Bridge
Meanwhile, Kinemon got the blueprints of the Onigashima castle. Raizo told Kinemon that they have found 3500 warriors for the cause. Back with Zoro and party. Hiyori starts crying after meeting Kawamatsu and clings to him. It was revealed that Kawamatsu was the Kappa that raised her. We also got to know that Hiyori ran away because she was scared that Kawamatsu might die because of her. She was scared and ran away. Kawamatsu searched for her throughout the whole village but wasn't able to find her. And after his body stopped listening to him he stopped looking for him. Gyukimaru was also crying and we were gonna see his flashbacks too but some goons shot him in the shoulder. Zoro and Kawamatsu took care of them. Gyukimaru ran away and was saying that he is so glad that Kawamatsu is alive.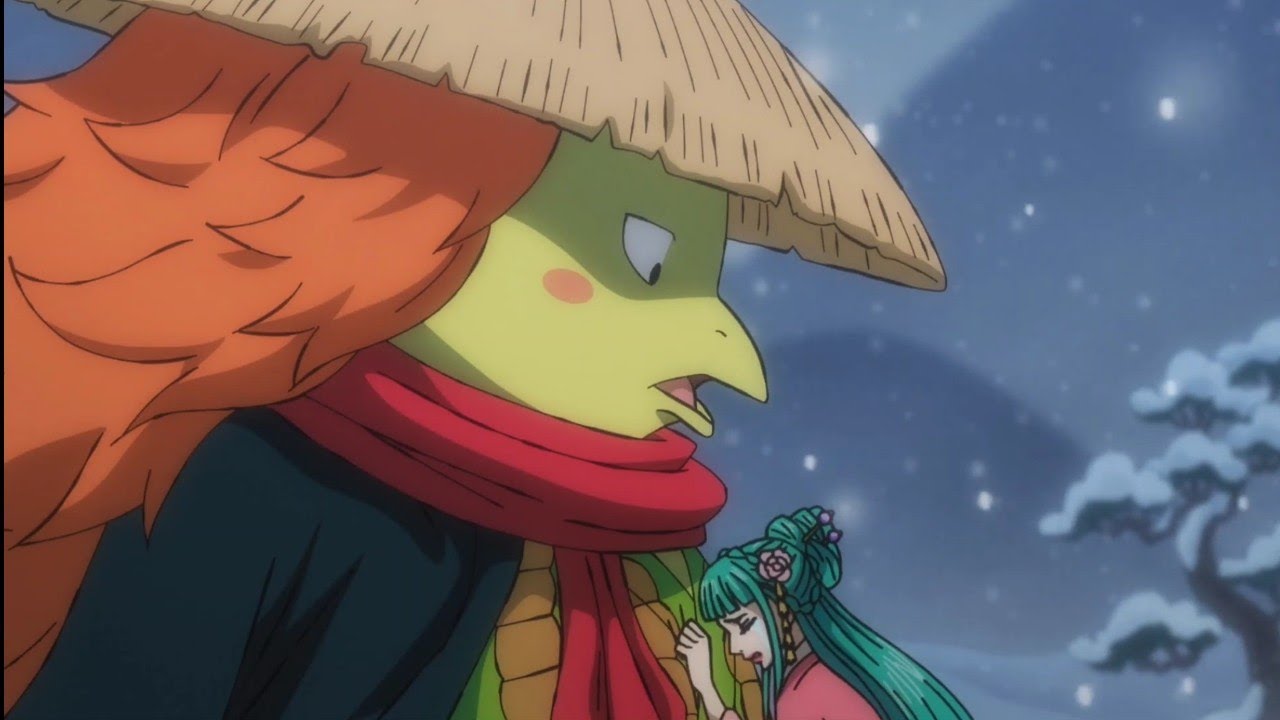 One Piece Episode 954 Release Date
Episode 943 will release on  Sunday, 13 December 2020, at 8:30 AM (JST). A new episode is released every Sunday if there is no delay in the schedule.
Also Read: Top 9 Best One Piece Arcs – Ranked
One Piece Episode 954 Preview
A short preview of the next episode has been released. We will see the story of Gyukimaru and Kawamatsu and if you are familiar with the manga you will know that it's emotional. Zoro might even get a new sword or something in the next episode. So, it is gonna be a big episode.
One Piece Where To Watch
You can watch the latest episode of One Piece on Crunchyroll for free and if you have a paid subscription you can watch the episode without advertisements. We request you to watch the anime from legit sources only as it will help the creators.

Subscribe to Email Updates :