The fencing around the United States Capitol has been re-erected, police have been stationed at major intersections and highways in Washington, D.C., and the National Guard is on standby ahead of President Joe Biden's State of the Union address on Tuesday evening – but the People's Convoy continues to rally through the Midwest on its way to the capital.
After dozens of trucker convoys declared plans to congregate in the capital city to protest coronavirus restrictions, including one group that threatened to shut down a major interstate, federal authorities ramped up security in the area.
However, after at least two of the planned trucker convoys collapsed owing to a lack of interest, it's uncertain whether any of the anti-vaccine demonstrators will make it in time for the president's annual address to Congress.
Despite a strong warning from state police discouraging protesters and threatening legal action for traffic disturbances, the largest truck caravan, the eight-mile long, 100-vehicle People's Convoy, gathered in Missouri overnight and continued its journey through Illinois on Tuesday.
The People's Convoy has called on Biden to stop the national emergency declared at the start of the pandemic, as well as any continuing coronavirus regulations, in the style of recent trucker protests in Canada that shut down border crossings to the United States. With the mandates, the truckers claim the government has infringed on their constitutional rights.
'This isn't a left-wing problem. This isn't a good situation. Trucker and Peoples' Convoy co-organizer Brain Brase, 37, of Ohio, told a crowd of supporters in Missouri Monday night, "This is an American problem." 'Not only have we witnessed numerous abuses of our constitutional rights, but we have also witnessed violations of our God-given rights on a global scale.' Human rights are being violated by governments all across the world.'
The People's Convoy has vowed not to disrupt roads or bridges, and organisers have pledged a '100% safe, lawful, and peaceful travel' that would 'end in the neighbourhood of the D.C. area, but will NOT be heading into D.C. proper.' On Saturday, March 5, the trucker caravan plans to arrive in the greater D.C. area.
On Tuesday afternoon, a freedom convoy event was held in D.C., but only around a half-dozen individuals attended.
The People's Convoy, which left California last week on an 11-day journey to Washington, D.C., left Missouri early Tuesday morning and began its journey to Indiana, which includes passing through Illinois on the Dan Ryan Expressway.
The convoy was received with a wave of solidarity in the Prairie State, with locals shouting for the truckers as they drove along the road with flags as signs.
The positive attitude contrasted with that of Illinois State Police Division of Patrol Col. Margaret McGreal, who had warned officials before the convoy's arrival that any demonstrators who break state law and harm civilians will be prosecuted.
McGreal told WGN, "A planned event designed to obstruct normal traffic flow is dangerous to the innocent travelling public. Those who choose to participate in events that purposefully harm the public and are in violation of Illinois law will be subject to the enforcement of applicable laws and may be held liable for traffic crashes that occur as a result of their actions."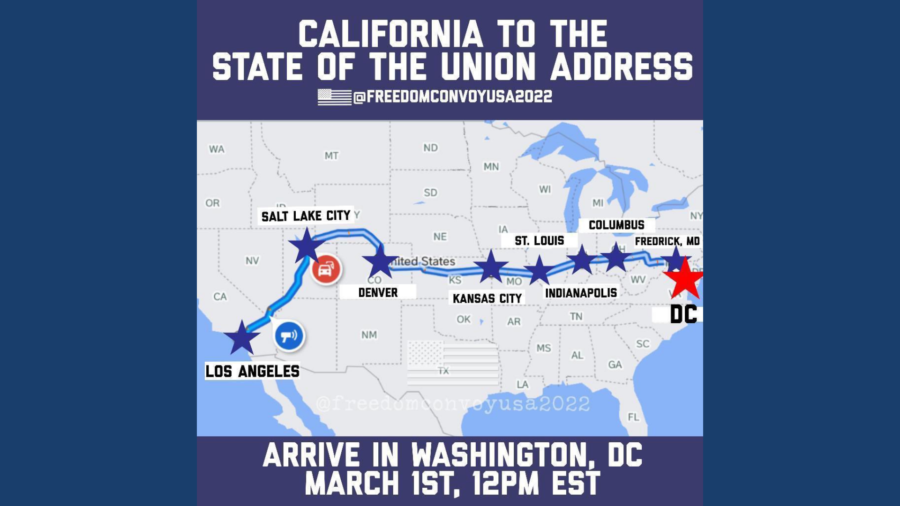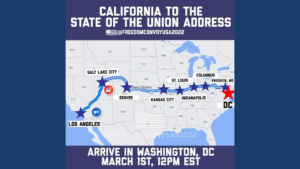 The People Convoy's Facebook page administrator, Kris Young, stated earlier this week that the group would continue their journey through the Prairie State despite the warning.
'We encourage residents of this state to show their support and/or join us!!' she added. On social media, supporters of the convoy slammed Illinois law police, accusing them of hypocrisy in their response to the demonstration after state troopers shut down the same highway for a Black Lives Matter rally in 2020.
'Illinois is a no-go zone for the People's Convoy,' Dan Proft tweeted. 'ISP on the #BlackLivesMatter demonstration that shut down the Dan Ryan Xway in August of 20: "We've been in touch with the protest organisers to set up a safe route of travel…will defend the rights of individuals who want to peacefully protest."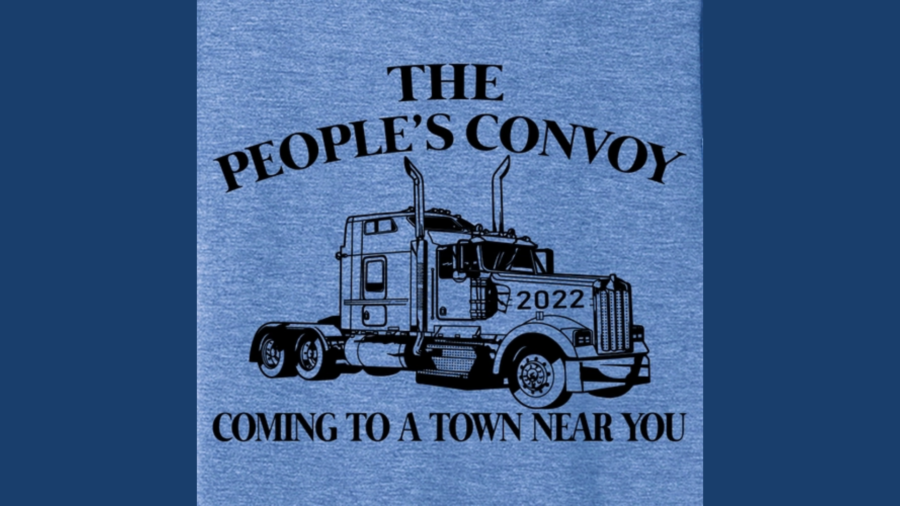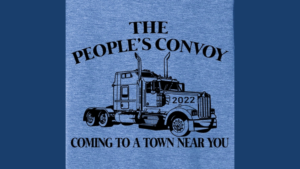 'Welcome to the state of Illinois! 'The Land of Communism,' Erin Geary echoed. 'Absolutely revolting. The rank and file have a good reputation. However, the leadership of the ISP/CPD seems complacent. We support the police, who have successfully suppressed nonviolent protests. Matt McKeon said, "No good deed goes unpunished."
Last Wednesday, the People's Convoy, which included more than two dozen 18-wheeler trucks and around 50 pickups and recreational vehicles, left Adelanto, California, some 80 miles northeast of Los Angeles. According to organisers, it has subsequently grown to roughly 100 automobiles and spans an eight-mile stretch.
When it gets in D.C., the group is scheduled to be joined by more than 20 additional truck cavalcades, including those from Texas and Pennsylvania.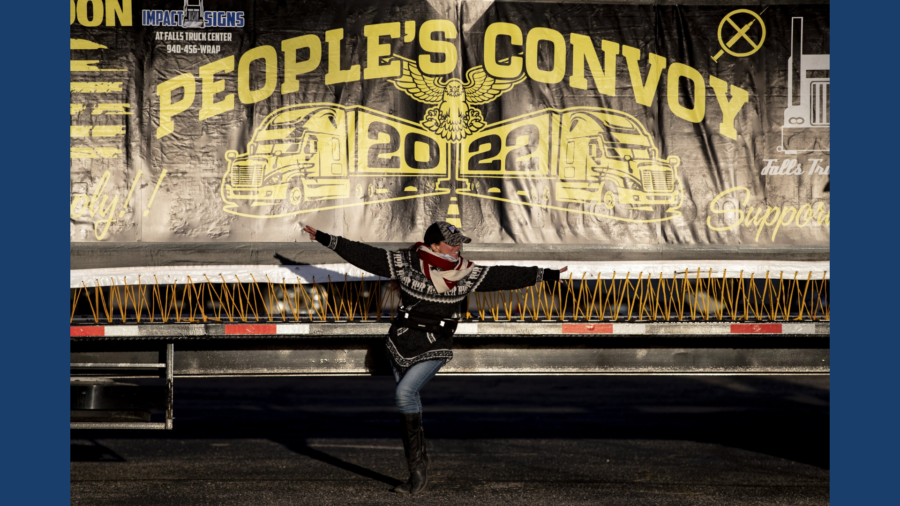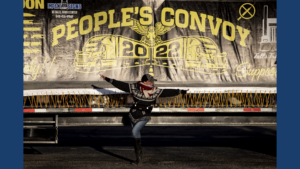 As the convoy passed into Missouri on Monday, it was greeted with a swell of support. As the trucks sped along the interstate, blowing their horns as onlookers cheered, large throngs of supporters lined the roads, waving American flags.
On Monday, the group organised two rallies around the state, with various right-wing speakers, including former Missouri Governor Eric Greitens, who served from January 2017 until June 2018 when he resigned amid sexual misconduct and campaign finance allegations.
'Do you know what the left is afraid of?' According to the St. Louis Post-Dispatch, Greitens questioned the enthusiastic crowd. 'Yes, you do. What terrifies tyrants the most? Yes, you do. What is it that the mainstream media, with all of their lies, is afraid of? Yes, we do. Let everyone know that we are coming to reclaim our homeland.'
He accused the left, which he thinks includes more than just the Democratic Party, of attempting to silence American citizens.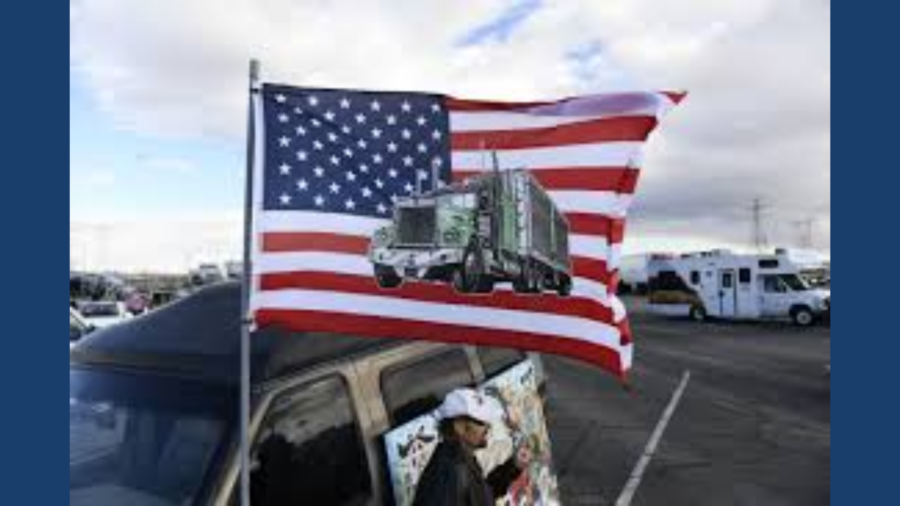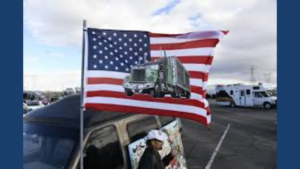 'We're discussing leftism as a dictatorial movement,' he explained. 'And that is why so many people have come.' It's a battle between liberty and tyranny.' Participants at the rally echoed Greiten's accusations, claiming that COVID-19 restrictions had had a negative influence on their life.
'We are all necessary, and we've got to get back to working and make this capitalist country what it always has been — a magnificent, God-loving, God-fearing economy that is just getting started,' said Leigh Dundas, a California attorney who is assisting the convoy.
When asked why she was rallying, Pedley-McClintick, 69, a convoy participant and former Kaiser Foundation Hospitals telemedicine nurse, said, "I refused to get the shot, and they terminated me."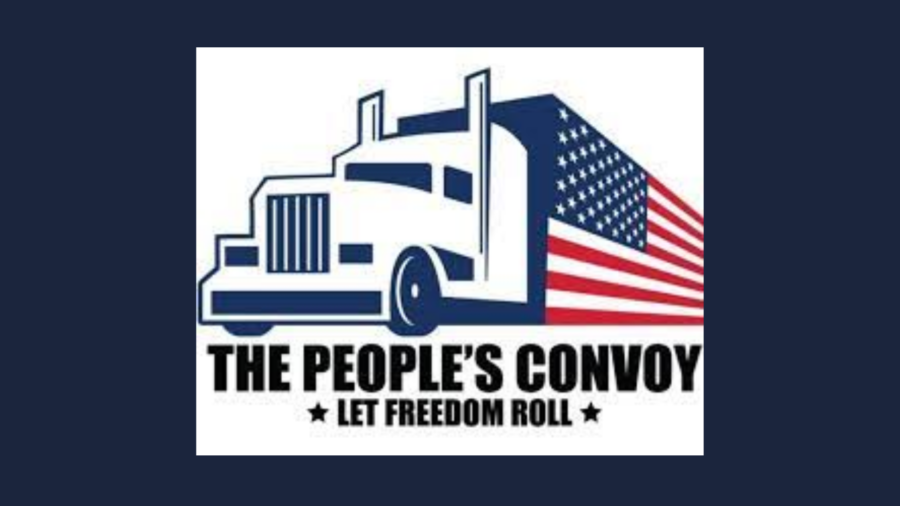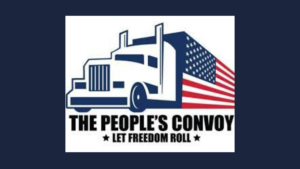 'The experience has completely engulfed me. I've made up my mind. I'm fully committed. It's wonderful to be surrounded by others who share your interests. It's a problem that goes beyond the immunisation. It's a battle for democracy's spirit, for the soul of America as we knew it.'
Meanwhile, despite the fact that no specific or credible threats have been made in relation to Biden's Tuesday night speech, Washington D.C. remains on high alert. Officials from the law enforcement community have taken extra precautions in preparation for the event. citing trucker convoys and fears of a repeat of the Jan. 6, 2021, incident in which a crowd of former President Donald Trump supporters successfully stormed the Capitol, briefly halting the certification of the 2020 election.
Investigators from the Federal Bureau of Investigation have been watching internet talk about the State of the Union speech and the trucker demonstrations. The fencing around the Capitol grounds, according to U.S. Capitol Police Chief Thomas Manger, was put up 'out of an abundance of caution.' The last time the fencing was erected was after the Capitol insurgency, and it stayed up for several months.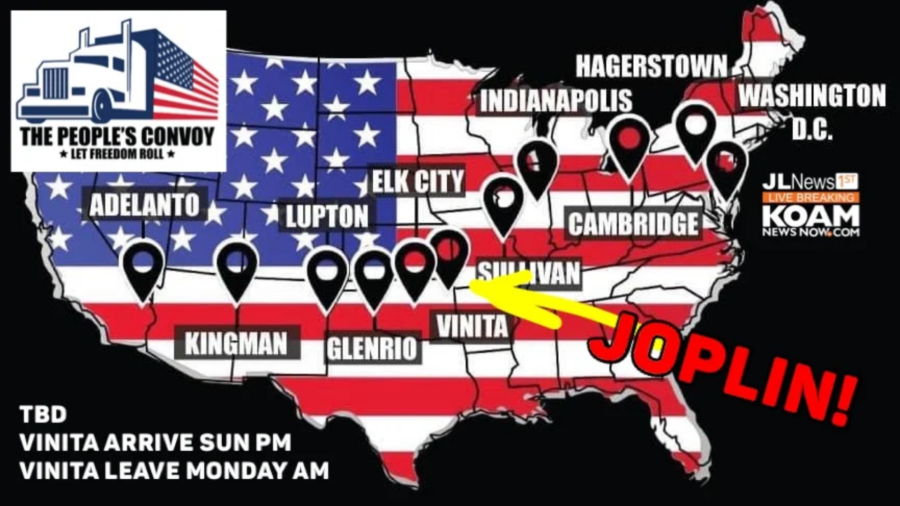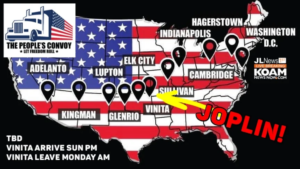 Washington's non-voting delegate in the House of Representatives, Del. Eleanor Holmes Norton, has stated that she does not want the fence to be up indefinitely this time.
'I will ensure that the fencing is removed as quickly as feasible in order to restore freedom of movement for District of Columbia citizens and the wider public,' Norton said last week in a statement.
Prior to Tuesday's address, Capitol Police had requested more support from other law enforcement agencies, as well as aid from the National Guard. Chief Robert Contee of the Metropolitan Police Department said Monday that his department is closely watching the changing information and that additional policing would be dedicated in a rolling state of heightened alert over the next three weeks.
'We manage nonviolent demonstrations on a regular basis, and we welcome everyone to the nation's capital to express their First Amendment rights,' said Contee. He did warn, though, that the various security offices were "ready to take rapid law-enforcement actions for infractions of our local and federal laws, if necessary."
A demonstration in celebration of the truckers was organised in Washington, D.C. on Tuesday, although it drew a small crowd.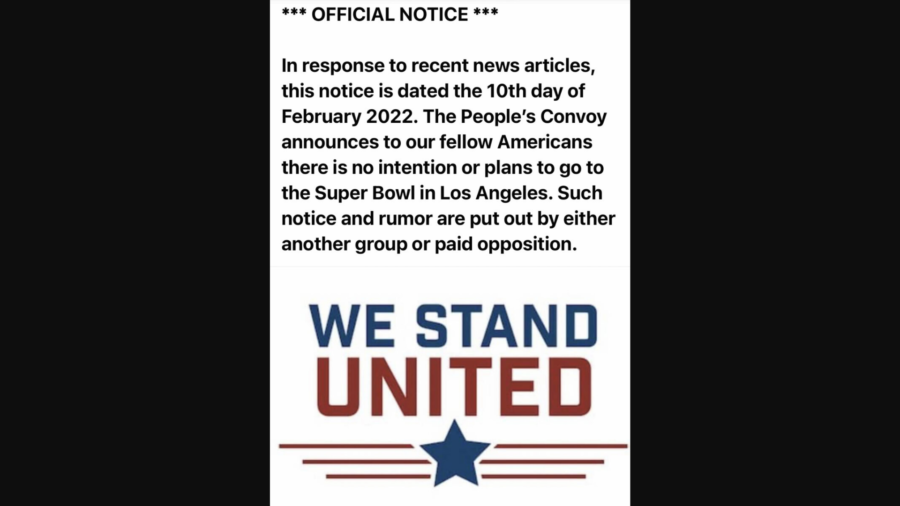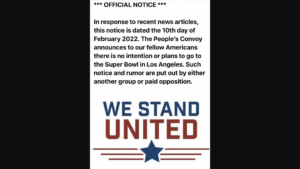 Kyle Sefcik, a small gym owner and independent candidate for governor of Maryland, held a rally at the Sylvan Theater on the National Mall to protest the national state of emergency and what he believes are unconstitutional mandates imposed by the Biden administration and other government entities in response to the coronavirus pandemic.
Over the last few days, Sefcik has been publicising the trucking convoys, as well as his rally, on social media. He was a participant in the Freedom Convoy USA 2022 campaign, which had to disband owing to a lack of participants.
He also claims that online sites, particularly Twitter, have banned him for speaking out against vaccine requirements. Sefcik isn't the only convoy member that had a low turnout at his protest.
Bob Bolus, who headed a small caravan from Scranton, Pennsylvania, had promised to shut down the Beltway and other major roadways going into and out of D.C. ahead of the State of the Union address, but he had not specified how he planned to do so.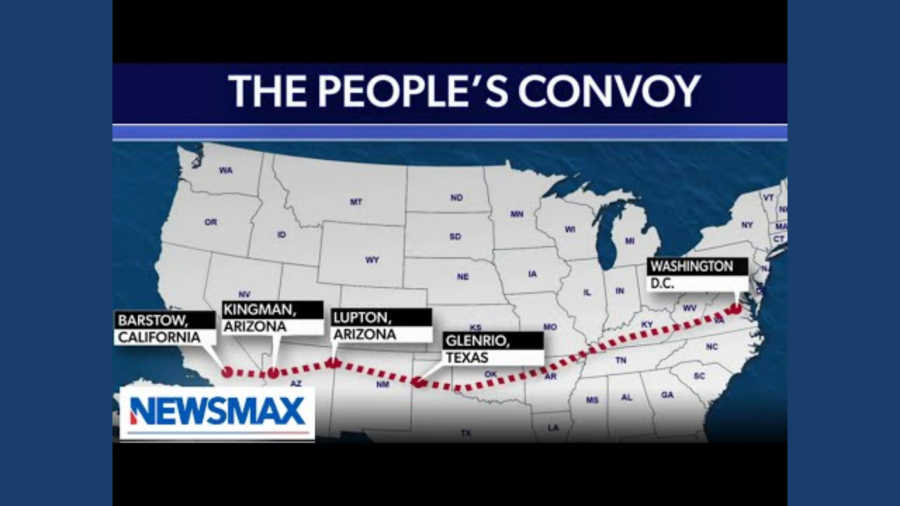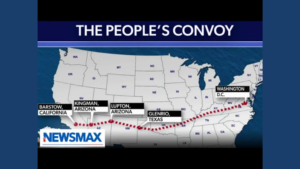 When asked about it last week, he told reporters that his convoy would "not cause a traffic problem any more than [D.C. residents] have to deal with on a daily basis."
However, his overhyped convoy only had eight cars, including organiser Bolus' truck, despite the fact that it was billed as having at least 50 participants.
Bolus has subsequently retracted his statement, saying that while he still wishes to interrupt the Beltway at some point in the future, he would not attempt to obstruct traffic.
Last Thursday, he told the Daily Beast, 'We're not putting a chokehold on D.C. today.' 'That's not to suggest it won't happen in the near future. It'll merely give you a taste of what's to come.'
The organiser did say that his convoy will 'peacefully' sit in Beltway traffic without causing any delays. 'We'll just go with the flow.' 'Today, we'll go with the flow of traffic,' he explained. 'If they're going two miles per hour, we're going two miles per hour.'
People's Convoy live stream
It's unclear whether Bolus and his convoy will still gather outside the Capitol on Tuesday night, or if the group has even arrived in D.C. According to multiple sources, Bolus encountered numerous hurdles along the trip, including a flat tyre and getting disoriented. The trucker has not responded to DailyMail.com's request for information, nor has he updated his protest on social media.
With the exception of Hawaii, practically every state in America has either lifted or scheduled a day to lift mask orders in the near future, paving the way for trucker demonstrations.
Even the United States Capitol, which had imposed a divisive mask ban since legislators returned in Summer 2020, dropped the ban over the weekend.
Vaccine restrictions, perhaps the most contentious COVID-related mandates, are beginning to fade away, with New York City aiming to eliminate them for companies such as pubs and restaurants in the coming week.
Also read;
Signup For Our Newsletter