The former and 45th United States President Donald Trump attended a Club 45 meeting on Monday in West Palm Beach via phone. Americans cheered his call with huge applause as his former White House Deputy Chief of Staff, Dan Scavino, answered this call.
In the meeting, Donald Trump promises to deliver a speech at Club 45 next week.
This article contains details about Donald Trump's Speech at Club 45, where you can watch him live delivering his speech, the schedule of his speech, about Club 45, and more.
So without further delay, let's begin.
Watch President Trump's Speech Live From Club 45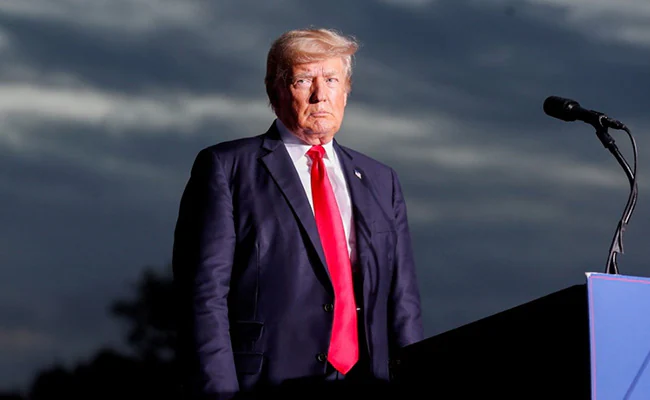 In the Club 45 meeting on Monday, Donald Trump vowed to give a speech on February 20.
You can watch him speaking live right here on our website. We will provide live broadcasts on World-Wire on the day of the speech.
Schedule
Donald Trump will speak on Monday, February 20, 2023, at Club 45 in West Palm Beach, Florida.
His speech is scheduled for 7:00 PM. ET.
About Club 45 Meeting in West Palm Beach, Florida
While attending the Club 45 meeting in West Palm Beach over the call on Monday, Mr. Trump said that he would speak at Club 45 in person next week.
Speaking about his agenda, Trump shared, "We will do a speech and have a lot of fun together. We will discuss some bad things, including how badly our country has performed in the last two years. It has never been like this before. It has never been so bad and dangerous before."
He made Americans anticipate how destructive the current scenario is. He added, "But we will turn around, and we are going to make America great again."
Trump talked about numerous shortcomings of Joe Biden's administration, including the southern border crisis. He asserted that his government could effectively secure the border and successfully reduce the illegal immigration numbers considerably. Criticizing the Biden government over the illegal immigration laws, Trump said, "In one fell swoop, they ruined it all."
He spoke of different aspects where he thinks his administration performed way better than Biden's government. At the end of his talk, Trump, in an attempt to remind people again, said, "I am going to be over there for Club 45. We will have a lot of fun talking about how we can rebuild our destroyed country. How we will win the election in 2024, and the polls are through the roof."
He ended his speech, "I think there is more enthusiasm now than ever. I love you all, and I am going to see you next week."
About Club 45
Club 45 is a non-profit corporation established in January 2018 in Palm Beach County. The firm was started by the volunteer leaders of the 2016 Trump Campaign to endorse former president Donald Trump's agenda.
The club is the largest "Trump Club" in the country, with usual meeting attendance of above 2000 people. The club's website page reads, "We meet monthly with an agenda that seeks to provide top-notch speakers, educational events, and programs for our membership. Our goals are straightforward. It comprises keeping Trump's supporters in our county connected and engaged and supporting the current and future endeavors of Donald J. Trump."
While on one side, the club enthusiastically supports Trump's agenda, the other side also claims it has no official relation with Trump's Campaign. The same club's site page also states, "Our club has no official connection with the Donald Trump Organization or Campaign. Also, this club is independent and not affiliated with any candidate, committee, or political party."

Subscribe to Email Updates :