South Carolina Senator Tim Scott declared his candidacy for the Republican presidential nomination in North Charleston, South Carolina. 
Let's read what the senator says while announcing his run for the presidential election in 2024. 
Republican Sen. Tim Scott Is Officially Running For President
Republican Senator Tim Scott, 57, has officially entered the presidential race announcing his run on Monday morning. He held the announcement event inside the Buccaneer Fieldhouse at his alma mater, Charleston Southern University. He enthusiastically spoke his name and campaign slogan, "Faith in America," to his supporters. 
The senator has represented South Carolina in the Senate since 2013 and depicts himself as a conservative. While speaking about his run, Scott said, " We need a president who persuades not our friends and our base. We have to have understanding for people who do not agree with us. We have to believe that our ideas are so strong and persuasive that we can take them to the highest points in the world and succeed."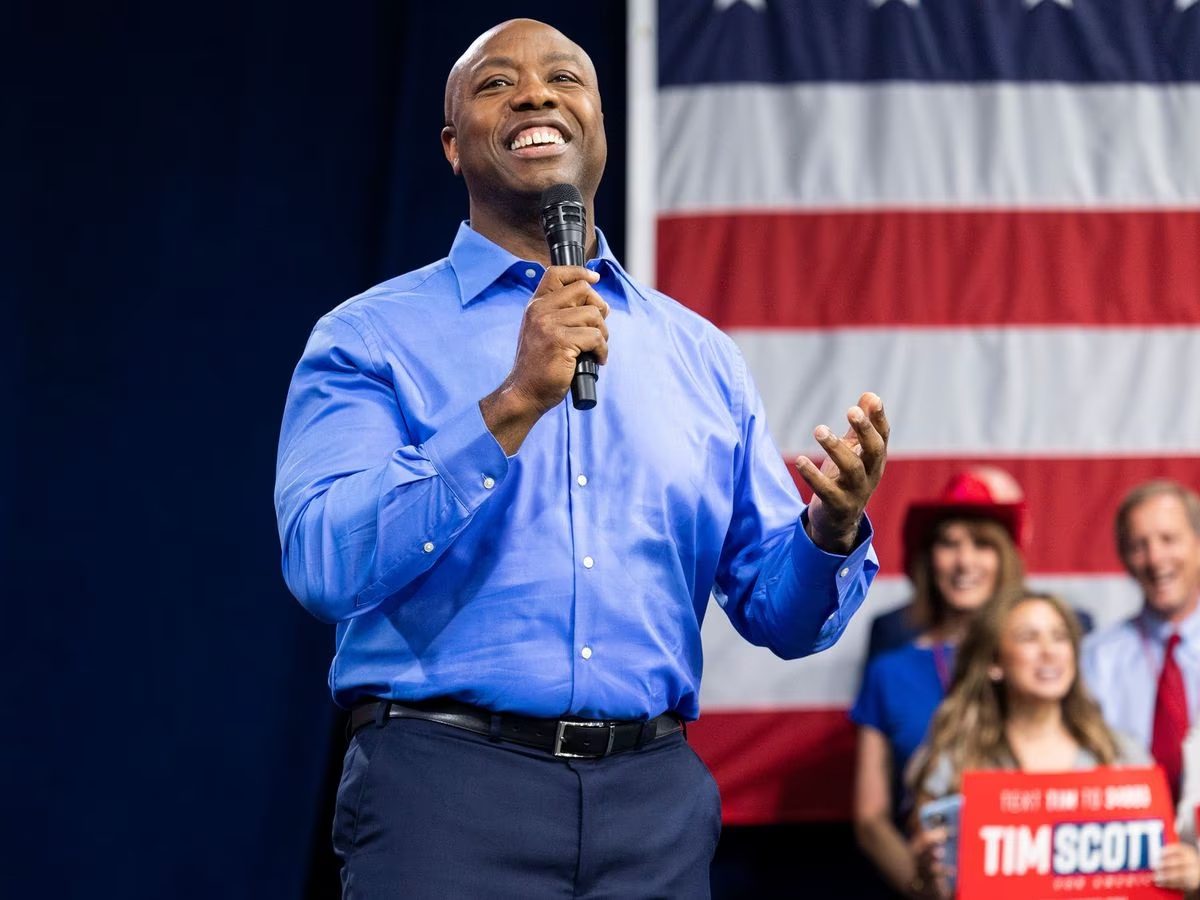 He added," From the time the sun sets until the sun rises, Joe Biden and the radical left are attacking every rung of the ladder that helped me climb. And that's why I am announcing today that I'm running for president of America." 
Scott was raised by his mother alone and grew up in working-class poverty. He became the first black senator from South Carolina and now the Senate's only black Republican running for the 2024 race. He is believed to enter the presidential run with more cash than all of his competitors and with a story that he says symbolizes the American dream. 
Scott spoke for several minutes, highlighting his upbringing from poverty to prosperity, remarked, "America is not a racist country.
We live in the land where it's possible for a child raised in poverty by a single mother in a tiny apartment to one day serve in the People's House and maybe even the White House." 
Scott chose a more positive perspective to comment on the present leader and his primary opponents. He asserted that America is not a nation in decline, but under President Biden, it has become a nation in retreat.'
At the end of his talk, Scott stated that America is the city on the hill. "I am living proof that God and a good family and the United States of America can do all things if we believe. Will you believe it with me?"
Scott joins Nikki Haley, a former South Carolina Governor, who announced her run in February. 
Nikki appointed Scott a decade ago to the Senate to fill a vacancy. South Carolina is a key early-voting state for both Republicans and Democrats. The state's primary is the first in the South and usually selects a candidate for nomination. Both Nikki and Scott are popular in their state. A recent April poll shows both doing better in the state than they do nationally but still lagged behind Donald Trump by a wide margin, even in South Carolina. 
Scott plans to visit Iowa and Hampshire later this week. "Tim Scott for America" is the official campaign committee of Scott that will be based in the Palmetto State, where he will visit for Memorial Day weekend.

Subscribe to Email Updates :