Is your Spectrum router blinking red light, and you don't know what it means or how to fix it? This article covers a detailed guide on fixing Spectrum router red light issue.
So, without any further ado, let's get started –
Spectrum Router Red Light: What Does It Mean?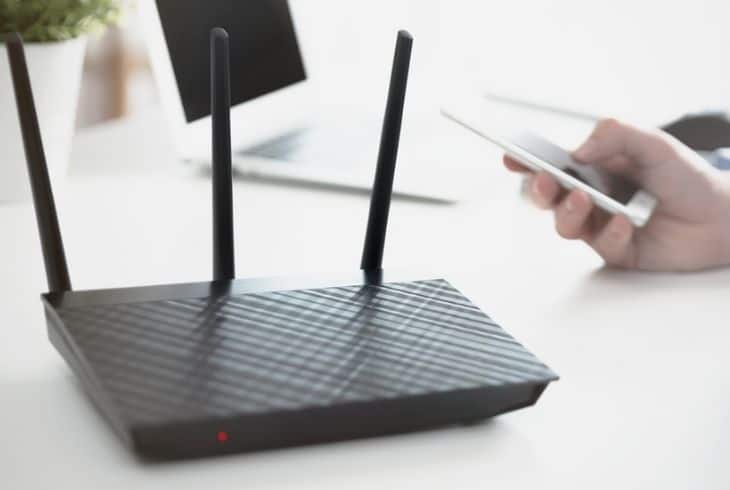 The Spectrum router has a single LED light that can be either blue or red, depending on the firmware. If you see blue light, everything is functioning as it should be; if it's flashing, the router is powering up and trying to establish a network connection.
When the blue and red lights begin flashing alternately, it means your router's firmware is being upgraded, and in that case, you just need to wait for the process to complete.
If you are only seeing the red light, it means it is not connected to the internet, and if the red light is blinking, it means the router is having a problem connecting to the internet.
Fix Spectrum Router Blinking Red Light
If you see the Spectrum router blinking red light problem, the first thing you should do is restart your router. Restarting the network often fixes such issues.
However, if the problem persists, you may need to restore the router to its original settings.
But before that, you can try these workarounds –
Check if there is a current outage in your area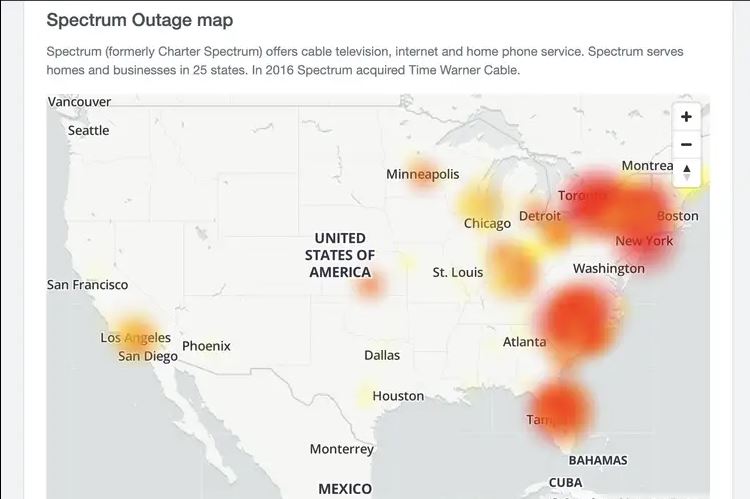 Check if there is a continuing outage before attempting to fix the Spectrum router blinking Red Light issue. If it is, just wait, and it will be automatically fixed.
To find out, browse Spectrum's outage page, and if there isn't a continuing outage, you'll need to follow these methods –
Power Cycle your Spectrum router
Spectrum WiFi router power cycling means removing the power and then replugging it after waiting for a couple of minutes. In addition, make sure to disconnect all of the device's cables before cycling its power.
Please wait five minutes and then replug everything and see if your network has been reset, and if you receive a slow internet speed, your connection speed will increase automatically.
Check all cables are correctly connected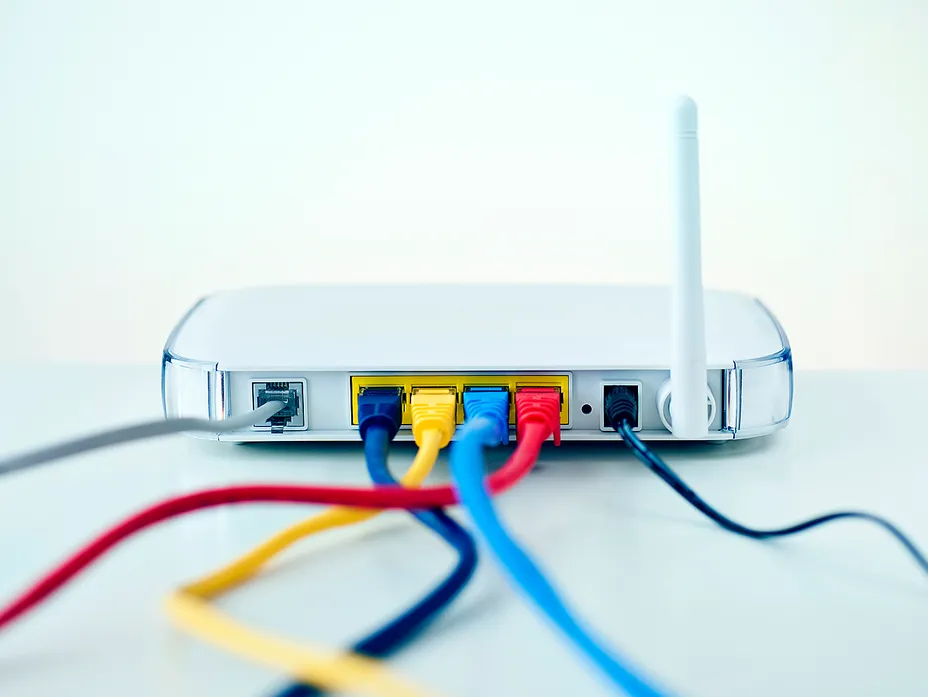 Incorrect port selection or a slack cable connection can cause your router to malfunction, so it's crucial to double-check the connections between all cords. Check to see if any wires are plugged into the wrong jack or loosely connected; if yes, fix them.
Check how your Spectrum internet connection is doing by checking the router's WiFi connection status. The "online" icon will be flickering or red if you do not have an active internet connection.
After that, use either the Spectrum app or spectrum.net to monitor service availability using your mobile data, and proceed to the service tab to check the current status of your router.
There are often three statutes: connected, unavailable, and connection issues.
On the other hand, if the router appears to be connected but still has no internet connectivity, you will need to press the reset button, and the problem with your modem, ideally, will be resolved.
Check if there is any damage in the Coaxial line and drop
You have probably already eliminated most of the possible causes of the problem, and checking the Coaxial cable plugs into the spectrum WiFi router is the last thing to do before getting in touch with customer support.
You need to look in two places: the Coaxial line leading to the router and the actual router itself, and check if there are any cinches.
If you find any cinch in the cable, you must disconnect it from the router and reconnect it.
Additionally, make sure the distance from the telephone pole to your home isn't too much, and also, it could be damaged by birds or any such elements occasionally.
Factory Reset
If you have checked the Coaxial line and found no damage, you need to factory reset your Spectrum WiFi router, which you can do by using the button on the device's rear.
If you are sure you can get your WiFi back up and running again, then a factory reset might be the way to go.
Contact Spectrum
If nothing works, you have to contact spectrum support.
You can follow these steps to do so –
Visit the Spectrum Storm Center.
Click on support
Click on the chat with us button.
A dialogue window will pop up; in it, type "Am I in an outage?" and press Enter.
Follow the on-screen prompts and continue with the instructions below to reset your connection if you are not experiencing an outage.
Just log in to Spectrum.
Select the service you desire.
Open a new window or tab to go online.
See how your service is doing right now. Whenever there is an issue with the connection, the troubleshooting option will become active. Just tap on the link.
Select the equipment you want to restart, and then click the Restart button again.
While the equipment is being restarted, your service will be interrupted. Wait for 10 minutes, and then try doing a speed test again to see whether the problem has been resolved.
Contact Spectrum Customer Care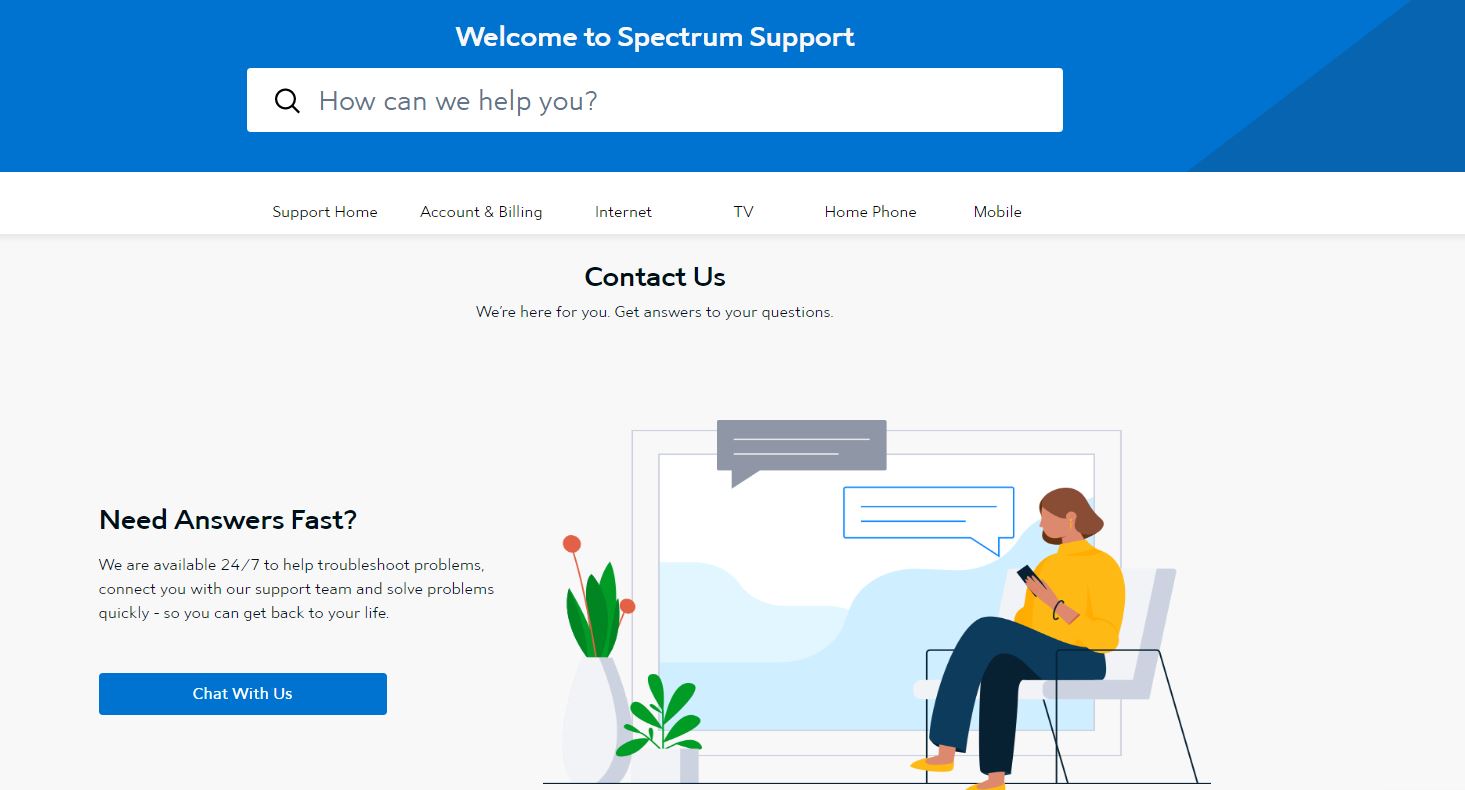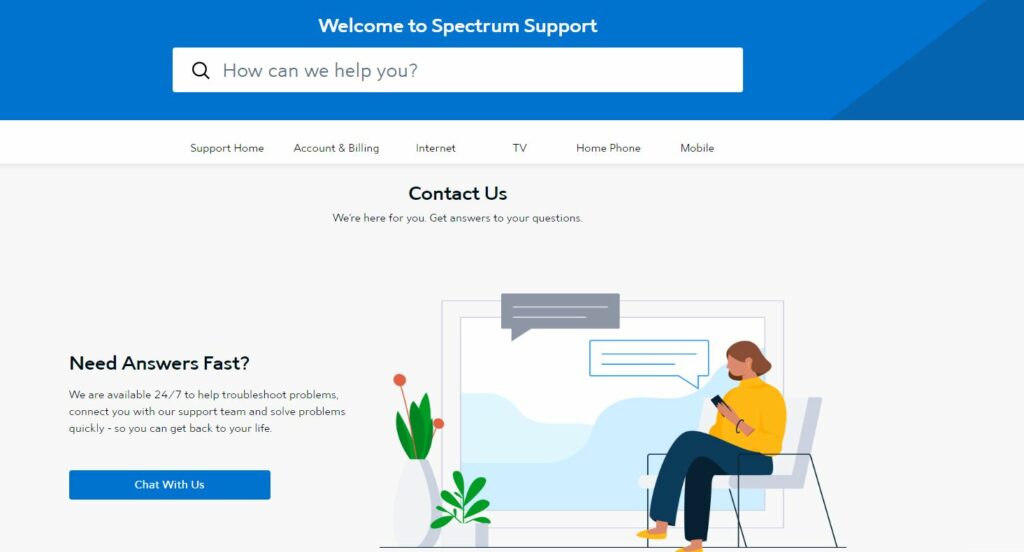 Spectrum's WiFi router's red light should go out after contacting customer service, but a technician must be called in if it doesn't.
Dial (833) 267-6094 to speak to an agent. Give them a call if you want a speedier resolution and a better understanding of the problem by giving an account of how you've already tried restarting, rebooting, and checking the coax and ethernet line for the most obvious problems.
However, before any technical assistance, Spectrum will check your account information. On the first page of your bill, you'll discover the account number and 4-digit PIN you'll need to authenticate your identity.
What if the light isn't blinking or only showing red?
If the light flashes red sometimes and blue other times, you'll need to upgrade your router's firmware. This update is crucial and shouldn't be stopped in any way; therefore, you shouldn't touch your router while it's happening.
Another indicator that you need to contact Spectrum is if your red light stops blinking and becomes solid. The indicator indicates that critical, major concerns must be addressed, and here's a chance that means you need a new router.
You may be interested in –

Subscribe to Email Updates :