Are you looking for the State Farm Arena Parking guide? If yes, you have stumbled upon the right webpage. In this article, we are going to share a detailed guide covering official parking options at State Farm Arena, tailgating options, and more.
So, without any further ado, let's get started –
State Farm Arena Parking Guide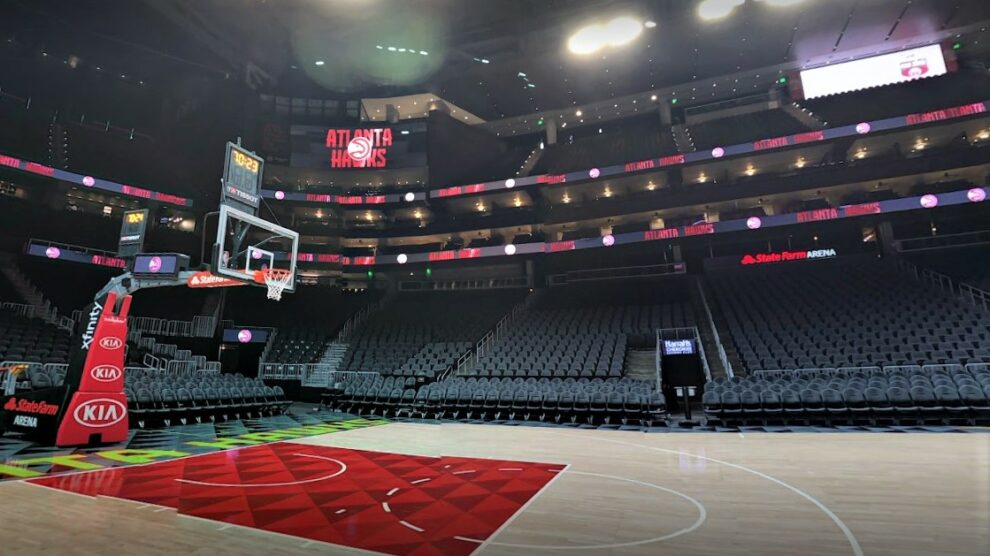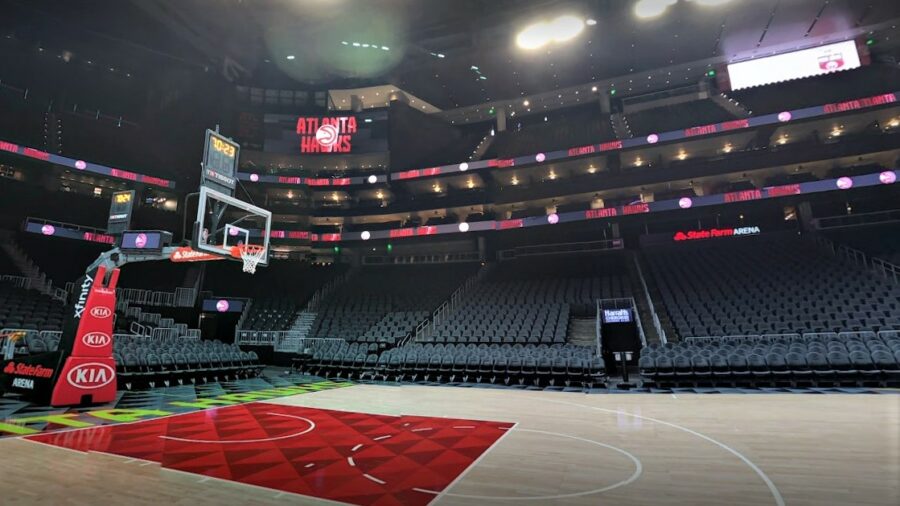 The State Farm Facility in Atlanta, Georgia, which was once known as Philips Facility, is a multi-use arena. The arena serves as the primary venue for the National Basketball Association team known as the Atlanta Hawks. In addition, the Atlanta Thrashers of the National Hockey League played there from 1999 to 2011, after which they moved to Winnipeg.
Additionally, the Atlanta Dream of the Women's National Basketball Association played there from 2008 through 2016 and 2019. It opened in 1999 as a replacement for the Omni Coliseum and had a construction cost of 213.5 million dollars. The Atlanta Fulton County Recreation Authority is in charge of running the facility. It is controlled by the facility's owners, Tony Ressler, and a group of investors that includes Grant Hill.
Even though the original layout of the arena was unconventional, with club seats and luxury boxes lining only one side of the playing surface and general admission seating lining the other three sides of the playing surface, the arrangement has since been adopted by other venues such as Ford Field, Addition Financial Arena, Soldier Field, and Levi's Stadium. This design stood out in comparison to the other options available from its current competitors.
This facility has hosted the NBA All-Star Game in 2003 as well as the Atlantic Coast Conference Men's Basketball Tournament in 2012.
However, when the National Hockey League announced in early 2004 that the 55th NHL All-Star Game would be held in Atlanta in February 2005, the officials of the arena decided to cancel the Southeastern Conference Women's Basketball Tournament. The tournament was then relocated to the BI-LO Center in Greenville, South Carolina, which is located approximately 140 miles northeast along Interstate 85.
Parking Options Near State Farm Arena
The State Farm Arena is close to several parking areas and lots.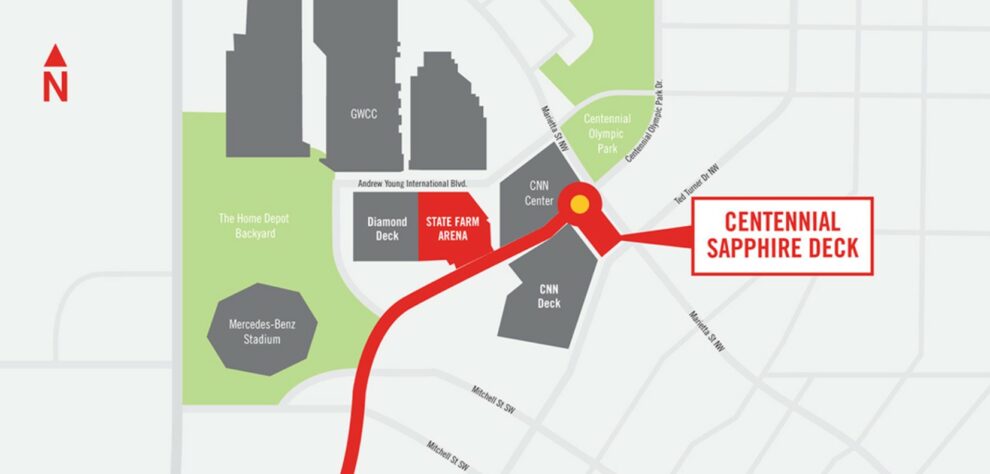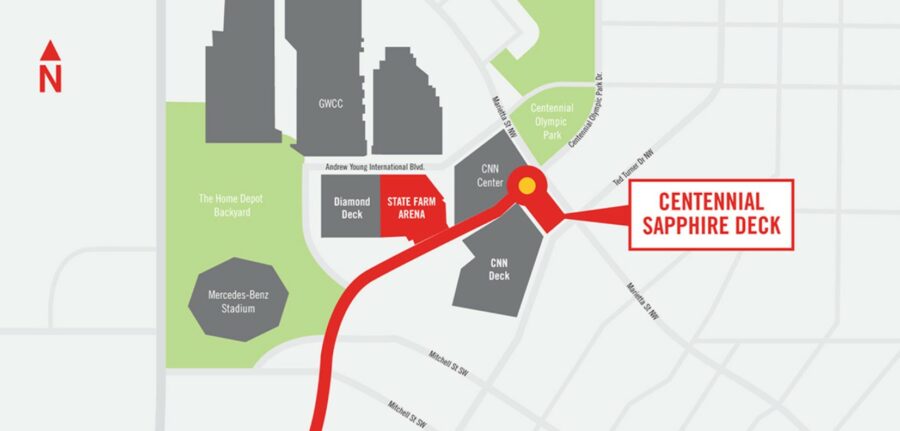 For around $15, you may secure a place in the official State Farm Arena Lot over the road from the stadium if you're searching for efficiency. If you know where to search, you can park near the arena for about $10, which is a great deal for stadium tourists and attendees. Also, parking options near State Farm Arena are much cheaper compared to the average cost of American Airlines Center parking ($25) and Tropicana Field parking ($30).
131 Ted Turner Drive costs $10, which is at a distance of 0.2 Miles and is a 5-minute walk.
106 Marietta St. costs $15, at a distance of 0.2 Miles, at a 5-minute walk from the stadium.
The Gulch – Lot A costs $20 for a 0.1 Mile walk which can be reached with a 1-minute walk.
CNN Parking Deck costs the most, about $30. This lot is at a distance of 0.1 Miles and a 5-minute walk.
State Farm Arena Lot costs moderately, about $15. This lot is also nearby the stadium, within a minute's walk.
State Bar of Georgia Garage costs $8 and is about 0.4 Mile distance and an 8-minute walk.
State Farm Arena Handicap Parking
It's easy to get to the State Farm Arena via the Centennial and CNN parking decks, both of which feature accessible parking. Normal parking rates and valid handicap badges are needed.
Throughout the event, Guest Services Associates are on hand to assist attendees with special requirements, such as assisting them to their seats or providing any other assistance they may need. Guests may make arrangements for help with Guest Services in advance by calling 404-878-3000. Guests may seek help from a member of the State Farm Arena staff at any time during a play.
All of the parking levels at State Farm Arena include accessible parking. First-come, first-served is the only rule that applies.
Public Transit to State Farm Arena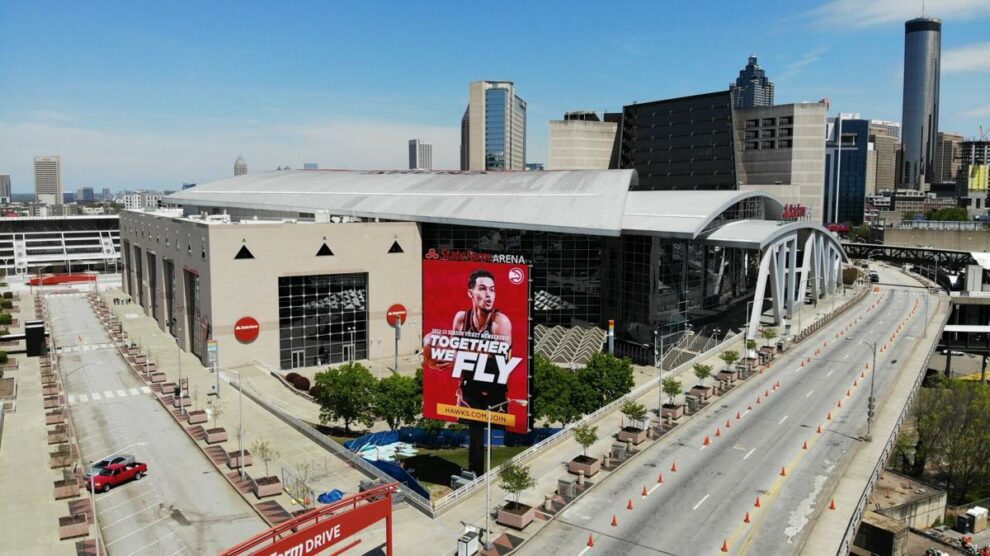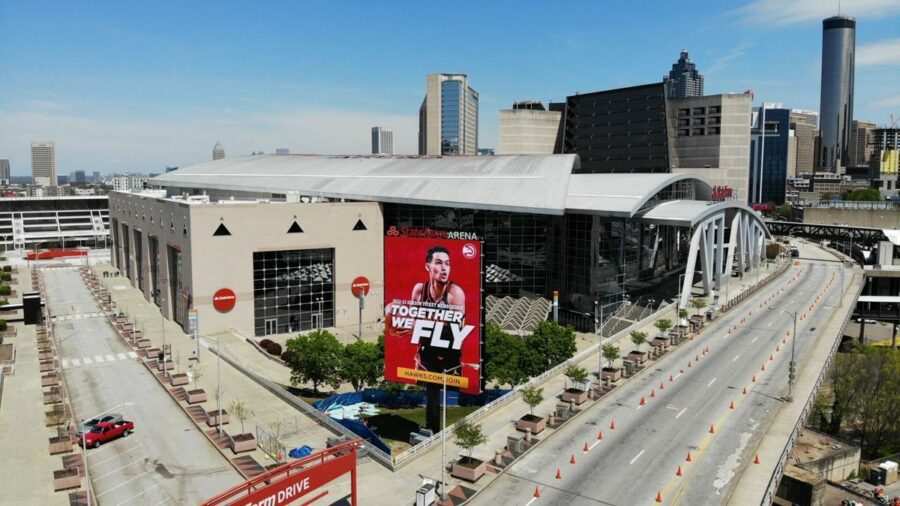 As Atlanta's public transportation system, the Metropolitan Atlanta Rapid Transit Authority (MARTA) serves the State Farm Arena and Mercedes Benz Stadium region. Since its inception as a bus-only system in 1971, the Metropolitan Atlanta Rapid Transit Authority has grown to include a matrix of bus routes connected to a regional rail transit line with a total of 48 miles of track and 38 stops.
The Stadium is accessible through both the blue and green train lines. You may also take a westbound train from Five Points station on the system's red or gold lines to go to the stadium.
In addition to driving, you may take a bus to State Farm Arena. There are stops for the 26, 3, 40, 42, 816, and 94 bus lines in the immediate area.
Tailgating at State Farm Arena Parking
In the State Farm Arena parking lots, tailgating is strictly prohibited save near the car in question. Tailgating in vacant stalls is strictly forbidden.
Even if tailgating happens at times, they urge that you refrain from tailgating after the game has begun or after the game has ended, as there will be a rush during these times.
Public Transit to State Farm Arena Parking
you can get to the State Farm Arena Parking through various Train routes.
From Southbound
Go to Five Points Station by taking a Red or Gold Line train. Free transfer to either Blue, Hamilton E. Holmes, or Green, Bankhead Westbound trains. Take the escalator up to State Farm Arena from the CNN Center Station.
From Northbound
You may get to Five Points Station by using the Red, North Springs, or Gold, Doraville Lines. Freely transfer to any of the two Westbound trains – the Blue or the Green, Hamilton E. Holmes to get to State Farm Arena, exit at CNN Center Station, and take an escalator up.
From Eastbound
Vine City Station or CNN Center Station may be reached by the BLUE, Indian Creek, or Green lines. As you come out of the station, take the escalator to State Farm Arena.
From Westbound
Take either the Blue, Hamilton E. Holmes, or Green Bankhead lines to CNN Center. Take the escalator up to State Farm Arena when you get off the train.
Getting to State Farm Arena Parking
The venue has several handy parking facilities, all of which are within a reasonable length of the event, and there are plenty of event parking places available. Some of the best and most affordable ones are:
At 127 Centennial Olympic Park Drive, NW, Sapphire Deck Parking is accessible. For the duration of two hours, this parking lot costs $10.
A two-hour parking pass at Ruby Lot, located at 100 Baker Street Extension, will set you back $5.
Located at 100 Lower International Boulevard NW, the Diamond Deck Parking lot is accessible by car. The fee for parking here is $25 for a period of two hours.
It costs up to $15 for two hours to park at the CNN Deck Parking lot at 110 Centennial Olympic Park Drive, NW.
At 92 Centennial Olympic Park Drive, NW, Lot B of Centennial Yards is located. The hourly rate for this parking is about $7.
State Farm Arena Parking Resources
Other resources and pages that might help fans and visitors are listed below.

Subscribe to Email Updates :