Watch 2000 Mules movie review

A piece of my mind on 2000 Mules
For those who have seen it already, their thoughts appear to be extremely positive. Roger L. Simon, an Oscar-Nominated screenwriter, stated that the movie brought him tears midway through. He further clarifies that it is horrible to see democracy being ruined in such a way. In his review, he mostly discusses the concept of the movie, not about the movie itself, but what the movie is about.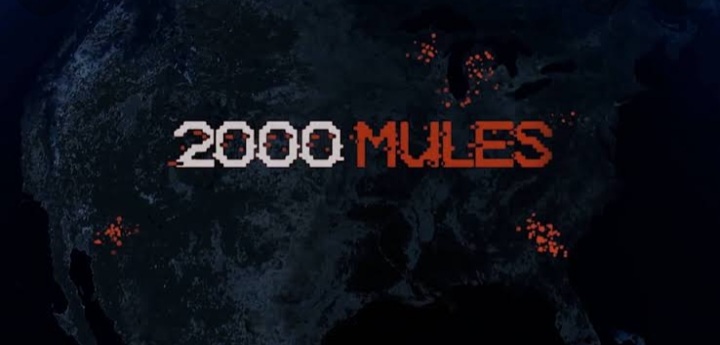 It is genuinely rare to see this, extremely special movies and documentaries get critics to passionately discuss what the movie is about, most just talk about the movie itself. Most critics talk about the writing of the movie, the cinematography, the lighting, the story, the script, the screenwriting, very rarely do critics talk about the actual topic of the movie in the review. "While observing the reviewer's rule of not completely ruining the story. But first allow me to say: absolutely see this movie! Equally, if not more, importantly, try to get your liberal and progressive friends and family to see it. I know this will be difficult, that they will resist at all costs or reject as disinformation what is in front of their eyes, but changing even one mind is worth the effort, possibly even heroic," He stated.
What're 2000 Mules about?
This isn't just another documentary about the 2020 elections; it's a full-fledged study into the election's complexity and deception. Dinesh is joined by Charlie Kirk and a number of others, as well as a research team, in order to unearth the truth. Using satellite mobile phone monitoring, they were able to identify 242 mules in Atlanta who went to an average of 24 drop boxes. A mule is someone who collects ballots and deposits them in drop boxes. In 4 million minutes of surveillance footage from throughout the country, they captured the mules in the act. Most of this illegal "voting" was done in the early mornings, 1 – 5 A.M., which is exactly the time of day most people think to go out and vote, right?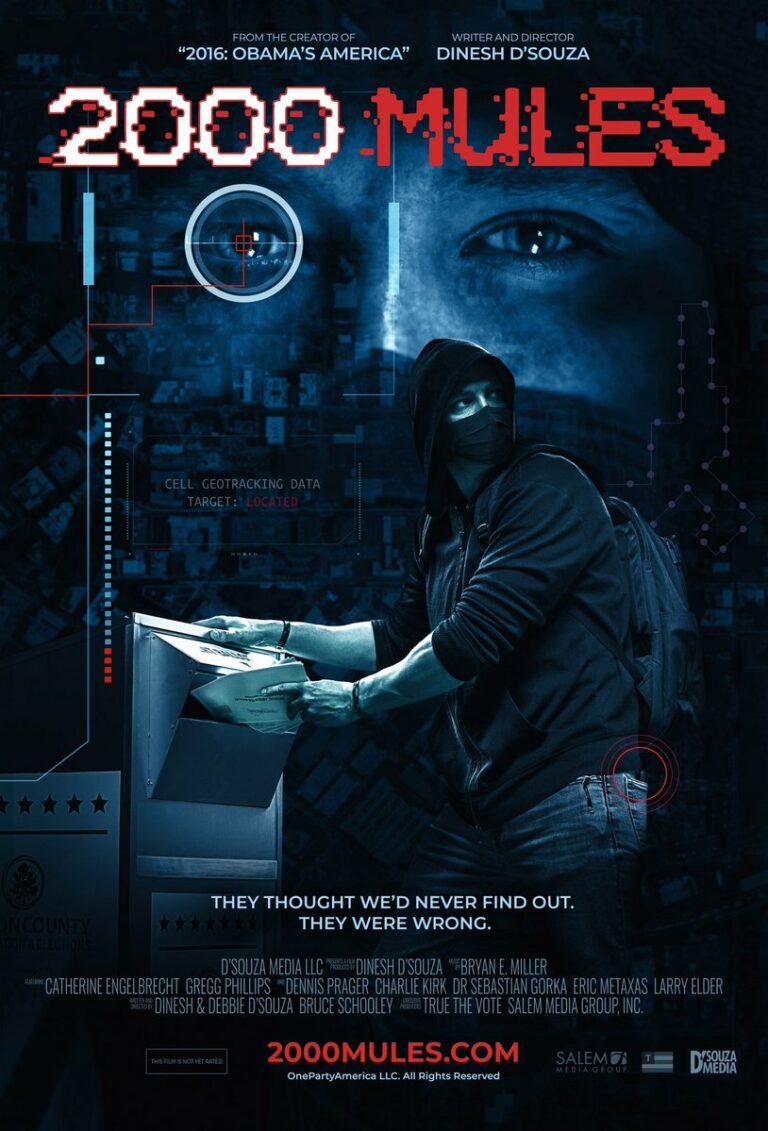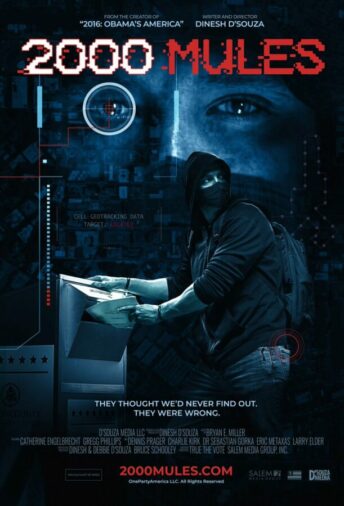 Also read|Watch the New Teaser of Upcoming Film "2000 Mules"
People are seen dumping an excessive quantity of ballots into drop boxes in the video, which is quite distressing to behold. They also discovered a very busy mule who travelled to six different counties in one night to drop off ballots in 27 separate drop boxes. However, the most pressing question remains: was vote trafficking sufficient to tilt the scales? You'll have to find out.
2000 Mules Cast
The movie will feature Catherine Engelbrecht, Gregg Phillips, Dennis Prager, Charlie Kirk, Dr. Sebastian Gorka, Eric Metaxas, and Larry Elder. Written and directed by Dinesh & Debbie D'Souza, and Bruce Schooley.
How to watch 2000 Mules
2000 Mules has been released in select theatres on May 2nd and 4th. It will be available for online streaming on May 8th on SalemNow or on the Locals website.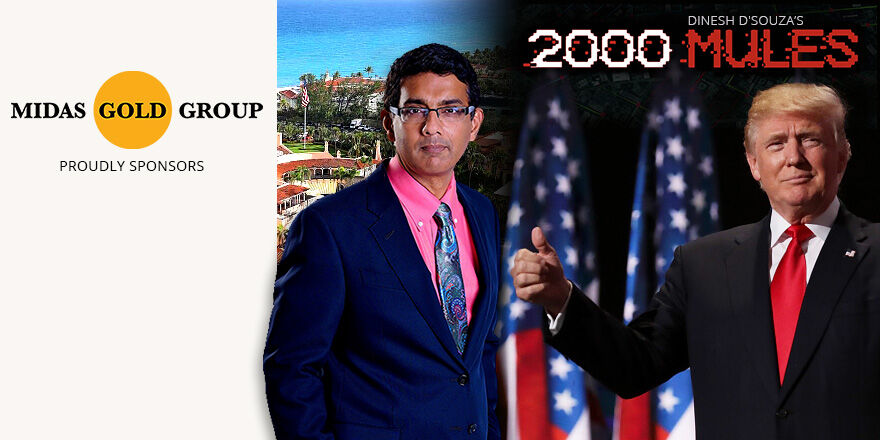 To know more about the launch of the movie, join our Telegram channel. Along with other conservative goodies, you will also be informed of the launch details of the movie.
You can buy tickets from the 2000 Mules website and choose the theatre nearest to you.
About Dinesh D'Souza
On April 25, 1961, Dinesh Joseph D'Souza was born. He is a right-wing political analyst, agitator, author, filmmaker, and conspiracy theorist who is Indian-American. D'Souza is the author of more than a dozen books, several of which have been New York Times best-sellers. D'Souza, a Bombay native, came to America as an exchange student and went on to Dartmouth College.
In 1991, he became a naturalized citizen. He was president of The King's College, a Christian college in New York City, from 2010 to 2012, until he resigned owing to an alleged adultery scandal. In 2012, D'Souza and his wife both gave $10,000 to Wendy Long's Senate campaign, with D'Souza agreeing in writing to credit $5,000 from his wife and $5,000 from him.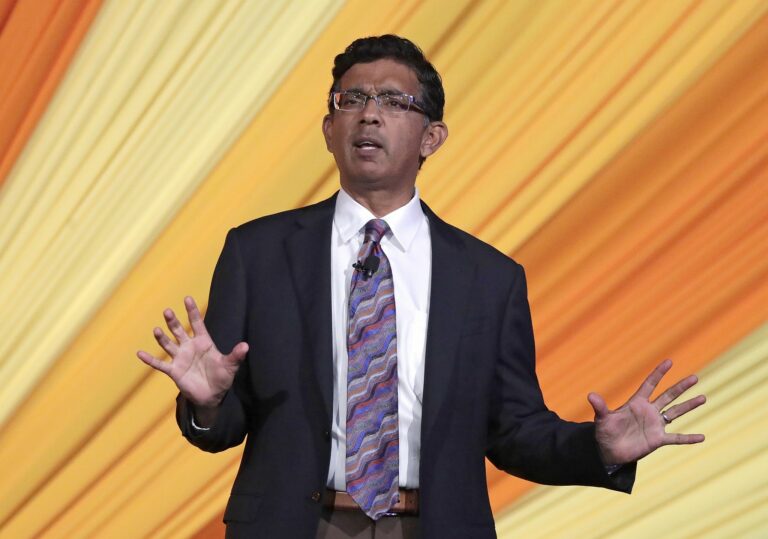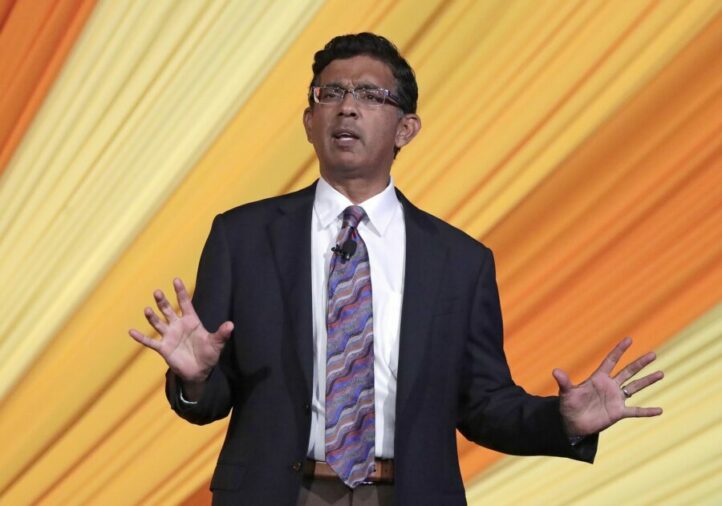 He told two others to pay an extra $20,000, which he promised to refund and did. At the time, the Election Act limited individual political contributions to $5,000 per candidate. D'Souza pled guilty to one felony count of making an unlawful political gift through a "straw donor" in federal court two years later.
He received eight-month imprisonment in a halfway house near his San Diego home, five years of probation, and a $30,000 fine. D'Souza was pardoned by President Donald Trump in 2018. D'Souza is frequently labeled a neoconservative. He defines conservatism in the United States as "conserving the principles of the American Revolution."
In his book Letters to a Young Conservative, D'Souza believes that conservatism is a cross between classical liberalism and ancient virtue, emphasizing "the belief that there are moral standards in the universe and that living up to them is the best way to have a full and happy life." He also criticizes the present liberal idea that "human nature is intrinsically good," and that "the great conflicts in the world … arise out of terrible misunderstandings that can be corrected through ongoing conversation and through the mediation of the United Nations."
Dinesh D'Souza's other works
You'd think that when he switched to podcasts in October of 2021, he'd attract a slew of new admirers and followers, given his illustrious past. If you believe this, you are correct; the podcast was a big hit, with over 200 episodes released since then. Let's take a look at some key episodes.
Parents are on the lookout in Episode 1. In this episode, Dinesh demonstrates how the Biden administration has changed from labeling January 6 demonstrators as domestic terrorists to labeling parents who oppose Critical Race Education as such. Although a Facebook whistleblower exposes unlawful conduct on the platform, Dinesh demonstrates how the Left is exploiting her to push for more digital laws. A vengeful court finds against a nonviolent demonstrator who was not even wanted by the Biden administration on January 6. Dinesh is joined by Jack Posobiec to talk about his new children's book, The Island of Free Ice Cream. In his podcast, you'll notice a tone to his speech that I think is fantastic; it's peaceful yet energetic at the same time.
Never a dull Moment, Episode 5. Dinesh gets Rep. Marjorie Taylor Greene's honest take on the Biden administration's chaos and controversies in this episode. Dinesh outlines how Ray Epps' involvement in the January 6 event might be the "smoking gun" that reveals the FBI's involvement. Dinesh carefully reads a New York Times article about censorship in Russia and China, noticing what it doesn't say. Dinesh explains how the dismantling of a Jefferson monument implies that Gulliver's struggle with the Lilliputians is losing.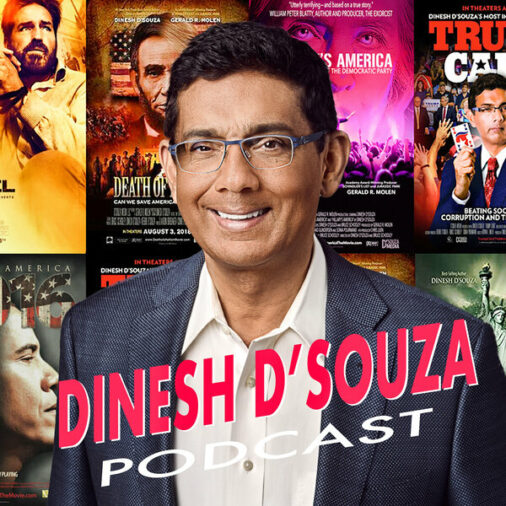 The Permanence of Racism? is the most current special edition episode. Dinesh analyzes the core premise of Critical Race Theory, the persistence of racism, in this special episode. If racism is eternal and will always exist, Dinesh argues it must have existed in the past as well. Dinesh offers a compelling case for racism's historical roots, based on his own research on race over the previous 25 years, extending back to 1995's "The End of Racism" Dinesh then goes on to explain what it was, before painting a picture of how racism may be abolished in Western culture. Listen to the podcast here.
God and Science (episode 4) In this episode, Dinesh has an in-depth conversation with Ian Hutchinson, an MIT nuclear physicist, regarding the compatibility of God—specifically, the Christian God—and science. Dinesh uses Vaclav Havel's example of a Soviet greengrocer to show how the Biden administration's various agencies spew mind-numbing ideological slogans. Dinesh displays the astounding ingenuity and might of China's latest hypersonic nuclear weapon technology. Dinesh also discusses China's new regulation, which declares that if a kid commits a crime, the parents must be held accountable.
Also, read|Listen to Dinesh D'Souza Podcast Ep313 "STATE OF THE UNION"
The Unraveling is the third episode. In this special edition, Dinesh has an in-depth conversation with Julie Kelly, the lone investigative journalist covering the January 6 trials and aftermath. Dinesh and Julie will look at all parts of the Left's narrative around those events, which is slowly but ultimately unraveling. So, what occurred exactly? What were the perpetrators' motivations? Is the state's power being used to achieve justice or is it being abused? Why isn't the Republican Party intervening or even speaking up? Dinesh will undertake an open and honest inquiry into specific acts and circumstances with the lady who, despite obfuscation, delay, and deception, has continuously pursued the truth.

Subscribe to Email Updates :