Former President Donald Trump will be heading a "Save America Rally" on September 25. This rally will be held at the Georgia National Fairgrounds and Agricenter in Perry, Georgia. The event lineup has been already made and is set to take place from 7-9 p.m. on the 25th. The organizers have kept the admission free for registered attendants. Doors will open at 2:00 pm for attendees and live entertainment will be held starting at 2:00 p.m. However the Pre-program speakers will deliver their speeches and opinions at 5:00 p.m.
Book Now – Book Tickets for Trump's Save America Rally in Georgia
The rally is likely to draw up the Republicans' support for a collection of candidates who have declared they're entering statewide races all across the country.
List of Guests in the Trump rally Perry, Georgia
Herschel Walker
One of the biggest candidates is Herschel Walker. He is a UGA legend who previously declared openly that he would be running against Senator Raphael Warnock in the year 2022.  The former POTUS had recently endorsed him.
Former President Donald Trump's public endorsement of Herschel was a move that the public was expecting for quite a while.  Trump had publicly encouraged Herschel Walker to enter the race. Not only, Herschel, Trump had also expressed dissatisfaction with Jones' top GOP rival, Senate President Pro Tem Butch Miller of Gainesville. Trump felt that Butch Miller was not doing enough to try to reverse President Joe Biden's November victory in Georgia.
Jody Hice
In March Trump had also endorsed the U.S. Republican Jody Hice's bid for secretary of state. Jody had wanted to unseat fellow Republican and incumbent Brad Raffensperger. Brad was a much more prominent target of Trump's resentment for his loss of Georgia's 16 electoral votes.
Brad Raffensperger
Trump's wrath was not only directed towards Brad Raffensperger. One of the Governors– Brian Kemp has also been an individual who has faced Trump's wrath. The former president has not endorsed a challenger to Kemp nor has he publicly spoken about a replacement for him. However, Vernon Jones who is a  Democrat-turned-Republican —has been candidly campaigning for Trump's support.  There are also instances where some pro-Trump forces have sought to line up other competitors to Kemp.
Vernon Jones
Vernon Jones was endorsed quite early by Trump in the year 2016. Vernon along with a group of other state senators had urged Brian Kemp to hold and arrange for a special session regarding considerations of overturning the result of elections. Vernon was also the same person who has signed a court brief in support of a failed lawsuit that was filed by Texas officials challenging the results of the election in the state of Georgia and others. Jones also tried for an unsuccessful challenge aimed towards Miller for president pro tem. Such misplanned actions led Miller and other Senate Republican leaders to strip Jones of his committee chair position.
This has thrown his support behind state senator Burt Jones for the Lieutenant Governor position presently held by Geoff Duncan, who declared that he would NOT be seeking re-election in May and Jody Hice for Secretary of State.
Donald Trump in Georgia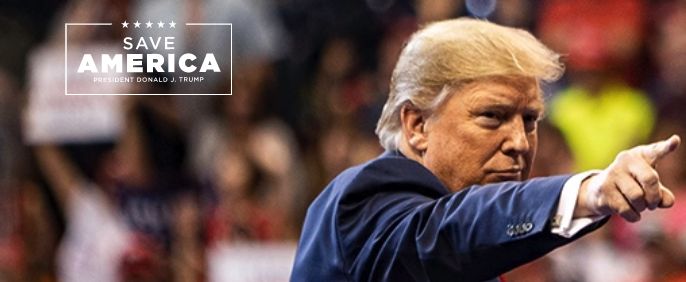 Georgia has served as a fair reason for tension for Trump since he had narrowly lost the state's 16 electoral votes last November. The democrats had flipped both of the U.S senate seats in January. 
Also Read –  Georgia Election Fraud Report
Georgia was known for playing a prominent role in the country's shifting politics. Georgia has held a special significance for Trump's campaign operations. In the last few days of the presidential campaign, the former president, Donald Trump had held a rally in Romeas well as an event in Dalton on the eve of Jan. 5.
In a call which was later leaked on social media, Trump was heard asking  Republican Secretary of State Brad Raffensperger to "find 11,780 votes". These were the number of votes that was required by the Republicans to overrun the results of President Joe Biden's win. 
"The people of Georgia know that this was a scam, and because of what you've done to the president, a lot of people aren't going out to vote [in the runoffs]. A lot of Republicans are going to vote negative because they hate what you did to the president ", said Donald Trump on the phone call. 
In the last past ten months, a new diverse collection of pro-Trump Republicans have joined the party infrastructure. These new additions to the party have the potential to unseat the unloyal or uncommitted older members of the Republican party in the USA– who they blame as the reason for Trump losing the election. 
Trump had also endorsed U.S. Republican  Jody Hice to challenge Raffensperger. 
This intense battle is a result of the changing political scenario and vote bank of the democrats and the republicans and has made Georgia one of the most crucial states that can change the political condition of the entire country. 
At the 8th District, former Gov. Sonny Perdue as well as other embers and leaders have urged fellow Republicans to unite behind the eventual nominees and avoid the drops in turnout that cost them in the earlier months during the election season. 
"That's what primaries are all about," Perdue was heard saying. "We have intra-squad scrimmages to see who can stand and be our flag bearer for the general election. Folks, I want you to be as passionate as you can about your candidate, but don't get mad. We are still on the same team, the best team in America: the Republican Party and the Georgia Republican Party."
Watch the Event Live
We will be hosting the Trump Rally live from Georgia for you. For Instant notifications on our live stream join our mailing list – Click here to join
You can also join our telegram channel to get Instant update on the Live coverage of the event


Subscribe to Email Updates :