Update 12 October 2022: As Truth Social was Available to Download on Android devices, but the play store banned the app to further downloads in August 2022. But Now as The Truth Social is Approved by the Google Play Store to download on android Devices.
Is truth social not working for you? We have covered all the troubleshooting solutions you can use to solve Sign-up problems. Read the full article to know more.
Truth Social App has already been launched on 21st February 2022 on Apple Appstore by T-Media Tech LLC. Many users are getting this error: Something went wrong. Please try again.
Update 20 June 2022:  The X US President Donald Trump Has Announced that World's biggest  App Store Google Playstore is not Listing the Truth Social App for Further Usage for Android Users It's not yet Approved to Download Publicly. So if you are Android Lover So you may Wait for a Couple of Days or Months to get approved for downloading to your device.
Update 1 May 2022:  There was an update for all the iOS users on 29th April 2022 which was pushed by Truth Social. If you find that truth social is not working for you, you can update the app or you can uninstall and reinstall the app. The app should then work for you as it should.
Truth Social Not Working – Steps to Fix
Truth Social is recently launched for iOS only. The app was automatically downloaded to apple device users who pre-registered on TruthSocial.
Many users who have downloaded the app are getting this error while creating an account on TruthSocial: Something went wrong. Please try again.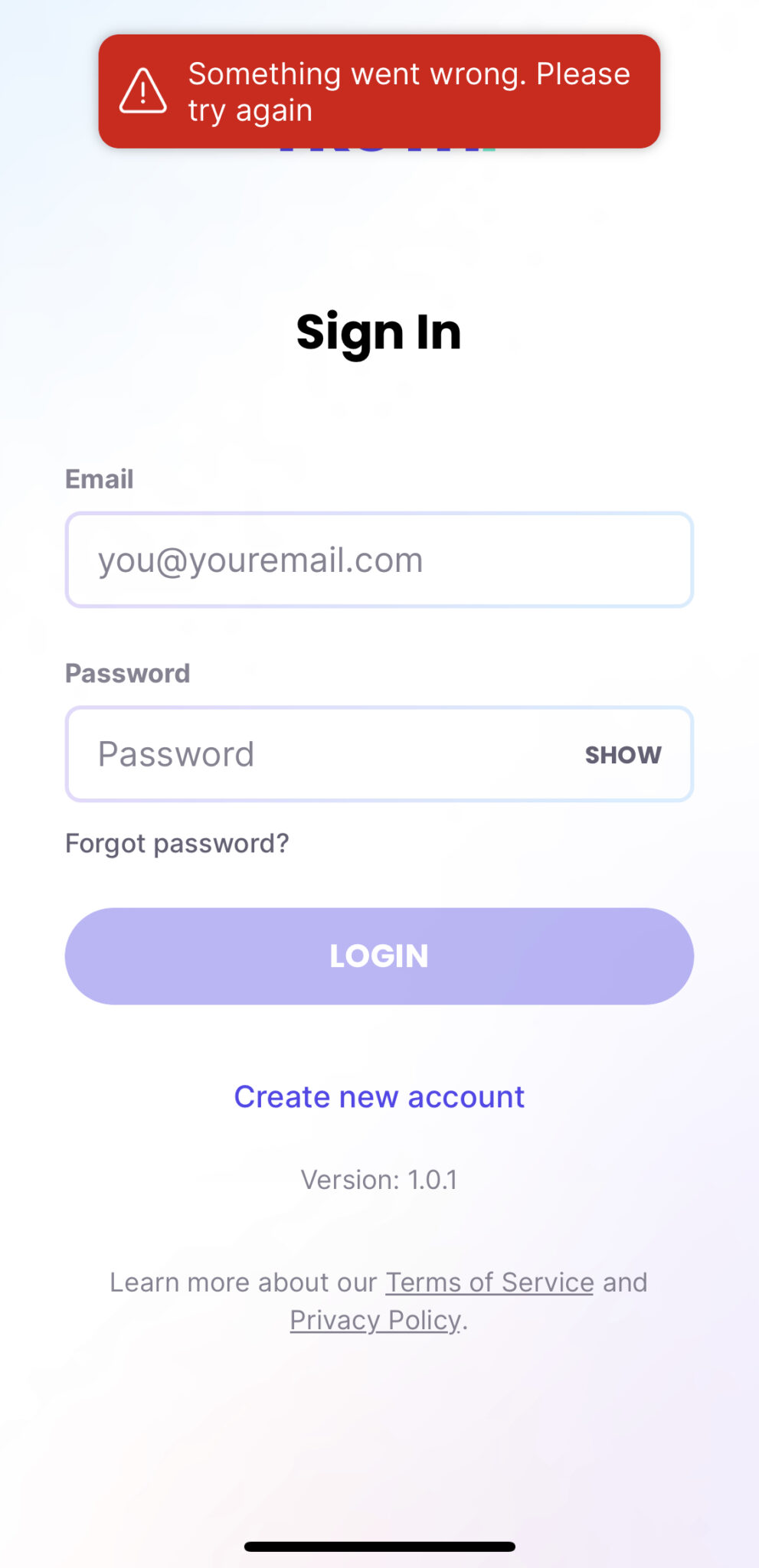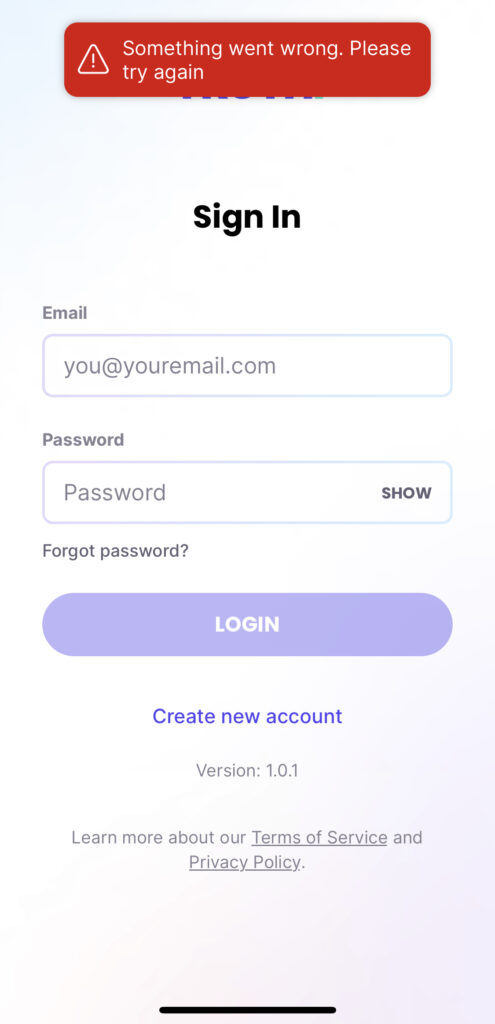 Create an Account on Truth Social
Truth Social Sign up not working
If you are among the users for whom the sign-up is not working, do not worry; there is a massive demand, and the server cannot handle all these requests in one go. The simple solution is to try creating an account after 20-30 Minutes, and it should work for you.
Resolve Truth Social Username Error
It appears that many users are getting the error "Oops, looks like you missed a step" while trying to claim their username on Truth Social.
During our debugging, we discovered that if you repeatedly try to claim a username that is not available or has already been claimed by someone else, Truth Social will automatically block your IP address and display this error message.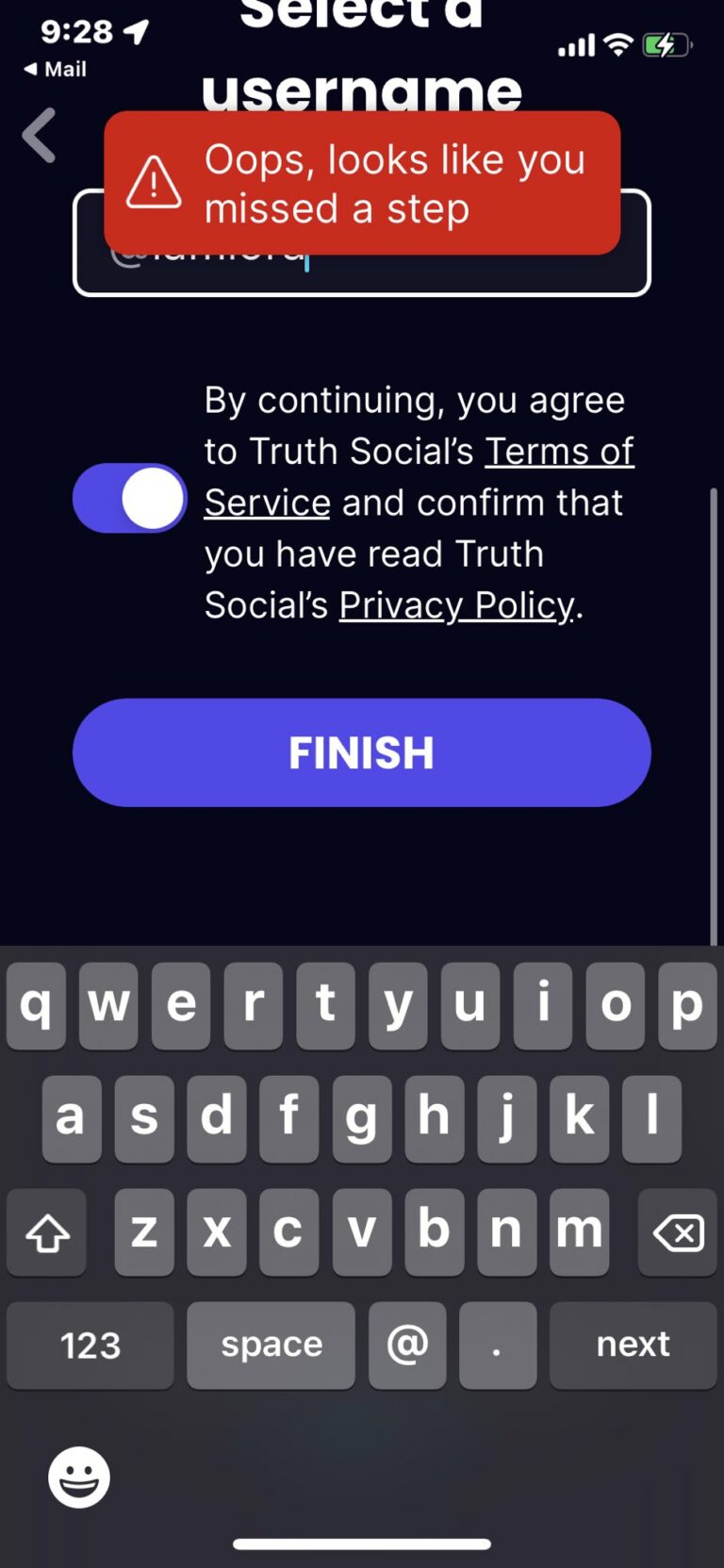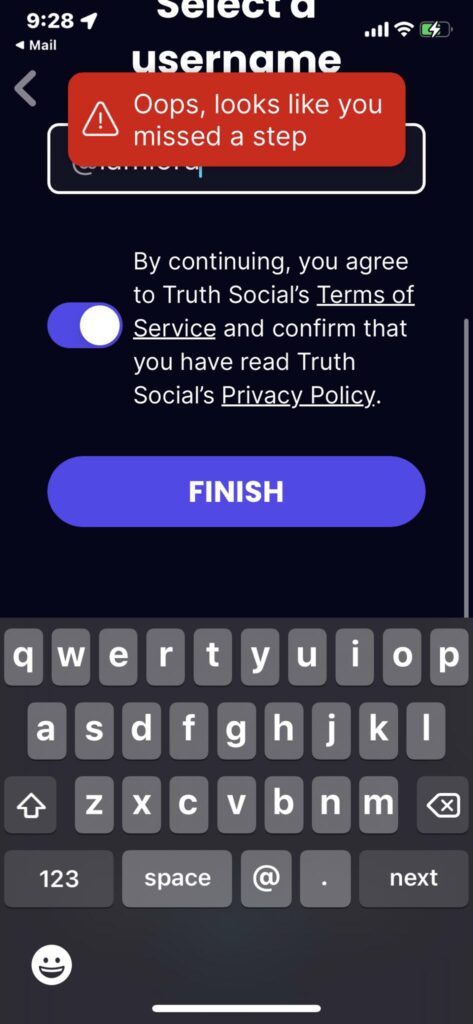 The easiest solution would be to change your IP address. As demonstrated in the screenshot below, if you are using mobile data, just turn on and off your airplane mode.
This will change your IP address. Once that is done, uninstall the app and reinstall it. In most cases, this will fix the problem.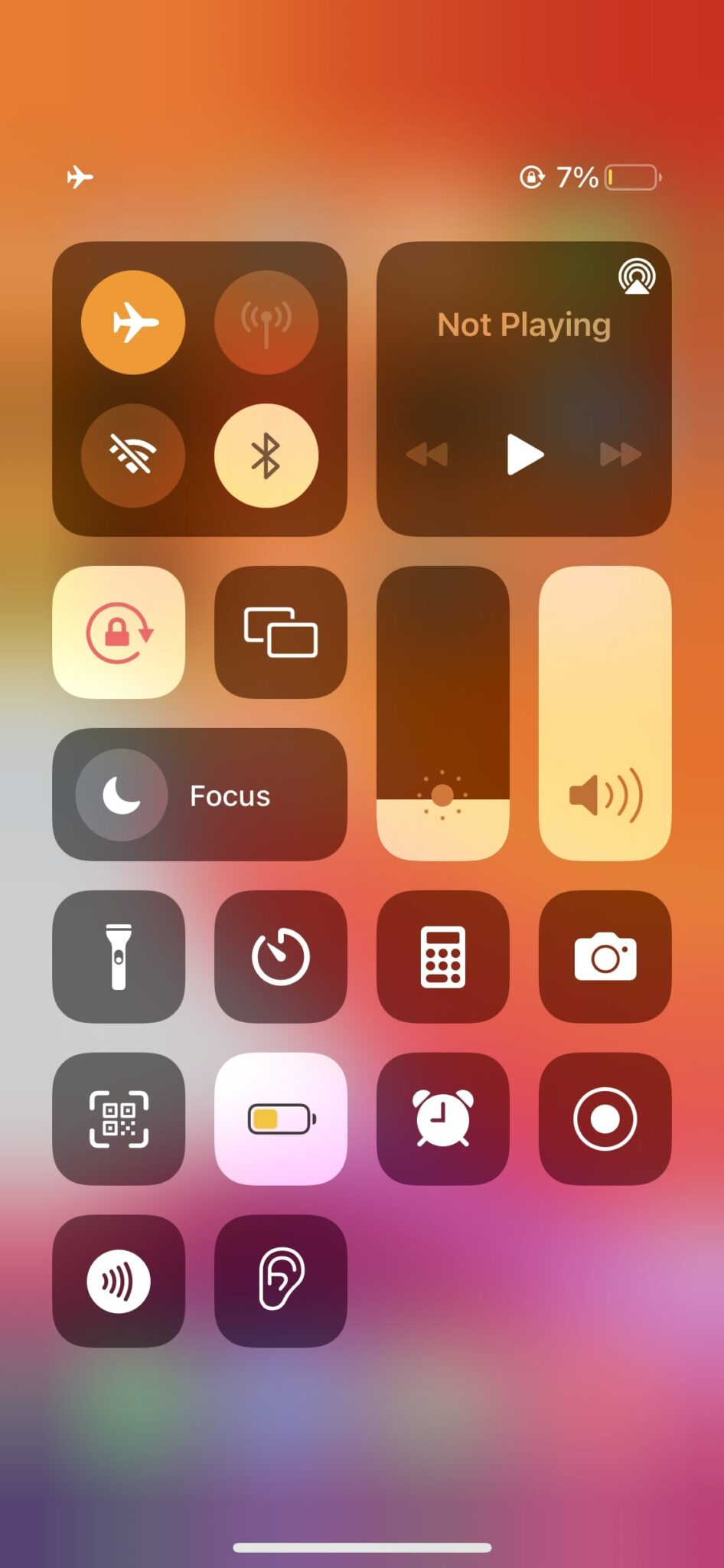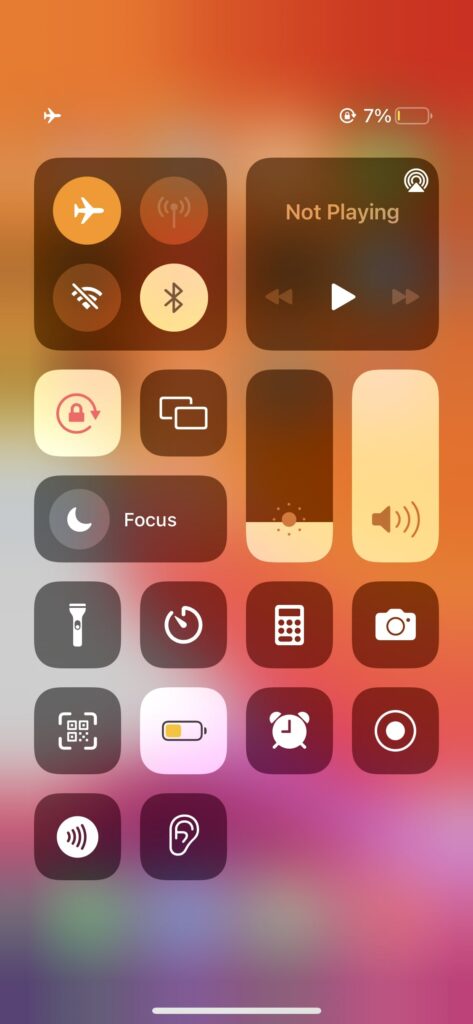 if you are getting this error "Please choose a different username to continue. Thanks!" that means, unfortunately, someone else claimed your username before you. The only way to solve this is by entering a different username, which should work for you.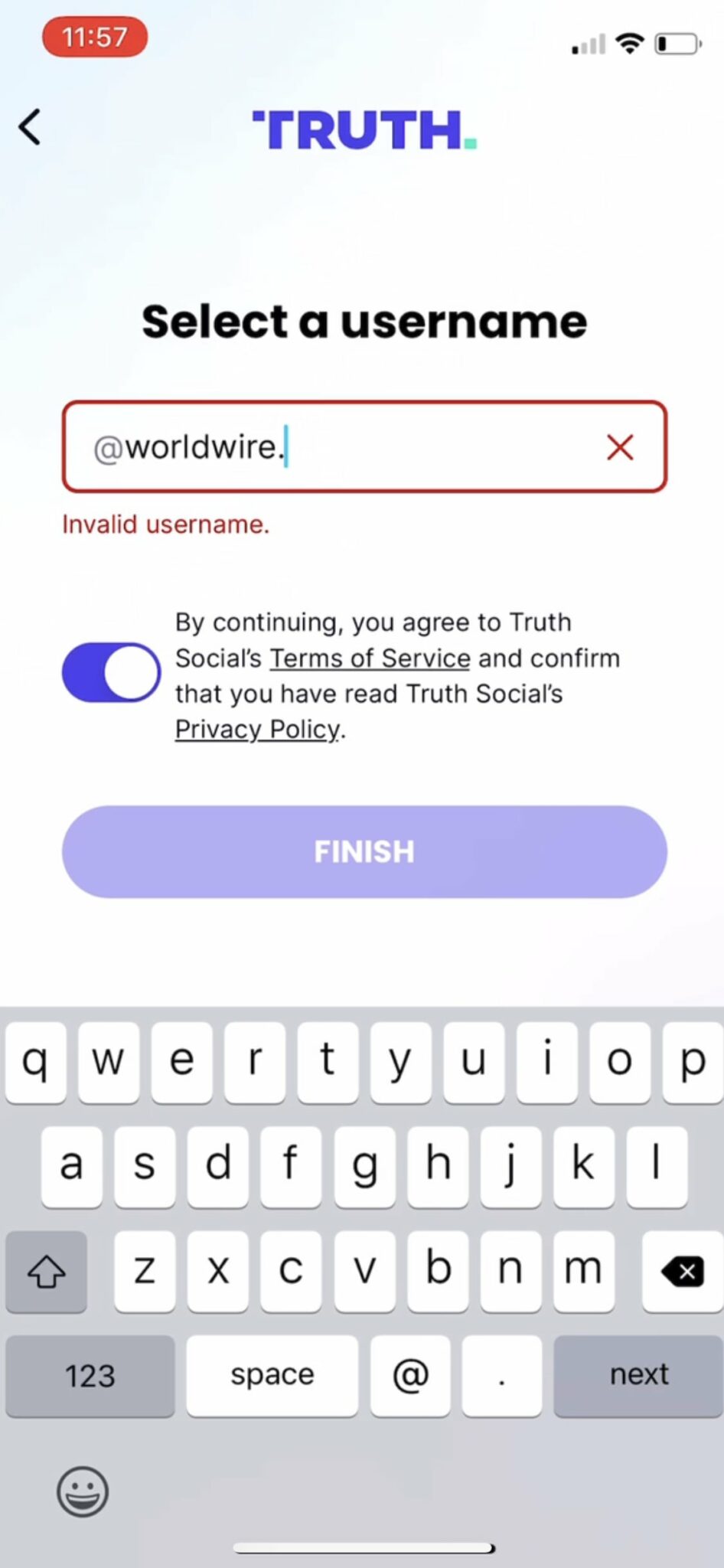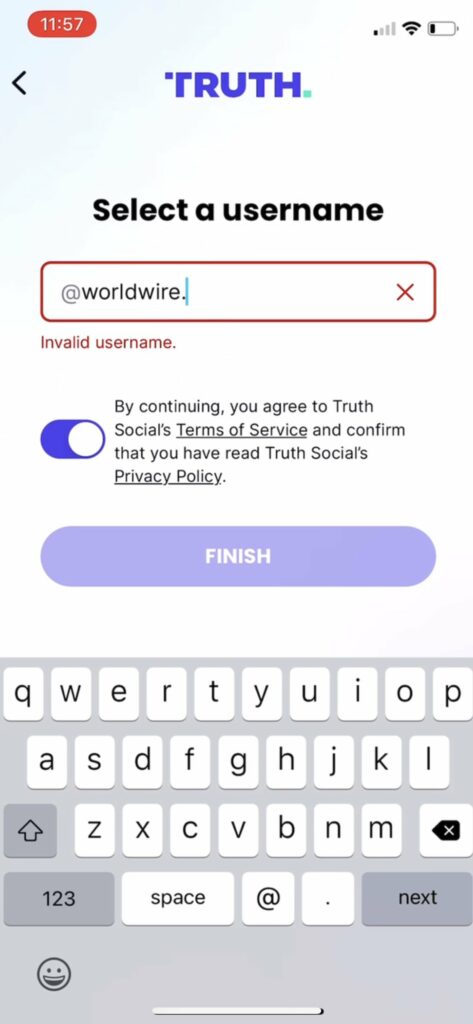 I am assuming you have already joined the Truth Social Waitlist; If you have, then you are already one step ahead of the future. After downloading the app from the app store, All you need to do is create an account. Check our guide if you don't know how to create an account.
Create Truth Social Account outside of USA
If you are facing a true social account creation error, then no need to worry, as the app is relatively new, and there are technical errors in the backend. How to resolve this issue with simple and easy steps. Follow the below guide:
Resolve Truth Social Account Creation Error
Below are the solutions that you can use if the truth social app is not working for you.
1. Restart your device
If the Truth Social App is not working, try to do the basic things first. Restart your device. You can do that by pressing the power button for a few seconds.
Once you have restarted your device, open the Truth Social app and see if it is working. If this works for you, let us know by commenting. If not, get to the below steps.
2. Check your Internet Connection
If restarting your device didn't do the trick, we still have many fixes for you. The most common fix is to check your internet connection. To troubleshoot this, simply open any app like chrome browser or youtube and check whether it is working or not. If it is not working, then there's a problem with your network. You can try connecting to a Wi-Fi network or check your data balance.
3. Reinstall the Truth Social app
If your connection is established correctly and the internet is working fine, still the Truth Social app is not working. Then Uninstall the Truth Social app and install it again from the Apple App Store.
And try to log in again with the correct credentials. If you don't have an account, Signup On to Truth Social.
4. Clear Cache memory
If you tried all the methods above and still the truth social app is not working for you, then try clearing the Cache memory by pressing the app icon for a few seconds. There are mainly chances the cache is stored while attempting too many times. So try this method once.
5. Contact Truth Social Support
If all the methods mentioned above aren't working. Then, you can contact the truth social team on their official email at: [email protected] and elaborate on your issue.
I am sure they will guide you with the proper solution to your issues.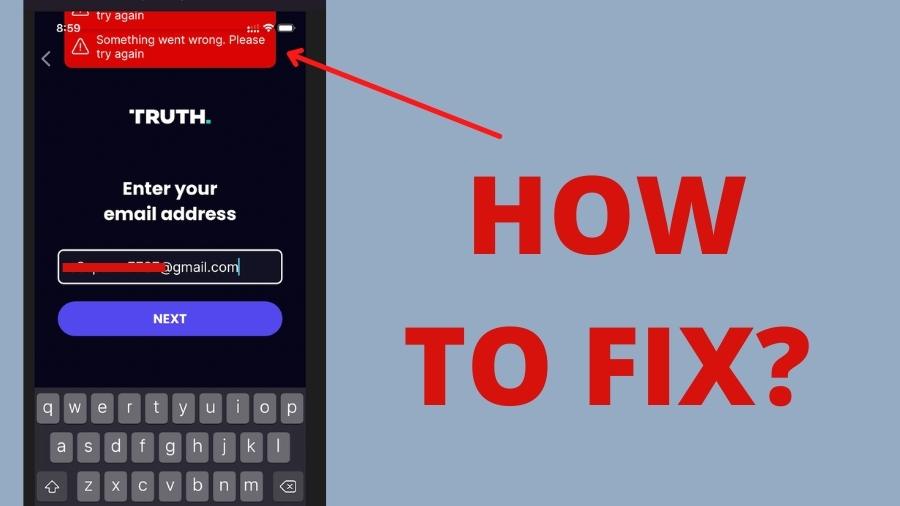 Truth Social App is undergoing new Updates
Truth Social, Donald Trump's social media platform, will undertake "significant capacity upgrades" to improve the app's "work and reliability," which was dubbed a failure by many after its February launch was marred by numerous technical issues.
The updates are planned for Friday morning from 5:00 a.m. to 7:00 a.m. ET, according to an official statement shared by the app's technical support.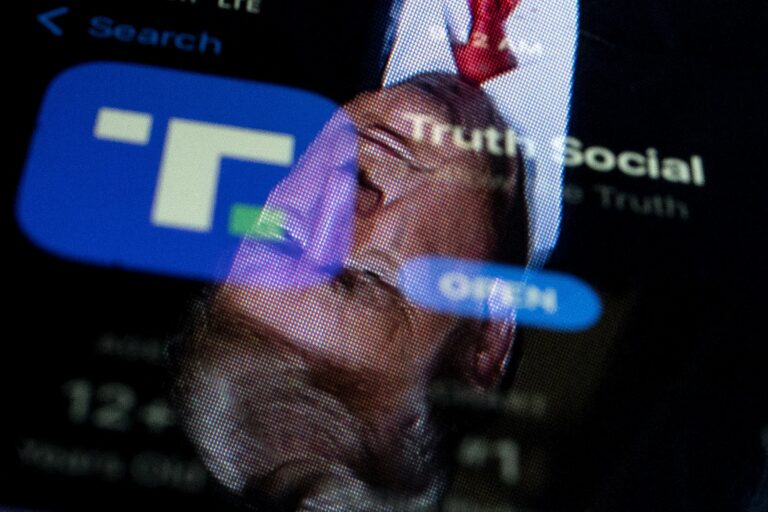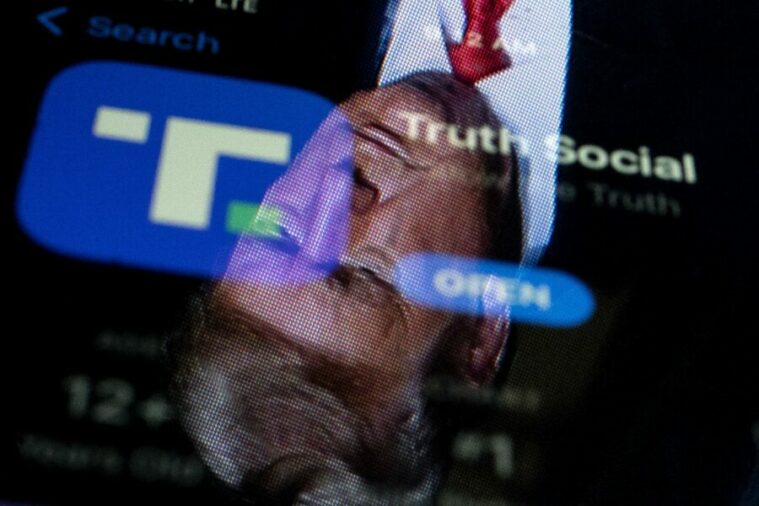 "New truths will not be able to be posted for several minutes during that window, whereas reading direct exposure will continue to stay constantly available," the statement says, before saying thanks to website visitors for their "patience and understanding" as even the team continues to "refine" the app According to CNBC, on the day the app was released, Feb 21, Truth Social was among the most apps downloaded on Apple's App Store. The Truth Social rollout's waiting-in-line phase has come to an end at a convenient time.
What did Devin Nunes add about the update?
Devin Nunes, the California Governor and member of congress turned CEO of Trump Media and Technology Group, announced on Newsmax Thursday that almost all Truth Social subscriber base with just an iPhone would then enter the Truth Social realm "in just a few days" while appearing on "The Chris Salcedo Show."
Following that, subscribers from other devices will be able to access the app. There will be no more bottlenecks in beta testing. And there's no need to be concerned about corporate censorship.
Best Features of the Truth Social App
Donald Trump recently announced Truth Social Media, this social media website is available to access right now. Only the IOS version of the Truth social media app has become available for download.
It is currently unavailable on Android devices. The Apple Appstore is where you can get the app. Before midnight ET, the app was downloadable. All subscribers who had signed up for just a pre-order of the truth social app had the app downloaded automatically.
Freedom of speech: The primary purpose of the Truth Social app is to provide freedom to every single person who uses it. With the launch of the truth social app and website, the aim is to let people's voices be heard.
Add and Share photos: Additionally, you can share photos and communicate with your friends, customers, and all over the world.
Set Profile Picture: Truth Social has the ability to set up the profile picture, and cover picture with a custom theme color as Twitter does (Although it is not explicitly stated on the website directly that the ability to set up a custom theme color would be offered, it is rumored to be in development).
Track your followers: You can also follow other users and keep track of your followers and following count, as well as your post and like history.
Truth Feed: Truth Feed will keep you up to date on everyone you're following, whether it's a friend, family member, or organization. The truth feed is a collection of posts from all those who have followed, along with videos, photos, links, and other media.
Search Function: You can use the search function to find any user on Truth Social. You have the option of viewing all of their content before deciding whether or not you would like to follow them.
Notifications: To keep you informed, the app will include a notification feature that will allow you to receive all of the updates from the people you follow.
Q. Can I buy Truth Social Stocks?
Truth Social isn't announced as a publicly traded company yet. Hence, you cannot buy Truth Social stocks directly. However, Truth Social Merger between DWAC and TMTG is about to happen in the next few months. Until then, you can either purchase DWAC Truth Social Stocks or Truth Social SPAC Stocks.
Conclusion
I tried to cover all the methods I knew. To have you enjoy the New Social Media Truth Social. Sometimes there is a server load on the Truth Social server, so you get errors while surfing the Truth Social app.
But they will solve those errors in no time. So, don't worry and have patience; the customer care service will guide you to the 'Truth.'
I hope you have solved the Truth of Social Not Working by following the mentioned method. Stay with World Wire for more updates about the Truth social.

Subscribe to Email Updates :