Update 12 October 2022: Waiting for the android users is now over, Truth Social app was Relishead but in August 2022 the App was banned by google Playstore for downloading Further on Android devices. But Now the waiting period over the Play Store has been approved to Download on Android Devices.
Update 15 September 2022: If you want to know more about download steps and how you can get the app so you go to the Download Truth Social Apk For Android & iPhone here you would get all the new Updates and guide to installing the Truth Social Apk on your device.
Update 1 May 2022: Currently, Truth Social is only available for iOS users. However, good news has come for Android users as well. The CEO of Truth Social & former congressman Devin Nunes mentioned in Joe Pag's show that Truth Social and Google have reached an agreement and they will be launching Truth Social shortly on Android phones.
Update 26 April 2022: Truth Social has now been downloaded by more than 1.2 Million, it has reached the Number one spot in the Apple app store's social networking category.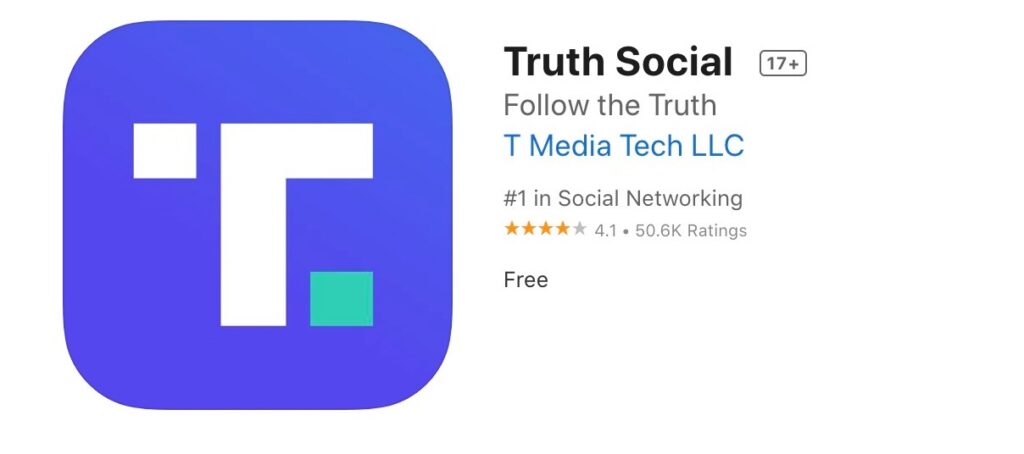 Truth social app is now available to download through IOS only It is not yet available on Android platforms. The app can be downloaded via the Apple Appstore. The app was available to download before midnight ET. The app was automatically downloaded for all the users who had signed up for a pre-order of the truth social app.
Truth Social has been recently launched check our guide to   How to create a new account on Truth Social – Sign Up / Login to Truth Social
Truth Social App Download – Step By Step Guide
Visit Truth Social's official website.
Click on the Apple App Store button at the bottom of the page ( as shown in the screenshot below )
 You will be redirected to the Apple App Store.
Click on the Install button.
Done. You have successfully downloaded the Truth Social app.
You can read more about – How to signup on Truth Social
Truth Social is led by Donald Trump in a joint venture with different companies to take on Facebook & Twitter. Let's get into more detail about Truth Social App Download on Android & IOS devices.
Guide to Download Truth Social App on Ios – Step by Step Guide
You can download the Truth Social app on your iPhone and Ipad unfortunately, this app does not support the latest M1 Laptops or any other iOS device that supports iPhone apps. This guide is for iPhone but you can follow the same for any other iOS device you are using.
Truth Social is only available for US users, users visiting from other countries cannot see the download link
Open the App Store on your iPhone/Ipad / other iOS devices.
Search for " Truth Social App " in the search bar of the Apple app store.
Find the app by TMTG group and click on Install.
Once you have downloaded the App you will need to set up your account you can follow this guide below for the same.
Steps to Download Truth Social App on Android – Step by Step Guide
The Truth Social app has not been launched for Android as of now. The app can be launched anytime soon, below is the guide to download Truth Social for android ( When it launched, of course)
You can download the Truth Social app using Playstore and also using the Truth Social Apk. Below is the guide to downloading Truth social for Android
Open the Google Playstore and type "Truth Social App".
If you are unable to find the app in the Google Playstore, you can download it from their official website.
Once you have downloaded the app, you will need to create an account. Below is the Step by Step guide on how you can create an account on Truth Social 
Done. You have successfully downloaded the Truth Social app on your Android device.
Truth Social Android App has not been officially launched. Our World Wire Team will update the Android app and its details whenever there is an update on the same.
You can receive news about Truth Social's Android app launch by joining our Telegram channel.

What is Truth Social App?
Truth social app founded by US ex-President Donald Trump is a social media platform and a competitor to Twitter, and Facebook.
After Twitter and Facebook banned Donald Trump over the Capitol riot controversy, he decided to launch his own platform under the parent company Trump Media & Technology Group, or TMTG for short.
The primary purpose of the truth social app is to provide freedom to every single person who uses it. With the launch of the truth social app and website, the aim is to let people's voices be heard.
A number of users were recently banned from Twitter for standing against the covid vaccine or taunting political figures on the site. As a result, Truth Social wants to eliminate this and wants every user to feel their opinion matters.
According to the website description, you can share your opinion by posting a "Truth" similar to a tweet. You can also "Retruth" a truth if you like it, similar to how you retweet a tweet on Twitter.
Additionally, you can share photos and communicate with your friends, customers, and all over the world.
The android app for Truth social is not out yet, you can still signup for email notification and get notified whenever we get an update for the same.

Key Features of Truth Social App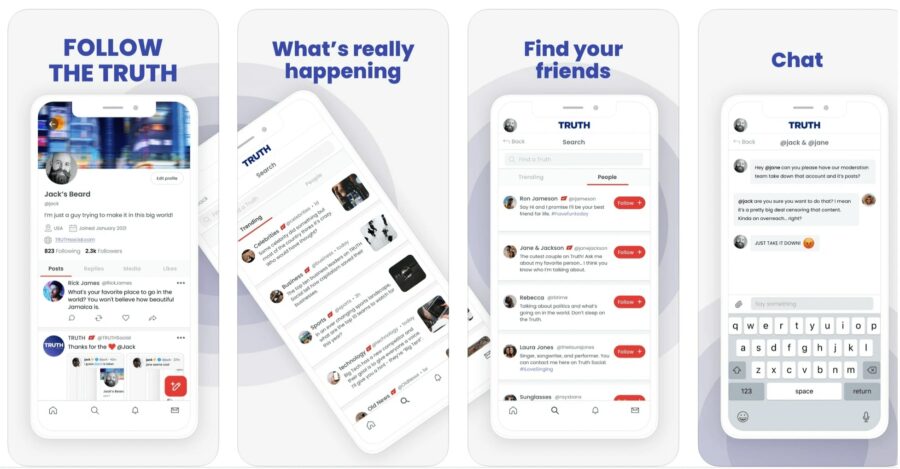 Profile Setup
Truth Social has the ability to set up the profile picture and cover picture with a custom theme color as Twitter does (Although it is not explicitly stated on the website directly that the ability to set up a custom theme color would be offered, it is rumored to be in development).
You can also follow other users and track your followers and following count as well as the app will keep all your history of posts and likes.
Truth Feed
Truth feed will help you get all the latest updates from whom you are following, whether your friend, family, or organization. The truth feed contains posts from all those who have followed with the help of videos, photos, links, etc.
Search Feature
It is possible to search for any user on Truth Social using the search function. You can view all of their content, at which point you will be able to decide whether or not you want to follow them.
Notification
In order to keep you updated, the app will have a notification feature so that you will be able to get all the updates from the people you follow.
Truth Social vs. Twitter
The Truth app is very similar to the Twitter app. After reviewing some of the screenshots shared by some truth social beta testers. The app functionality and feature seems to be inspired by Twitter. The Truth social platform is built on Mastodon, an open-source platform similar to Twitter.
Twitter's decision to ban President Trump from its platform was infuriating to many of Trump's followers. There were 88 million followers of Trump on Twitter, and we estimate that 50 million or more people will join Truth Social within one month from around the world.
Truth Social Launch Date
According to the Chief Product Officer, Billy B, the launch date for the Truth social app is 21 February 2022. There are many speculations that the app launch will be delayed and released at the end of March.
A user asked Billy during a question and answer session with beta testers when the app would be rolled out to the general public. Billy responded by saying that it would be released in the Apple App Store on Monday, 21 February.
The app will be launched only for IOS users. There is no confirmed date when it will be launched for Android users.
Truth social app for android
The Truth social app has not yet been released for Android users. At the time of writing, only Apple users are able to preorder the app. However, there is no information yet on when the app will be released for Android users.
However, we expect that the truth social website will have a web interface just like Twitter, and even Android users can use the platform through the truth social website.
TruthSocial.com has added a coming soon logo for Android users. According to rumors launch of the Truth Social, android app would be at the end of this year.
Truth Social Network App
According to TGMT Corp is building the future of apps Truth Social a Social Media Platform to rival Facebook & Twitter. TMTG+ is a Video Media Platform to complete with a Video Streaming Platform like Netflix and TMTG News.
Is Truth Social App Free?
Yes, the Truth Social app is free to download. The application is built on top of Mastadon, which is free and open-source software. It has many features similar to Twitter.
At the moment, you can only pre-register for the Truth Social app. The launch of the application is expected to happen on February 21st, 2022.
Details to know about Truth Social App for IOS
Truth Social is now only available for IOS devices for beta users, if you are not a beta user then you need to sign up for the waitlist or wait till its launch.
Check this Guide to   Truth Social App iPhone – How to get Truth Social on your Apple IOS Device
[maxbutton id="7″ text="Get IOS App" url="https://world-wire.com/truth-social-app-iphone/"]
Details to know about Truth Social Apk App for Android
Truth Social is not available on Android devices, we would be updating about the same on the below guide
Check this Guide to Truth Social Apk – Are you looking for Truth Social Android App?
[maxbutton id="7″ text="Get Android App" url="https://world-wire.com/truth-social-apk/"]
Truth Social App Video
If you want to get updated about any news related to Truth Social Media or Donald Trump then you can subscribe to our Telegram channel.

Subscribe to Email Updates :