Bothered about the Verizon router blinking white light? If yes, don't worry, as you have stumbled upon the right webpage.
Connection issues can be troublesome, especially if you use the internet frequently for personal or business reasons. Before you start to panic, try some of the simple fixes that you can use to solve the issue.
This article will inform you about some of the most frequent reasons why your Verizon router is blinking white light and provide solutions to resolve this issue.
So without further ado, let's begin –
What Does the Blinking White Light Mean on Verizon Router?
The white light on the Verizon router means everything is running smoothly, and the router provides a reliable connection. However, the blinking of that white light suggests that there is a problem with the internet connection.
Firstly you must verify the current state of your Wi-Fi service. If problems still persist, there might be a hardware/software issue causing this error to your router. Moreover, on Verizon, if your modem is overheating, it may be a reason you are facing problems with white blinking.
Verizon Router Blinking White Light – Troubleshoot And Diagnosis
Below are some easy fixes to resolve a problem associated with the blinking white light on your Verizon router.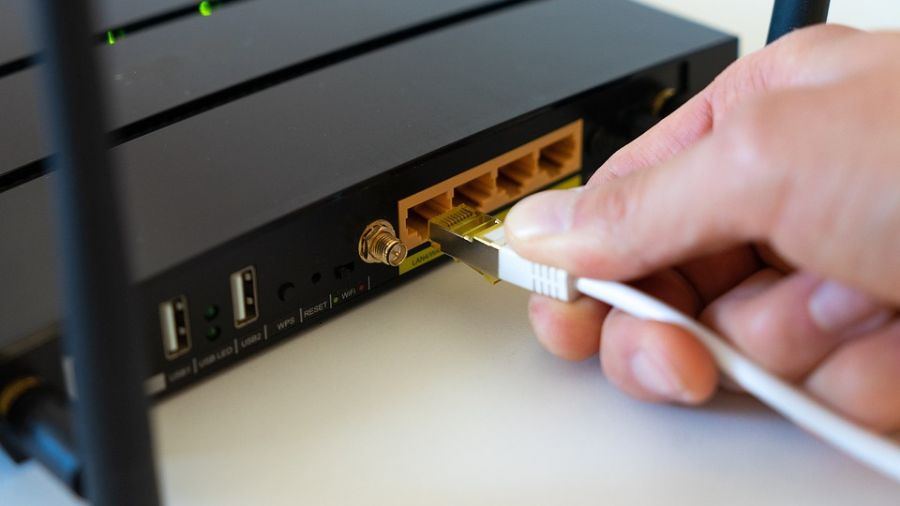 Remove and re-attach the cables
If no updates are in progress and you haven't recently rebooted your router, yet the white light blinks, it could be because of an unstable internet connection. In such a situation, the first thing to check is whether all the wirings are safe and plugged in properly.
Simply remove all the cables and re-attach them properly. Here, it is important to plug in loose cables tightly since any slack in the connection prevents proper operation.
Overheating in a router
You could occasionally have connection problems as a result of an overheated router. Even though modern routers are more effective in avoiding overheating, if you feel your router getting warm, switch it off for a while.
Remember to unplug any backup batteries so they won't continue running even after you turn them off. If your router is near a heating vent, furniture, or draperies that could reflect the heat, you should also consider moving it.
Restart your router
Restarting or resetting the router will allow you to remove any corrupted cache files that may be to blame for the Verizon router blinking white Light. It will clear the cache and allow the router to work properly and perform better; that's why rebooting is frequently termed a "Power cycle."
Restarting your Verizon router involves the following steps –
Cut the router's power at the outlet.
Allow a minute or so to pass.
Reconnect the router's power now.
Wait for the initialization procedure to finish, which should take 2 to 3 minutes.
Verify that the Light is no longer blinking and is a steady white color.
Check for faulty lights
You might have a broken LED Light if the blinking doesn't end. A defective light makes it difficult to determine if the router is rebooting or experiencing a malfunction.
The simplest method to address this problem is to call Verizon and request a replacement. If Verizon does not provide you with a replacement, they can still assist you in fixing your LED Light.
Get in touch with Verizon Support Center
Contact the Verizon team if you have tried the above-mentioned ways and the problem remains. The issue you've been facing can be an operating system or a technical one that can only be resolved on their end. You can contact them by calling or sending a message. The Verizon Technical Support team is available around-the-clock.
Causes of Blinking White Light On Verizon Router
There can be several reasons why your Verizon router is blinking white light.
Below, we have covered some of the most common reasons –
Software update – The LED on your Verizon router may occasionally blink white while upgrading the firmware. This is very natural and typically only lasts a short while. The light ought to turn completely white once the update is finished.
Connectivity problems – If you see a flickering white light, your internet connection may be in a problematic situation. Numerous things, including a broken cable, a modem issue, or an issue with your broadband provider, could be to blame.
Power problem – An blinking white light could occasionally be caused by power problems. It will occur if the router is not receiving sufficient power or there's a power supply issue.
FAQs
What is the speed of the Verizon router?
A dual-core processor on the Fios router enables quicker functionality over wired and wireless connections. Ethernet cables for LAN and WAN can support up to 1000 Mbps. The router has AC1750 Wi-Fi, up to three times as fast as wireless-N.
Is a modem required for a Verizon router?
Since Fios is a full fiber service, modems are not required. Instead, the service employs an Optical Network Terminal (ONT), which functions like a modem to transform the fiber signal. A Verizon technician will install the ONT once you've signed up for service to support your Fios Internet.
How does the Verizon router function?
The Fios Router boasts a single Wi-Fi network supporting 2.4 GHz and 5 GHz frequencies. Using the Self-Organizing Network (SON) feature, your devices can automatically switch between signals for an improved Wi-Fi connection. Open a web browser on your computer, then enable your router by following the on-screen instructions.
What level of security does Verizon router offer?
All Verizon's wireless routers presently come with WPA2 security encryption already set up.
How frequently must I reboot my Verizon router?
Rebooting the primary Internet router once a week is generally recommended. Rebooting the router can resolve various difficulties, from poor wireless connections to no Internet connectivity.

Subscribe to Email Updates :