Watch Ron DeSantis Delivers an Update on Tropical Storm Nicole – Florida's Governor Ron DeSantis spoke on storm preparations for Nicole on Wednesday, November 9, 2022.
Nicole is predicted to turn into a Category 1 hurricane before it hits Florida's east coast.
To mitigate the storm's effect and make people aware of the preparation strategy, Governor DeSantis endeavored to inform the people of Tropical Storm Nicole.
This article will discuss where you can watch Ron DeSantis delivering updates on Tropical Storm Nicole.
Watch Ron DeSantis Delivers an Update on Tropical Storm Nicole
You can watch Ron DeSantis delivering an update on Tropical Storm Nicole below.
Florida people have been preparing for the consequences of Tropical Storm Nicole, forecast to intensify as a hurricane.
Floridians should continue to monitor the local weather service, listen to local authorities, and follow the Florida Division of Emergency Management for updates, encouraged by governor DeSantis while giving updates on state preparation efforts ahead of Tropical Storm Nicole.
DeSantis, while talking to a news conference in Tallahassee, informed that winds are the biggest concern and substantial power outages could occur. Still, there are currently 16,000 linemen directed to respond to power outages following the storm, and 600 guardsmen have been activated. There are seven Urban Search and Rescue teams on standby mode to deploy after the storm.
In anticipation of Nicole's landing soon, DeSantis said, "It will affect huge parts of the state of Florida all day. Almost two dozen districts have closed down schools for the storm, and around 15 shelters have opened along Florida's east coast."
He also issued an executive order on Monday announcing a state of emergency for 34 counties in the possible path of the storm.
He extended the emergency to 45 counties now, including Alachua, Bradfox, Dixie, Hernando, Jefferson, Levy, Marion, Gilchrist, Pinellas, Taylor, and Wakulla counties.
"People in affected areas should pay attention as the storm progresses," he said.
"The combined winds and storm wave will cause beach erosion in areas that have already experienced erosion from Hurricane Ian," DeSantis added.
Kevin Guthrie of Emergency Management declared that Nicole would make landfall soon and could cause high wind and rough surf. He said, "There is an increased risk of rip currents statewide that are often neglected but are very deadly."
Nicole is expected to bring coastal flooding, heavy winds, rain, rip currents, and beach erosion.
When DeSantis delivered an update on Nicole, Tropical Storm Nicole was found approaching Florida, 185 miles east of West Palm Beach, with maximum supported winds of 70mph and moving west at 12mph.
What is Tropical Storm Nicole's current update?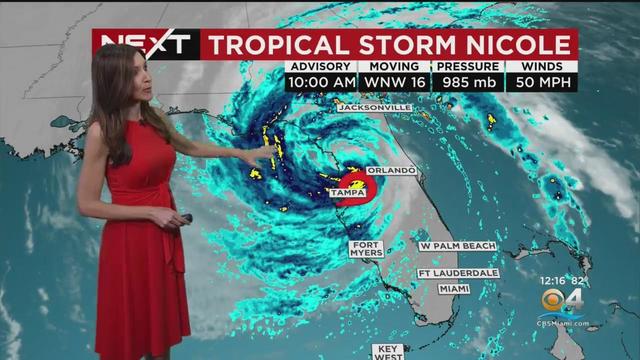 Nicole made landfall in Florida as a hurricane on Thursday and has become a tropical storm. The Southeast coast is expected to see coastal flooding, strong winds, rain, and tornadoes.
The rest of the East can experience flooding rain, intense winds, and a few tornadoes by Friday to early Saturday.
Nicole's other consequences, including beach erosion, strong winds, high surf, and tornadoes, are predicted to continue to affect other parts of the Southeast, including the mid-Atlantic and Northeast, through the end of the workweek.
Nicole is now a weekend tropical storm.
Radar indicates bands of soaking rain across northern and central Florida into southern Georgia. Northeast Florida and far southeast Georgia can experience a tornado.

Subscribe to Email Updates :