TMTG News is also a subsidiary of its parent organization TMTG – Trump Media & Technology Group. According to a tweet from Trump spokeswoman Liz Harrington, the app appears to be the first project of the Trump Media and Technology Group (TMTG).
TMTG will go public on the Nasdaq by merging with Digital World Acquisition Group, according to the tweet. Harrington estimates TMTG's value at up to $1.7 billion.
Purpose of TMTG News
TMTG News will be launched in competition with CNN and other news networks. As you can see in the image below TMTG news will be working to replace the various news networks in the market such as CNN and iHeart Media.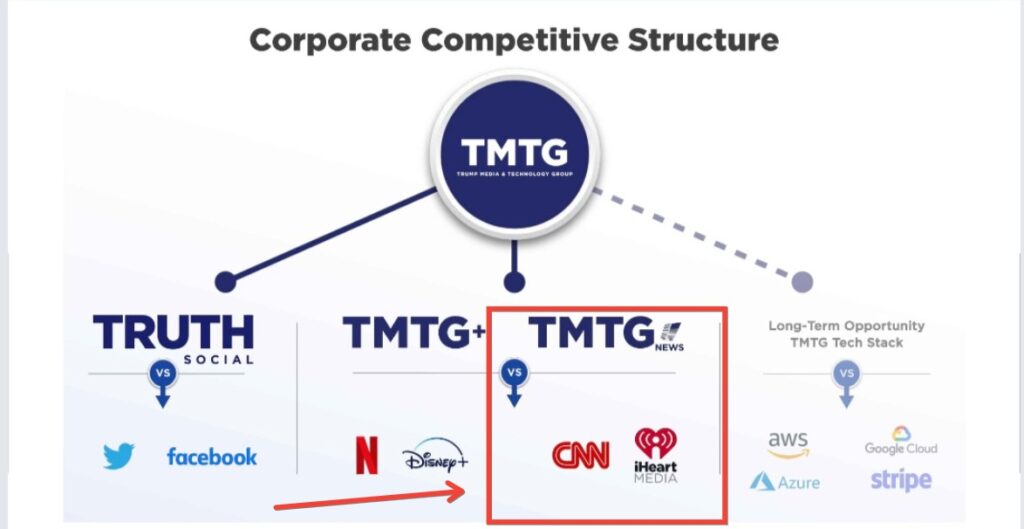 How to Access / Use TMTG News?
TMTG has planned to launch Truth social, its social media platform. TMTG+, It's a video streaming platform. TMTG News, its news platform, and TMTG Tech stack for tech products. All the products mentioned will be launched in order. As of now the pre-access to its social media app Truth social is available for apple ios users.
Guide – Steps to Pre-order Truth Social app by Donald Trump
TMTG News app release date
The official release date of the TMTG News application has not been scheduled yet. We will update the post when we have enough information about the TMTG news app and its launch.
Download the TMTG News application
The TMTG News application has not yet been officially released. When we have enough information about the TMTG news app and its launch, we will update this post.

Subscribe to Email Updates :