Are you looking for a way to Access Wireless Sim Card Unlock Code? If yes, you're on the right page.
Access Wireless is a service provider for the government-funded Lifeline Assistance program. For qualifying households, Access Wireless offers unlimited data and voice. Fixed high-speed data is included in the unlimited data plan.
Now, are you tired of Access Wireless and looking for a change? The good news is that you can take the initiative to change and switch to another network by unlocking your SIM.
If you know the proper procedures, you can unlock your Access Wireless SIM card through code in a few minutes.
To guide you through the process, we have prepared an article about how to get an unlock code for your Access Wireless SIM card in easy steps!
Why is my Access Wireless SIM Locked?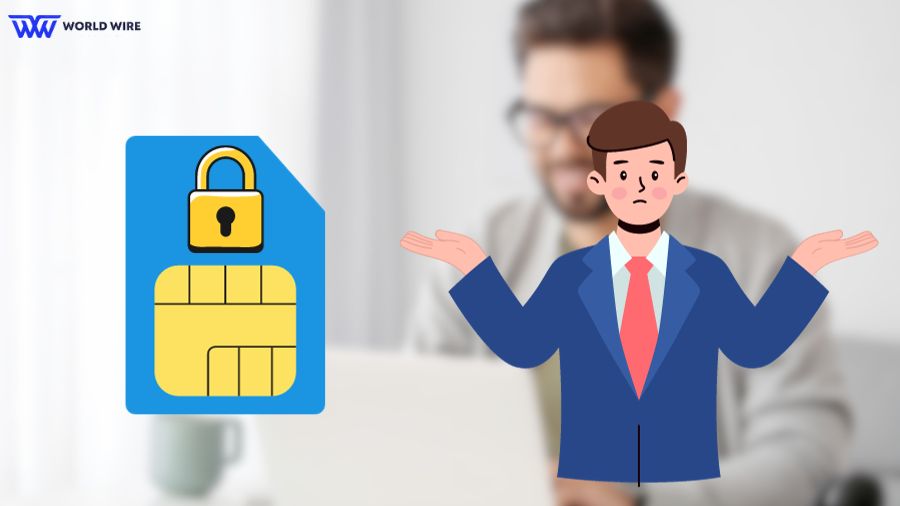 A technical limitation incorporated by mobile phone manufacturers into GSM and mobile phones, also known as a SIM lock, network lock, carrier lock, or subsidy lock, is used by service providers to restrict the use of these phones to specific countries and networks.
It is meant to ensure that customers who purchase a phone from a particular company continue to use that company's services.
The distinction is the software code that a locked phone contains, which forbids you from using it on any other network, whereas a phone that is unlocked either has no software lock on it or the software has been unlocked through the use of a code.
Want to know more about why these SIM locks are placed? We will give you some reasons as to why it is done.
The first reason is that when you purchase a new smartphone on contract, it is frequently highly subsidized by the carrier. Subsidizing means when expensive phones are sold at a discount, the carriers will compel customers into a contract. They exclusively limit the device's usage to their network in exchange for this subsidy to make their money back over the contract's lifetime.
Secondly, Carriers make sure that customers can't just move to competitors by locking the phone to their network. This is done to make sure the customers of a mobile service provider remain loyal to that provider in the long run.
The last reason is that the profit margin on phone sales has decreased. Therefore, the carriers generate revenue and profits only through monthly plans and contracts.
Access Wireless Sim Card Unlock Code – Process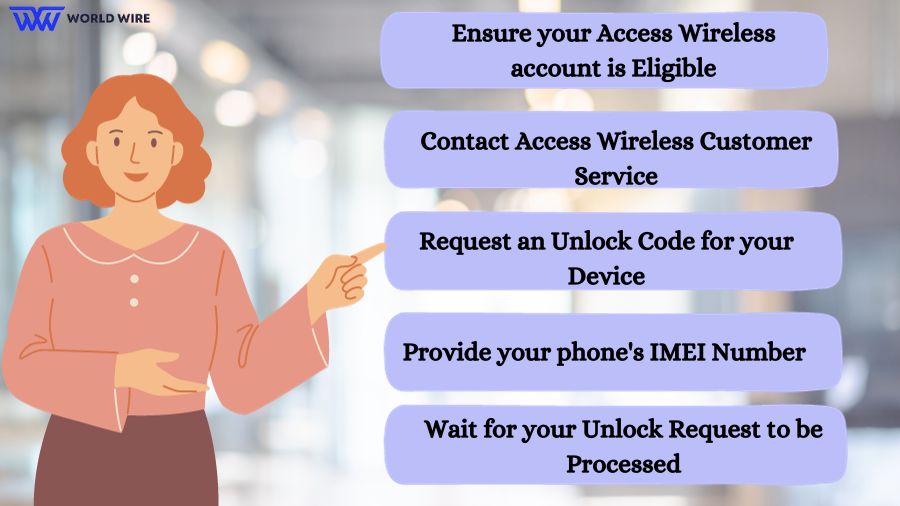 Access Wireless complies with the Cellular Telecommunications Industry Association's (CTIA) guidelines for device unlocking.
Therefore, it operates under regulations to protect user rights and network security. Now that the basics are done let's get into the technical part, where you must do a few things to get the desired results!
Follow the given process to get Access Wireless SIM card unlock code:
Check if your Device is Locked
If you have another SIM card lying around, put it into your phone and try placing a call.
Your device is locked if it fails or you can't get a signal at all. Your device is also locked if you receive an error message or are unable to connect.
Ensure your Access Wireless account is Eligible
There shouldn't be any reports of theft or loss of the gadget, and the gadget should have been used on the Access Wireless network for a minimum of 12 months.
Contact Access Wireless Customer Service
You can do this by contacting their website or calling their customer service. To speak with one of their representatives, call 1-866-594-3644 or 611 from your Access Wireless free government phone.
You can also reach them via their official website's "Support" or "Contact Us" section.
Request an Unlock Code for your Device
Once you have contacted them, ask them for your device's Access Wireless SIM card unlock code.
Provide your phone's IMEI Number
IMEI is International Mobile Equipment Identity. You must provide your phone's IMEI number and other relevant information about your account and phone. You can typically locate the IMEI number by entering *#06# on your phone or searching it in your device settings.
Wait for your Unlock Request to be Processed
As soon as they receive all the required information, they will start processing your request. After they verify your eligibility, processing could take 24 hours to 5 business days.
Risks and Considerations of Unofficial Unlocking
It can be alluring to explore the context of unofficial unlocking methods. Everything needs to move fast in this era.
Nobody is ready to wait and adhere to a long process, so to do things without a drag, unofficial unlocking offers a speedy fix for the restrictions imposed by a locked SIM card.
Like every shortcut, though, there are drawbacks that you need to consider. So, we will discuss the risks that pertain to unofficial unlocking here.
The manufacturers will not usually tolerate unauthorized Access or modifications made to their products. Suppose something goes wrong after you unlock your Access Wireless SIM card with a code. In that case, you need to take full responsibility for any repairs or replacements, such as Access Wireless replacement phone. So, it would be best to consider it well before you opt for unlocking.
Bricking essentially means a malfunction of a device- a non-functioning device that is generally unresponsive. Bricked devices occur when unofficial unlocking techniques result in software faults that render your phone unusable. No warranty can help you cover this outcome, leaving you at a greater disadvantage.
As everything in the world moves towards technology development, it also brings more threats. Likewise, when you have an unlocked phone, you are at risk of Malware infiltrating your device, which will pose serious hazards like data theft and cause technical issues. Nobody wants their device to be at risk of security vulnerability. This is one of the risks that comes along with unlocking unofficially.
Unofficially, unlock an Access Wireless SIM card without asking for a code can cause poor service or malfunctioning features in some cases. You can use unlocked phones with a carrier of your choice, but they won't help you if something goes wrong. You will be on your own if your phone starts to malfunction, the network has problems, or any other technical difficulties.
Tampering with device software, including Access Wireless SIM card unlock code, is illegal in most places without the provider's permission. So before you try something, make sure that you are well aware of the consequences and the outcomes. Weigh on these factors and then come to a conclusion.
Benefits of an Unlocked Phone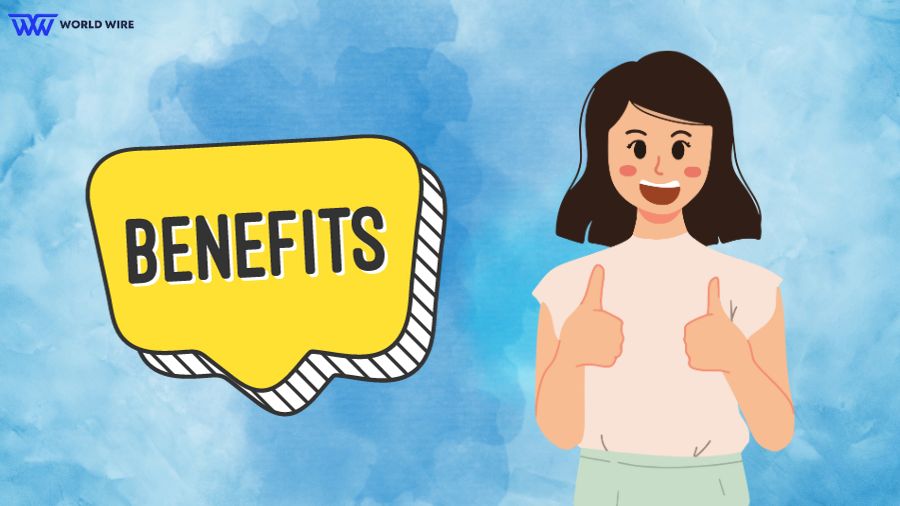 Now that we have discussed all the cons of unlocking the device, we should also discuss the benefits of an unlocked phone. So, let us now look into the pros.
Network Freedom
When unlock an Access Wireless SIM card, it will have a software code which ensures that you can only use it on the carrier's network from whom you purchased it. For instance, a locked AT&T phone is limited to using the AT&T network.
The phone will prevent Access to other carrier plans even if you switch SIM cards. In contrast, an unlocked phone isn't restricted to a certain mobile carrier.
You can freely switch to carriers whenever you wish without going through the trouble of getting a new device. You can switch carriers by placing a new SIM card.
Travel Friendly
Suppose you are a person who travels often and visits multiple places. Then an Unlocked phone is a suitable choice for you.
If you unlock your Access Wireless SIM card with a code, you can easily switch to international SIM cards and don't have to deal with more expensive roaming charges or be on the hunt for Wi-Fi hotspots abroad. The unlocked phone makes it easy for travel enthusiasts.
Good Value
Having a phone locked by your carrier makes it very difficult to find a buyer. That's why unlocked phones, which offer more options to buyers, sell for more money than locked phones. They have better resale value compared to locked phones.
Compatible Network
You can enjoy increased compatibility with networks. This is particularly helpful if you reside in or visit an area with poor coverage from your current provider.
If you have an unlocked phone, you don't need to put up with such bad coverage and can easily opt to switch by selecting the best mobile provider.
FAQs
How can I get my Access Wireless SIM card unlock code?
You can easily get your Access Wireless SIM card unlock code by calling Access Wireless customer care at 1-866-594-3644 or visiting their official website.
Can I lock my phone again after it has been unlocked?
Once your phone has been unlocked, it can be used with any carrier. However, to "re-lock" it, you would normally want technical expertise or support from the original carrier.
Will my data be erased upon unlocking?
Usually, unlocking won't remove your data, but it's always a good idea to make a backup before you begin something; if anything goes wrong, you can use your backup data.
Can I use my phone with the original carrier once I unlock it?
Yes, the unlocked SIM is compatible with any carrier, meaning it will function well even with the original one.

Subscribe to Email Updates :