In this article, we have covered everything about BeReal App, such as how it works, its valuation, stock price, and more.
So, without any further ado, let's get started –
BeReal App – Everything you need to know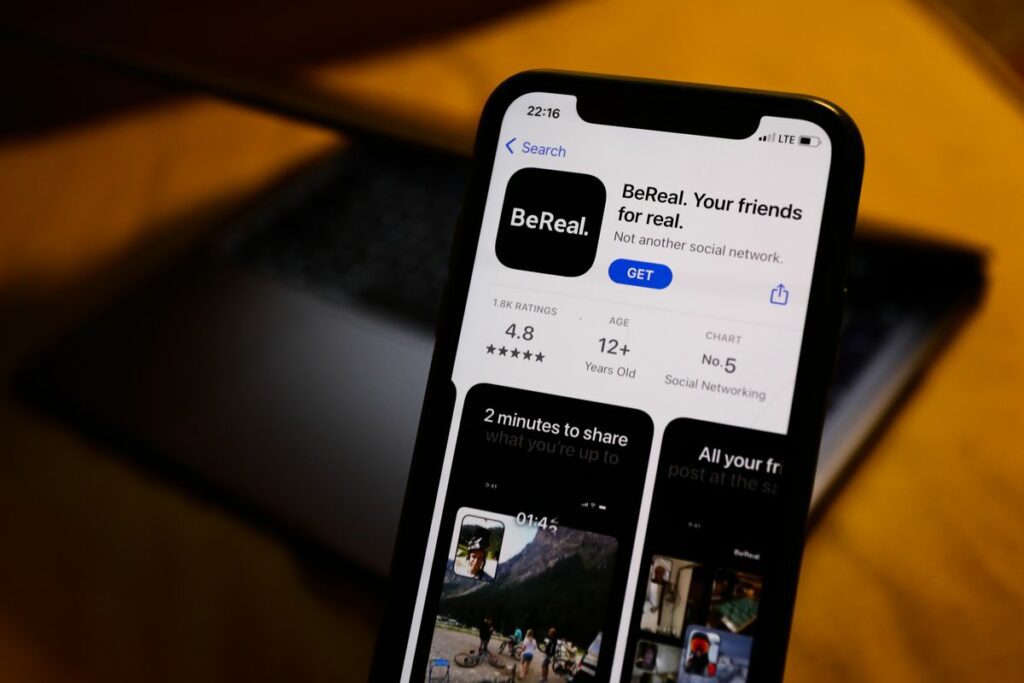 BeReal is a photo-sharing app that invites users to post one unfiltered photo daily. The app was launched in late 2019, but its popularity began to explode in mid-2022.
It is currently the top social media app on the App Store, with approximately 29.5 million installations. 
How Does BeReal App Work?
The BeReal App will send a push notification to all users at a random time every day. Once a user receives the notification, he will have two minutes to take a photo and share it with their connections.
The app doesn't take a single picture. Instead, it uses your mobile's front and rear cameras to take a selfie along with what you're doing.
The app gives you a two-minute countdown, meaning you cannot do any planning, staging, or content batching. Just share what you're doing when the notification arrives.
You can retake your photos within two minutes, but your followers will know if (and how often) you do it. You can still post even if you missed the deadline, but your BeReal will be marked as "posted late."
Once you've posted your BeReal, you can browse your friends' photos and see what they're up to. Unlike other social platforms, there is no way to just like other images. If you want to contribute to a post, you have to take a reaction selfie or write a comment.
However, the big catch with the app is that it doesn't offer any beauty filters.
Also Read – BeReal App Review
Why Use BeReal Social Media App?
BeReal App challenges people to embrace who they are. This image-based app is Snapchat without filters and Instagram without edits.
According to the app's description on the Apple App Store, BeReal encourages people to show their friends who they really are for once while removing filters and ways to organize reviews or edit photos.
Posts would only be visible to people you added as "friends" on the application.
Who is BeReal App Founder?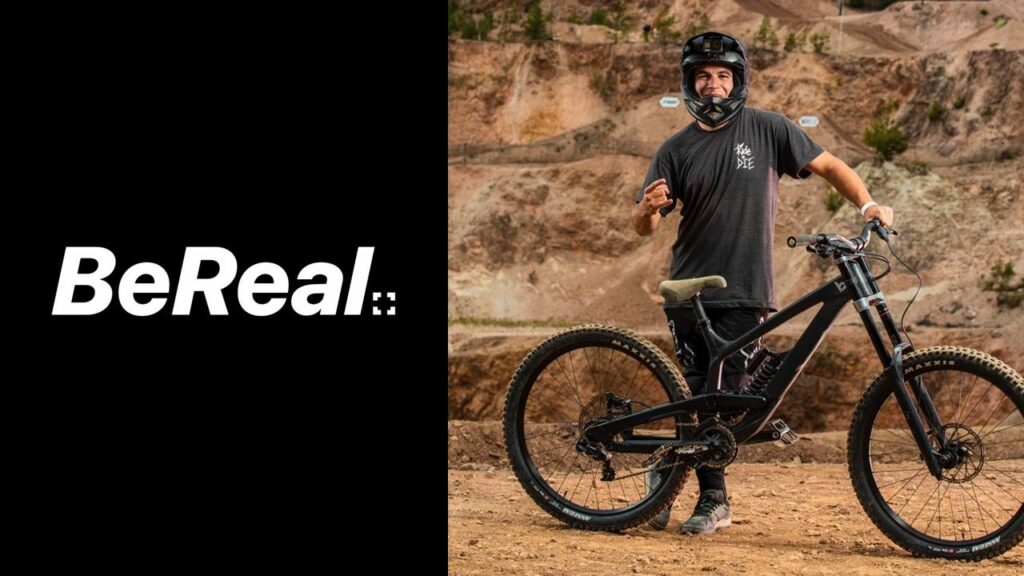 BeReal is a French social networking application launched in 2019. It was developed by Alexis Barreyat and Kévin Perreau, who remains the company's significant shareholders.
The two founders met while attending the French programming school 42 born2code, founded by billionaire Xavier Niel.
After graduating from college in 2017, they each worked for different companies. Perreau worked as a digital consultant at Opteamis for more than four years, while Barreyat produced content for GoPro.
They released the first version of BeReal in December 2019. For most of 2020, they've been busy refining the app.
What is BeReal Time?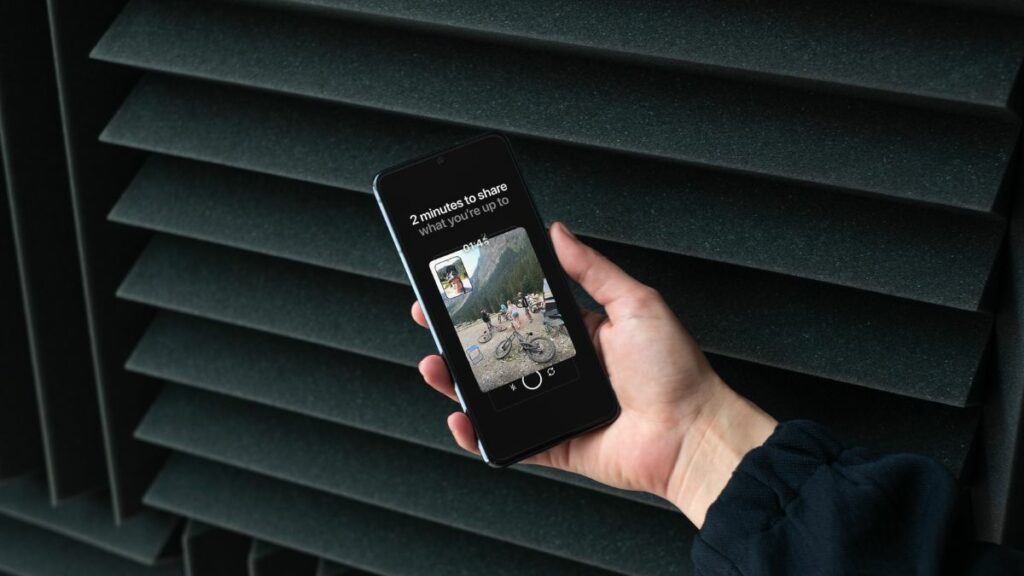 As we have already told you that BeReal sends a daily notification to all users at the same time, but it changes every day. The time can be between 7:37 a.m. to 2:34 p.m.
So you need to be operational 24 hours a day, seven days a week.
In most cases, BeReal behaves like a typical social networking application. There's a friend feed, a discovery page, location sharing, a comments section, realmoji reactions, and a personal reminders section that includes a calendar filled with your day selfies.
BeReal Stock
BeReal has no shares yet, meaning you cannot invest in the app right now. However, interested investors can go through the private capital market, but for that, you need to be an accredited investor and must have a net worth of at least $1 million or some level of trading experience.
We will update this article with the latest updates about BeReal stocks.
BeReal for Windows
You can only officially download BeReal App on Android and iOS devices. However, if you want to download BeReal App on Windows, you will have to install an Android emulator first.
You can follow the below-shared steps to get BeReal on your Windows computer –
First of all, download and install an Android emulator on your computer. We recommend using Bluestacks or Nox, but you are free to use any Android emulator of your choice.

 Now launch the Android emulator.

Open Play Store.

Search for the BeReal application on Google Play Store.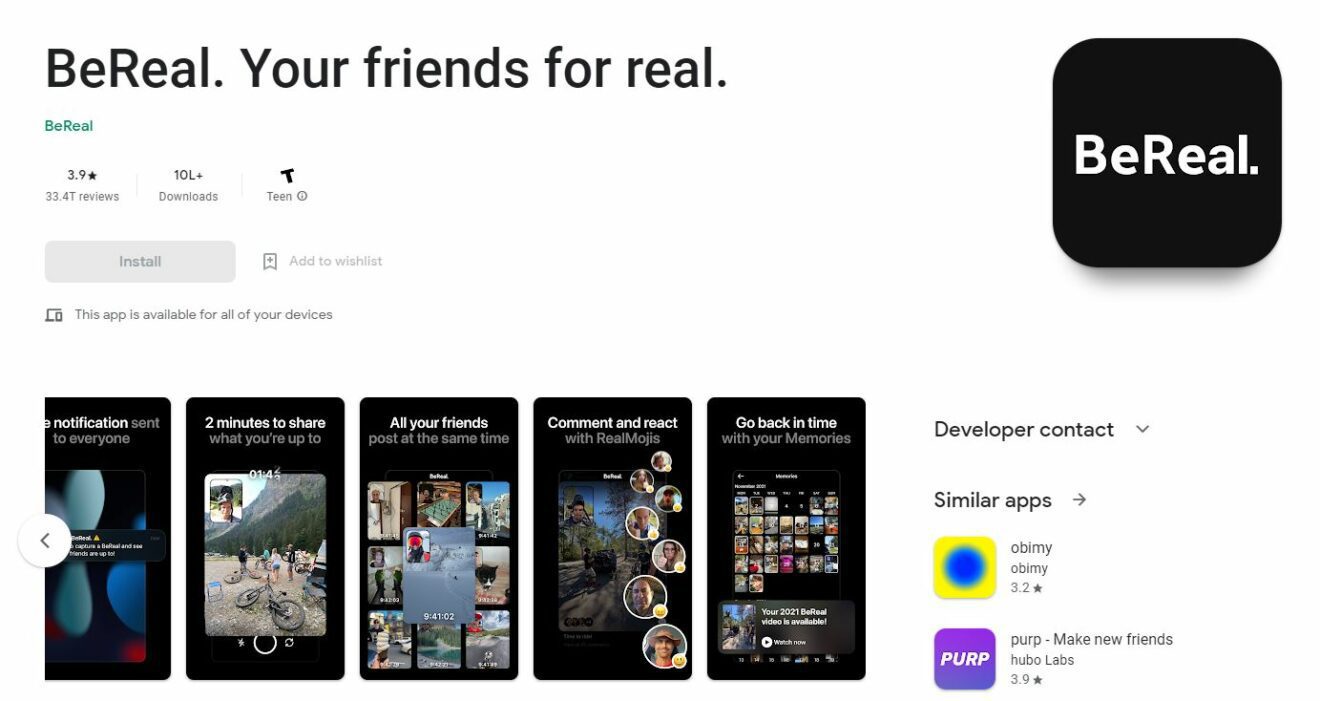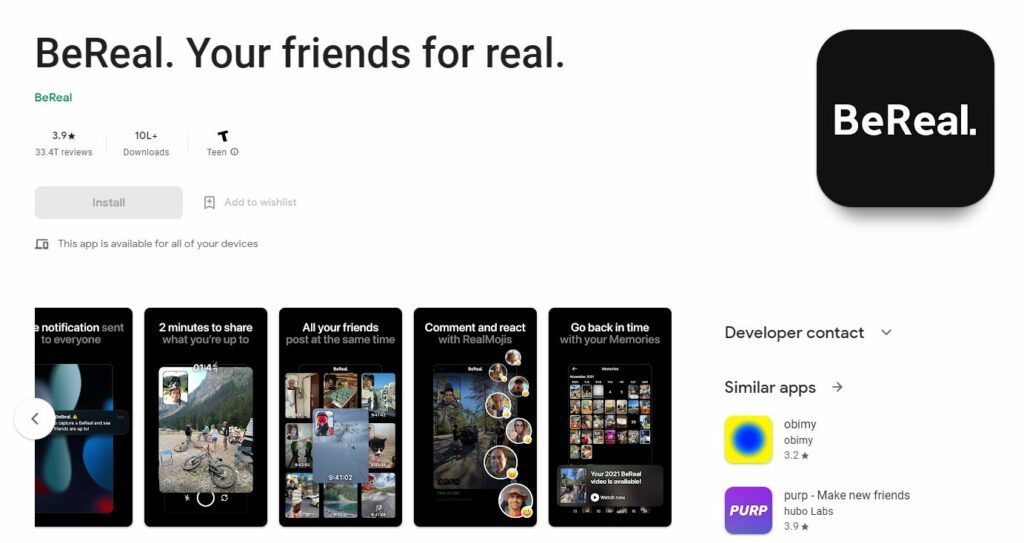 That's it. This is how you can easily get the BeReal app on your Windows computer.
BeReal App Net Worth
BeReal is still in its early age, and the developers have decided not to monetize it as of yet. Currently, the app is raising money from outside investors.
BeReal Valuation & Funding
BeReal's investment firm Kima Ventures and an associated fund called New Wave signed a term sheet with the founders in May 2021.
Further funds were raised from a Series A round on June 7, 2021, totaling $30 million, led by Andreessen Horowitz and backed by Accel and a16z.
The founders of BeReal used the additional funds to significantly increase their recruitment efforts. As a result, the company grew from just two founders to dozens of employees in weeks.
According to multiple sources, BeReal was valued at $150 million during the funding round.
BeReal Investors
BeReal has a total of 12 investors.
DST Global invested in BeReal's Series B funding round, and a few other prominent investors are Andreessen Horowitz, Alven Capital Partners, Accel, HOok ( Paris), Kima Ventures, and New Wave.
Also Read – How to download Truth Social on Android
Conclusion
BeReal App is exactly an app what it sounds like – an application that empowers people to be the authentic version of themselves. It isn't like other social media platforms.
Even its description reads that "BeReal won't make you famous. If you want to become an influencer, you can stay on TikTok and Instagram."
With that said, here I am wrapping up this article. If you have any questions, feel free to shoot them in the comment section below. Our team will try to respond ASAP.

Subscribe to Email Updates :