Because of the beautiful animations, dream-like characters, melodious music, romance, and anime, make a great pair! When your favorite characters fall in love with each other, you can't help but ship for them.
With anime gaining quite a popularity among people of all age groups, we thought it would be great to compile a list of the best anime romance movies and series for you.
Here's a list of the top 15 Best romance anime series of all time
Fruits Basket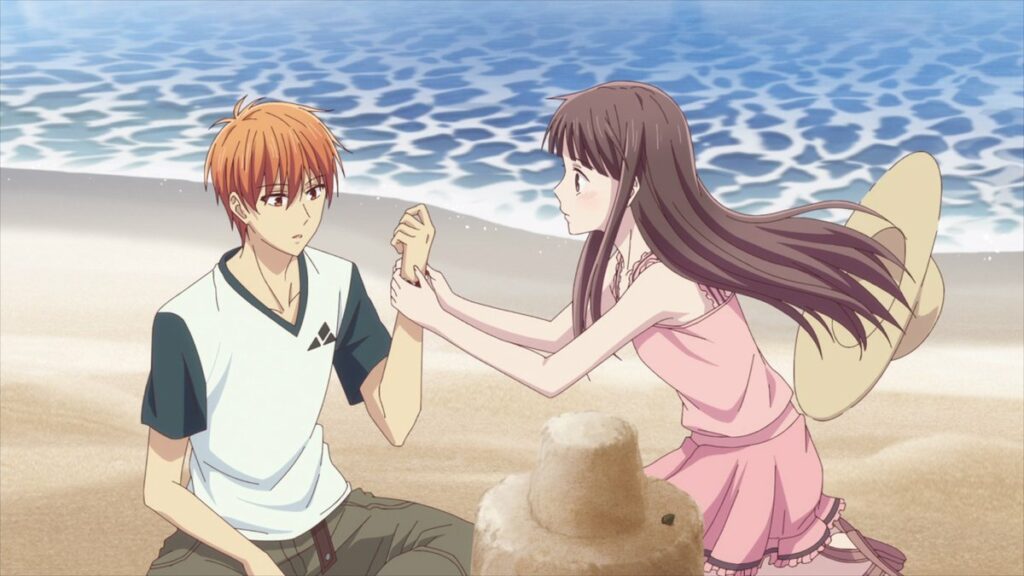 Tohru Honda moves out of her house after being struck by a family tragedy. With nowhere to go, she decides to set up a tent. Little did she know that the land she built her tent on actually belongs to the Sohma clan, who are under a curse.
The curse is that on being touched by someone of the opposite gender, they turn into the animals of the Chinese Zodiac. Years of suffering born by the Sohma clan have taken a toll on them. Tohru develops a special bond with a special someone from the Sohma clan, but only time will tell if their love would be successful, given the curse!
Also Read – How to watch One Piece Online
Magic Knight Rayearth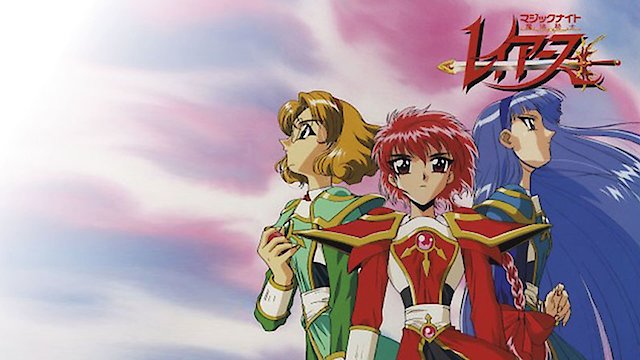 This anime series revolves around three young girls with different personalities who are magically taken into the fantasy world of Cephiro while on a school trip. The girls are summoned by Princess Emeraude to save Cephiro from Zagato (kidnapper of Princess Emeraude).
The situation worsens as Princess Emeraude falls in love with Zagato, who has his fists clenched on the magical city. With huge plot twists throughout, this series beautifully captures a tragic and failing love story.
Marmalade Boy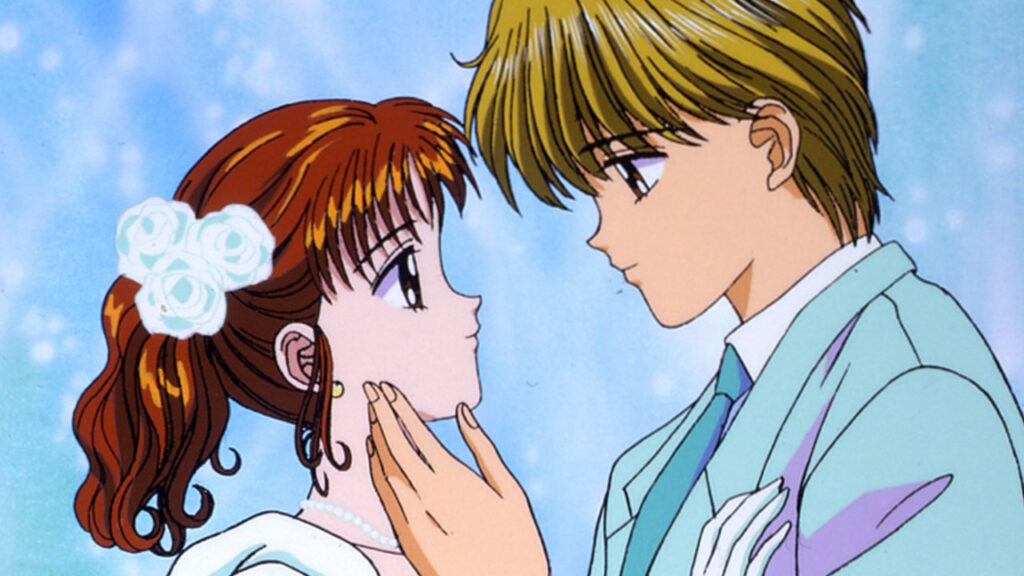 This series features a standard high school love story but with a twist! Miki Koishikawa falls in love with Yuu Matsuura. The problem is that both of their parents are divorced and have switched partners, making their relationship more complicated.
Things get difficult as all of them live in the same house, leaving Miki and Yuu to struggle with their feelings. Their love story is up to fate as they don't want to hurt their parents.  
Mars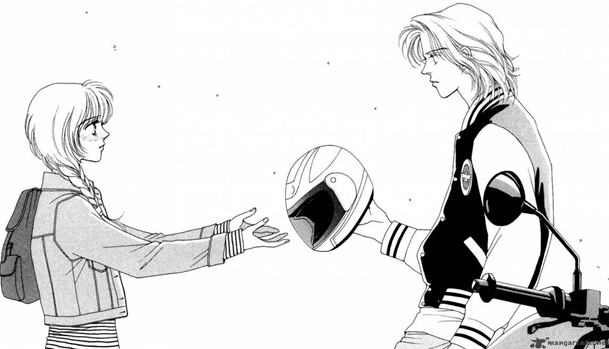 This series features the love story of Kira Aso, who is an introverted artist, and Rei Kashino, a motorcycle racer who also happens to be a playboy. They meet when Rei asks Kira about the directions to a hospital, and after a few days, they discover that they are classmates as well.
Rei swears to protect Kira after he finds out their teacher sexually harassing her and their bond grows stronger. As Kira uses Rei as her model, they soon start falling in love with each other.
Chobits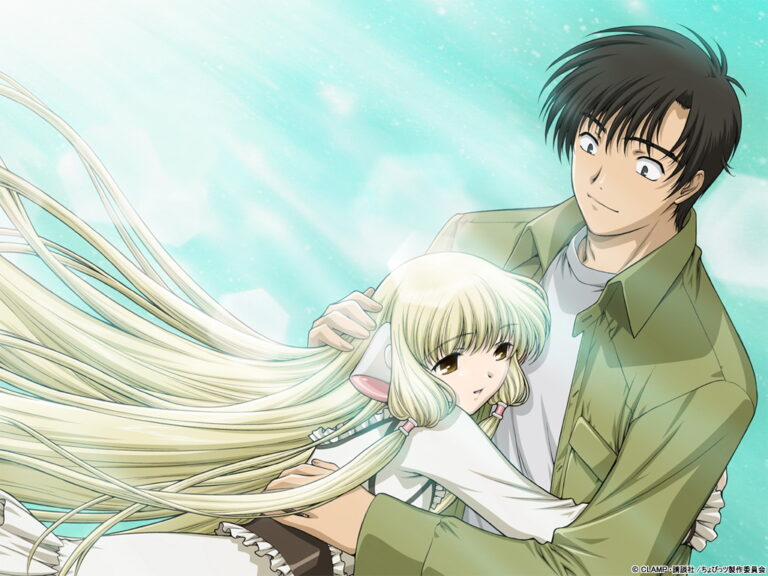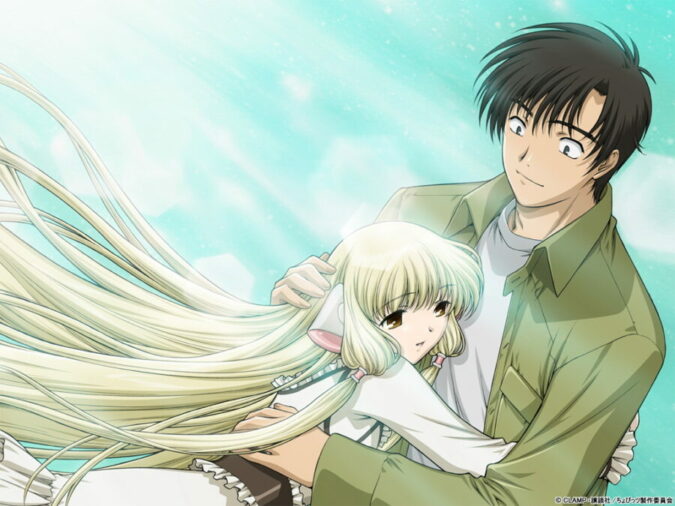 Hideki Motosuwa dreams of going to the best college in Tokyo but is greatly shattered when they reject his application. He decides to move to the city irrespective and attends a prep school. While he is there, he discovers a human-like robot with no ears.
He is super fascinated by the robot named Chi, who happens to be a girl. He soon fits the pieces together and realizes that she is a Chobits, a human-like robot with free will. This series narrates an unconventional love story.
Wish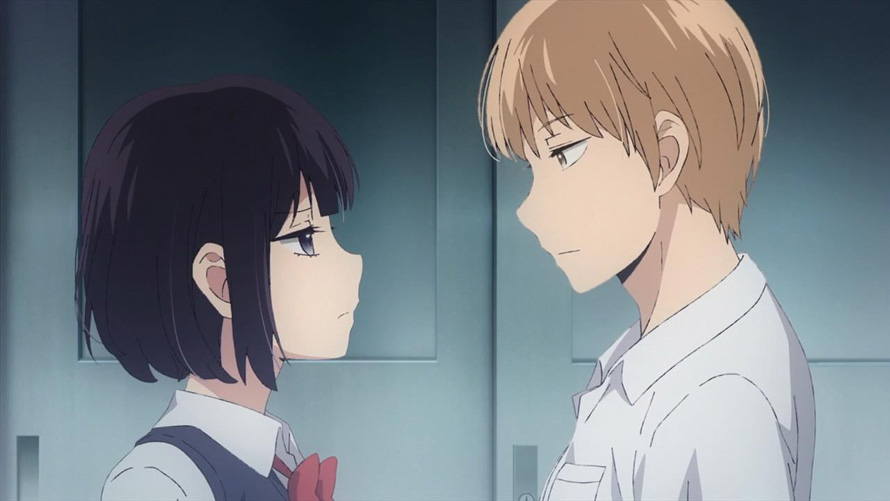 Shuichiro Kudo, a successful doctor discovers an angel trapped on a tree. He rescues her and gives her the treatment she needs. The angel, as a token of thanks, grants him a free wish. However, Kudo has everything he desires in life – a good job, a nice home, and everything else, which led him to decline the angel's offer.
The angel settles in his home and reveals the mission she is in – to find out the Angel Master of Wind, who has abandoned heaven. A truly beautiful love story between a doctor and an angel is sure to make up your day!
True Tears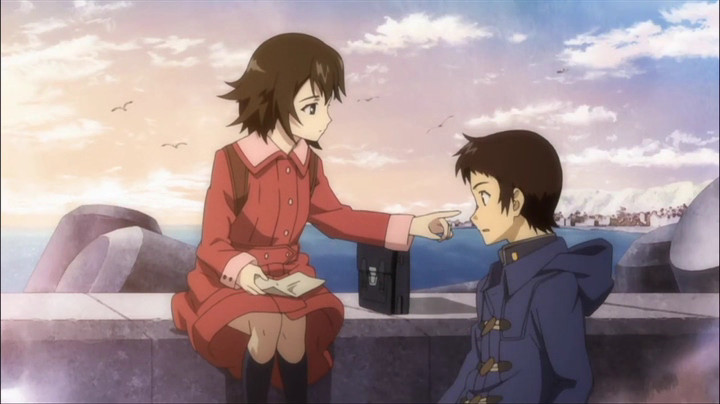 The high school love story between Shinichiro, a student with gifted artistic ability, and Hiromi is heartfelt and beautiful. Their fathers have been friends for a long time, and after Hiromi's father tragically passed away, she has been living with Shinichiro's family in their house for almost a year.
While she is bubbly and cheerful in school, she is withdrawn when at the home. Shinichiro empathizes with Hiromi and puts in great effort to ease her pain.
School Days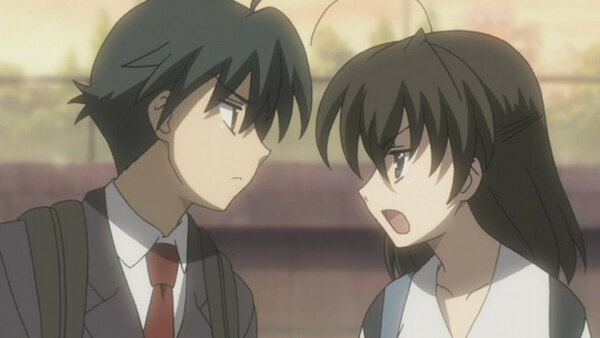 The series revolves around three friends and their changing relationship dynamics as they grow. Makato, a high school student falls in love with Kotonoha, a fellow student of the same school. He used to see her daily as they caught the same train to school, and they soon began dating with the help of Sekai.
Makato is forever grateful to Sekai as it was because of her that they were dating. Things become complicated as Sekai develops feeling for Makato. This series is super entertaining and very beautifully portrays high school love. 
Lovely Complex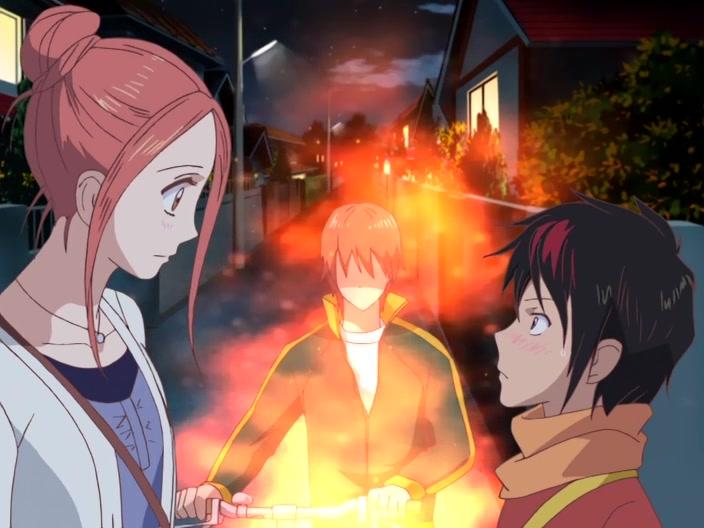 This series features an entertaining love square, where a tall girl and a short guy decide to help each other to pursue their respective love interests. Things get interesting fast as they begin to fall in love with each other.
The duo explores their relationship further and gets to know much more about each other. This series is also known as Love Com, a short form of the actual name. A very hilarious and interesting storyline, this series is sure to touch your hearts!
Vision of Escaflowne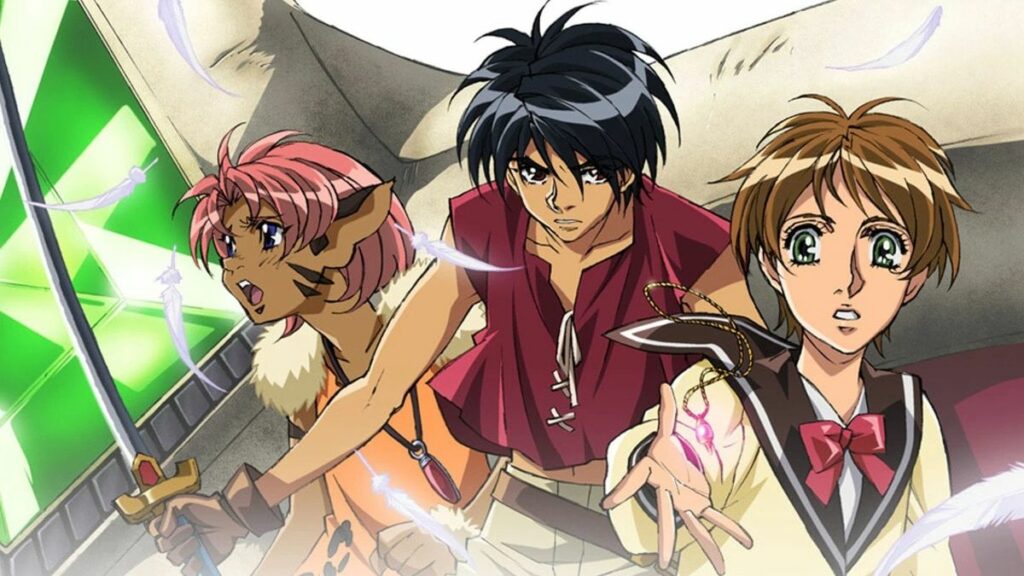 This series has a perfect mix of adventure, drama, fantasy, science fiction, and romance! Hitomi is a high school student who finds herself strangely transported to another planet called Gaea, which is full of magic. She finds prince Van Fanel, who is on a mission to unite Gaea against the Zaibach empire.
Hitomi discovers hidden secrets and new abilities while on the adventure. With such an amazing plotline, 25-minute per episode seems too little, and you can't stop binge-watching this series! 
Kids on the Slope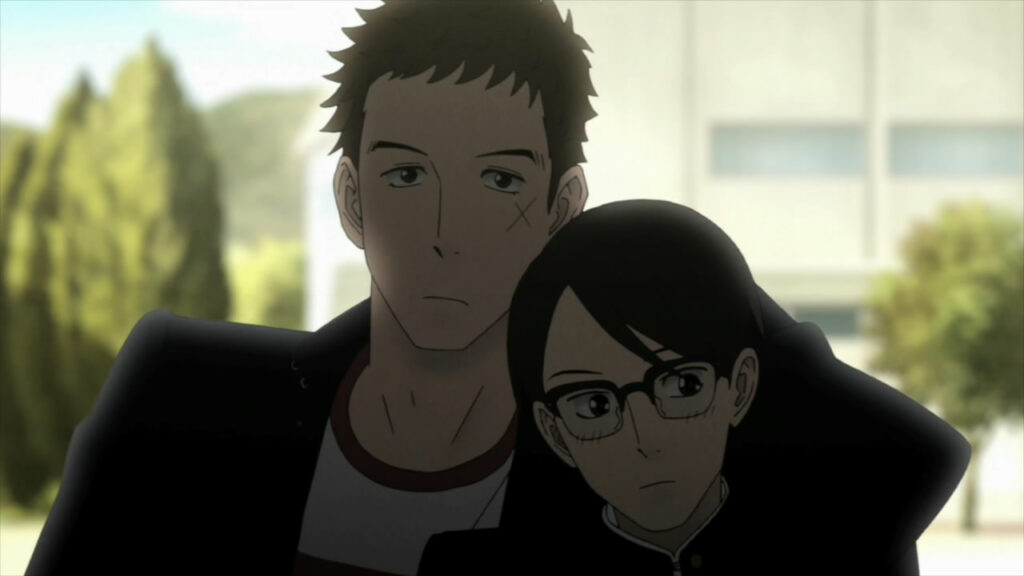 The series Kids on the Slope is widely acclaimed with an amazing narrative, music, and direction. The anime is a coming-of-age story that beautifully showcases love, friendship, and music.
Kaoru Nishimi, an aloof student who has just moved cities, forms friendships with the school's bad boy and discovers his love for jazz music. The story involves a lot of love triangles which are finally resolved as the show concludes.
Toradora!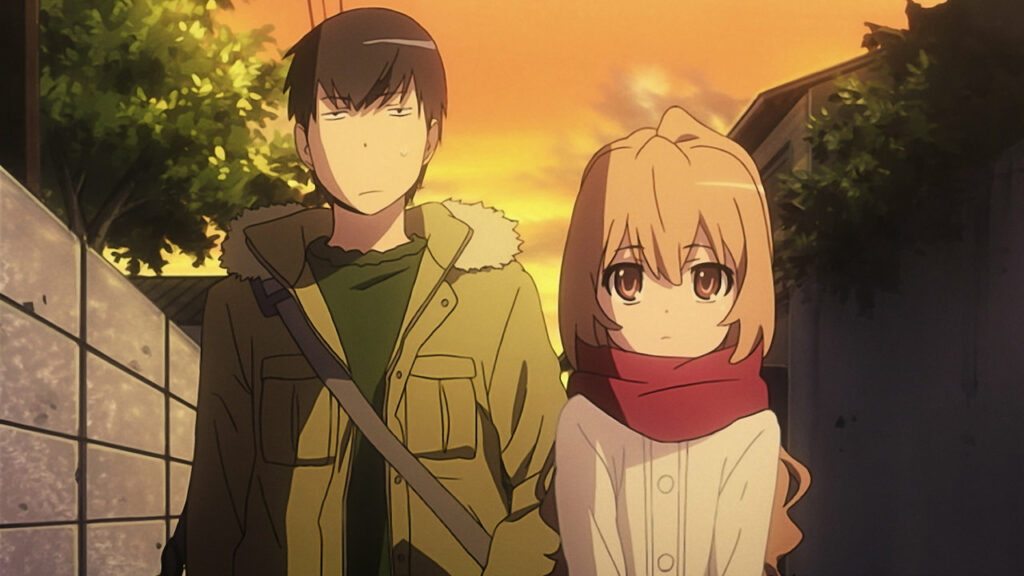 Ryuji Takasu, a charming boy with a heart full of kindness, is frustrated as the school students avoid him because of his intimidating looks. He makes a frenemy in school, a girl named Taiga, but that soon changes when they discover that they both like each other's best friend.
In an attempt to help each other with their love lives, they decide to work together and it marks the birth of an unlikely friendship, which may soon turn into love! You can watch Toradora on netflix.
Kokoro Connect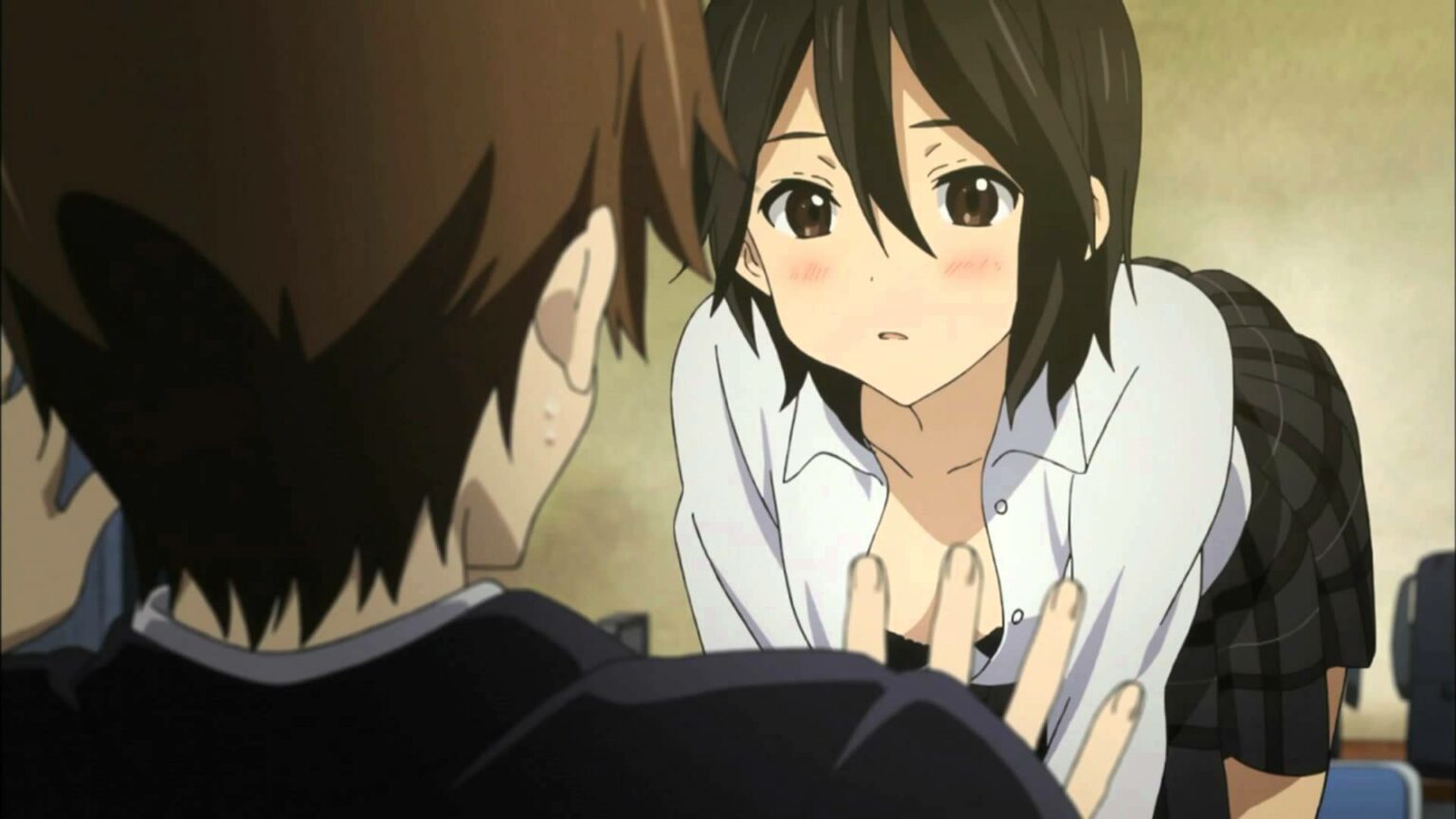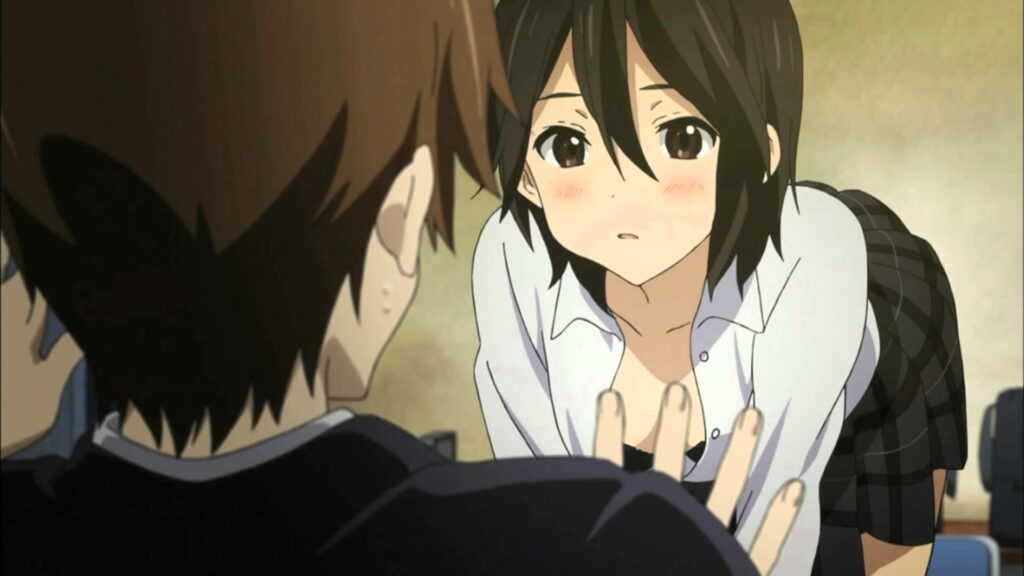 Five best friends decide to start their club in their school since none of the existing clubs are good enough for them. The five are living the time of their lives when one day mysteriously their bodies start swapping with each other every 30 minutes.
At first, it's all fun and games, but soon it starts to haunt them. Many more problems come in their way and soon the relationship between the five friends starts to change. 
Nana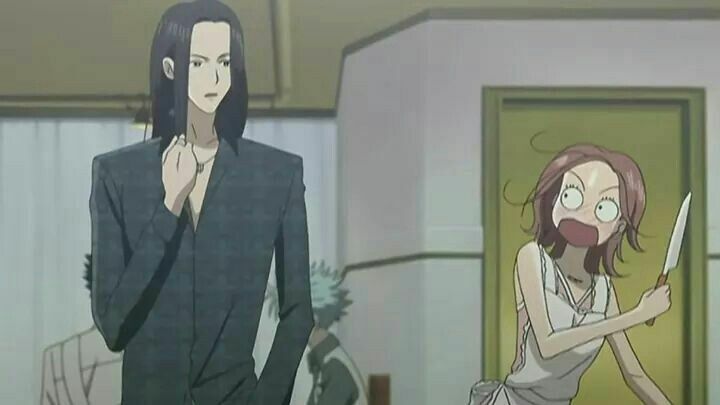 The two protagonists of the series have the same name – Nana, which is also the name of the series. Nana Komatsu is a small-town girl, who lives the life of her dreams and shifts to Tokyo with her boyfriend and friends.
In the city, she meets another person with the same name Nana, who soon becomes her friend and they become roommates. The series revolves around the lives of two Nanas who have completely different goals; one seeks fame and popularity while the other seeks love and happiness.
Clannad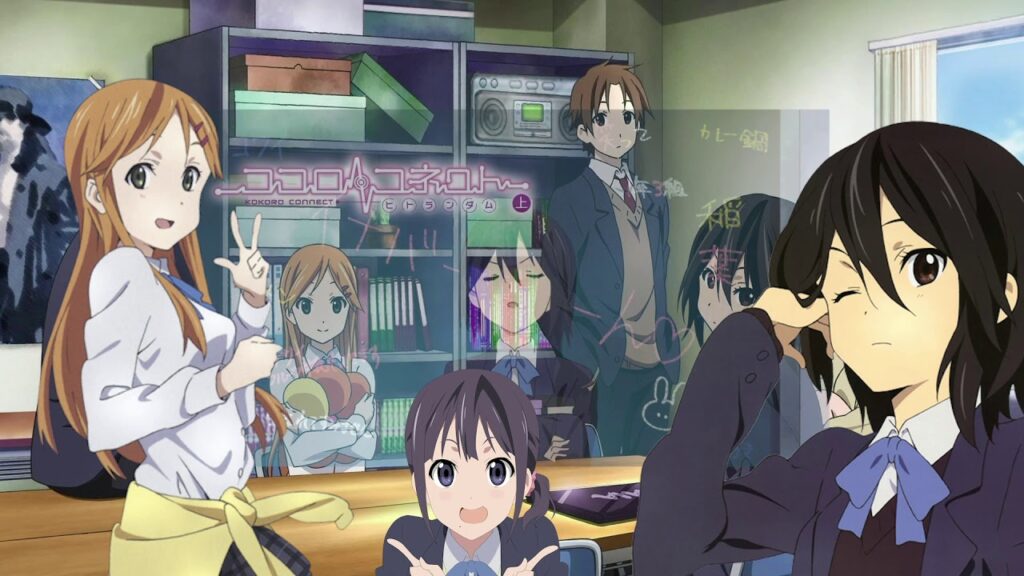 The series follows the life of a high school student Tomoya Okazaki who takes no interest in his studies and doesn't give it much importance. He feels his life is too dull and nothing else seems to interest him.
With his lack of interest, he doesn't have many friends. One fine day, he crosses a frail girl who catches his attention and after a brief conversation, they resume their walk toward the school. The question is, will Tomoya and the girl vibe and become friends? As the series progresses, we see their relationship blossom over time and the drastic changes that the girl brings to Tomoya's life.
Here's a list of the top 15 Best romance anime movies of all time:
A Silent Voice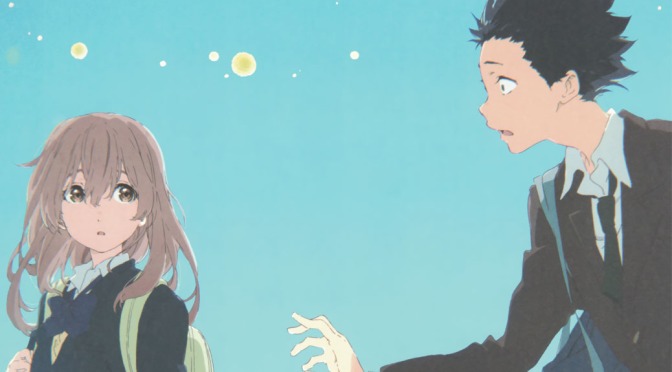 The movie tackles sensitive topics of bullying, suicide, disabilities, and broken families. A young girl Shoko Nishimiya, who has just moved schools and is deaf is bullied atrociously by one of her classmates Shoya Ishida.
She is bullied to a point that she changes her school while her bully is criticized by his classmates for going too far. Years later, the bully sets on to seek an apology for his behavior toward Shoko back in elementary school. A very sensitive and heart-warming story makes it a must-watch.
Whisper of the Heart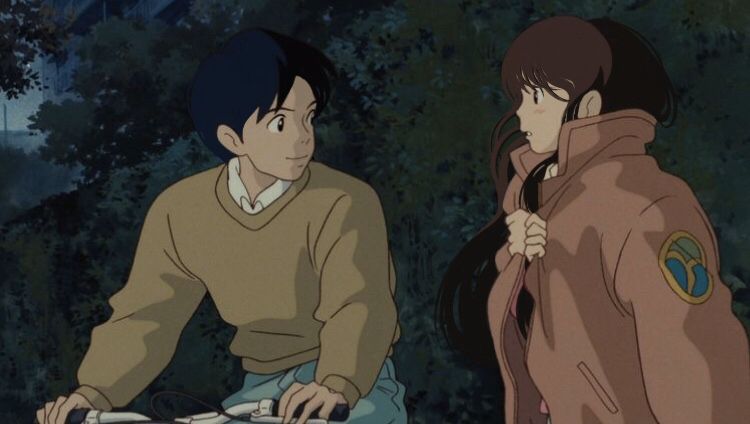 This movie revolves around a girl named Shizuku, who is a voracious reader and a writer by heart. One day she discovers that all the books in the library were previously checked by a boy named Seiji.
She becomes curious about the guy and wanted to know more about him. However, when she met him, she was infuriated by him. Seiji loves playing violin and is an aspiring violinist. On seeing his aspirations, Shizuku decides to do something she is deeply passionate about – writing a book. As the movie progresses, their bond strengthens and they may as well be made for each other.
Weathering With You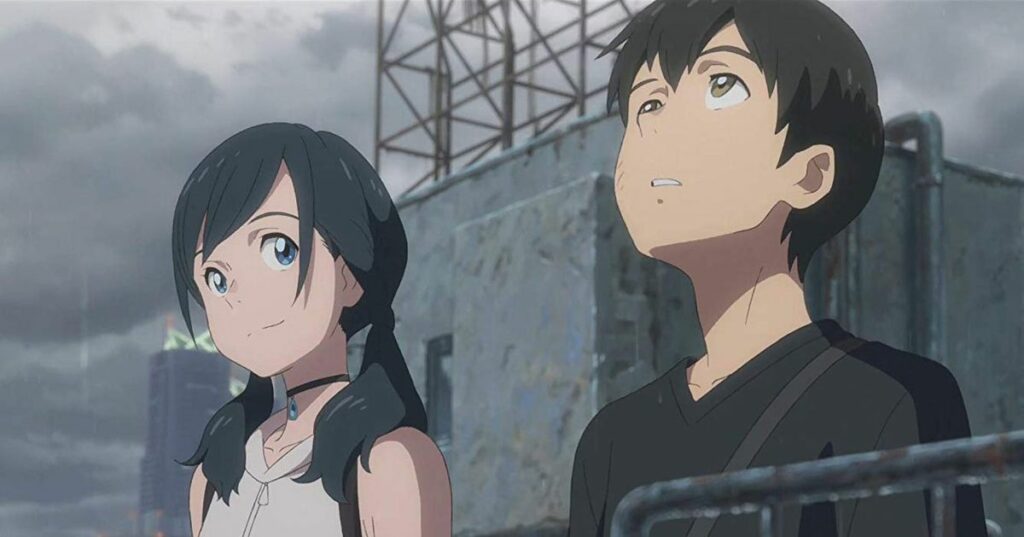 A romantic anime movie, 'Weathering With You' is the most viewed anime movie of 2019. In rainy weather, a high-school boy Hodaka Morishimu runs away from his home in a village to Tokyo. He meets an orphaned girl Hina in the city.
Hina has the supernatural ability to change the weather to what people desire. Along with Hodaka, they help people who hope for good weather during important days of their lives like weddings. An unconventional movie with mesmerizing animation, it's the perfect watch for a weekend.
Castle in the Sky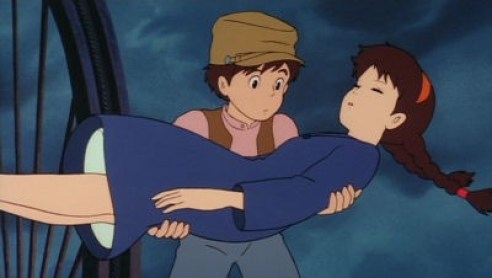 A young teenager named Sheeta escapes from the pirates and the government, who are only interested in her crystal-like necklace, which magically connects to the floating city of Laputa. She meets a boy of her age in a village, who decides to help her out.
Soon, they find themselves running for their lives as their villains track them down. They try to find Sheeta's identity in the city of Laputa. While on the adventure, the two become close to each other. With a beautiful storyline and catchy animations, this movie holds a special place in our hearts.
Your Name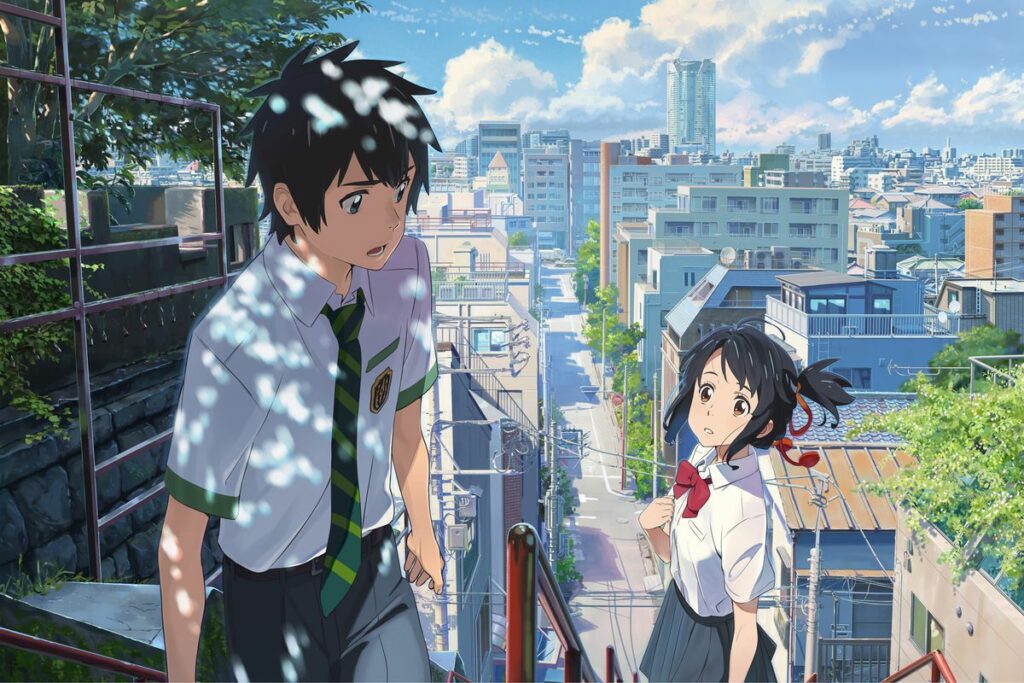 This fantasy movie has two protagonists: Taki Tachibana and Mitsuha Miyamizu. Taki lives in Tokyo while Mitsuha resides in the countryside. The teenagers share a magical connection that swaps their bodies.
This constant swapping makes both characters learn more about each other. Things get complicated when one day the boy and the girl decide to meet in person. The movie is beautifully animated and the storytelling is spectacular.
The Garden of Words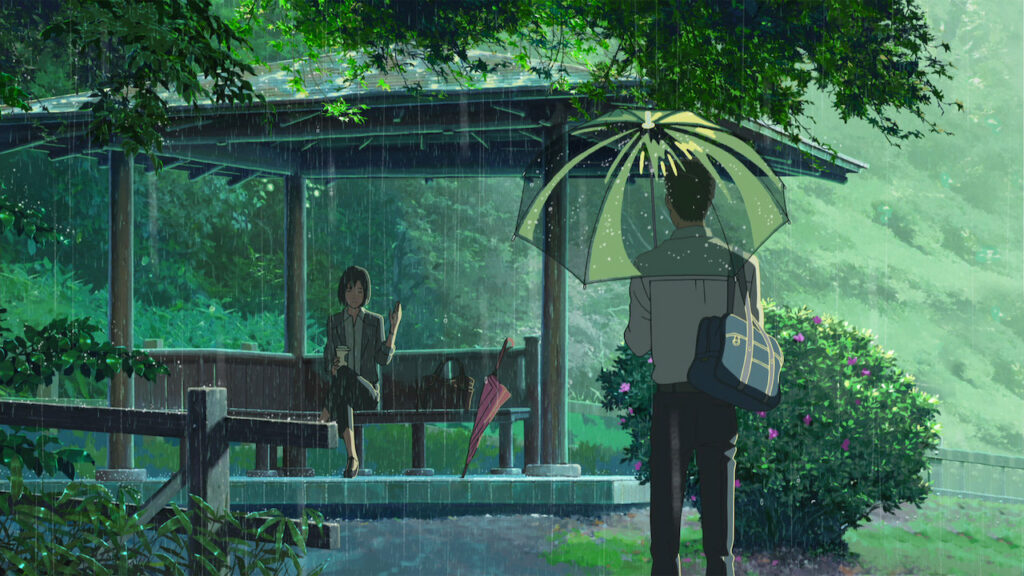 This film revolves around a 15-year-old boy named Takao Akizuki, who is an aspiring shoe-maker and often skips classes and goes to a garden for having the time of his own and practicing his skill. On a rainy day, he meets a 27-year-old woman who skipped her work due to personal reasons.
Meeting in the garden becomes their ritual and Takao gets to know more about the mysterious woman. A melancholic masterpiece, this movie perfectly depicts a variety of human emotions. 
Centimeters per Second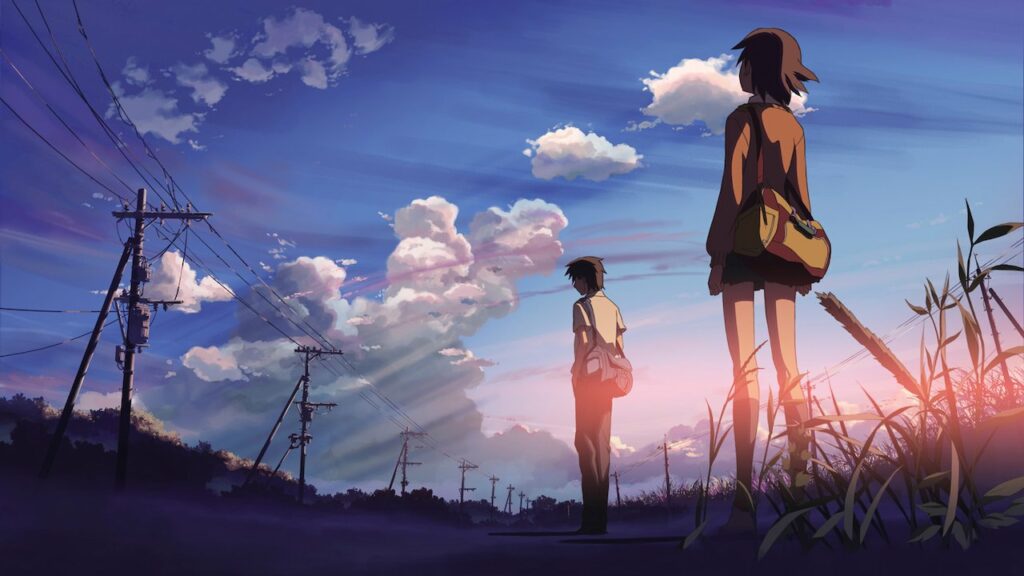 Takaki and Akari are inseparable friends in school. Their friendship is tested when Akari transfers to another city because of her parent's job. As they struggle to keep their relationship alive, the distance slowly tears them apart.
Takari soon finds out that he is moving further away and that their relationship will further tarnish. Before moving, he decides to meet his friend Akari one last time. As time tests their destiny, the duo does whatever it takes to keep their relationship alive.
From Up on Poppy Hill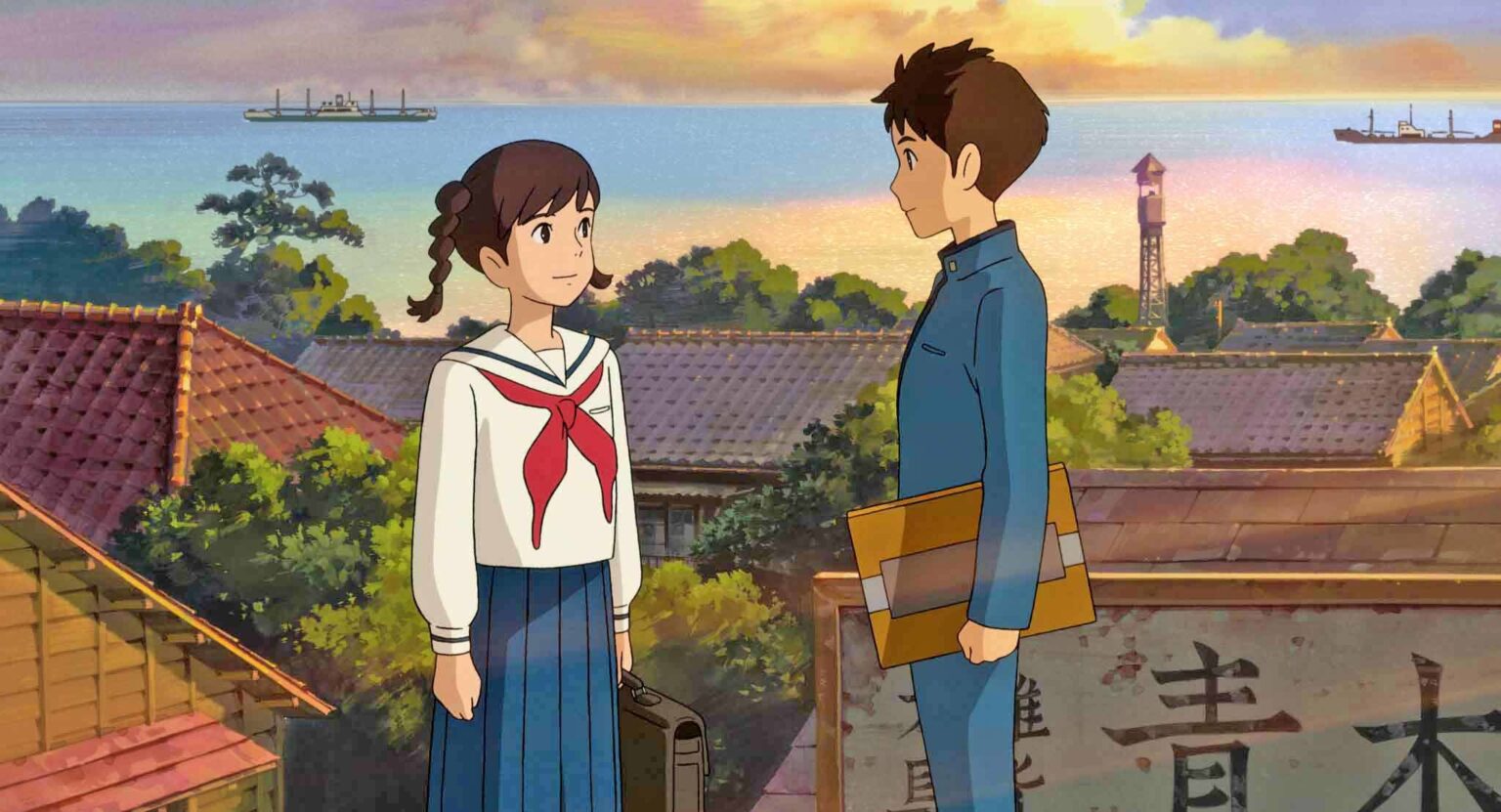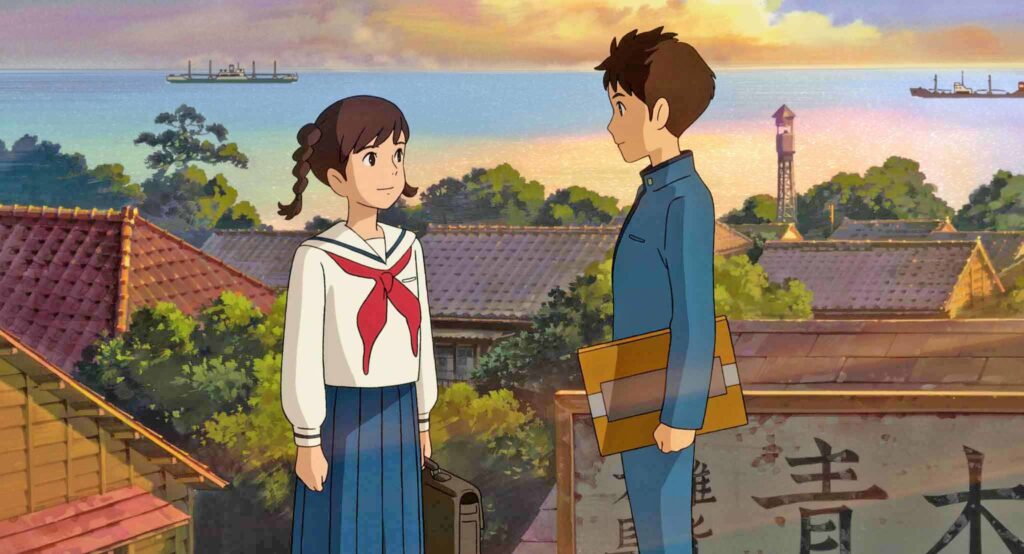 It is a heartwarming and nostalgic movie that is set in the time when Tokyo was rapidly developing after the world war. The film narrates the story of a high school girl named Umi Matsuzaki, who lived in a boarding house 'Coquelicot Manor'.
Umi crosses paths with Shun Kazama, who happens to be a member of the school's newspaper club. They decide to clean up the school's clubhouse together. Soon, they realize that the school chairman intends to demolish the building. The duo takes on the challenge and tries their best to stop that from happening.
The Anthem of the Heart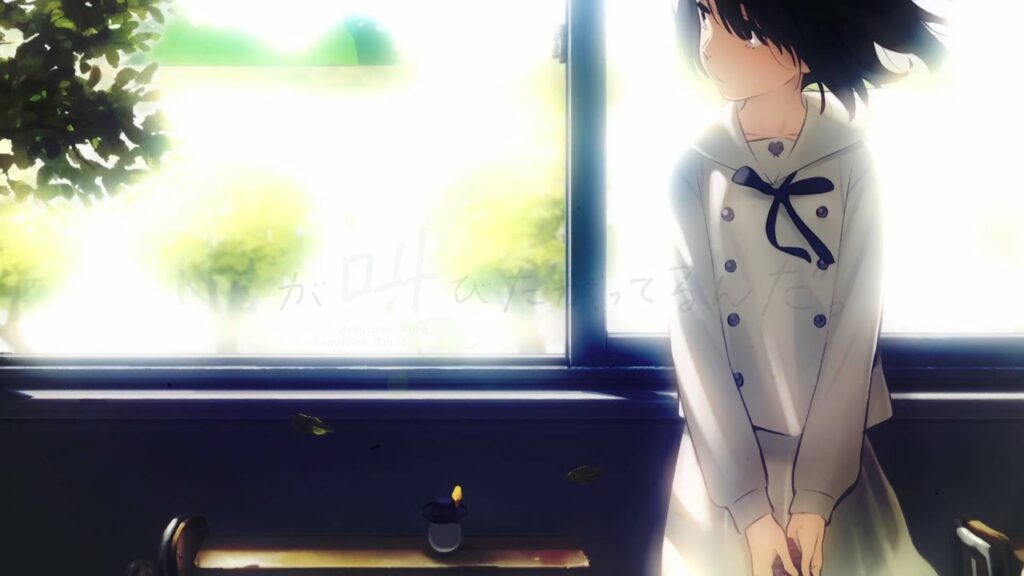 The plot centers on a young girl named Naruse who carries the guilt of her parent's divorce with her carelessly spoken words. She is suddenly cursed by a mysterious "Egg Fairy", which renders her unable to speak so that she never hurts anybody with her words again.
Years later when she attends high school, she discovers that she can sing, but not speak. A heartfelt story of her relationship with her fellow committee members and their plan to show Naruse's story to the world is worth the watch.
The Wind Rises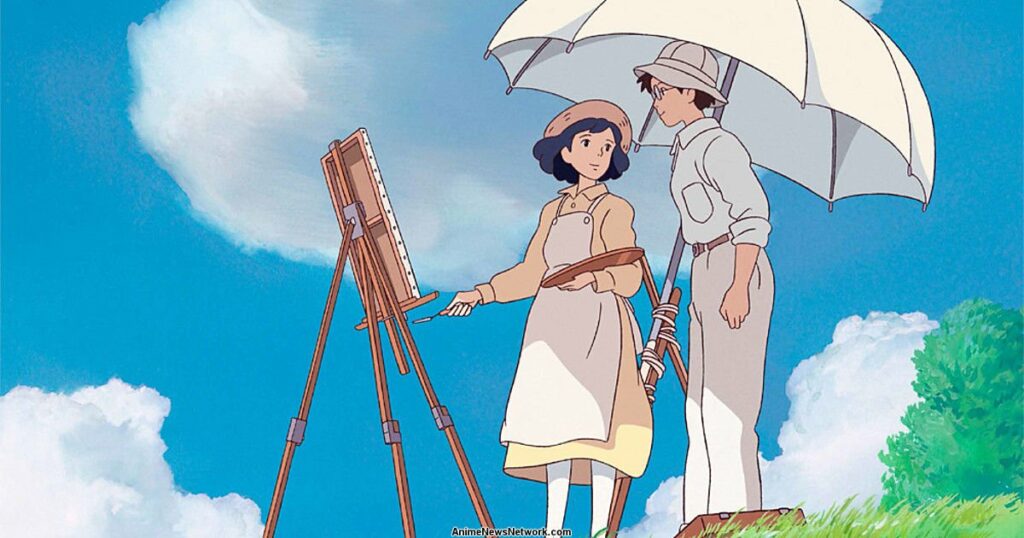 Jiro is an aviation-obsessed engineer who has always dreamt of designing beautiful planes. He is near-sighted, which rendered him unfit to be a pilot. Soon Jiro becomes the world's most successful airplane designer and he designs the ones that were used in World War.
The film depicts a lot of historical events like the Great Depression, the tuberculosis epidemic, the war, and the Great Kanto earthquake. Jiro falls in love with Nahako and his friendship with Honjo, his colleague deepens with time.
Howl's Moving Castle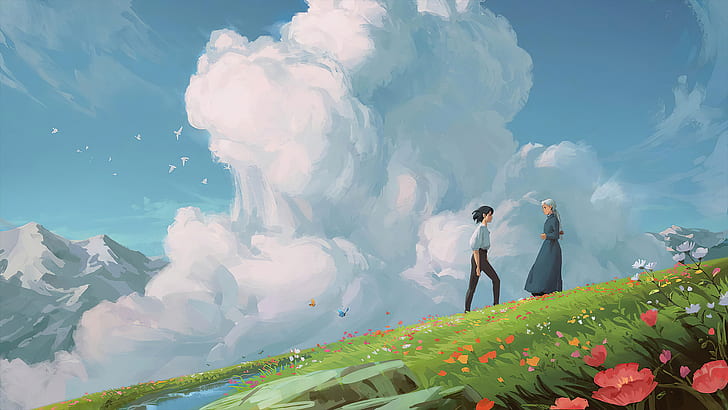 The movie revolves around a passionate love story between an 18-year-old girl, Sophie, and a magician named Howl. The girl had been cursed by a witch and turned into an old woman. After the curse, the girl cannot continue living her old life so she enters Howl's castle as household help.
She befriends the household's fire demon of household and, and promises to help each other out of their terrible situations. In due course of the story, we see Howl falling in love with Sophie for who she is and not for her looks. This movie never fails to mesmerize the viewers and is one of the best so far!
Only Yesterday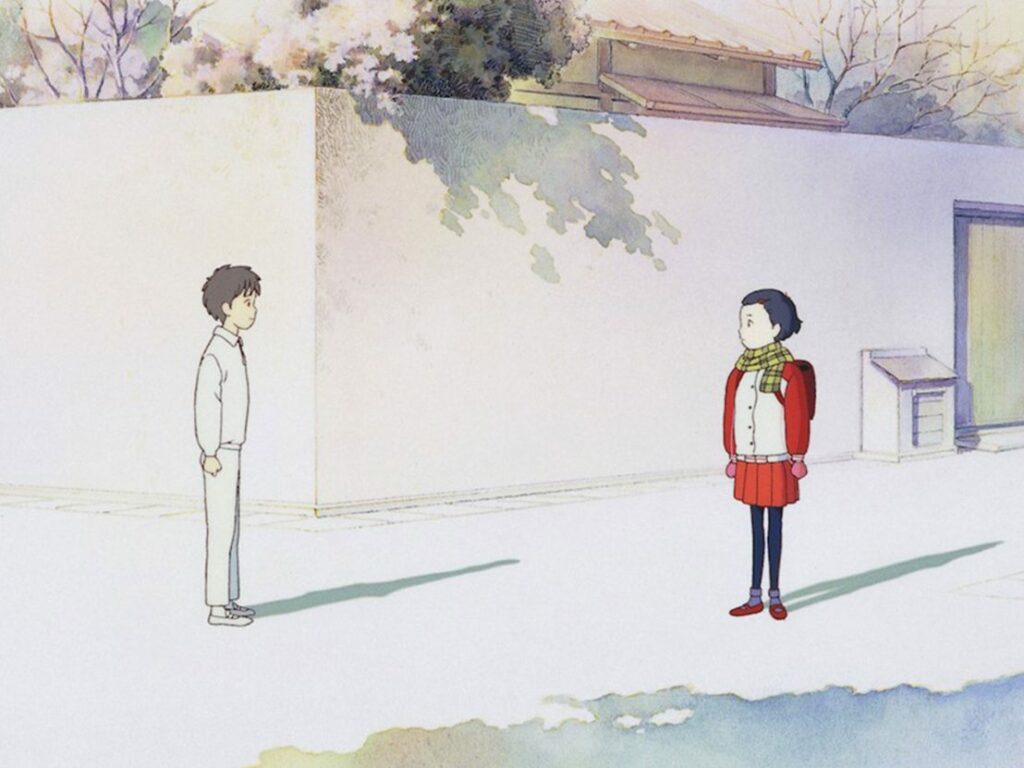 The movie revolves around a woman named Taeko Okajima, who lives in Tokyo. She decides to visit the countryside to help her family with the safflower harvest. On her trip, she becomes nostalgic as she is reminded of her childhood and questions whether her decisions up to that point in life were true to her.
She meets Toshio, her brother-in-law's second cousin, and eventually falls in love with him. She must decide whether she shall move back to Tokyo or spend the rest of her life in the countryside.
Her Blue Sky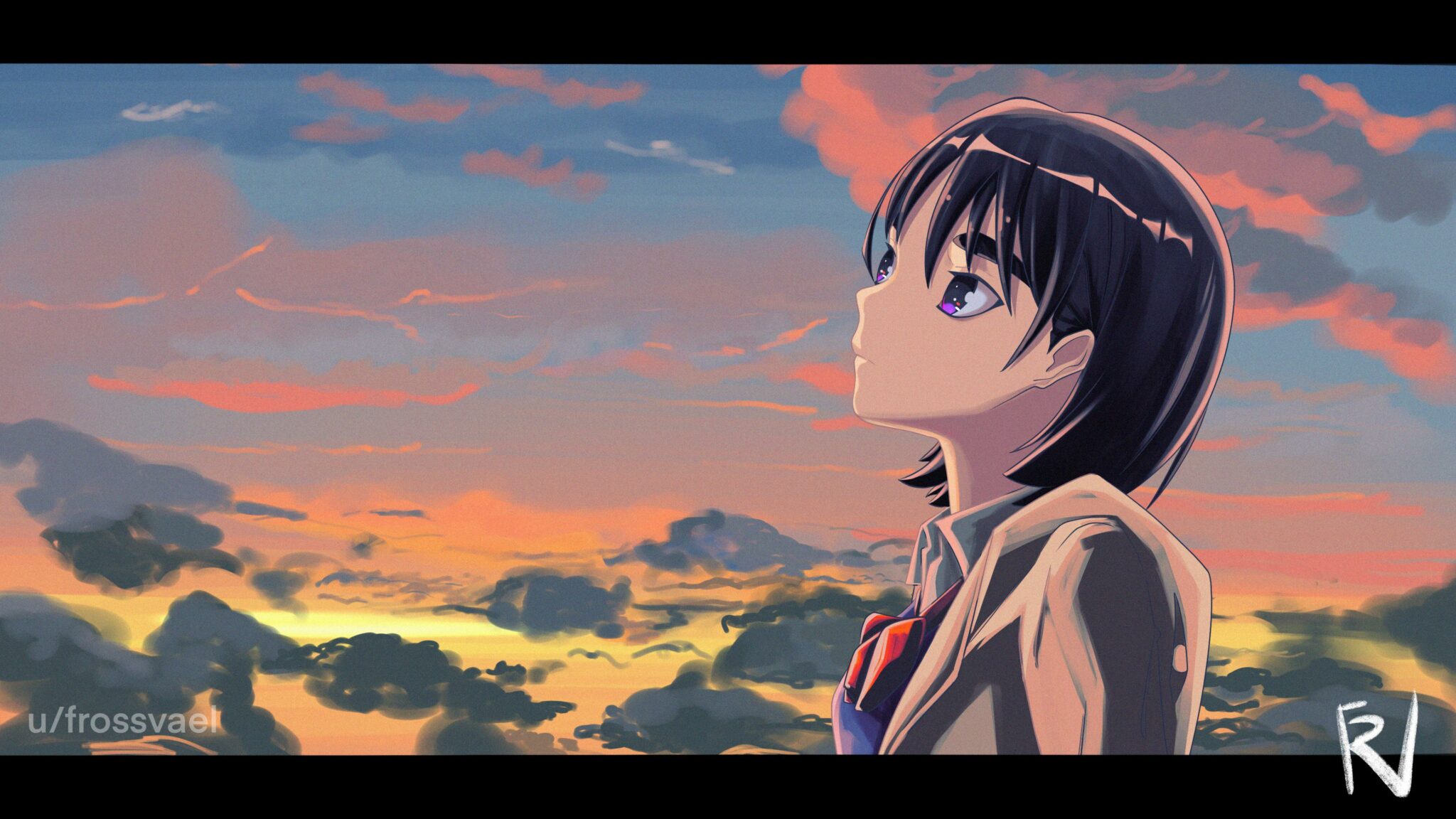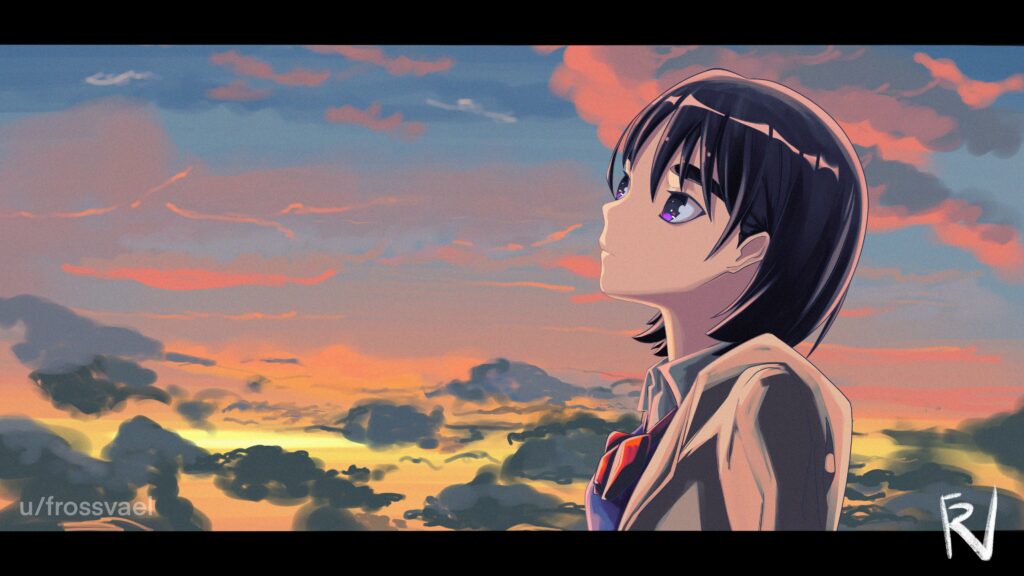 This movie explores the relationship dynamics between three people Akane, Shinnosuke, and Aoi. Akane is the elder sister of Aoi and when their parents died, she was the only family left for her.
After a few years, Akane's ex-boyfriend Shinnosuke returned to town and at the same time the two former lovers meet, Aoi encounters Shinnosuke's teenage self as she travels time and falls in love. It is a thought-provoking anime with both the elements of realism and romance in it.
Tamako Love Story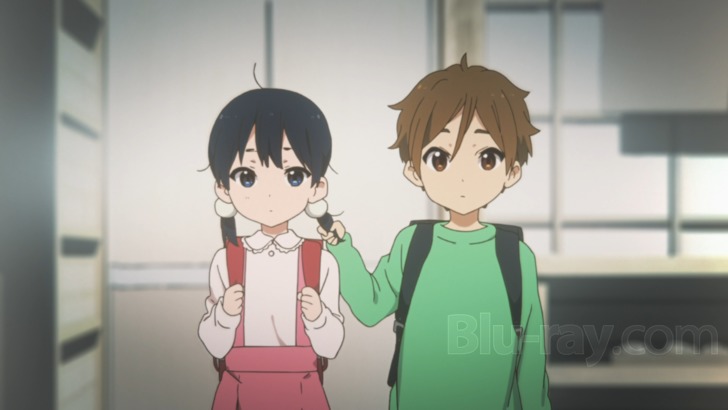 This movie is the sequel of Tamako Market. The opening of the movie reintroduces the main character. Mochizuki decides to pursue his dreams of studying for which he needs to move to Tokyo.
Before he leaves, he finally gathers the courage to confess his love for Tamako, who is now unsure of how to respond to the proposal. A typical romance drama, this movie is sure to steal your heart and keep you fixated on the screen. 
I've Always Liked You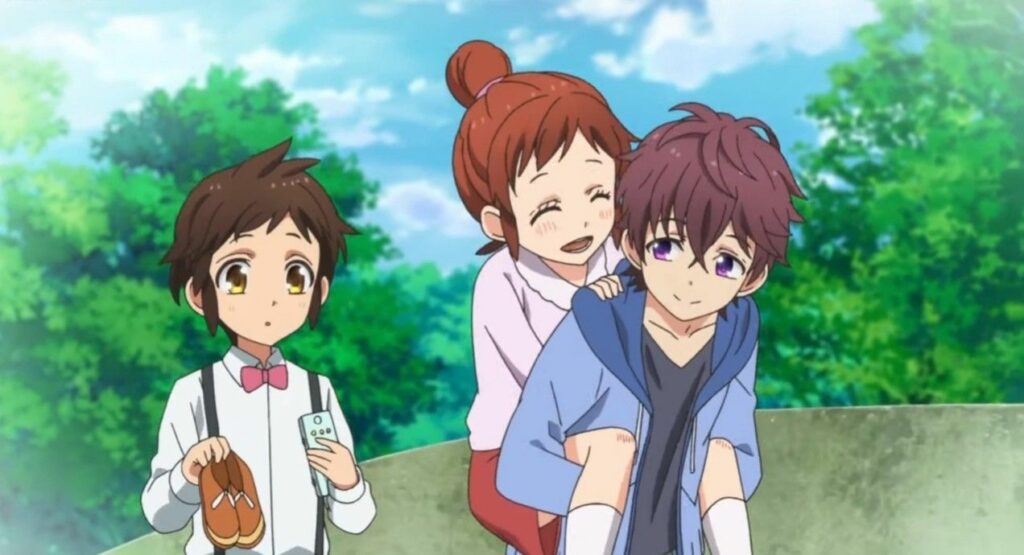 In a typical girl-next-door love story, Yu and Natsuki have known each other since childhood. They live right next to each other and have been friends for a long time. As they enter high school, Natsuki finally gathers enough courage to confess to Yu about her love, but t made things awkward.
To cover up for the embarrassment, she insisted that the proposal was just for practice. Little did she know that she isn't the only one who has fallen in love.
Conclusion
Romantic anime very beautifully depicts all the human emotions of love and friendship and touches our hearts with its well-written storylines. We hope that you liked our list of romantic anime movies and series.
Do you have any favorite romantic anime series or movies that are not on our list? Let us know in the comments below!

Subscribe to Email Updates :