Veteran reporter Michael Wolff, whose new book The Fall: The End of Fox News and the Murdoch Dynasty is upcoming this month, devotes much time discussing Tucker Carlson, the popular prime-time host who was abruptly fired.
Tucker Carlson Denies Report That Ron DeSantis Got Inappropriate With His Dog
The Fox News host spent a significant portion of his show in March, not long before he was fired, spreading the myths that January 6, the attempt to overturn the results of a free and fair election, was pointless and that the rioters who attacked the US Capitol "were not insurrectionists" but rather "sightseers."
Also, Read – Joe Biden administration announces relief for Venezuelans
The upcoming book The Fall: The End of Fox News and the Murdoch Dynasty covers many notable figures in the Fox world.
"By early spring 2023, this had culminated in the DeSantises coming to lunch at the Carlsons' home in Boca Grande, an exclusive community on Florida's Gasparilla Island……….The Carlsons are dog people with four spaniels, the progeny of other spaniels they have had before, who sleep in their bed. DeSantis pushed the dog under the table. Had he kicked the dog? Susie Carlson's judgment was clear: She did not ever want to be anywhere near anybody like that ever again. Her husband agreed. DeSantis, in Carlson's view, was a "fascist." Forget Ron DeSantis."
The former Fox News anchor and Mr. Ron DeSantis apparently had lunch together, during which Wolff described one specific event. The book claimed that Mr. DeSantis appeared to vent his displeasure on one of the four spaniels owned by the Carlsons during the lunch.
Check Out Other Headlines – Ramaswamy's Crypto Policy Framework Could Shape the Future of Regulation
The former Fox News anchor responded by labeling the claim against Florida Governor Ron DeSantis in Michael Wolff's latest book as "absurd."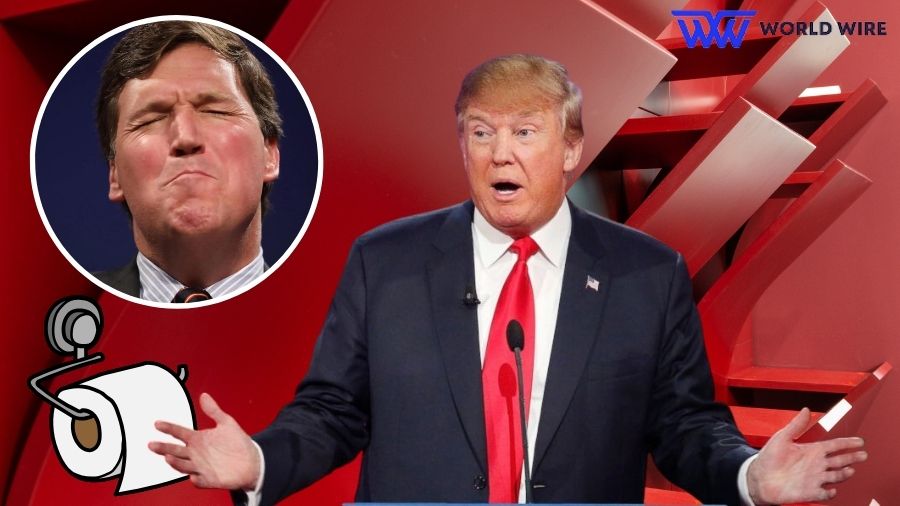 Carlson replied via text to Insider's inquiry about the incident: "This is absurd. Obviously, he never touched my dog."
However, it doesn't seem that he refuted Wolff's assertion that he believes DeSantis is a "fascist."
What's More –Trump Snubs Third Republican Debate, Continues Strategy of Avoiding Rivals
In other passages of the book, according to the Daily Beast, Wolff claims that Rupert Murdoch, the head of Fox, said of Sean Hannity's on-air defense of the network's post-election coverage, "He's retarded, like most Americans," that Murdoch's fourth wife, Jerry Hall, called him a "homophobe," and that Lachlan Murdoch, the CEO of Fox Corporation, literally wipes his ass with Donald Trump's face.
Wolff reportedly wrote, "In the run-up to the 2016 election, the bathrooms at [Lachlan's] house featured toilet paper with Trump's face."
According to a statement given to the Daily Beast by a Fox News representative, "The fact that the last book by this author was parodied in a Saturday Night Live skit is really all we need to know."
MUST READ – AOC's Climate Claims: Fact-Checked and Found False
According to a DeSantis spokesman, the governor's lunch with Carlson is "absurd and false." The source continued, "Some will say or write anything to attack Ron DeSantis because they know he presents a threat to their worldview."
Signup For Our Newsletter