The baseball stadium Comerica Park is situated in Downtown Detroit. Since the Detroit Tigers' relocation from Tiger Stadium in 2000, it has served as their home. Since Comerica was established in Detroit and had a headquarters there when the facility first opened, the stadium bears its name. The bank has a major presence in the Detroit region and relocated its headquarters to Dallas.
Comerica Park Parking Guide: Tips, Maps, Deals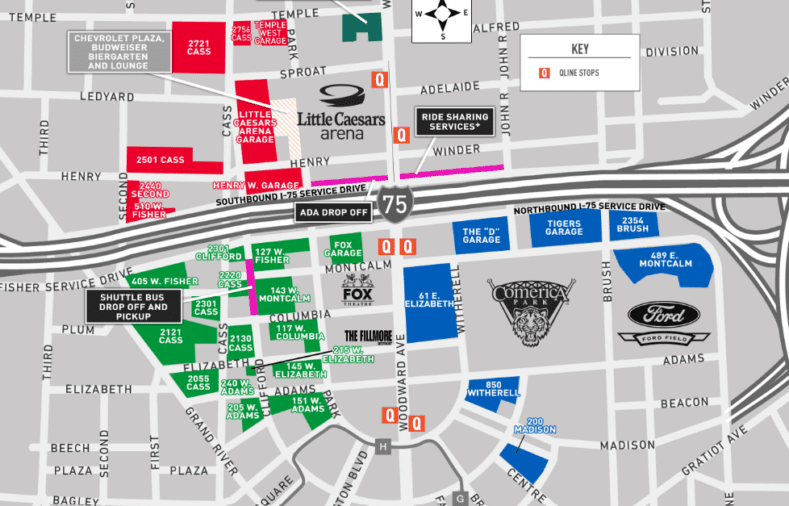 Official Comerica Park Parking Options & Rates
 The 4,500 parking spots operated by Olympia Development are conveniently located near Comerica Park. The pricing range for these lots and garages, which are suggested on the official Detroit Tigers website, is $15–$25. Within walking distance of the park, less expensive private parking places are also accessible.
 

General Parking
 In the District of Detroit, there are many parking lots available to the public on a first-come, first-served basis. Access to the parking lot is usually permitted two hours prior to game time. Parking places cannot be reserved, and vehicles will be guided into them. In any of the parking lots, tailgating and in-and-out rights are prohibited.
 

Reserved Parking
 For the duration of the season, Luxury Suites, On-Deck Circle, Club Seat, and standard Season Ticket holders have access to a small number of dedicated parking places. Call Olympia Development Parking Services at (313) 471-2255 for details on the availability of season parking permits.
Comerica Park seating chart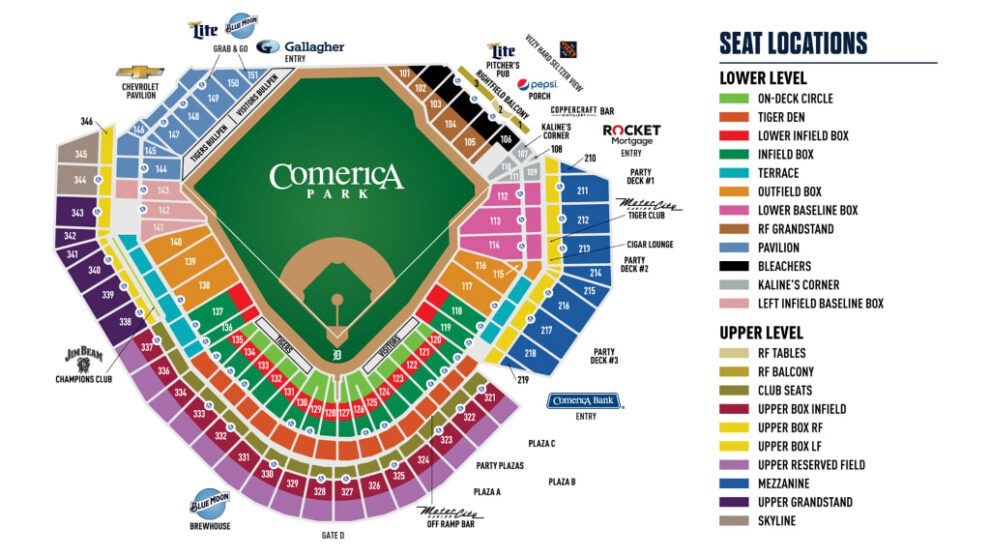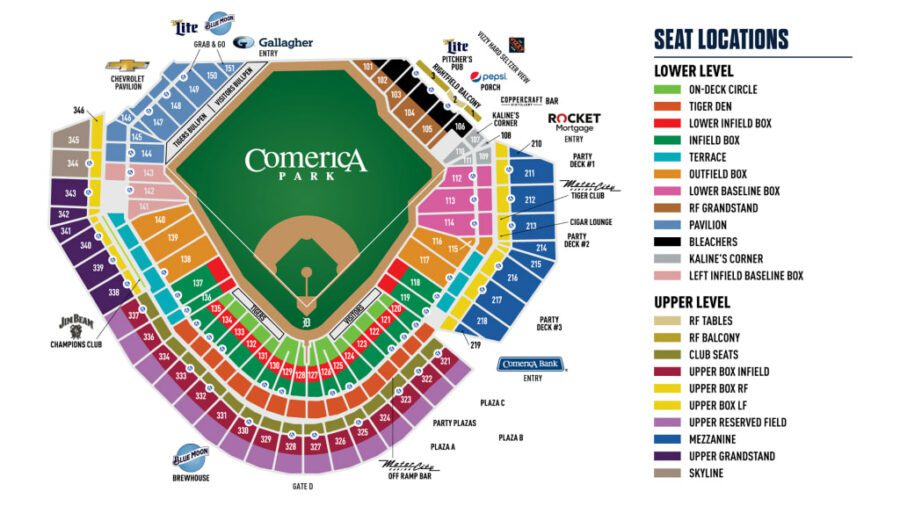 Parking for oversized vehicles
 In any ODM parking lot, large vehicle parking is not permitted. Parking for oversized vehicles is permitted on Fisher Service Drive.
Shuttles
Between Elizabeth and Columbia and the Fisher Freeway, on Clifford, is the authorized shuttle drop-off and pick-up location. The visitors of neighborhood taverns, eateries, clubs, and private rental shuttle vans and minibusses may be dropped off and picked up at this location. Only drop-off and pick-up are permitted in this specified area. No parking or staging will be allowed. If you would want to use their shuttle service to the game, please verify with your favorite pub or eatery.
 

Group Buses
 On a first-come, first-served basis, all group buses are welcome to park for free on westbound Fisher between Woodward and Brush and on Brush north of Fisher. For information on group ticket rates, call the Detroit Tigers group sales department at (313) 471-BALL.
 

Limousines
The Metro Detroit area offers limousine services. Typically, plans may be arranged in advance by calling a firm of your choosing. Consult the Yellow Pages' "Limousine" section for information on limousine services. On a first-come, first-served basis, all limos are welcome to park on Brush north of Fisher and westbound Fisher between Woodward and Brush for no additional charge.
 

ADA/Disabled/handicap parking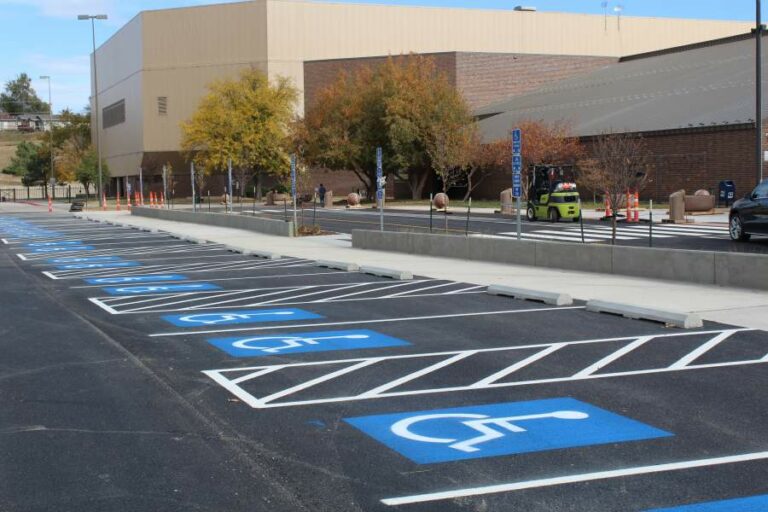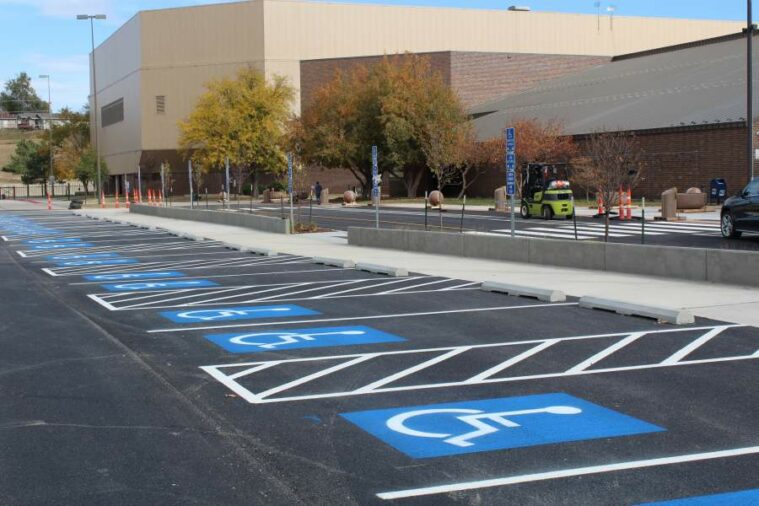 There are ADA-compliant parking spaces available at all Olympia Development parking facilities. Visitors with the necessary reserved area parking permit and a state-issued license plate or placard may use the disability spaces in the reserved parking facilities. For game days only, 61 E. Elizabeth and the D Garage, which is reachable from Woodward and Elizabeth, will be converted into a dedicated disability parking area. First-come, first-served policy applies to these spots.
Also Read: Great American Ballpark Parking Guide: Rates, Maps, Tips
 

Parking Prices 
$25 will get you inside 61 E. Elizabeth, which is 0.2 miles from the entrance.
850 Witherell is 0.1 miles from the entrance, costs $25, and is located there.
Lot 4 – 489 E. Montcalm is located 0.3 miles from the gate and costs $25.
$25 may be spent on Lot 5 – 2354 Brush St, which is 0.3 miles from the gate.
The D Garage, located at 90 E Fisher Service Dr., is 0.4 miles from the entrance and costs $25. 
The ticket is $25, and 200 Madison St. is 0.1 miles from the entrance.
Fox Garage – 50 W. Montcalm is 0.4 miles from the entrance, costs $25, and is located there.
$15 will let you inside 2121 Cass Ave, which is 0.5 miles from the gate.
$15 will get you inside 2055 Cass Ave, which is 0.4 miles from the entrance.
15 dollars will get you inside 2130 Cass Ave, which is 0.5 miles from the gate.
Refunds
 Fans who paid at the gate and parked in an Olympia Development Parking lot or garage have 48 hours to call 313-725-3848 to get a refund in the event that a game is postponed or canceled. Passes purchased in advance for parking can be kept by visitors, and they will be automatically updated to include the make-up game date.
 

Tips for parking at Comerica Park
 Parking on the street is always free on Sundays in Detroit. You could get a spot if you get there early enough and look around the streets around the stadium.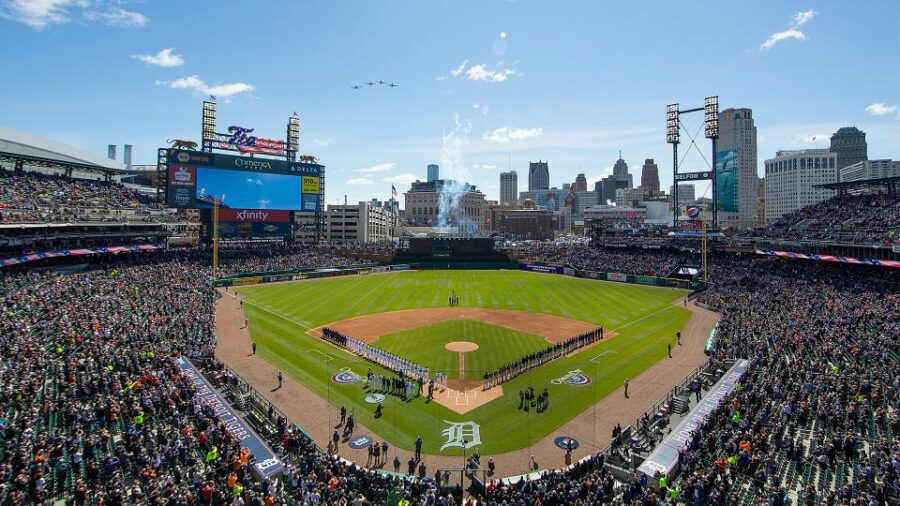 When making a reservation for parking, you may compare prices at garages and lots close to Comerica Park using online reservation services.
Eat, Drink, and Shuttle — A lot of bars provide cheap parking and transportation to the stadium. We suggest Bookie's Bar & Grille, Old Shillelagh, and Nemo's Bar.
 

About Comerica Park
 Since Bennett Park's opening in 1896, the Tigers, a team that was founded in 1894, have played near the intersection of Michigan and Trumbull Avenues in Detroit's Corktown area. New Tigers owner Frank Navin commissioned the construction of a brand-new ballpark on the same site in 1911.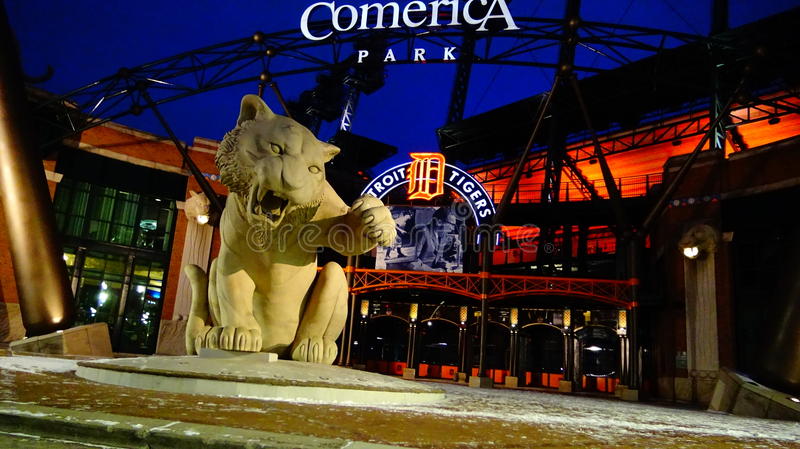 The Tigers played their home games in the ballpark, which was first used in 1912 and thereafter known as Tiger Stadium, for the following 88 seasons. It was clear by the middle of the 1990s that the cherished ballpark was no longer functional and could not be further restored.
 On October 29, 1997, a new ballpark that would replace Tiger Stadium officially broke ground. The scoreboard in left field was the biggest in Major League Baseball when it was first built. For the naming rights to the new ballpark, Comerica Bank agreed to pay $66 million over 30 years in December 1998. It was a component of Detroit's downtown regeneration plan, which also involved building Ford Field next to the ballpark. On April 11, 2000, the first game was played against the Seattle Mariners.
Also Read:

Subscribe to Email Updates :