Do you know you can get a free 5G phone from Cricket Wireless? Well, that's true. Cricket Wireless offers several amazing offers, and 5G phones are one of them.
This article covers detailed information about Cricket Wireless's free 5G phone, who is eligible for it, the application process, and more.
So, without any further ado, let's get started –
What Is the Cricket Free 5G Phone Promotion?
Along with participation in the Lifeline program and offering services like free Government phones, Cricket Wireless also offers a marketing initiative where they offer 5G phones at no cost.
With this special offer, users can get free government 5g smartphones at no cost by transferring their current phone number to Cricket and starting a $55- $60/month plan.
Thanks to this opportunity, customers can now have their hands on 5G technology without paying extra for the device.
How To Get Cricket Free 5G Phone
It is quite easy to apply for a free 5G phone. All you need to do is follow these simple steps –
First of all, visit the official website of Cricket Wireless at https://www.cricketwireless.com/.
Hover over the Phone menu and then select the Deals sub-menu.

Under Cricket Deals, click on the 5G Deals option.
You will see a bunch of 5G smartphones that are available for free with a $55-$60 plan. Select the phone of your choice and click on the See Details option.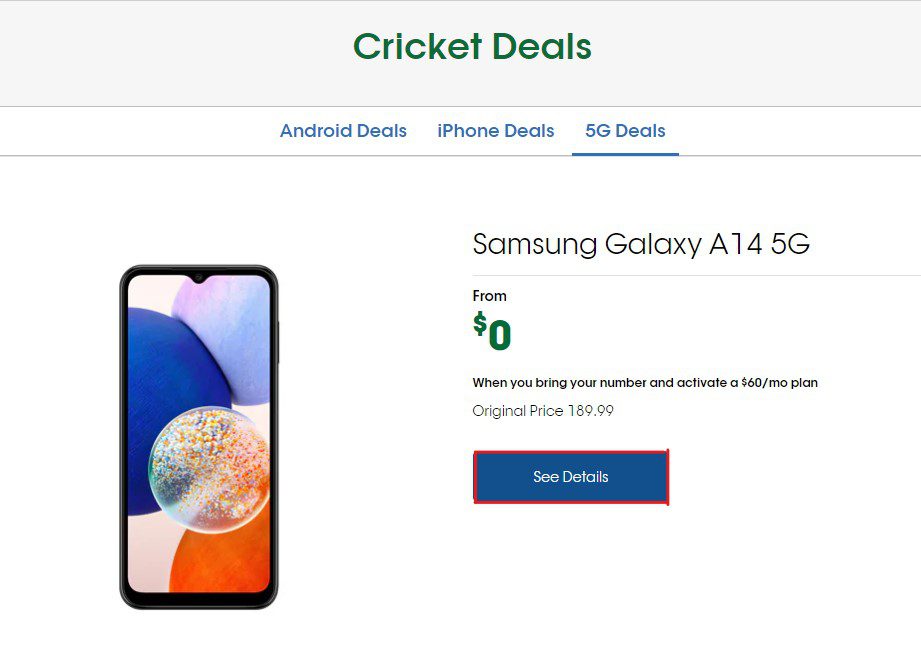 After that, you need to click on the Select Device option, and then you will be asked to provide information about your current phone number that you want to bring to Cricket Wireless.
After that, you will be asked to enter some of your personal information and make the payment.
Eligibility
New customers at Cricket Wireless can take advantage of the free phone promotion. They can take advantage of this beautiful offer by bringing their current phone number (apart from AT&T lines) to Cricket and activating a $55-$60/month plan.
Document Required
You will usually be asked to present a form of identification and the necessary information to transfer your existing phone number to Cricket Wireless and activate a plan.
This would contain information like your PIN and current account number. By ensuring you have these crucial details on hand, you can switch over to Cricket Wireless easily and start using their services immediately.
What Free 5G Phones Are Available With Cricket Wireless Plans?
Currently, the phones that are listed under this promotional program are –
Samsung Galaxy A14 5G
Motorola Moto G 5G (2023)
Cricket Innovate E 5G
Benefits of Cricket Free 5G Phone
The advantages of a free 5G phone include the following –
Savings – Customers who take advantage of the promotion can purchase a 5G phone for no additional charge. This results in considerable savings, especially considering the market's typical high cost of 5G phones.
Improved Connectivity – Compared to earlier generations, 5G technology offers quicker speeds and better connectivity. Customers can enjoy seamless surfing, fast downloads, and better streaming of multimedia content with 5G technology.
Future-proof –  Owning a 5G phone assures that you are ready for the future of mobile communication as 5G networks continue to develop and become more widespread. You can benefit from the cutting-edge features and capabilities that 5G has to offer.
Network reliability – With your free 5G phone, you can use a constant and durable connection thanks to Cricket Wireless' solid network. This enables uninterrupted communication with family, friends, and coworkers.
Access to Cricket Wireless Services – By getting a Cricket phone, you can utilize all their services and features. You can select from their numerous plans and take advantage of extra features like unlimited call and texting, customized data options, and nationwide coverage.
Terms and Conditions for Getting Cricket Free 5G Phone
Please take note of the following conditions and terms before ordering a Cricket free 5G phone –
Any part or function of any Cricket service, including pricing or charges, may be changed, suspended, or discontinued by Cricket Wireless. They also reserve the right to cancel your Cricket service at any time.
If you cancel your Cricket services before the end of the monthly period, there will be no prorated charges.
No money will be returned or given back for any unused account balance or portion of the canceled Cricket service.
Upon the termination of service, all applicable software licenses granted to you will also end.
Any data, files, or other information connected to your Cricket Account or canceled Cricket Services may be deleted at Cricket Wireless' discretion.
FAQs
What is the Cricket free 5G phone promotion?
The Cricket free 5G phone promotion is an offer by Cricket Wireless. Customers can receive a free 5G phone by transferring their current phone number to Cricket and subscribing to a $60/month plan. This promotion allows customers to explore 5G technology without any additional cost for the device.
Who is eligible for this free 5G phone offer?
The Cricket free 5G phone offer is available to new customers at Cricket Wireless. To take advantage of this offer, customers must bring their current phone number (except AT&T lines) to Cricket and activate a $55-$60/month plan.
What documents are required to switch to Cricket Wireless and activate a plan?
Generally, you will be asked to provide a form of identification along with the necessary information to transfer your existing phone number. This information includes your current account number and PIN. These documents and details readily available will facilitate a smooth transition to Cricket Wireless.

Subscribe to Email Updates :