Bo Hines is a native North Carolinian and was an All-American football player at NC State. He's running in North Carolina's 13th Congressional District. He's a proven winner, both on and off the field, and he's going to help win a huge Republican majority. Bo Hines is a conservative who fights for Conservative values, is strong on the border, supports America's great military, and will fight for secure elections. Bo's committed to the Second Amendment.
Donald Trumps comes forward to Support Bo Hines
Donald Trump posted and update on his telegram channel regarding his endorsement to Bo. Bo later twitted this :
"My name is Bo Hines. President Donald J. Trump just ENDORSED my campaign for Congress. Together, we will defeat loser RINOs and retake the HOUSE. RT and FOLLOW to help me Save America!"

-Bo Hines, Twitter. Source
Bo Hines twitter
You can follow Bo Hines on Twitter – @BoHines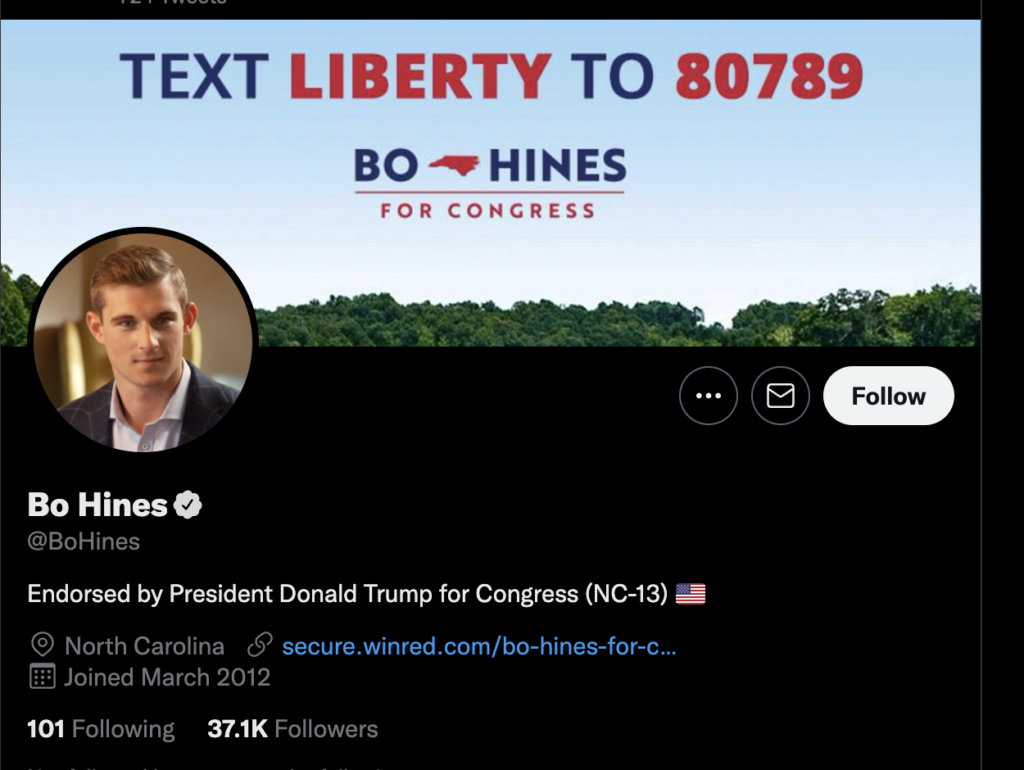 Bo Hines for North Carolina
Hines announced he would run as a Republican for the United States House of Representatives in North Carolina's 5th congressional district, currently held by Republican Virginia Foxx. After Ted Budd announced he would run for  the Senate, Hines announced he would run in North Carolina's 13th congressional district, where Budd represents. As a result of redistricting, this congressional district went from 13 to 7. Donald Trump offered to endorse Hines if he ran in the 4th district of North Carolina, which would allow Mark Walker to run in the 7th district.

Subscribe to Email Updates :