Elon Musk New Twitter Science Policy – Elon Musk has announced changes to Twitter that will make the microblogging service more scientific, and these changes will be implemented soon.
Elon Musk Announces New Twitter Science Policy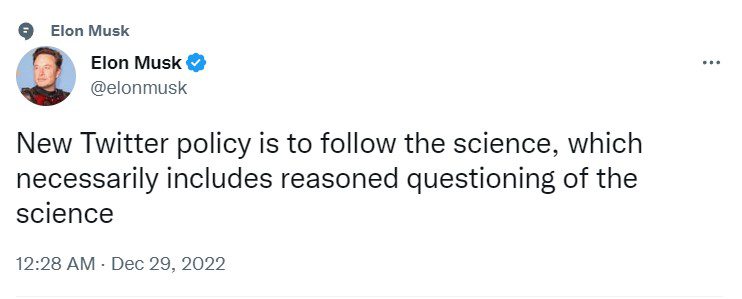 Elon Musk announced on his official Twitter account that the company's new policy would be to "follow the science," which will inevitably include reasonable scientific questioning.
After receiving over 28.9 million views, his tweet has been retweeted 59 thousand times and liked by 400 people.
Since Elon Musk's $44 billion takeover of Twitter in October, he has made several changes to improve the platform and increase revenue. He had previously begun charging users $8 for the Twitter blue tick on the web and $11 on iOS. Then he instituted a system of colored ticks to distinguish between personal and business accounts.
He recently completed a poll of Twitter users to determine whether or not they want him to resign as CEO. More than half of Twitter users voted for him to resign as the social media platform's CEO.
Should I step down as head of Twitter? I will abide by the results of this poll.

— Elon Musk (@elonmusk) December 18, 2022
In response, he stated that "I will resign as CEO as soon as I find someone foolish enough to take the job! After that, I will just run the software & servers teams."
Elon Musk claims that 'Google frequently removes links'
Twitter CEO Elon Musk responded to the recent Twitter Files confirming that they are not the only major tech company that engages in online censorship and even Google frequently removes links.
Elon Musk responded to Glenn Greenwald's tweet, saying that US Security State agencies are heavily involved in Big Tech's censorship regime. Greenwald's tweet included a screenshot from one of journalist Matt Taibbi's Twitter Files threads.
According to Taibbi, the government maintained close contact with Twitter and virtually every other major tech company. Social media sites like Facebook and Pinterest were mentioned, as well as Microsoft, Verizon, Reddit, and many others.
Musk responded that "every" social media company engages in heavy censorship, with significant involvement and, at times, explicit direction from the government and that people are not able to understand the significance of the point Matt is making.
According to Musk, when Democrats controlled the White House, both chambers of Congress, and the executive branch on December 27, 2022, they publicly and repeatedly threatened the heads of major tech companies by summoning their CEOs and telling them that they would be punished if they did not increase their level of censorship.
Taibbi claimed that other organizations had contacted the platform regarding the possibility of foreign propaganda, and according to the Twitter files, the FBI also assisted the company in contacting local law enforcement to deal with incidents.
According to Taibbi, the FBI uses Twitter's search feature to identify potential content violations against which the company may take legal action.
Former FBI attorney Jim Baker, who has come under fire for his role in several investigations involving ex-President Trump, agreed that the bureau was acting unusually.

Subscribe to Email Updates :