President Trump interview with John Fredericks: What if we were caught spying on Biden's or Obama's campaigns?". Real America's Voice host John Fredericks and President Donald Trump discuss a number of political topics affecting everyone, including the recent illegal FBI raid on Trump's Mar-a-Lago estate.
Watch President Trump interview with John Fredericks
In this great interview, John Fredericks also asks Trump about his reaction to the announcement that the IRS will hire 87,000 armed agents. Trump never holds back in interviews, and he once again tells it like it is in this great discussion.
Trump Claims FBI Raided Mar-a-Lago Looking for Clinton Emails
In a statement released Thursday, former President Donald Trump said he believes the FBI and Department of Justice raided his Mar-a-Lago residence in search of Hillary Clinton's emails.
Trump said in an interview with Wendy Bell that the recent raid on his Florida residence was to find Hillary Clinton's "emails."
Then Trump added, "I think they thought it had something to do with the Russia, Russia, Russia hoax. They thought there was some scam material in there because that is what they are, scammers."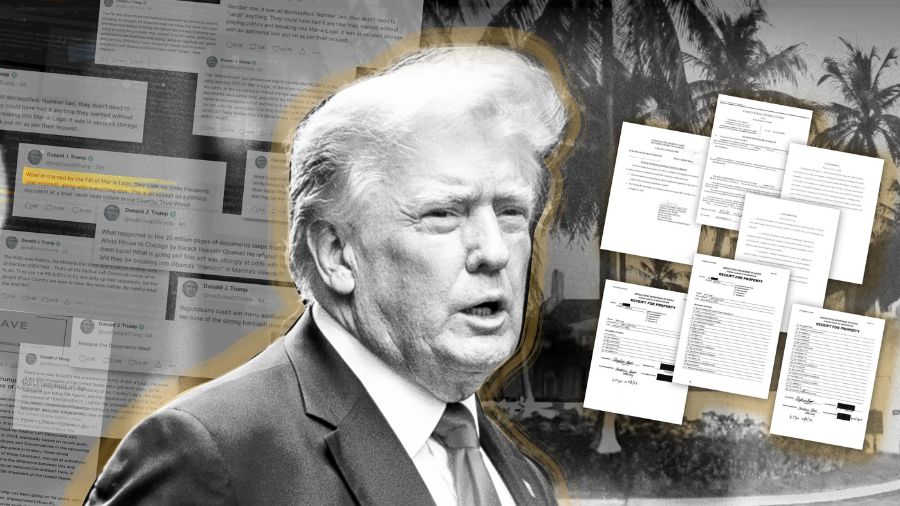 The former president's comments come just a few days after the DOJ unsealed an image showing some of the documents that FBI agents recovered at Trump's Mar-a-Lago residence. An affidavit supporting the FBI raid revealed the former president had several classified documents when the FBI raided the Mar-a-Lago estate on August 8.
"We have probable cause to believe that additional documents possessing classified NDI [National Defense Information] or Presidential records subject to record retention requirements could still be on the premises," the redacted affidavit stated.
On Thursday, Trump spoke further about the raid and the documents in the Justice Department photo during a separate interview with John Fredericks.

They've got pictures of guys standing outside, with boxes inside. The sun is beating down, and they're waiting for a truck, and they've got pictures of putting them on a truck," Trump said. "There was nothing mysterious about it." It didn't have to be anything secret."
FBI Photo Made Me Look 'Like A Slob'
An interview with conservative website Real America's Voice with John Fredericks – which Mediaite appropriately dubs 'rage-tastic' – reveals the worst part of the damning photo is its appearance of sloppiness.
"They went to an area, and that area is my office, I presume," Trump told "Outside the Beltway" host John Fredericks. "That area is very neat. I'm a very neat person. Everything is clean. Everything's buttoned up, and they took documents, and they put them all over the floor."
According to the New York Times, photographing documents on the floor adheres to standard federal protocols when officials document and collect materials in a search.
Also, Read | Donald Trump Donors- Donald Trump's Biggest Donors for 2024
You can hear Trump's rant below.
Trump this morning: "A lot of people think that when you walk into my office I have confidential documents spread out all over my floor .. like a slob. Like I'm sitting there reading these documents .. They put them there in a messy fashion and they took a picture." pic.twitter.com/nsXaaYJydG

— Ron Filipkowski (@RonFilipkowski) September 1, 2022
Trump and Lawyers Offer Contradictory Accounts After Mar-a-Lago Raid
In recent weeks, Donald Trump's lawyers have argued that hundreds of classified documents were kept at his Ma-a-Lago resort after he left office.
Under his sweeping presidential powers to declassify government information, Trump insisted in an interview Thursday that he had declassified information before leaving office.
Conservative radio host John Fredericks asked Trump how top-secret documents ended up at his Florida resort before being recovered by the FBI on August 8.
Also, Watch MAY Interview of Trump | Watch President Donald Trump Interview by John Fredericks
A four-year term in the White House "accumulates a lot of things," Trump said.
He continued, "There's nothing secret about it. It didn't have to be secret, and all of it has been declassified."

Subscribe to Email Updates :