Guy Fieri has been in the headlines nowadays since his photographs with former President Donald Trump at the UFC event in Las Vegas hit social media platforms last week.
So without further delay, let's learn more about the Guy and his personal life.
Guy Fieri Biography And Early Life
Guy Fieri is an American chef, restaurateur, author, and an Emmy Award-winning television show host. With running many restaurants across the world under different brands, he hosts various television series on the Food Network.
Guy Ramsay Ferry took birth in Columbus, Ohio, on January 22, 1968. He grew up in Ferndale in rural Humboldt County, California. Fieri's father, Lewis James Ferry, was an entrepreneur, and his mother, Penelope Anne, was a homemaker. Fieri changed his surname 'Ferry' to 'Fieri' in memory of his paternal grandfather, Giuseppe Fieri, an Italian immigrant.
The renowned chef developed his connection with food by selling pretzels from his three-wheel "Awesome Pretzel" cart, which he built with his father's help, and washing dishes while in school in Ferndale to pay for his study in France. He began working at Red Lion Inn restaurants in Eureka, California after he returned to the U.S. Later, he went to Las Vegas for college.
After graduation, Fieri worked as Parker's Lighthouse restaurant manager in Long Beach, California. After three years, he became the district manager of Louise's Trattoria and started managing six locations with recruiting and training for the restaurants.
Guy Fieri's Career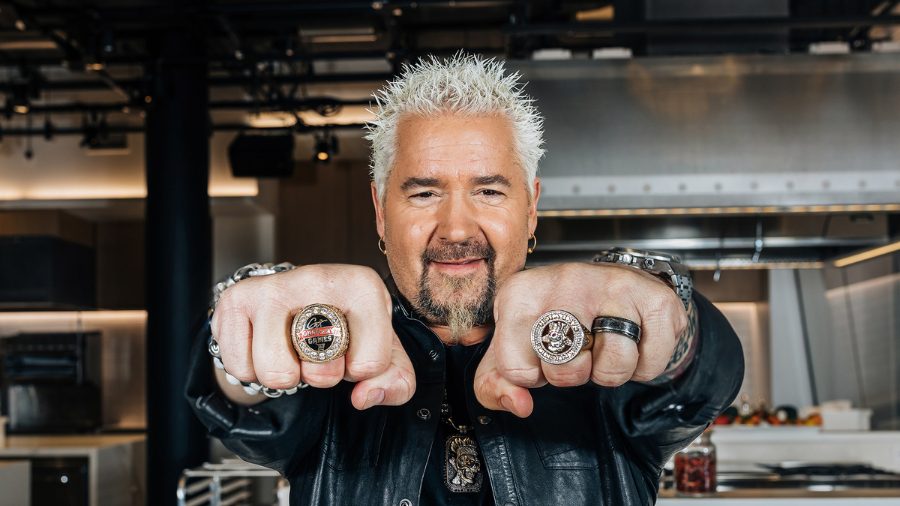 In late 1996, with years of experience, Fieri and his business associate Steve Gruber opened a restaurant. They first inaugurated Johnny Garlic's in Santa Rosa, California, and then three additional in Windsor, Petaluma, and Roseville in 1999, 2000, and 2008 respectively.
After three years, the business partners opened their Johnny Garlic restaurants in a new form in 2011. Fieri opened another dinner restaurant, 'Guy's American Kitchen and Bar' in 2012 in New York, hoping to get a good competitive market.
However, the restaurant received huge criticism from the New York Times magazine. He closed his New York City restaurant at the end of 2017, even though it was listed on the 'Top 100 independent restaurants' list regarding sales in the Restaurants Business listing.
He opened one restaurant 'Guy Fieri's Vegas Kitchen and Bar, in Las Vegas in 2014, followed by another, Guy Fieri's Baltimore Kitchen and Bar, in 2015 in Baltimore.
Fieri went on adding to his restaurant's number while simultaneously appearing in television shows. He began as a contestant in the second season of The Next Food Network Star's cooking show and won the competition. He signed a deal to promote his culinary show 'Guy's Big Bite' on the Food Network as a winner.
From February 17, 2008, Fieri began hosting 'Ultimate Recipe Showdown' with Marc Summers as co-host. The program broadcasted for three consecutive seasons and was dubbed more of a reality show than a culinary program by the New York Times.
In the same year, Fieri took to his next show, 'Guy Off the Hook,' which was broadcasted until September 2008. The show had a traditional setting where the audience watched him cooking mouthwatering dishes. However, the show was closed as its TRP ratings' was not impressive.
Fieri has hosted and made guest appearances on many other culinary shows on Food Network, including 'The Best Thing I Ever Ate,' 'Phineas and Ferb,' 'Ace of Cakes,' and 'Ridiculousness.'
From 2012 to 2017, Fieri hosted and co-hosted 12 series and episodes. He also produced many shows such as Guy's Grocery Games, Guy & Hunter's European Vacation, Super Southern Eats, etc.
In 2017, Fieri directed three shows, Guy's Family Road Trip, On Your Marc, and Super Southern Eats. Fieri has been featured in commercials and advertisements, including campaigns for 'Flowmaster,' a U.S. auto-exhaust components producer.
Fieri has also authored several cookbooks, which have been New York Times bestsellers for many weeks.
Guy Fieri Age, Height, Weight
Fieri is 55, measures up to 5 feet 8 inches, and weighs around 93 Kg (205 lbs).
Guy Fieri Wife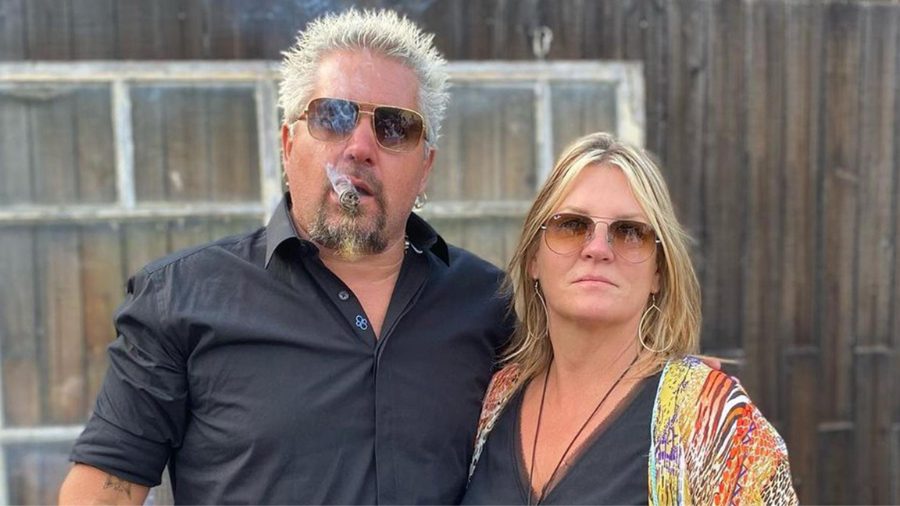 Fieri married Lori Fieri in 1995. He met Lori when she used to visit a restaurant in Long Beach, California, where he worked as a manager.
Lori is a supportive wife. She helps Fieri with his businesses, running the restaurants and managing the television shows. However, whether she is pursuing her own career is still being determined.
Guy Fieri Net Worth
As of 2023, Guy Fieri's net worth is estimated to be approximately $70 million.
He earns a $27 million annual salary from the 3-year contract he has with Food Networks shows. He is one of the highest-paid chefs and television personalities.
His other sources of income include his restaurant business, book royalties, and product endorsement, through which he makes millions of dollars yearly.
Guy Fieri's net worth includes 10 real estate properties, 4 luxury yachts, and 13 world's most costly cars, in addition to Cash Reserves of $50 million and an investment portfolio of 20 stocks valued at $65 million.
Guy Fieri Education
Fieri graduated with a Bachelor of Science in Hotel Management from Las Vegas, University of Nevada in 1990.
Restaurant Owned By Guy Fieri
Guy Fieri owns 17 restaurant brands and multiple restaurants worldwide under these brands. Fieri's list of restaurants includes the following:
Chicken Guy
Flavortown Kitchen
Downtown Flavortown
El Burro Borrachos
Guy Fieri's Chophouse
Guy Fieri's American Kitchen & Bar
Guy Fieri's Smokehouse
Guy's Burger Joint
Guy's Bar-B-Que Joint
Guy Fieri's Highball Lounge
Guy Fieri's Vegas Kitchen & Bar
Guy Fieri's Pizza Parlor
Guy Fieri's Taco Joint
Guy's Pig & Anchor
Guy's Sammich Joint
Goldbelly's Trashcan Nachos
Guy Fieri's Tequila Cocina
Under these brands, Fieri reportedly owns around 100 restaurants. Fieri once said, "I have about 90 restaurants right now, with the shows, the boys, 500 goats, a bunch of cars, many projects, and a bunch of hobbies."
Guy Fieri Family, Son, Daughter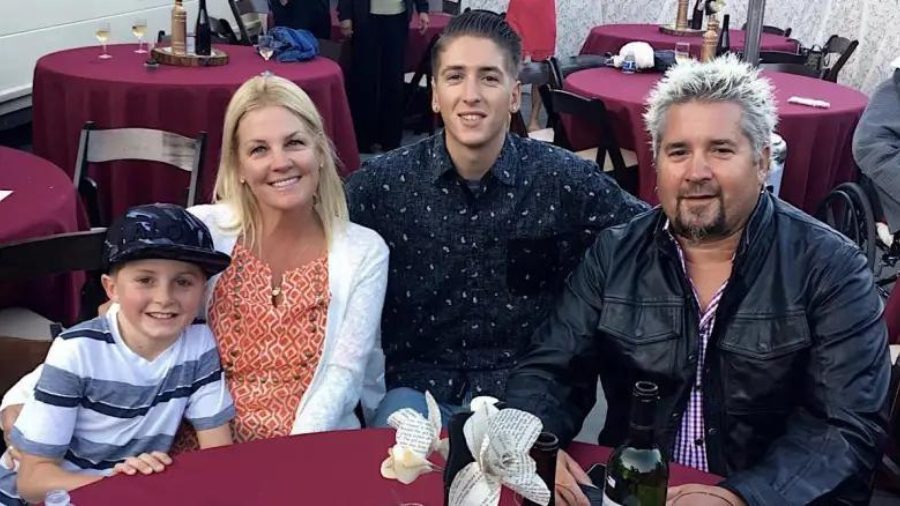 Guy Fieri's family includes his parents, wife, children, and nephew. His father is Lewis James Ferry, an entrepreneur; his mother is Penelope Anne, a homemaker.
Fieri has two sons with his wife, Lori. The family lives in a luxurious mansion in the Santa Rosa region in Sonoma County, Northern California.
Their older son, Hunter Fieri, was born on August 13, 1996. He is interested in continuing his father's business. Their second son, Ryder Fieri, was born on December 31, 2005. He has also appeared in a few of his father's TV shows.
Fieri's sister Morgan Fieri died due to metastatic melanoma in 2011. She was a massage therapist. Since then, Fieri and his wife have also raised their nephew Jules, 22, who was 11 years old at the time of his mother's death.
FAQs
What is Guy Fieri's nickname?
Yes. Feiri's nickname is Guido.
What is Guy Fieri's age?
Fieri is 55 years old.
Why does Guy Fieri hate eggs?
Fieri doesn't like eggs because of his bad childhood experience of eating rotten-boiled eggs.
What is Guy Fieri's most famous food?
According to the Food Network magazine, Feiri's most famous food is his turkey chili with pasilla chile peppers.
Is Guy Fieri a vegetarian?
While non-veg dishes are included on many of his restaurant menus, Fieri once said he doesn't eat at every meal. He said, "I am not saying that I am a vegetarian, but people would be surprised at the amount of plant-based foods I eat. Don't get me wrong. I get down with a good burger but in moderation."
How many restaurants does Guy Fieri own?
Fieri owns around 100 restaurant brands.
What is Guy Fieri's birthplace?
Fieri was born in Columbus, Ohio, United States.
What is Guy Feiri's height?
Fieri is 5 feet 8 inches tall.

Subscribe to Email Updates :