Former Arizona GOP Governor candidate Kari Lake has urged other GOP candidates to suspend their campaigns and rally behind Donald Trump after his indictment on federal charges.
Lake doesn't simply want Donald Trump to be the last man standing – she wants him to be the sole Republican candidate in the presidential race.
'Kari Lake' Urges GOP Candidates to Suspend Campaigns for Trump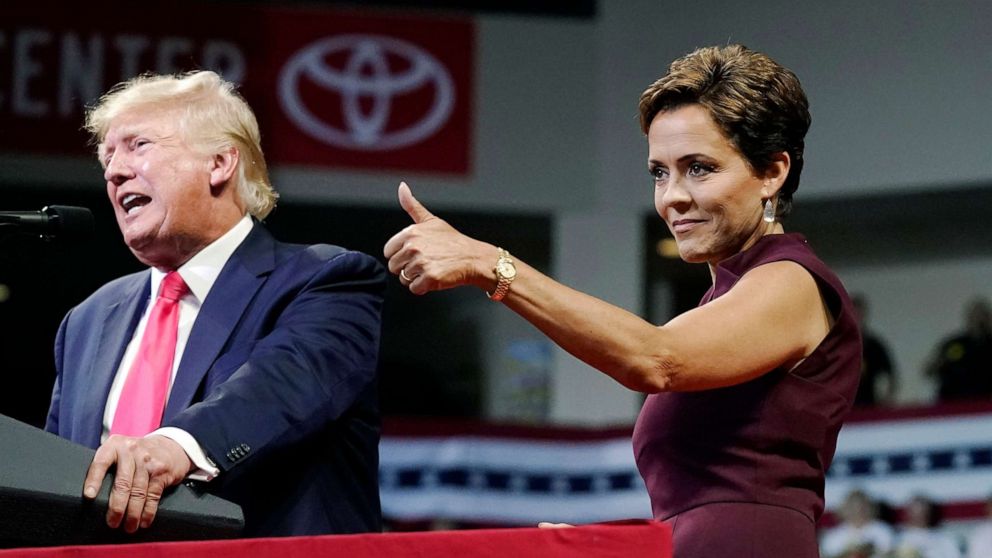 Following Trump's recent indictment for attempting to overturn the 2020 election, Lake, a strong MAGA supporter, suggests that all other Republican candidates cease their campaigns immediately.
In a statement posted to Twitter, Lake said that the indictment was "election interference, unlike anything we've ever seen before." She called other GOP candidates to "stop wasting hard-earned donor money" and "rally around our nominee, President Donald J. Trump."
This latest SHAM indictment is the line in the sand.

That's why I'm calling on all Republican primary candidates to suspend their campaigns & rally around President Donald J. Trump.

READ my full statement ⤵️ pic.twitter.com/4VhQWLhghj

— Kari Lake (@KariLake) August 1, 2023
Kari Lake has continued to call on Trump's 2024 rivals to suspend their campaigns. In an interview with Newsmax on Tuesday, she said the indictment was "a clear sign that Trump is the only one who can save our country." She called other candidates to "stop wasting their time and money" and "rally behind Trump."
Trump has denied all wrongdoing and has repeatedly criticized the special counsel's probe, claiming it's politically motivated. In a social media post on Tuesday, he accused Smith of "Prosecutorial Misconduct."
Trump's supporters have echoed these claims, saying that the indictment is a politically motivated attempt to damage Trump's chances of winning the 2024 presidential election.
However, the special counsel's office has said that the investigation is "completely independent" and that the charges are based on "the facts and the law."
Also, Read | Trump Attorney Shares Positive Update as Trump Faces Another Indictment
Besides, whether the indictment will majorly impact Trump's political future cannot be judged. However, the charges have raised the stakes in the battle between Trump and his critics.
It should also not be ignored that Trump already has a history of making false and misleading statements. He has been accused of lying to the public, Congress, and the courts. He also suffers from some federal cases and is scheduled to be in court soon.
Lake's call has been met with mixed reactions. Some Republicans have agreed with her, while others have said that it is premature to call on other candidates to suspend their campaigns.

Subscribe to Email Updates :