In this Levi's Stadium parking guide, we have covered everything, such as official and unofficial parking options, parking rates, public transit options, and more.
So, without any further ado, let's get started –
Levi's Stadium Parking Guide – Tips, Maps, and Deals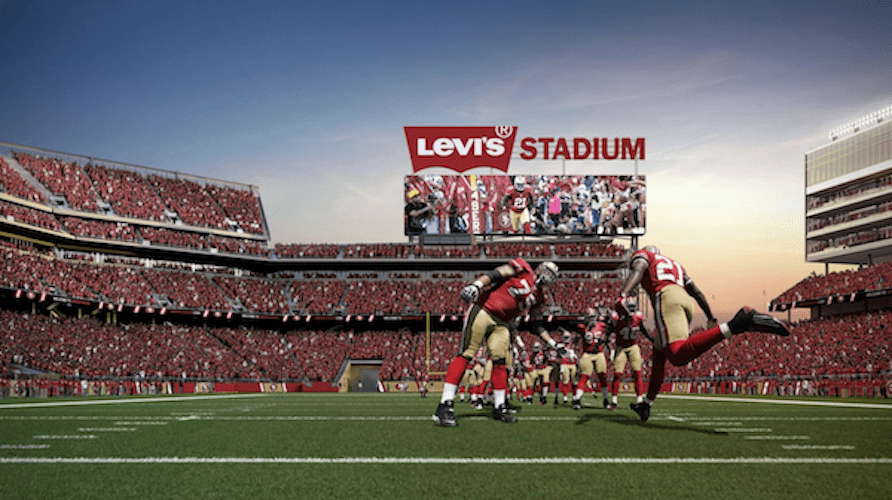 Levi's stadium is an American football stadium in Santa Clara, California. It has served as the home for the National Football League's San Francisco 49ers since 2014. The stadium has a capacity of 77,000 viewers, which can be expanded to 83,500 during special events. It has hosted several games and other events and concerts since its inception.
Finding parking space around Levi's Stadium is difficult, especially during a San Francisco 49ers' home game. However, you can follow our Levi's Stadium parking guide, which covers parking around and near Levi's Stadium with rates, location, public transit options to the arena, and much more.
Levi's Stadium Official Parking Options and Parking Cost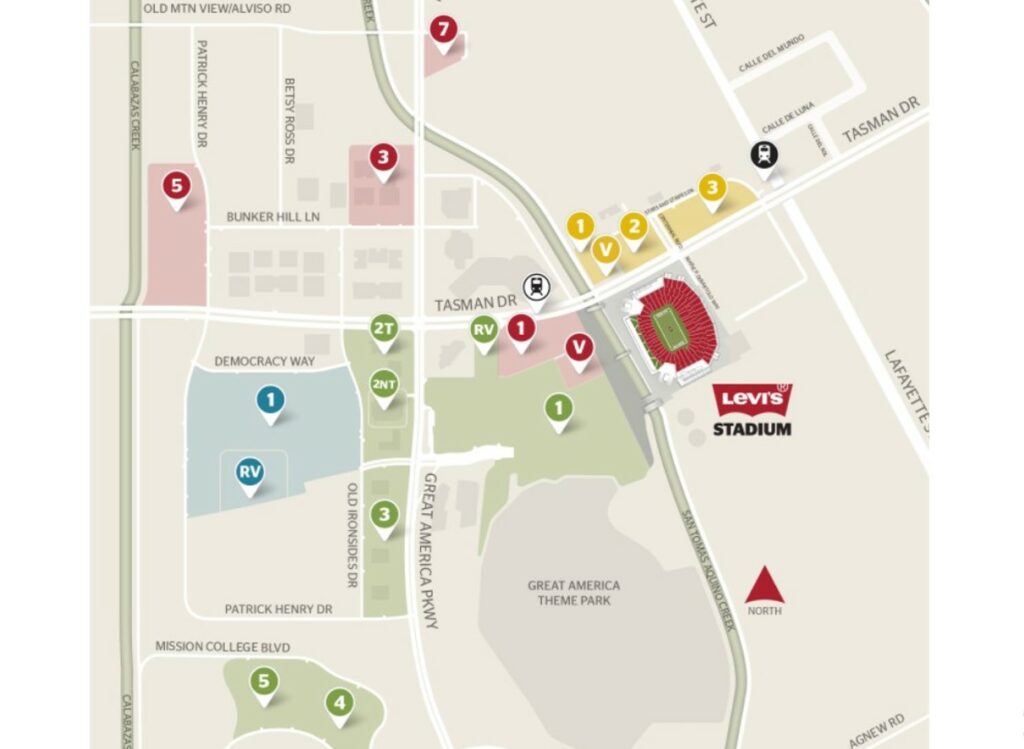 The stadium has over a dozen surface parking lots, offering ample vent parking spaces. The parking lots are divided into color-marked zones and offer general, VIP, and RV parking spaces. Blue and Green Lots have spots for oversized vehicles.
Parking rates vary according to the lot and event, and you can either pay on the spot or pre-purchase a car parking pass.
Levi's Stadium cash parking lots have the following rates –
Cash lots -Red Lot 5, green lot 4 
Rate – $40
Walking distance – 2-3 minutes
Cash lots – Blue Lot 1, Green Lot 3, Red Lot 3
Rate – $50
Walking distance – 2-3 minutes
Cash lots – Red Lot 1, Green Lots 1 & 2, Yellow Lots 2 & 3
Rate:- $60
Walking distance – 2-3 minutes
Non-Event Parking
If you are visiting the stadium on a non-event day, you will get a free parking space. You can access the public parking space in Red Lot 1, off Tasman Drive.
During game days, these parking spaces tend to fill soon. Therefore, we recommend pre-booking your parking pass. Further, you will have to pay extra on game day as parking rates will be higher if you do not have a pre-paid parking pass.
Also Read – TIAA Bank Field Parking Guide
Parking Options Near Levi's Stadium and Parking Cost
You can find suitable parking spaces in off-site parking garages near Levi's Stadium. The Levi's Stadium is surrounded by several parking spaces nearby.
However, finding a cheaper parking spot on a game day is tough but don't worry. We have shared here the nearby parking options at Levi's Stadium.
If you are comfortable walking for 15 to 20 minutes, consider using one of the following parking lots –
Lot address – Great American Lot at 4701 Patrick Henry Drive
Rate – $25
Walking distance – 9 minutes
Lot Address – 3055 Patrick Henry Dr. Lot
Rate – $30
Walking distance – 10 minutes
Patron Lot at 3000 Patrick Henry Drive
Rate – $30
Walking distance – 10 minutes
Levi's Stadium Handicap Parking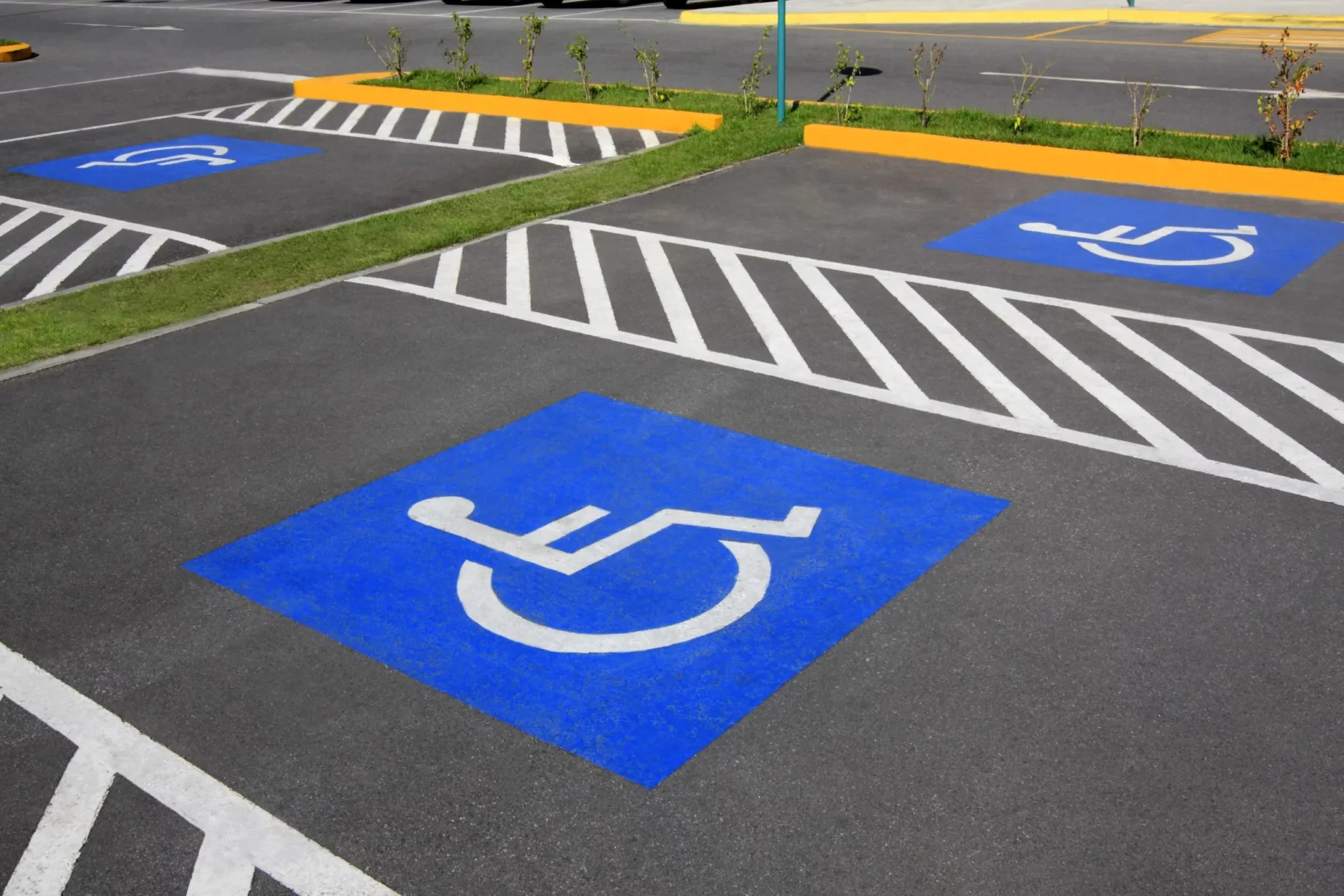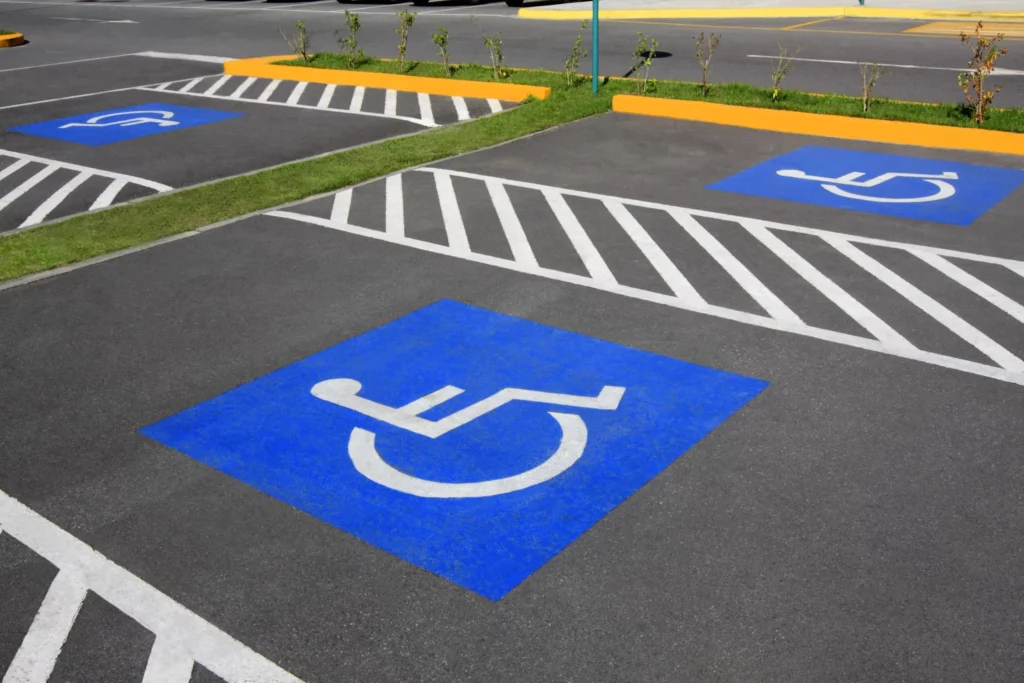 Handicap parking is available in Green Lot 1, Green Lot 4, and Blue Lot 1. There are around 400 handicapped spaces in the combined three parking lots, and Green Lot 1 is the closest lot to the stadium. All three lots provide shuttles to the stadium.
These parking lots are available on a first-come, first-served basis. Further, you must possess a disabled parking permit and Levi's stadium parking pass to access these parking lots.
We suggest you reserve parking space online and reach the stadium early since accessible parking is limited. You can contact the stadium's mobility assistance team at 408-579-4610 or email [email protected] if you have any queries regarding accessible parking.
Also Read – Angel Stadium Parking Guide
Public Transit to Levi's Stadium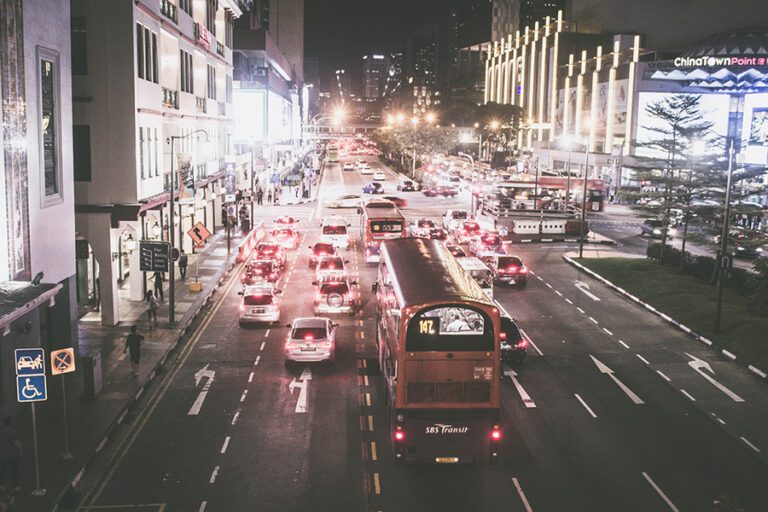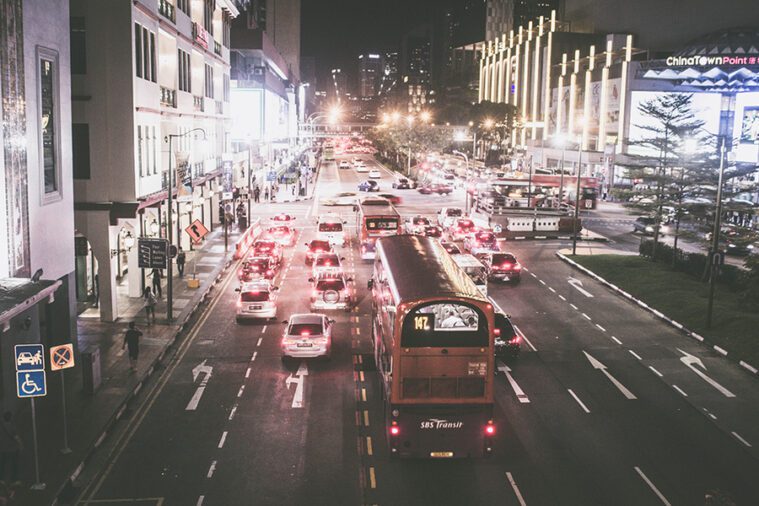 If you wish to get to Levi's Stadium through public transportation to avoid traffic and save extra bucks on your game day, you can check for the following details –
The stadium is conveniently located near main highways and several public transit routes, so it is accessible by road and rail.
Trains
You can get VTA Light Rail if traveling from Mountain View, Sunnyvale, San Jose, or Campbell. It is one of the best choices you can have. The train drops you off at the Great America Station north of the stadium, which is just a 4-minutes walk away from the stadium.
Buses
The Valley Transportation Authority also operates frequent buses that stop near the stadium.
If you are coming from San Francisco, get on Caltrain to the Mountain View bus and then transfer to a VTA train.
For more information on public transit to Levi's Stadium or known VTA services, you can call VTA at 408-321-2300.
Alternatively, you can opt for Uber or Lyft. You will get the dropoff zone on Great America Parkway, while pickups occur in Red Lot 7.
Tailgating at Levi's Stadium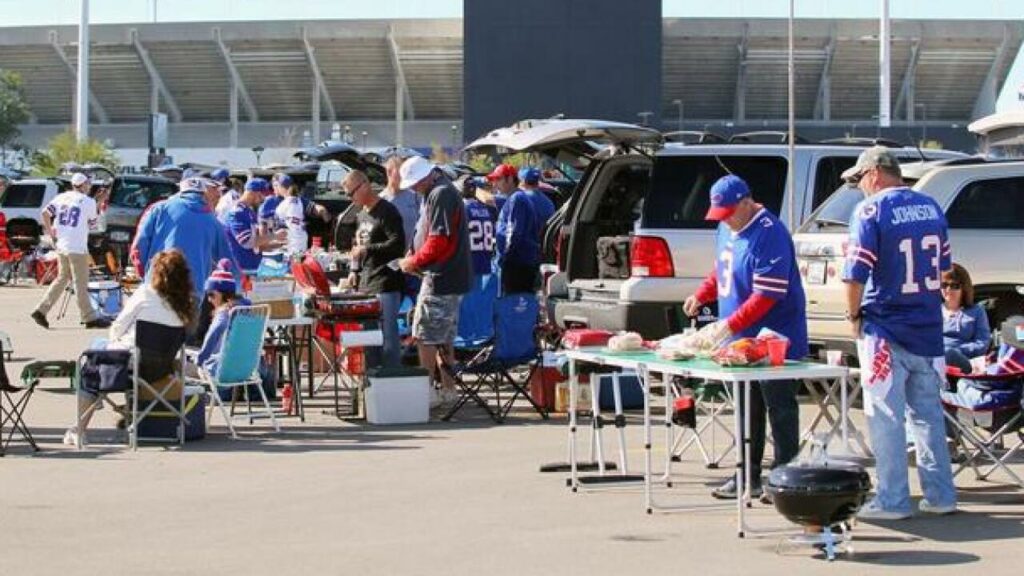 Fans are allowed to tailgate in ten specified parking areas of the stadium –
Blue Lot 1 and RV Blue Lot

Premium Red Lots 1, 3, and VIP

Premium Green Lots 1, 2T, and Green Lot 4 

Premium Yellow Lots 2 and 3
Please note that tailgating is allowed but with strict guidelines that need to be followed. These rules are –
You can use parking spots for vehicle parking only, and you are allowed to tailgate at your parking location only. You cannot use additional spaces for tailgating.

Open-fire grilling is allowed, but glass containers are restricted in each Levi's Stadium parking lot.

All tailgating activities must cease after kickoff.
Getting to Levi's Stadium
The address of Levi's Stadium is 4900 Marie P DeBartolo Way, Santa Clara, CA 95054.
The stadium is a 10-minute drive from San Jose and a 45-minute drive from San Francisco. Moreover, it is accessible by both road and rail.  
You can use google maps, which will assist you in locating the address if you find difficulty driving to the stadium.
Also Read – Lambeau Field Parking Guide
Frequently Asked Questions
How much is the parking for Levi's Stadium?
Parking rates for the San Francisco 49ers' home games range from $40 – $60. You can park in nearby parking lots to reduce your costs.
Can you Uber to Levi's Stadium?
Yes, you can ride an Uber to Levi's Stadium. The Uber Zone is located at Red Lot 7.
Can you bring food to the 49ers game?
Yes, you can bring food for all events at Levi's Stadium. But the food must be placed in transparent plastic wrappings or bags that comply with the NFL bag policy.
What time does tailgating start at Levi stadium?
Tailgating starts 3.5 hours before game time. 
So, this is all about Levi's stadium parking guide. We hope this information helps you to find a space for your vehicle quickly and make your game day great.

Subscribe to Email Updates :