Missouri Voting Guide: How to Vote Missouri 2022 Election. Thousands will head to Missouri polls for the August 2 primary election. It's time to get warmed up with things you should know if you are eligible to vote, where to vote, and what you'll be voting on when Election Day rolls around.
The primary is open in Missouri, so you do not need to show a party registration to vote for a candidate. However, you have to choose which party's ballot you want.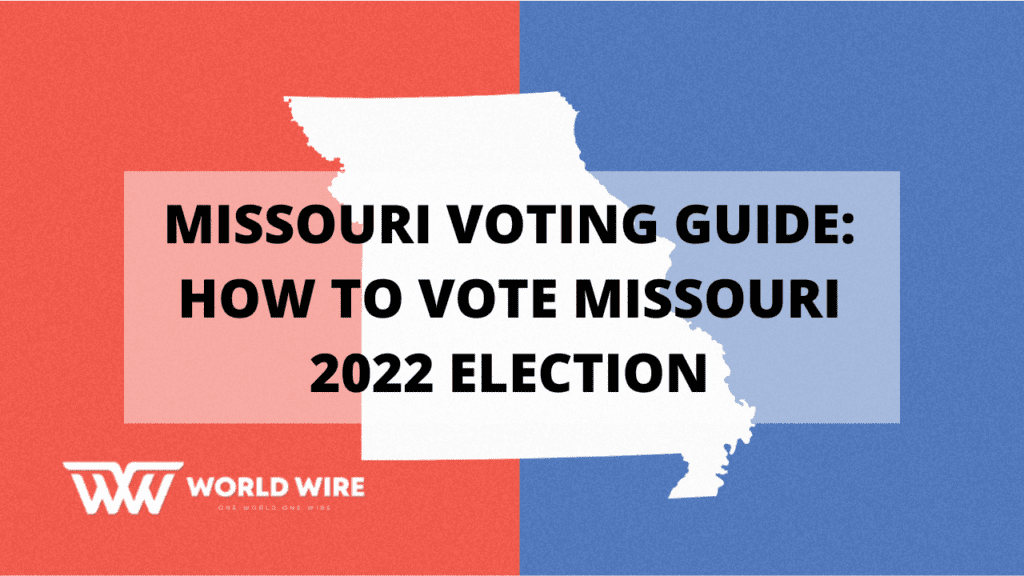 The lists are long. There are 21 Republican candidates and 11 Democrats battling for the right to represent their party in the November general election for the U.S. Senate. Congressional races in the region also have multiple candidates to choose from.
A lot is forthcoming for the state's future, and we believe our democracy is stronger when more people have the information they need to participate. We want to make the process as easy as possible for you to decide who will most likely make choices you believe will provide the best service to you and your community.
Missouri Voting Guide Key dates:
Absentee voting period for primary starts: June 21, 2022

Deadline for voter registration primary: July 6, 2022

Absentee voting ends: on August 1, 2022

Primary election: August 2, 2022

Voter registration deadline for general: October 12, 2022

General election: November 8, 2022
Are you eligible to vote?
You must be 17-and-a-half years old to register but 18 to vote. You must also be a resident of Missouri and a U.S. citizen.
Polls are open from 6 a.m. to 7 p.m. on primary election day.
You can register through the following ways:
Online

Print and mail a paper application

In person at your county clerk's office

Request an application be mailed to you. The application must be postmarked by the October 12 registration deadline.
Can I vote absentee if I cannot do so on Election Day?
Absentee voting is available in Missouri, but you must follow certain eligibility and notary requirements.
 Your local election office can accommodate you if you are confined, have a physical disability, meet certain religious beliefs, or are a member of an address confidentiality program.
No-excuse absentee voting will be allowed two weeks before the November 8 general election, but not for the primary.
In-person absentee voting at your regional election office began on June 21, 2022. It's available until 5 p.m. the day before the election.
Also, Read | What Happened in Georgia 2020 Election?
How do I vote in person?
In-person polls will remain open from 6 a.m. to 7 p.m. on Election Day, August 2. You still have a right to cast a ballot if you are in line at the closing time.
Your regular polling place may have altered since the last time you voted. You can locate your polling location here https://voteroutreach.sos.mo.gov/PRD/VoterOutreach/VOSearch.aspx
According to the Missouri Secretary of State's website, polling places will also offer curbside voting.
What are the requirements to vote in Missouri?
You can also vote without your voter identification card as long as you are a registered voter.
For the August 2 primary, any of the following forms of identification are considered permissible.
I.D. issued by the state of Missouri, local election authority, or a state agency

I.D. issued by the federal government

I.D. from a Missouri college, university, tech school, or vocational 

Copy a current utility bill, paycheck, government check, bank statement, or government document with your name and address.

Non-expired Missouri driver's license

Non-Expired or non-expiring non-driver license of Missouri

Non-Expired or non-expiring military I.D. card with a photograph
Starting this fall, a non-expired Missouri driver's license or state I.D., a non-expired passport, and military photo I.D.s will all be accepted as forms of photo identification. By contacting 573-526-VOTE or visiting the Missouri Department of Revenue, you can obtain a photo I.D. for no cost (8683). 
You can cast a provisional ballot even if you don't have the necessary identification. Your provisional ballot will come with a stub that will instruct you on proving your identity, so you will need to take action to ensure your vote is tallied. 
Suppose local election officials find that your signature matches the one on your voter registration record. In that case, you can accomplish this by returning to your polling location on Election Day with an acceptable photo I.D.
List of the primary contests for the U.S. Senate and U.S. House of Representatives. 
Candidate websites are supplied where available, and the candidates are listed alphabetically. 
You may find your entire sample ballot here. 
Also, Read | 2022 Primary Election guide for Voting – Things to know before heading to the polls
The U.S. Senate Candidate Missouri


After Republican Sen. Roy Blunt, who was first elected in 2010, declared that he would not run for re-election last year, a wave of candidates filed for Missouri's U.S. Senate races. 
Expect a lot of interest in the outcome of Missouri's primary elections this year because the balance of the U.S. Senate is at stake. 
Republicans U.S. Senate Candidate Missouri
Robert Allen, Chesterfield

Russell Pealer Breyfogle Jr., Columbia

Dennis Lee Chilton, Springfield

W. Gardner, St. Louis

Eric Greitens, Chesterfield

Vicky Hartzler, Harrisonville

Rickey Joiner, Florissant

Patrick A. Lewis, Wellsville

Billy Long, Springfield

Mark McCloskey, St. Louis

Eric McElroy, Tunas

Darrell Leon McClanahan III, Schell City

Bernie Mowinski, Sunrise Beach

Robert Olson, Springfield

Deshon Porter, St. Louis

Dave Schatz, Sullivan

Kevin C. Schepers, Fenton

Eric Schmitt, Kirkwood

Dave Sims, Kansas City

Hartford Tunnell, Carthage

Curtis D. Vaughn, Springfield
 Democrats U.S. Senate Candidate Missouri
Ronald (Ron) William Harris, Kansas City

Jewel Kelly, Festus

Pat Kelly, St. Louis

Lucas Kunce, Independence

Lewis Rolen, St. Louis

Gena Ross, Platte City 

Josh Shipp, St. Louis

Spencer Toder, St. Louis

Clarence (Clay) Taylor, St. Louis

Trudy Busch Valentine, Clayton

Carla Coffee Wright, St. Louis
U.S. House of Representatives Candidate Missouri


Members of the U.S. House are re-elected every two years, which is why every representative is on the ballot this year. However, not all primaries are competitive.
Point to be noted: This year's parliamentary district may be different. After the 2020 census, the Missouri State Capitol made a new parliament and approved a redistribution plan to relocate the boundaries of residential areas. 
 Check the Secretary of State's website to find the parliamentary district you are voting for. Hope you Find  your answers regarding Missouri Voting Guide also you get clear idea about How to Vote Missouri 2022 Primary Election. You join Our Telegram Channel for more updates.
Signup For Our Newsletter