Are you looking to buy Moxee Mobile Hotspot but can't decide whether it will be a good choice? If yes, then you have stumbled upon the right article.
With this article, I will share my personal experience with you on how this device helped me stay connected with high-speed internet everywhere.
The Moxee Mobile Hotspot is a portable gadget that uses cellular data to establish a Wi-Fi hotspot. When no Wi-Fi network is accessible, it enables you to connect numerous devices, such as laptops and smartphones, to the Internet.
So, without further ado, let's get started.
How Does Moxee Hotspot Work?
The Moxee hotspot ensures safe and stable internet access outside your usual workspace, making it a versatile companion for remote work and home use.
Instead of relying on weak public Wi-Fi, Moxee creates a personal network that protects against hackers. It utilizes the AT&T data connection, converting it into a Wi-Fi signal that can be broadcast to up to 16 Wi-Fi-enabled devices, including smartphones and laptops.
One of the standout features of Moxee is its portability, allowing you to have stable Internet wherever you go, whether it's a camping trip, while in transit, or relaxing on the beach.
This eliminates the need to drain your phone's battery by using it as a hotspot and frees you from the constraint of staying within range of a connection.
Upon purchasing the Moxee mobile hotspot, it comes with a SIM card. Recharge the SIM card by purchasing a plan for it. Follow the detailed setup instructions provided to configure your hotspot.
Once set up, only devices with the designated Wi-Fi password can connect, ensuring a secure and controlled connection.
Where I Can buy Moxee Hotspot?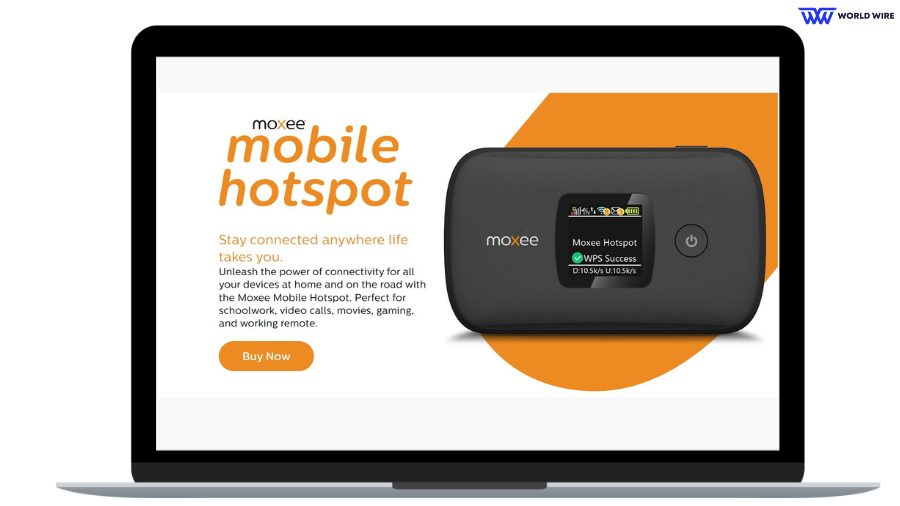 You may purchase Moxee mobile hotspot from the numerous online or offline retailers listed below
Moxee Official Website
Moxee provides its customers with a digital store on its website, which lets them order many devices such as Moxee Smartphones, tablets, 5G hotspots, and Moxee hotspots.
To purchase a hotspot device directly from the provider, please visit "https://www.moxee.com/hotspot" and for a 5G hotspot visit "https://www.moxee.com/5g-hotspot"
If you want a free tablet and a phone from Moxee, please read our guide on "Moxee Mobile free tablet" and "Moxee free phone"
Straight Talk Moxee Mobile Hotspot
Straight Talk Wireless is a service provider that offers a product store on its website. Customers can purchase internet-connecting devices such as smartphones, tablets, and hotspot devices.
To purchase a Moxee hotspot device from the provider, please visit "https://www.straighttalk.com/all-devices/moxee-mobile-hotspot."
Also, read our guide on "Straight Talk free Phones." and also on "How to use Straight Talk phone as a hotspot."
Walmart
Walmart is one of the biggest retail stores in the United States, and it offers a variety of products in its online and offline stores.
To purchase a Moxee hotspot from Walmart, please visit "https://www.walmart.com/ip/Straight-Talk-Moxee-Mobile-Hotspot-Black-Prepaid-Hotspot/167033289," or you can also visit their physical store and look for a device.
If you want to buy a new device on finance from Walmart, please read our guide on "Walmart Buy Now Pay Later."
Amazon
Amazon is the biggest and most trusted online platform, with millions of products listed on its website, and Moxee hotspot is one of them.
If you wish to purchase your Moxee hotspot from Amazon, please visit "https://www.amazon.com/Prepaid-MOXEE-K779-Mobile-Hotspot/dp/B09XGGGKPB"
Want a free laptop from Amazon to use with your Moxee hotspot? Read our guide on "Amazon free laptop 2023"
Moxee Mobile Hotspot Review
If the instructions are carefully followed, setting up the Moxee mobile hotspot is often simple and should result in Wi-Fi being available in minutes.
However, given the high cost of AT&T plans, some consumers spend more time worrying about the data use rate. It might be tedious and expensive to acquire new plans constantly. Due to heavy data use, several customers have reported having trouble streaming even brief video snippets.
Moxee mobile hotspots may be better choices for people who live in remote locations as AT&T 4G connection covers almost every part of rural areas.
Some users have also commented on the device's battery life, saying that it gets the job done and the battery survives for a very long time.
Moxee Mobile Hotspot vs Moxee 5G Mobile Hotspot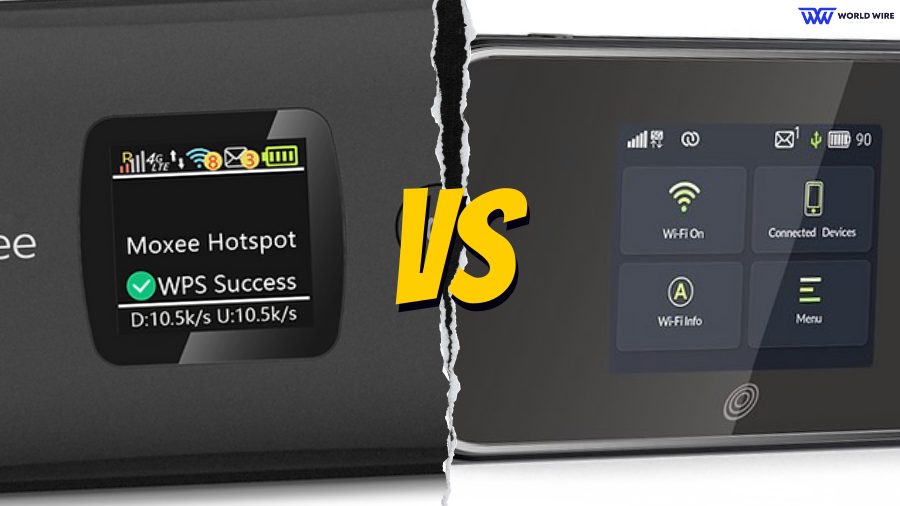 Here is the difference between the Moxee and Moxee 5G Mobile hotspots.
| | | |
| --- | --- | --- |
| Feature | Moxee Hotspot | Moxee 5G Hotspot |
| Price | $49.88 | $199 |
| Connection | 4G upto 100Mbps | 5G Sub-6 speed, 1.8Gps/300Mbps |
| Screen | 1.44" Color LCD | 2.4″ Touchscreen |
| Storage | 256MB RAM256MB ROM | 256MB RAM256MB ROM |
| Modem | Qualcomm MDM9607 | Qualcomm SDX55 |
| Number of users | 16 devices at 4G LTE speeds | 32 max, 16 optimal |
| Battery | 2300mAh Lithium Battery Micro USB 2.0 charging | 5000MAh USB Type-C (Fast Charge) |
Moxee Mobile Hotspot Specification
Below is the specification of the Moxee hotspot.
| | |
| --- | --- |
| Feature | Specification |
| Device Support | Supports up to 16 Wi-Fi-capable devices |
| Security | Utilizes robust security and encryption methods |
| Battery | Rechargeable 2300 mAh battery |
| Wi-Fi | Compatible with dual-band Wi-Fi (2.4 GHz and 5 GHz) |
| Processor | Qualcomm SD Modem |
| Dimensions | 111 x 67 x 14.8mm |
| Operating system | Linux OS |
| SIM card | Uses a Micro SIM card |
| Network | 4G LTE speeds |
| Display | 1.44″ LCD, full-color screen |
| Storage | 256GB RAM and 256GB ROM storage |
| LTE bands | LTE 2 / 4 / 5 / 12 / 13 / 25 / 26 / 41 / 66 / 71 |
Moxee Mobile Hotspot Setup – Steps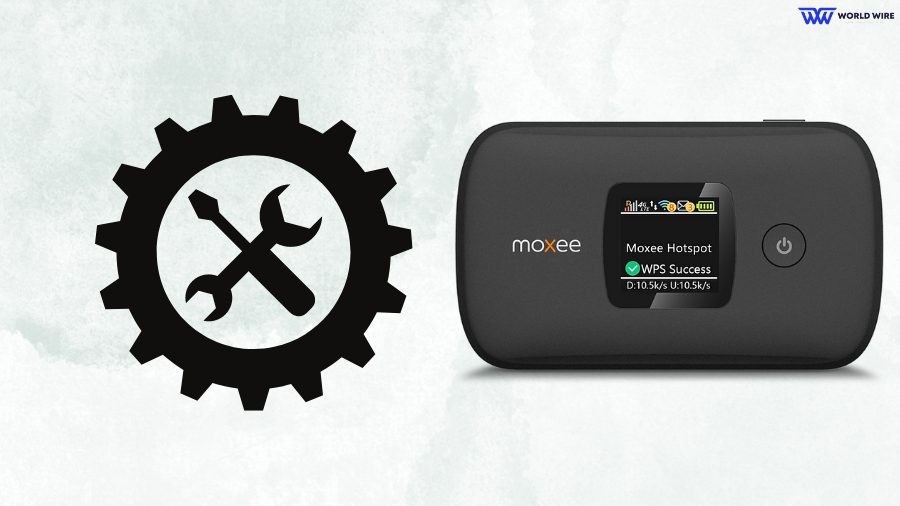 Follow the steps mentioned below  to set up your Moxee Hotspot:
SIM card installation
The SIM card should first be gently removed from its outer card.
Make sure the device is turned off. Take out the battery by removing the battery cover.
The SIM card slot may be found. To unlock the metal SIM tray cover, slide it to the right. Hold the SIM card in the SIM card slot with the gold contacts facing down and straight.
Finally, insert the SIM card into the slot before locking it by sliding the SIM tray cover to the left.
Note: Keep the SIM card from being bent or scratched, and shield it from moisture, dirt, and static electricity.
Installation of a battery
Once you have inserted your SIM card, line up the battery connections with the compartment's terminals, and the battery should be pressed down until it snaps into place.
Once inserted, close the battery cover.
Connect the charger's opposite end to the device's MicroUSB port and plug it into an outlet to start charging it.
Wi-Fi Connection Setup
After inserting the battery, Hold the power button on your Moxee Mobile Hotspot for three seconds until the welcome logo displays on the screen. The symbol for the Wi-Fi signal will soon emerge.
Search for the network (SSID) "Moxee HotspotXX_2.4G" or "Moxee HotspotXX_5G", where "XX" stands for the device's IMEI's final two digits.
Select "Connect" and type the device's default password.
The SSID and password information will be on the "Wi-Fi Info" screen or under the device's battery cover.
WPS Setup
If your device is WPS compatible, follow these instructions for a quick connection:
In the WebUI, go to Settings > Wireless > WLAN Settings > WPS to enable WPS.
Press the device's Menu button when the "WPS Active" screen displays on the display.
Press the Power Button to activate the WPS function.
Enable the WPS function on your terminal to connect to the hotspot.
WebUI Login
Connect your hotspot to a computer or terminal using Wi-Fi or a MicroUSB cable to log in to the WebUI.
Enter "http://192.168.1.1" or "http://device.WebUI" in the browser's address bar to launch it.
Click "Log In" to access the WebUI for settings after entering your username and password.
Changing the SSID and Password
While logged in to the hotspot, go to "http://192.168.1.1" or "http://device.WebUI" and sign in using the default credentials.
Go to Settings > Wireless > WLAN Settings in the WebUI. The Wi-Fi Name (SSID) and Password fields can be changed.
Before logging out, click "Apply" and wait for the "Success" message.
Watch for the Wi-Fi symbol on the connected device to confirm a successful wireless connection.
Resetting the factory defaults
Log in to the WebUI's Device Management.
Hold the "Reset" button on the hotspot for 5 seconds. When it restarts, the settings will be as they were at the factory.
Troubleshooting
If you run into problems with the device, try restarting it by holding the power button for 8 seconds.
Consider returning the device to its factory default settings if the issue continues.
If nothing works, contact Moxee customer care at "https://www.moxee.com/contact-moxee."
Benefits of Using Moxee Mobile Hotspot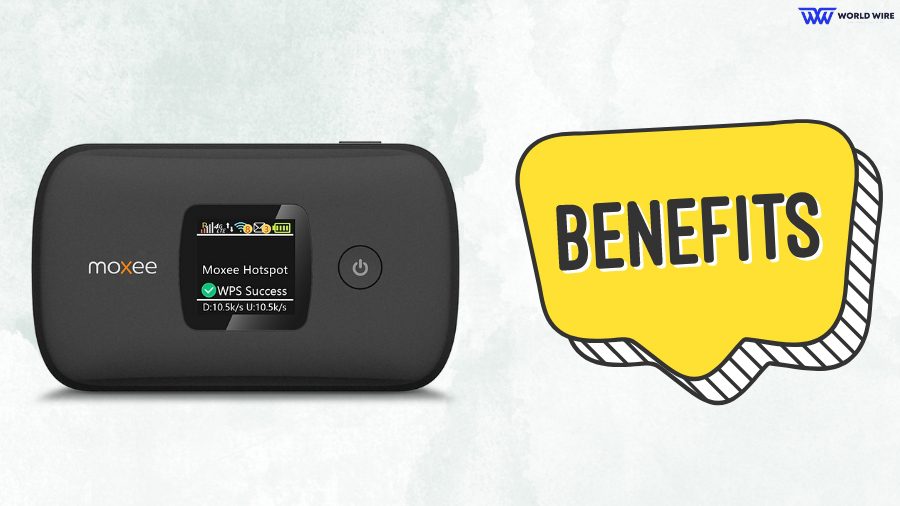 You will get the following benefits when you acquire a Moxee hotspot:
Strong Connection
The Moxee hotspot provides a lightning-fast 4G LTE connection and is powered by the AT&T network. It allows internet-intensive activities like gaming, videocasting, and video conferencing to run smoothly.
Supports up to 16 Devices at Once
Unlike other models, Moxee supports up to 16 Devices at Once. Connect any Wi-Fi-capable devices, including smartphones, computers, and game consoles, without restrictions.
Long-Lasting Battery
Moxee offers extended connectivity thanks to a 2300mAh rechargeable battery. You can recharge the battery using a power bank if the hotspot's battery dies, so you may keep using it.
Enhanced Security
With strong encryption and security mechanisms, Moxee places a high priority on user security. It has a NAT firewall and VPN pass-through capabilities for safe connectivity to business networks. Wi-Fi settings can also be changed to prevent unauthorized access.
Interface
Moxee has an intuitive icon display and a user-friendly interface. When surfing the Internet, you can quickly control your data use, monitor your connection's speed, and prevent surprises.
Dual-band Wi-Fi
Moxee uses 2.4 GHz transmissions for dual-band Wi-Fi connections that are robust and dependable. If you have a 5G hotspot, It switches to the 5 GHz bands for video streaming and gaming, offering a dependable experience without hiccups.
FAQs
How do I manage my Moxee Mobile hotspot?
You can access the administrative settings through a web-based interface to manage your Moxee hotspot. Connect your device to the Moxee hotspot's Wi-Fi network and open a web browser. Type "http://192.168.1.1" in the address bar, and you will be prompted to enter the administrator username and password. Once logged in, you can configure various settings such as Wi-Fi name (SSID), password, and security settings.
How do I activate my Cricket Moxee hotspot?
To activate your Cricket Moxee hotspot, Ensure you have a valid Cricket plan and SIM card, Power on your Moxee hotspot, and wait for it to initialize. Connect your computer or smartphone to the Moxee hotspot's Wi-Fi network,
Open a web browser and navigate to "http://mycricket.activate". This will redirect you to the Cricket activation page. Follow the on-screen instructions to activate your Moxee hotspot. You may need to provide your Cricket account information and follow any additional steps as prompted.
What is the admin password for the Moxee hotspot?
The admin password for your Moxee hotspot can be found in the device's user manual, available on the website or the device label itself. Look for a section specifically mentioning the admin password or login credentials.
If you cannot locate it, use commonly used default passwords such as "admin" or "password". If none of these work, you may need to reset the device to factory settings, which will reset the admin password to the default.
How do I connect my Moxee hotspot to my computer?
To connect your Moxee hotspot to your computer, Ensure it is powered on and broadcasting its Wi-Fi network. Go to the network settings on your computer and look for available Wi-Fi networks. Locate the Moxee hotspot's network name (SSID) and click on it to connect. Enter the Wi-Fi password when prompted. Once connected, you can access the Internet through the Moxee hotspot on your computer.

Subscribe to Email Updates :