Want to help your friend or family by paying their bill but don't know how to pay Frontier bill as a guest? If yes, then you have stumbled upon the right article.
Frontier Communications was established in the 1930s and now has emerged as one of the largest telecommunications providers in the United States. Their substantial reach and comprehensive services have expanded over its history, as well as their payment options.
As the family's primary user of Frontier services, it was my responsibility to pay the bills. However, logging in to each account and paying the bills was time-consuming and hectic.
Luckily, I learned about Frontier Express Pay, which allows you to pay your Frontier bill as a guest without logging into your account.
So, with this article, let me share my experience of paying Frontier bills as a guest, as well as the requirements and different available methods.
Can I Pay Frontier Bill As A Guest Online?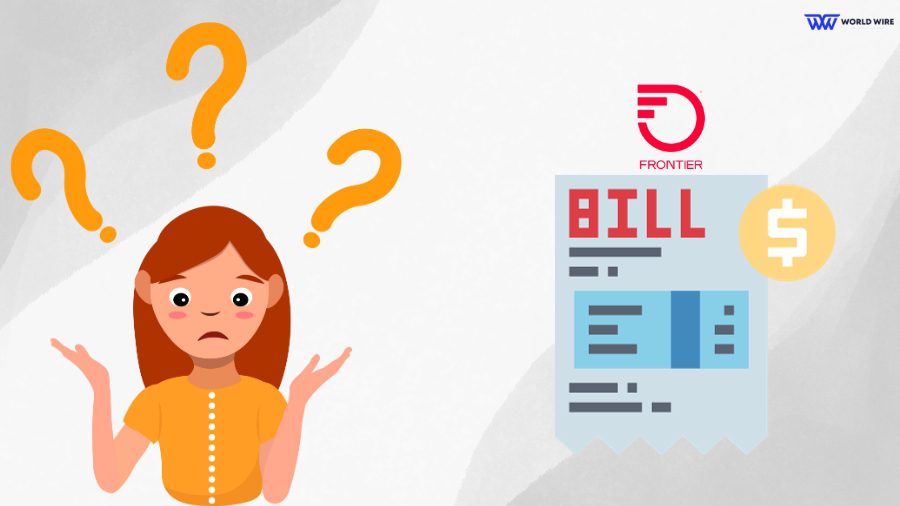 Frontier Communications has delivered exceptional internet, TV, and phone services from rural to urban areas. However, you must pay a reasonable monthly amount on time to enjoy these high-speed services.
The carrier offers several seamless payment methods to let you do the job correctly. You can pursue your preferred method and clear the bills from the app to in-person.
Moreover, just like you can pay your Spectrum bill as a guest and Boost Mobile bills as a guest, Frontier also allows its users to make a one-time payment as a guest through Frontier's express pay.
Requirement When Paying Your Frontier Bill
Some requirements must be considered before paying the Frontier bill by logging in or as a guest.
Ensure you have your Login credentials, such as email address and password.
Make sure that you have the 17-digit account number for your frontier service.
Process payment using acceptable methods, including checking account (ACH payment), credit card (AMEX, Visa, Mastercard, and Discover), or debit card.
Regardless of the chosen method, ensure you have adequate funds in the account to clear the payment. To ensure it, you can check the bill amount for the month in your account.
Way To Pay Frontier Bill Online
Here are the top ways to pay your Frontier Bill.
Pay Frontier Bill Online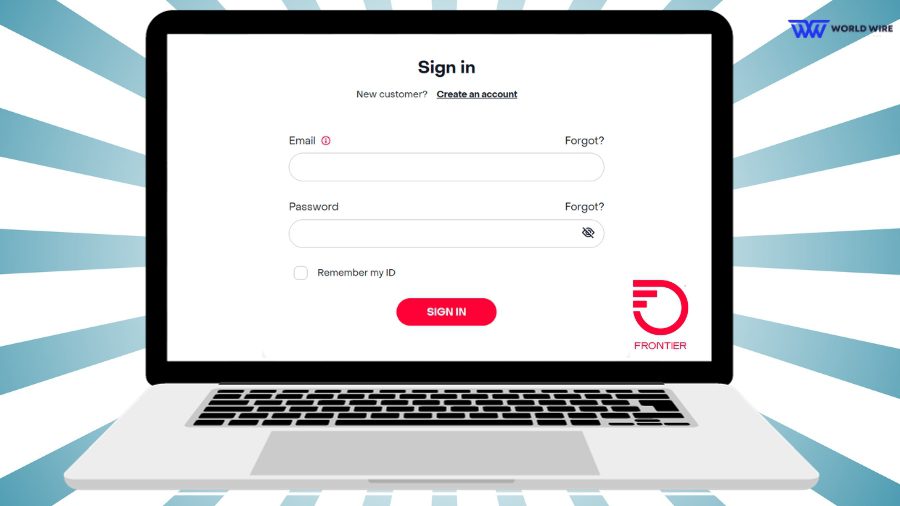 Paying a Frontier bill online is as simple as paying your MetroPCS bill for free. All you have to do is log into your Frontier account; if you don't, create one and log in.
Simply follow the steps below.
To pay your Frontier Bill online, visit "https://frontier.com/resources/pay-bill-online" and click "Sign in."
Enter your login credentials, such as email and password.

Click "My Payment" on your account and select "Make a payment."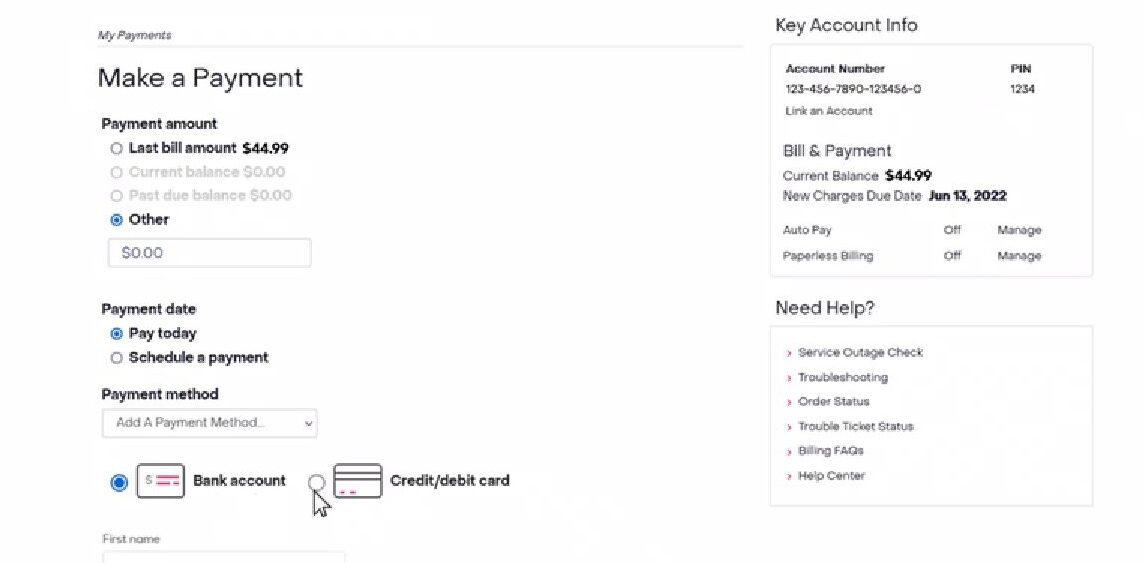 Choose the current balance, previous charges, or others per your preference.
Now select the payment method – current or update for the new method.
You will see a calendar icon to the right of the payment date. You can select it and then schedule the day you wish to process the payment.
Tap on continue > confirm to make the payment successfully.
Pay Frontier Bill As A Guest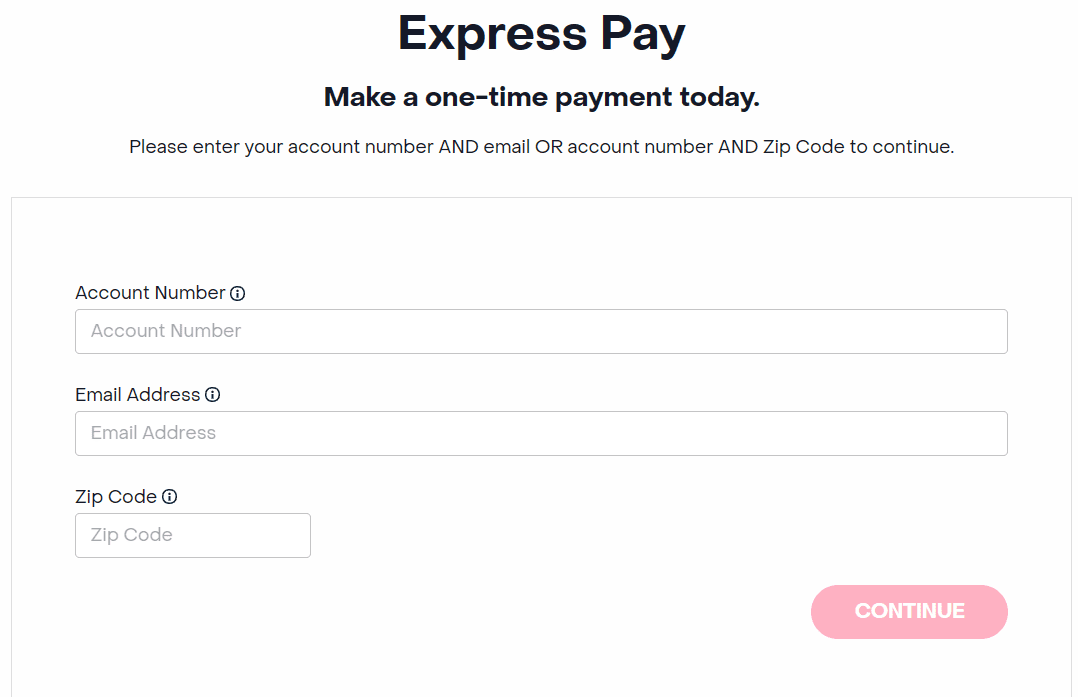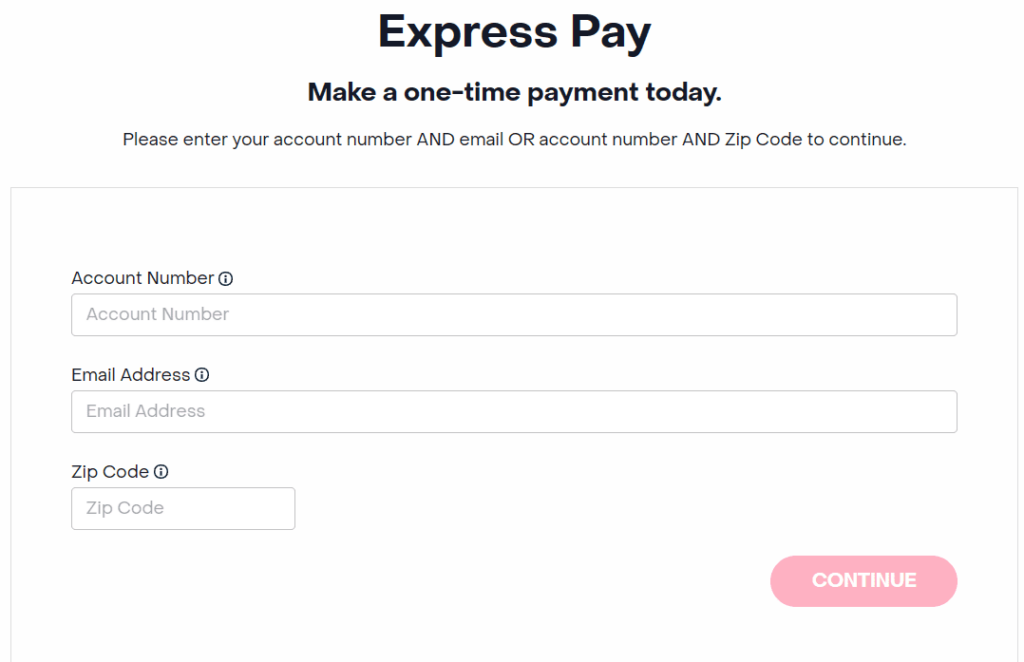 If you don't have time to log into the account and process the payment, you can readily pay Frontier's bill as a guest.
Paying via expresspay will allow you to make one payment out of the scheduled payment. With these options, you don't have to log in to your Frontier account.
To Pay Frontier Bill As A Guest, visit "https://frontier.com/expresspay."
Enter your Frontier's 17-digit account number, email address, and zip code.
You can enter your payment details once redirected to a new page.
Make a payment with the available payment methods, such as a debit or a credit card.
Pay Frontier Bill on Frontier App
Here are the steps to do so.
To pay your Frontier bill using the Frontier app, you must first download the Myfrontier app from Google Play or Apple App Store.
Login into the app with your credentials.
Tap on billing and then select make a payment.
Choose from 3 options: Total due balance, Past due payment or a custom amount.
Select your preferred payment method and click on "Pay."
Make payment via mail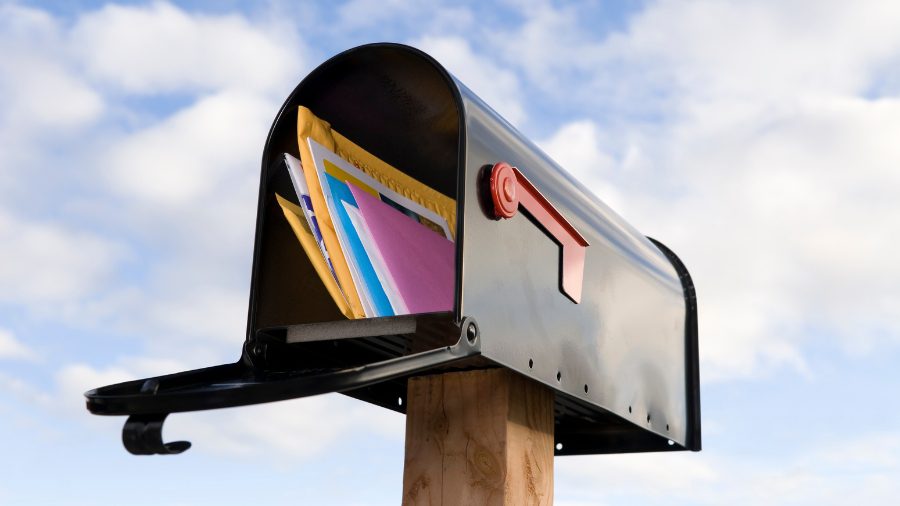 Another way to pay your Frontier bill is to send a check in the mail. You can write a check for the specific amount, payable to Frontier Communications.
Make sure to add your account number on the check to ensure that the payment is accurately credited to the account.
You can send the check or money order to the following Frontier offices:
Standard Payments
Overnight payment
Frontier
PO Box 740407
Cincinnati, Ohio 45274-0407
Frontier
5050 Kingsley Drive
Cincinnati, Ohio 45227-1115
Make payments in person
If you prefer to pay the Frontier bill as a guest traditionally, you must do so in person. To use this method, you must visit the authorized carrier's location and settle the bill directions.
Paying in person is convenient for people who prefer direct interactions or those who don't have/ can't access online payment methods.
The authorized centres include payment centres, authorized agents, retail stores, and more.
You can visit the website at "https://www.checkfreepay.com/en/payment-locator.html" or contact customer service to discover the nearest authorized location and operating hours.
Make Payment By Call
To make a Frontier bill payment by call, contact their customer care by dialling 1-800-801-6652. Ensure you have your 17-digit account number and a payment method, such as a debit or a credit card.
Enroll in Auto Pay
If you are not fond of logging into your account every month to pay frontier bills, then it's time to enroll in autopay.
This way, you can easily pay your monthly bills as the amount will be deducted automatically from your credit card or bank account. It will help you prevent any late payments.
How Can I Check My Frontier Bill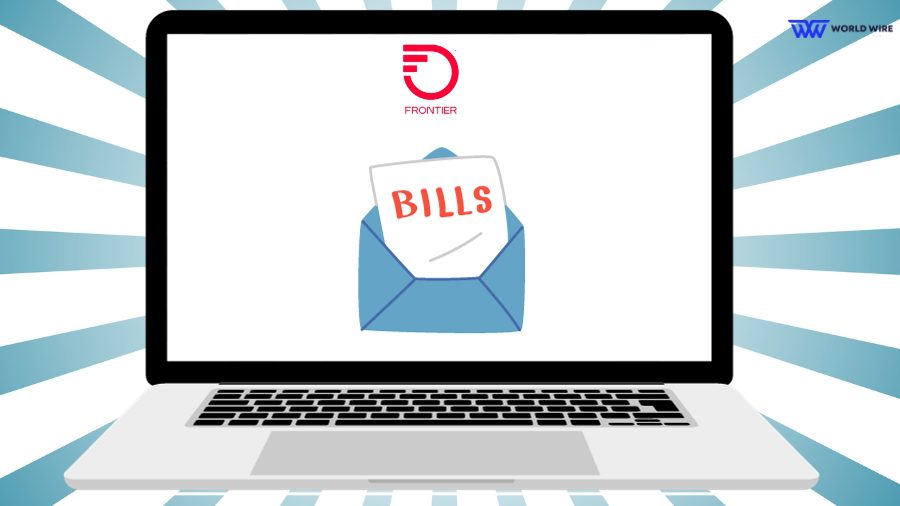 Now that you know various ways to pay frontier bills as a guest, how will you know the exact amount to pay? Here are some simple ways to check your frontier bill.
Frontier app
Be it an iPhone or Android, you can download the Frontier app and check your bill. Once logged in to the app, click the billing option to view the bill. You can also assess the schedule and history of payments in the app.
Online method
Visit Frontier's official website and enter the account. Once logged in, you can navigate to my bills under my account summary. In this table, you can view around 13 past bills.
Paper bill
Usually, paper bills are sent directly to the customers from Frontier Communications every month. However, every user has to make $2.99 as a regular fee to get the paper bill from the career.
Unable to Clear Frontier Bill. What Should You Do
Are you struggling to pay the Frontier bill as a guest? Here are some simple solutions to eradicate the issue and lower your bill.
Reach out to the agent
You can contact Frontier carrier's customer service (800-921-8101) and try to negotiate a discount. Based on your financial status, the authorities will process our request and reduce your bill by a certain percentage.
Contact the manager
If you cannot acquire the discount through an agent, you can directly contact the manager and request the offer. If the reason is applicable, you might get a discount and save more by lowering your frontier monthly bill.
Cancel certain services
If you notice that you have been paying a high amount for internet services, you can request that Frontier's representative cancel it.
During the process, you will be routed to the carrier's retention line, where you can either enjoy additional services before the cancellation or decline the cancellation by availing of a discount on the bill. Either way, you can enjoy better savings.
Rely on recurring recruitment fees
If you are a long-term user of Frontier Services, you could be entitled to pay a monthly fee of up to $10 to continue using the carrier's Wi-Fi router.
Even though the fee appears negligible, it could be significant in the long run. You can also contact the carrier and lower the bill in case of any illegal fees, with the TVPA (Television Viewer Protection Act) in effect.
Check with the carrier's bundled packages
You can opt for a single service plan from your carrier's bundled packages and analyze how it works. This is because these packages are available free of charge.
For instance, you can only pay for internet services and save more if you don't want TV services. In addition, you can also avail yourself of the promotional deal as a new customer in the first year.
Make referrals
If you live with a spouse or roommate, you can encourage them to sign up for Frontier's service as a referral. This allows you to take advantage of the initial promotional offers again.
Cancel your service
You can cancel your Frontier's internet service for 30 days. Now, you can reset your account and get qualified as a new customer.
Sign up for a fundamental plan
Sign up for the carrier's fundamental internet plan and avail of an internet-only plan for only $20 per month, especially for low-income individuals.
Apply for Lifeline Program
You can also apply for the Lifeline program to receive free government internet plans with Frontier to reduce your home phone bills drastically. However, you have to meet their specific eligibility requirements.
To learn more about Frontier Lifeline program, visit "https://frontier.com/discount-programs/lifeline-program"
Apply for ACP Program
Apply for Frontier's Affordable Connectivity Program and save up to $35/mo on internet bills. Like the lifeline program, ensure you are qualified to enjoy the plan's benefits.
To learn more, visit "https://frontier.com/discount-programs/affordable-connectivity-program."
Is it Possible to Update My Frontier Bill Payment Method?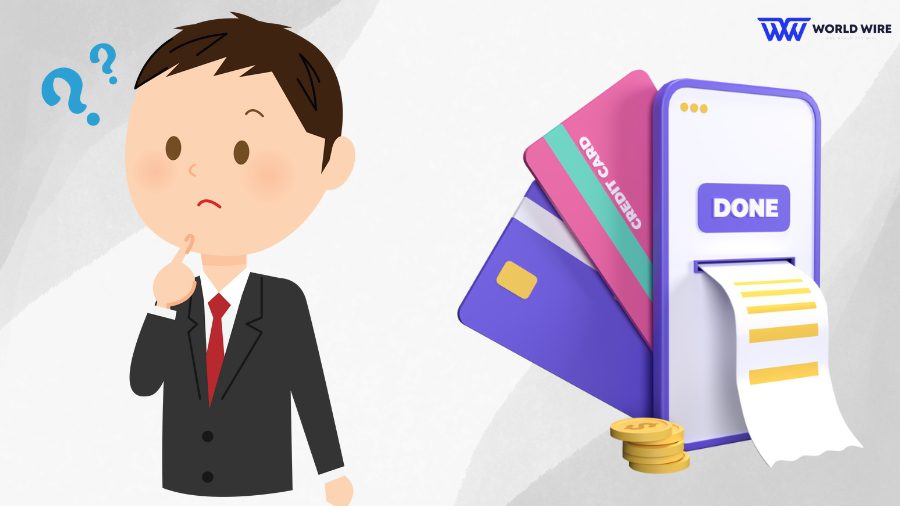 Yes, you can update your frontier bill payment method, which can be done in two different ways.
Through Fronter's official website
Here are the steps.
Visit the official website of the carrier and log in to your account.
Once logged in, click on pay my bill, and you will be redirected to a new page with your real information.
You can get the details of the current payment method and the history of the payment details.
Navigate to the payment method section, where you can find various payment methods.
Select the preferred option, and you will be set to pay with the upgrade option.
Through MyFrontier App
Here are the steps.
To apply this method, download the MyFrontier app on your device.
Then log in with your details and move to the billing tab on the screen to access your account details, including the payment method and history.
Now select the payment method section, and you will see the various ways to pay the Frontier bill.
Click on the edit link option and update the payment method as desired.
FAQs
Can I pay my Frontier bill as a guest without logging in?
You can pay the Frontier bill as a guest without logging into the account. Frontier Express Pay only needs the 17-digit account number, email address and Zip code.
With these credentials, you can make swift and secure payments online without logging into the account.
How do I pay my frontier bill?
Here's how you can pay the Frontier bill from your account.
Sign in to your Frontier account.
Choose 'make a payment' from the My Payment section.
Select the preferred payment amount, payment method, and date.
Tap on submit payment option.
What is the number to pay the Frontier bill?
You can pay the Frontier bill as a guest by contacting 1-800-801-6652 to complete the payment process by phone. You will not be charged any additional fee for using the provider's automated system.
The payment can be made by bank account, credit card, or debit card, which will be posted to the respective account immediately.
How do I view my Frontier bill?
You can sign into your Frontier account on the carrier's official website and navigate to the My billing section to view your bill. The summary includes the billing date, new charges, and due date.
Will I be charged if my pay is not received by due date?
Unfortunately, you will be charged an excess fee if your payment is not made within the due date. If you are going to pay the frontier bill as a guest, observe the late payment fees below the one-time charges section of the bill.
How do I speak to Frontier customer service?
Frontier customer service can be reached by phone (1-800-921-8106), chat, or mail. They offer technical support and multilingual services to assist customers.
How do I find my Frontier billing account number?
Once you sign in to your Frontier account online, you can view the 17-digit account number in the top right between the key information in the bill. If you are handling the customary paper bills, the account number can be found at the top left below the account summary.

Subscribe to Email Updates :