The Peaky Blinders team is not convinced to learn about Ron DeSantis sharing a video from their show to denounce the LGBTQ community in his 2024 Presidential campaign video.
Let's learn the news and learn about the controversy between the Florida Governor and the show's team.
'Peaky Blinders' Denounces Homophobic Ron DeSantis Campaign Video
The team behind British mob drama 'Peaky Blinders' has criticized Florida Governor and 2024 Republican Presidential candidate for posting a 'homophobic' video in his presidential campaign last week.
On June 30, Ron DeSantis posted his campaign video 'Rapid Response Operation' on Twitter, saying it marked the end of a month when LGBTQ pride celebrations took place.
Also, See: Ron DeSantis Tweets Lie About L.A. Dodgers Pride Night
The video mocks another Republican 2024 hopeful and front-runner, former U.S. President Donald Trump, for making statements vowing to protect and support the LGBTQ community, and it shows clips of Trump honoring the LGBT+ community in the wake of a mass shooting that occurred at a gay nightclub Pulse in 2016.
Also, See: Trump and DeSantis to speak at Moms for Liberty gathering in Philly.
Another part of the footage shows DeSantis's statements and policies on drag acts and transgender rights. DeSantis is portrayed as a masculine, strong character. His picture is spliced with images of various shirtless, muscular men and several Hollywood and British actors, including Brad Pitt in Troy, American Psycho's Christian Bale, and the star Cillian Murphy in Peaky Blinders.
In one photo, DeSantis is shown sporting sunglasses above the headline that reads, 'DeSantis signs the most extreme slate of anti-trans laws in modern history.' An additional picture displays his magazine cover with the headline, 'What Ron DeSantis means for America.'
Also, See: Ron DeSantis Signs Measure Banning Gender Treatment For Kids.
After Florida Governor shared the video, including footage of Cillian Murphy's character in Peaky Blinders, the show's producer condemned the video and claimed that footage of the show was obtained without official license and permission.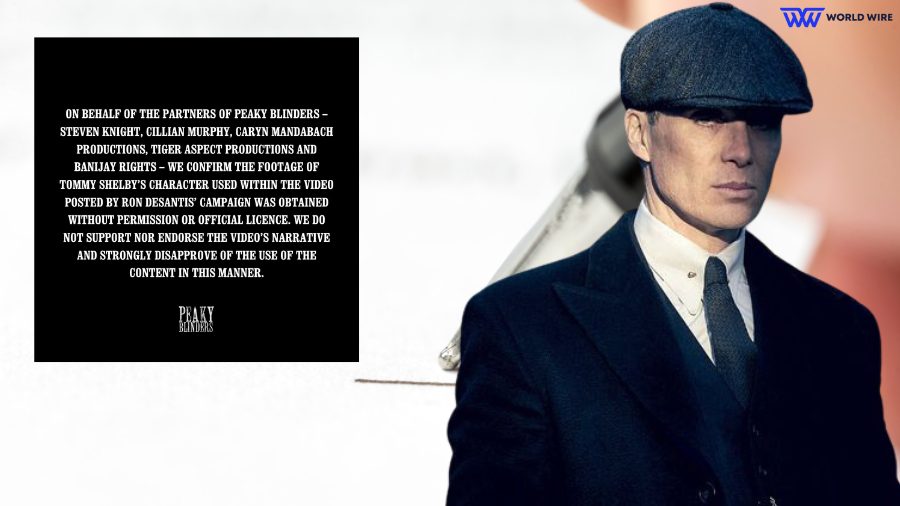 Cillian Murphy and the Peaky Blinders team have issued a joint statement that reads,"On behalf of the partners of Peaky Blinders, Steven Knight, Cillian Murphy, Caryn Mandabach Productions, Tiger Aspect Productions, and Banijay Rights, we confirm the footage of Tommy Shelby's character used within the video posted by Ron DeSantis' campaign was obtained without permission or official license."
The statement added, "We do not support nor endorse the video's narrative and strongly disapprove of the use of the content in this manner."
DeSantis spokesperson has not commented on the criticism of using the 'homophobic' video in a campaign. Also, it is not the first time that the Governor and second leading 2024 Republican candidate has invited controversy in the entertainment industry.
DeSantis is currently involved in a legal battle with Disney after he reportedly seized the company's power to self-govern the 25,000-acre site of its Walt Disney World Orlando amusement parks.
Disney's CEO Bob Iger claimed that DeSantis's action aimed to target and retaliate against the entertainment company for opposing his 'Don't Say Gay Bill 2022, which restricts education regarding sexual orientation and gender identity in some Florida classrooms.

Subscribe to Email Updates :