This article will provide detailed information about Supplemental Nutrition Assistance Program, eligibility criteria, application process, and more.
So, without any further ado, let's get started –
Supplemental Nutrition Assistance Program (SNAP)
The Supplemental Nutrition Assistance Program (SNAP), previously known as Food Stamps, is a U.S. federal government program providing food-purchasing assistance for low-income people.
The US Department of Agriculture administers it under the Food and Nutrition Service (FNS). However, specific departments of US states, for example, the Department of Health & Human Services, Division of Social Services, etc., distribute the program services.
SNAP was initiated with the aim to increase food security amongst low-income earners and reduce hunger by increasing easy access to food, nutrition education, and a healthful diet for disadvantaged people.
SNAP is the nation's largest nutrition assistance program that provides food assistance to more than 42 million Americans, and it's available in all 50 states.
Difference Between SNAP, Food Stamps, & EBT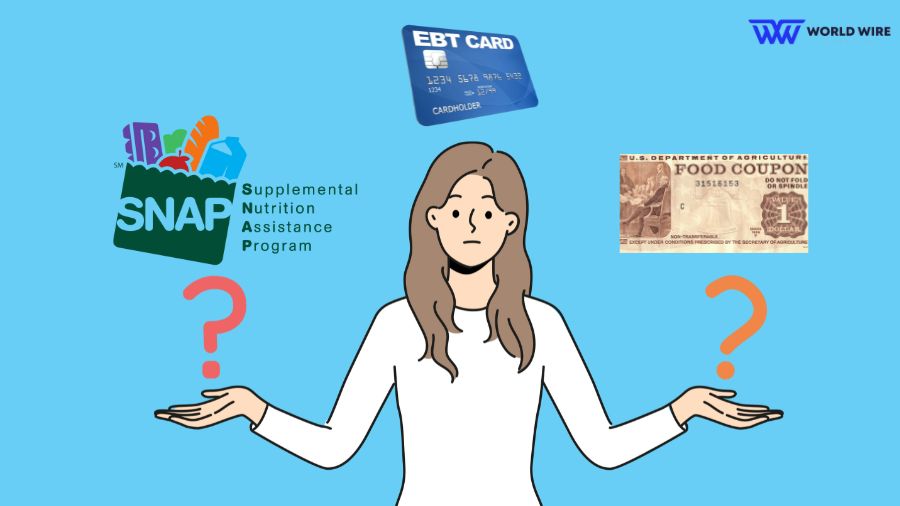 The Federal Government Supplemental Nutrition Assistance Program (SNAP) was called the Food Stamps program earlier. However, the government changed the title of the program with the invention of several additional provisions.
Hence, Food Stamps and SNAP is the same program available across the nation.
The low-income households who qualify for SNAP are entitled to an Electronic Benefits Transfer (EBT) card. This card is similar to our debit or credit cards, in which the government automatically adds monthly funds, which can be used to pay for grocery items purchased from SNAP-authorized stores such as Walmart, Hmart, Aldi, Misfits Market, and more.
Application Process for Supplemental Nutrition Assistance Program
To apply for the SNAP, you must check your eligibility by visiting https://www.fns.usda.gov/snap/recipient/eligibility, filling out a program application, and submitting it to the local or state SNAP office.
It is crucial to note that every state has different application procedures. You can check out the application process on your state's agency website or visit the local state agency.
Supplemental Nutrition Assistance Program Benefits
SNAP participants are expected to spend about 30% of their own income on food purchases. That's why allotments are based on household size.
Your allotment is calculated by multiplying your household's net monthly income by 0.3 and subtracting the result from the maximum monthly allotment for your household size.
| | |
| --- | --- |
| People in Household | Maximum Monthly Allotment |
| 1 | $281 |
| 2 | $516 |
| 3 | $740 |
| 4 | $939 |
| 5 | $1,116 |
| 6 | $1,339 |
| 7 | $1,480 |
| 8 | $1,691 |
| Each Additional Person | +$211 |
Note – Allotments for the states differ for Alaska, Hawaii, Guam, and the U.S. Virgin Islands. You can check the information at https://fns-prod.azureedge.us/sites/default/files/resource-files/FY23-Allotments-AKHIGUVI.pdf
You can also enroll under SNAP Path to Work, administered by the Department of Transitional Assistance (DTA), for free education, skills training, job search, and job search training.
You can also get other assistance, such as utility discounts, free school meals, and discounted admissions to numerous Commonwealth museums and cultural institutions.
Supplemental Nutrition Assistance Program Eligibility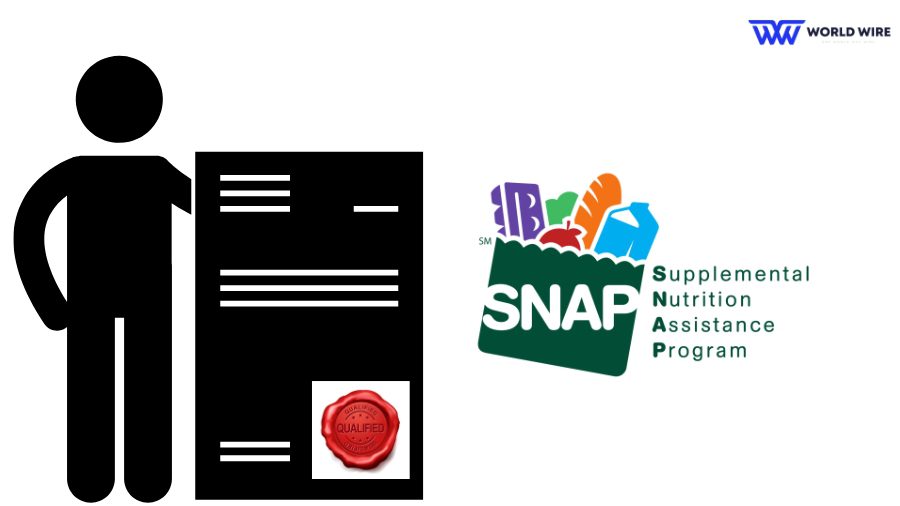 There are certain eligibility requirements you must full fill to get qualified for SNAP –
Income requirements
You may qualify for the Supplemental Nutrition Assistance Program if you earn a gross monthly income at or below 130% of the Federal Poverty Guidelines and a net monthly income of at or below 100% of the FPL. For example, an individual's SNAP-eligible gross monthly earnings should be $1,473, and gross income for a family of 4 should be $1,473.
You can visit https://www.fns.usda.gov/snap/recipient/eligibility to check SNAP income eligibility limits.
Work requirements
There are 2 types of work requirements that you need to meet –
If you are under 16-59 and can work, you must meet the general work requirement, including registering for work and participating in SNAP Employment and Training (E&T) or workfare if assigned by your state SNAP agency. You must work at least 30 hours weekly to complete the work requirements.
These work requirement conditions do not apply to students, caregivers of children under 6, people unable to work due to a disability, incapacitated people, and people in drug rehabilitation.
Able-Bodied Adult Without Dependents (ABAWD)
In this case, if you are under 18-49 and have no dependents. You must meet the general and ABAWD work requirements for more than 3 months in 3 years. You have to work at least 80 hours per month. It can be paid work or can be volunteer work for some charities.
You can also participate in SNAP Employment and Training or another federal, state, or local work program for 80 hours. If you have mental or physical limitations or are pregnant, you are excused from the ABAWD work requirement.
Resource requirements
Your household may have $2,750 in a bank account in countable resources. If your household has any person of 60 or more or has disabilities, your household may have $4,250 in your countable resource.
Program Based Eligbility
You are eligible for SNAP if you receive benefits from another government-aided program such as Tribal Assistance for Needy Families (TANF), Supplemental Security Income (SSI), and General Assistance.
FAQs
How does Supplemental Nutrition Assistance Program work?
SNAP benefits are offered through an Electronic Benefits Transfer (EBT) card that can be used in SNAP-authorised grocery stores and farmer markets to pay for the purchased products.
What can SNAP benefits be used for?
Food that can be purchased with a SNAP-EBT card includes fruits, vegetables, meat, poultry, fish, bread, cereals, dairy products, snack foods, and non-alcoholic beverages. EBT can also be used to buy seeds and plants to grow food for a home.
How long will it take for me to get SNAP benefits?
If eligible, you will receive your SNAP benefits within 30 days.
What items cannot be purchased with SNAP-EBT benefits?
You cannot purchase the following food items with your EBT card.
Any prepared food, cold or hot, sold or meant to be eaten at the store
Alcoholic beverages
Tobacco
Cleaning or paper products, toiletries, and cooking utensils
Items for food preservation like canning jars, freezer containers, or food wrapping paper
Items for gardening, like fertilizer and peat moss
Medicines, vitamins, or minerals
Pet supplies
Can I apply for Supplemental Nutrition Assistance Program if I am homeless?
You can apply for SNAP and get benefits whether you temporarily live on the street, in a shelter, or with family or friends.

Subscribe to Email Updates :