#JusticeForSushantSinghRajput Trending on Twitter: Sushant Singh Rajput Murder or Suicide: It is an ongoing debacle whether Sushant Singh Rajput killed himself or was murdered among various sects of people from Bollywood, Ministers, and other known personalities in India. He was first found hanging in his apartment by his maid on the morning of 14th June 2020, but should we plainly believe that an actor who had a glittering career ahead of him would do this heinous thing to himself? His family doesn't think so!
Sushant Singh Rajput Murder or Suicide?
After his untimely death, a forensics team of the Mumbai police came into the actor's Bandra apartment early on Monday to collect evidence. Following this, they ruled out any chance of foul play as they cited reasons of his death as asphyxia due to hanging. Sushant Singh Rajput Net Worth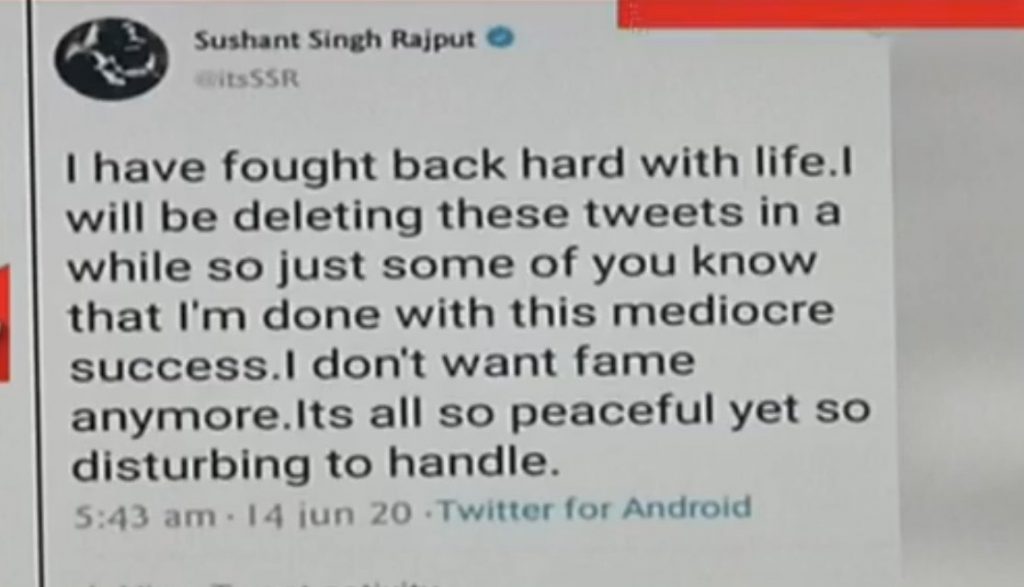 As soon as they got this shocking news, officials of the Mumbai police and Crime branch rushed to his apartment on Sunday. They found that he was having depression pills with no suicide note around. Neither of the maids he was living with know anything about the case of his death. Sushant Singh Rajput's Sister-in-law Passes Away
#JusticeForSushantSinghRajput
However, his family thinks that there is a conspiracy going on behind his death. His maternal uncle said "We don't think he committed suicide, police must investigate the matter. There seems to be a conspiracy behind his death. He has been murdered." Mumbai Police will Question Rhea Chakraborty?
This claim was further hyphenated by Pappu Yadav, Jan Adhikar Party Chief who met his family in Patna and felt that he cannot commit suicide. " I demand CBI enquiry into the matter", he further stated.
Kangana Ranaut & other celebrities rebuff suicide claims
Meanwhile, in Bombay, in a 2-minute video posted by Kangana's Team on Instagram, Kangana said that Sushant's Death had left people devastated, but a few of them are looking for a parallel narrative there. That whoever has a weak mind, they slip into depression and kill themselves. She further exclaimed that how can a guy's mind-  who had a Stanford degree and was a rank holder in engineering, be weak.
She hinted on the role of a 'Bollywood Mafia' suggesting that self-made actors like her and Sushant aren't appreciated in this industry blurred with an ugly face of nepotism. Her wrath also fell on a few journalists who had earlier allegedly claimed that Sushant is a psychotic, he is a neurotic and an addict while they romanticized Sanjay Dutt's addiction.
The outsider vs nepotism battle has also been ragging immensely on Twitter from his close aide Shekhar Kapur to Anubhav Sinha, Gulshan Devaiah, and now Kangana Ranaut who points out that outsiders aren't appreciating and embraced into this star-studded industry and as a result, they feel extremely worthless and alienated. All of them are claiming that these could be one of the few reasons why Sushant was in deep depression and as a result he was 'murdered' by those people in the industry.
Signup For Our Newsletter