TessPay launched a new platform to help participating providers of the Affordable Connectivity Program.
Here you have the details of the news.
TessPay's FinTech Platform Drives Funding for ACP Participants
TessPay develops a supply chain finance financial technology (FinTech) platform that uses blockchain technology to ensure payments and provide liquidity through a supply chain.
The Company recently announced the launch of its Platform, which it claims is at the forefront of funding providers taking part in the Affordable Connectivity Program (ACP) of the U.S. Government.
According to management, the Platform has the potential to alter how financial access functions within the ACP completely.
The Federal Communications Commission (FCC) reports that millions of Americans live in areas without consistent access to high-speed internet.
The ACP is a $14.2 billion FCC benefit program designed to give eligible low-income American households more access to reasonably priced broadband connectivity.
Also, read "Eligible households could receive broadband discount."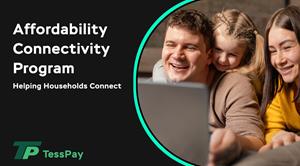 Since its founding in 2017, TessPay has been a forward-thinking FinTech company committed to disrupting the payment industry. The Platform, which the Company developed, uses blockchain technology to ensure payments and provide liquidity through a supply chain.
To conduct automated settlements (account balance computations) to supply chain participants, the Platform uses smart contracts, which are programmatic representations of the terms of a legal contract between the supply chain partners.
Also, read "How to Get Free Government Laptop for Low Income."
For wholesale telecom carriers and telecom businesses acting as providers in the FCC's ACP, the Platform is meant to provide security to enable lender funding, enhanced payment confidence, fraud mitigation, and transparency at every stage of every supply chain finance transaction.
The Platform uses smart contracts in large-scale commercial building projects to link funders, developers, and general contractors to subcontractors and suppliers.
Also, read "How Do I Get $100 Off A Tablet With ACP – Easy Guide"
The Platform tracks each contract's executable components through the use of smart contracts, assembling them into a structure that enables the system to guarantee that only contracted amounts can be approved and paid without error or duplication.
Their motto, "Choose TessPay, Choose Growth," is a testament to their dedication to innovation, transparency, and security in the FinTech industry.
Signup For Our Newsletter