The privacy policy of Threads, Meta's text-based Twitter competitor, invited controversy and media attention even before its official launch.
While the app has been successfully launched across most parts of the globe, the launch is halted in Europe over the same privacy concerns.
This article covers detailed information about the Threads privacy policy controversy, why it was not launched in the EU and other information about the app.
So, without any further ado, let's get started –
Threads Privacy Policy Controversy
Meta's text-based Twitter competitor, Threads, has officially launched.
The app has surpassed a milestone of 2 million sign-ups within the first two hours, which was confirmed by Mark Zuckerberg's Threads page. And now that the app is finally available for end users if you want to signup for Threads, you can do that easily.
Despite a successful launch, there are so much controversy around the privacy policy of Threads, or if I better say, concerns.
As per the privacy policy disclosure in the App Store, Threads could collect highly sensitive personal user data. This data includes information related to health & fitness, financial information, location-based data, browsing history, user content, contact info, purchases, and so on. This privacy policy of Threads appears nothing less than a privacy nightmare, which is the reason why it is attracting controversy.
In comparison to this, Twitter's privacy policy clearly states that they only collect data when a user uses the platform. Twitter's privacy policy further explains that when the user provides information directly and when connecting third-party apps, that's only when Twitter can collect data.
While replying to a Tweet by Mario Nawfal that was talking about Threads' release and how a Meta employee said that their goal is to create a "sanely run" social media platform, Elon Musk sarcastically criticized, stating, "Thank goodness they're so sanely run."
Thank goodness they're so sanely run

— Elon Musk (@elonmusk) July 4, 2023
Even Jack Dorsey, the former Twitter CEO, also criticized Threads over its privacy and data collection policy in a Tweet. He mentioned that "All your Threads are belong to us," while attaching the screengrab of the Threads' App Store description that states the user data that Threads may collect.
All your Threads are belong to us https://t.co/FfrIcUng5O pic.twitter.com/V7xbMOfINt

— jack (@jack) July 4, 2023
Threads Launch Halted in European Union
Considering that Meta primarily makes money from tracking and profiling users so that they can sell users' attention via advertising and more, this privacy policy was hardly surprising.
However, Meta was recently hit and was fined almost $1.2BN for breaching the privacy policy of GDPR. Therefore, the launch halt of Threads in the EU was a no-shock for most people. Even Google itself postponed the launch of Bard, an AI-based chatbot, in the EU because of the stringent privacy protection laws.
While the launch of Threads in the EU hasn't been actively blocked by Ireland's Data Protection Commission (DPC), according to sources, it is believed that Meta is taking a bit more cautious approach for launch in regions that have stringent privacy protection laws.
Everything You Need To Know About Threads
Threads from Instagram, which was codenamed Project 92, is an ActivityPub supported social media app launched to compete against Twitter by Meta.
According to the App Store's description of Threads, Meta's Threads offers a place to users "where communities come together to discuss everything from the topics you care about today to what'll be trending tomorrow."
The description further reads, "Whatever it is you're interested in, you can follow and connect directly with your favorite creators and others who love the same things — or build a loyal following of your own to share your ideas, opinions and creativity with the world."
In Layman's terms, Threads is a text-based microblogging platform by Meta that is going to compete with Twitter directly. It boasts a Twitter-lookalike UI and similar functionalities.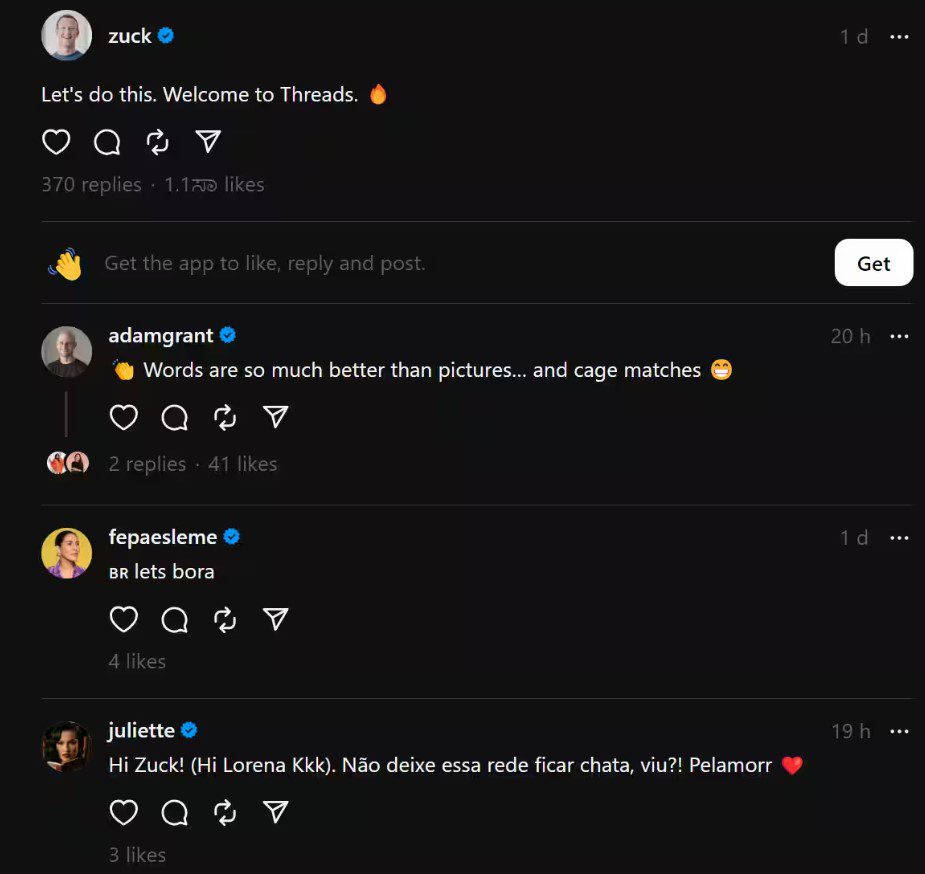 But since Threads is built on ActivityPub protocol, it would also enable users to make cross-platform communication between the apps that are built on ActivityPub protocol.
Since Threads is now officially launched, you can easily download the Threads app for Android and iOS.

Subscribe to Email Updates :