Threads from Instagram App launched on 6th July 2023.  There are a lot of things you need to know about this new Twitter rival. Meta launches its microblogging platform, Threads. It was announced on, July 3, that Facebook and Instagram's parent company will release its microblogging app in the US on Thursday, July 6, and globally on Friday, July 7.
There could not be a better time. The same day Twitter announced a limit on how many tweets users could view in a day, Meta announced a competitor app, Threads, would be released on July 6. The following guide explains what Threads are and whether they can challenge Twitter.
Last year, Donald Trump tried to compete with Twitter through his Social Media named TruthSocial. Many more Social Media Platforms like Parler, Gettr, FrankSpeech by Mike Lindell, BeReal, etc. came into action but none of them succeded to defeat the legacy of Twitter. But they settled with a few amount of users.
What is Threads?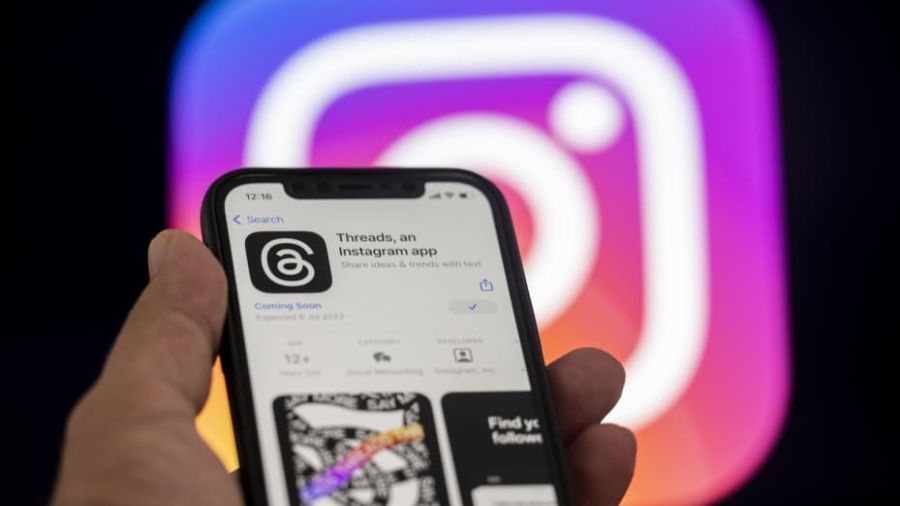 Threads from Instagram app is a text-based conversation app. Meta has been working on a Twitter rival since March, and its recent appearance on iOS and Android app stores sheds more light on its plans.
There is a lot of similarity to Twitter, with the ability to write short posts (the expected limit is 500 characters) with images and videos and for liking, resharing, and commenting. As with Twitter, you can also thread posts together and limit replies to people you follow or mention.
Also read: Our step-by-step guide on how to log into the Threads App.
When will Threads release?
It is expected that Meta's Twitter alternative will launch this week. Threads is the name of the iPhone app, and Apple has already released a preview page.
According to its App Store listing, it is expected to launch on Thursday, July 6.
How will Thread work?
Due to its partnership with Instagram, Threads offers an advantage over other Twitter rivals. Threads users can use the same username on Instagram and alert their followers to join them on Threads. Porting over an audience is a great way to boost users, but it'll still be challenging for Twitter power users without an Instagram following.
Threads were rumored to use the same social media protocol as Mastodon when it was first rumored. Even though Threads may not be completely compatible with Mastodon at launch, these features should still be available at some point shortly.
How to download the Threads from Instagram app?
Treads is yet to be downloaded, but iPhone users can pre-order it. The app will be downloaded once it is released.
A version of the app appeared briefly on Google Play at the weekend but was unavailable for download. The initial launch may be compatible with Android and iOS devices. Here's how to do Thread App Download.
Will Threads be free to use?
The Threads app will be free to download, but it will likely offer the same Meta Verified service launched for Facebook and Instagram in May. Due to Apple and Google's cut on app payments, this costs £9.99 a month on a website or £11.99 through the respective iOS and Android apps.
Using this service, you can verify your identity and receive proactive account monitoring to protect yourself against spoof accounts claiming to be you.
There are a lot of similarities between it and Twitter's contentious Blue sub, but Instagram has been a lot less controversial.
Threads from Instagram App Influencers
Here are some influencers who have expressed interest in joining the Threads platform:
Dalai Lama
Oprah Winfrey
Ashley Graham
Camila Coelho
Chriselle Lim
Jonathan Van
When did Meta start making Threads?
In January, Meta confirmed to reporters that coding for the app had begun and that it would be an alternative to The Verge on Twitter.
"We've heard from creators and public figures who want a platform that is run sensibly and that they can trust," said Meta's chief product officer Chris Cox.
According to him, Oprah Winfrey and the Dalai Lama have expressed interest in joining the platform.
Is Twitter at risk from Threads from Instagram?
Since Twitter has become volatile, many users have begun seeking a new platform to replace it. Elon Musk announced on the weekend that people would be limited to viewing a certain number of daily tweets.
New Twitter users only got 500 posts daily, while non-Twitter Blue subscribers were only allowed 600 posts daily. There are limits on the number of tweets paid users can view; Musk says this is to prevent "data scraping and system manipulation."
List of the social media sites trying to compete with Twitter
Threads from Instagram
Facebook and Instagram, parent company Meta, has launched Threads, a microblogging app targeted at disenchanted Twitter users.
Pros: Users of Instagram can log in using their existing credentials and start posting, reposting, sharing, and liking instantly.
Cons. Time will tell. It has yet to be proven that Meta can compete successfully with Twitter, but Zuckerberg, Meta's CEO, seems confident. Since Twitter's active users are dropping, Meta wants to strike while the iron is hot.
Launch date: July 6, 2023
Mastodon
An open-source microblogging platform founded by a German software engineer, Mastodon is connected to the Fediverse (a portmanteau of "federated" and "universe"), a network of interconnected servers.
Pros. It is a crowd-funded platform that is ad-free. There is a decentralized approach to controlling and moderating content rather than a centralized corporation. It is possible to migrate your data between servers within Mastodon and the wider Fediverse.
Cons. You might find the Mastodon social media experience somewhat different than Twitter if you're looking for something like it (which is not necessarily a con). The server you join resembles a forum based on a common interest. When you sign up, you join an instance (called an "instance").
Launch date: March 2016
Bluesky
Twitter's former CEO, Jack Dorsey, assembled a team in 2019 to work on Bluesky, a decentralized social network protocol. Its open-source code is intended to give users more autonomy and allow them to move their data between networks.
Pros. You'll find Bluesky familiar and intuitive if you're familiar with Twitter's functionality — posting, replying, retweeting (technically "skeets" on this platform, combining "retweet" and "sky") — plus it allows you to export data.
Cons. It still needs the ability to send direct messages and build lists. The platform is also still invite-only as it gradually builds its user base. The Bluesky program is incompatible (at present) with ActivityPub, which is the most popular Fediverse standard.
Launch date: February 2023
Spill
The number of people signing up for Spill, a service created by two former Twitter employees, increased over the weekend of July 4. Internet watchers say Spill is the new Black Twitter, offering a space for diverse communities and "culture drivers." Alphonzo "Phonz" Terrell and DeVaris Brown created the platform they and their subsidiaries have branded as a space for diverse communities and "culture drivers."
Pros. The Spill is a social media platform designed with and for communities of color, an appealing marketing point as Musk fights for free speech.
Cons. The app has temporarily paused new signups due to increased interest. A beta version is available only to existing users who receive an invitation code.
Launch date: June 2023
Hive Social
The Hive Social app, founded by Romanian developer Raluca Pop, gained traction around Musk's Twitter buyout in November 2022, pushing its users to over 1 million. A Gen Z user base has been attracted to this free microblogging platform, which markets itself as "focusing on the simplicity of social media."
Pros. The feed on Hive is automatically chronological instead of personalized by an algorithm – good news for those sick of Twitter's "For you" tab. The Hive platform combines elements of Twitter, Instagram, and Tumblr. It also has a strong anti-racism and anti-bigotry stance.
Cons. The app was forced to shut down in December due to security issues. Its business model also needs to be clarified. Hive charges for extra music tracks on your profile, similar to MySpace.
Launch date: October 2019
FAQs
Who owns the Threads app?
An upcoming social networking service owned by Meta Platforms, the parent company of Facebook and Instagram, will launch in the US and UK on July 6, 2023.
Will Thread from Instagram take over Twitter?
There hasn't been the first time Meta has attempted to mimic a rival offering under its own brand, and it has seen success with Snapchat-like Stories on Instagram and TikTok-like Reels. However, Thread is a new platform, not a copycat feature, and Meta has also failed in its experiments.
It is by no means an accident that Threads appeared at an opportune moment in time when Twitter is at the point of breaking point, and users are already defecting. Bluesky and Mastodon both experienced surges in new users over the weekend when Twitter started playing around with its rate limits, as former safety chief Yoel Roth described it.
Are Threads from Instagram bad for privacy?
There have been concerns raised about Threads' privacy. According to its App Store listing, the application will have a privacy policy similar to Instagram's.
Meta plans to publish additional terms of service and privacy policies for Threads, but neither were available at publication. If there is any additional information you should know about, we will add it to this article when they become available.

Subscribe to Email Updates :